Alright, I screwed up.
I'm happy to wear it, and I'm unphased by it for good reason. I'll pay credit to where it's due, Lexus' LC 500 has valiantly redeemed itself to the point where I'll admit I got it wrong.
You can get yourself up to speed on the LC over at my original review from this time last year. In short, it was impressive and luxurious – tempting even – but it was still a Lexus. A Lexus that I wouldn't consider owning purely due to the brand bias I still associated with such a car.
Okay, so a few other factors played into this verdict. The very limited time behind the wheel was probably a considerable one, not to mention the fragile temperature of an engine in the Victorian winter which we never got a chance to properly warm up.
I was impressed, nay, more surprised with what the LC had to offer, I honestly was. But bottom line, it wasn't quite enough to get me off the fence and into the camp of a person who would actually buy this car. Fast forward to the present, and I copped a pretty hard slap in the face last month when I found myself living with the same bad boy for a week.
I had forgotten how striking this car was. Perhaps only when you take it out of an ominous, minimal setting like Jackalope Hotel's driveway and put it on a Sydney suburban road do you get the full effect. When it first pulled up in front of me, the keys finding themselves in my hand, I knew instantly that this time was going to be different; this was before I had picked up my jaw off the ground.
So why did I have the car again exactly? Well, movie nerds may have spotted the LC's hastily and rather comical appearance in the recently released 'Black Panther' film. Blink and you'll miss it, but for such a short cameo the 'Structural Blue' variety of the menacing sports car did have a powerful role in a chase seen through the streets of Shanghai.
I had the metallic black LC, however, which quickly became my favourite trim. While it was no neck-snapping colourway like the film's version, it sure turned its fair share of heads.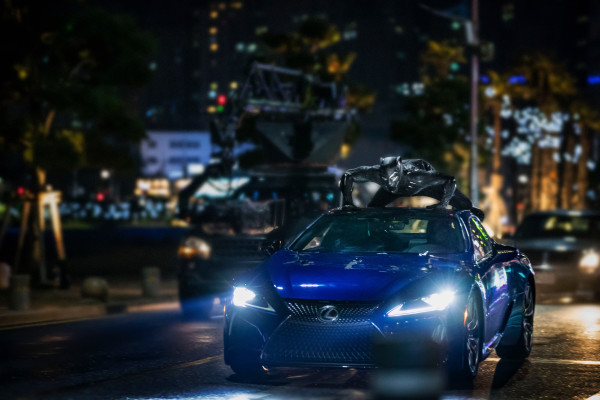 The car itself has an agile, big cat-like presence on the asphalt, darting through suburbia like a kitten chasing a mouse. I can definitely see why the car was chosen for the film, the metaphorical symmetry is pretty bang on point, so fair play to Lexus' marketing team for snagging that sweet deal.
The LC 500's most impressive angle is indeed from the front, but actually looks best when sighted from an eye-level, 45-degree angle. The sharpness of its lines and laser-like 'Zorro' headlights pierce through you with hostility and benevolence.
Aesthetics aside, the LC's otherworldly sound that bellows from its juicy naturally-aspirated V8 is hands down what slapped me in the face the hardest. Opening the taps through Sydney's airport tunnel on my way home, I couldn't even form a sentence as I remembered I was sitting in a fucking Lexus. Downshifting is like someone is cracking a whip right next to your ear, the wail from higher up on the rev counter is indeed batshit insane when the Sport S+ drive mode is engaged.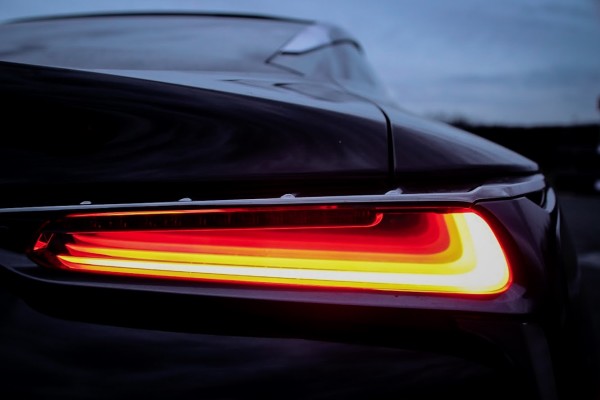 The Japanese, as we know very well here at Boss Hunting, always do one hell of an interior and nothing much had changed since last year's experience in the cockpit. The usability of the infotainment system was seamless, with much less (if any) glitches with features such as Bluetooth connectivity, which seems to be the biggest annoyance I experience in press cars.
I really couldn't quite believe just how unbelievably beautiful this car was, how subtly it screamed for attention, and how amazing it sounded – and how I had got it very wrong not even 12 months before. Somehow all the pieces of the puzzle that were jumbled around during my last experience had now found themselves together as one. I had finally made sense of the whole experience and appreciated the finer aspects of what the Japanese pride themselves on, a trait which perhaps can't always be articulated. I had finally understood the LC 500.
I still don't, however, think this is a car that'll age well, but is that enough to stop me from wanting it? Hell no.
I could look at, listen to, and drive the LC any day of the week. Bravo Lexus.
The Lexus LC 500 starts at AU$190,000 (before on-roads).