After a breezy 24 hours in the hands of Lexus' exemplary PR and events team, I struggled to put my finger on exactly what it was about Lexus launch events that made me feel like a king in such a brief but brilliant space of time. Not until our closing lunch of the all-new Lexus UX launch did I properly take notice of the Japanese word Omotenashi; a hard to define, age-old principle of Japanese hospitality that emphasises the anticipated service of one's needs – before they know they need them. Every single aspect of our short time with the brand's city slick UX (Urban Crossover) SUV was preempted and planned for so that not a single headache would arise during our experience, clearing our conscience for one thing only – the UX itself. More on this admirable approach to hospitality later.
So what exactly did I find myself in the driver's seat of today? A bold, brand new and very achievably priced Lexus compact SUV. Built on the new Global Architecture – Compact (GA-C) platform, the gateway model is dynamic and powerful while still petite and sexy enough for the urban-rooted millennial with a weekend desire for adventure.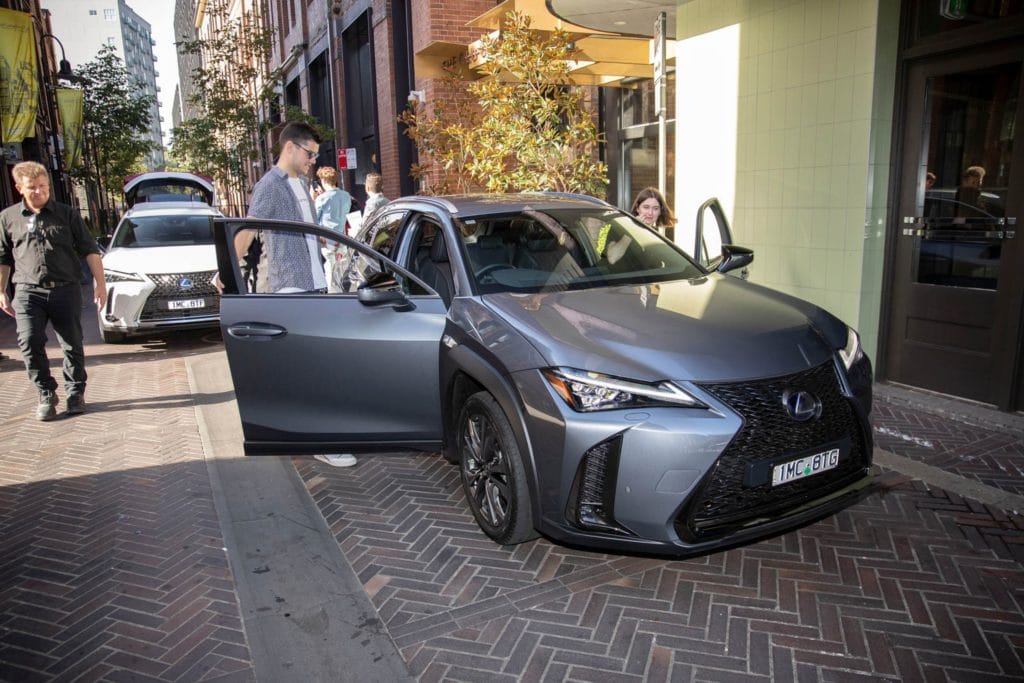 Rewinding for a moment, the first notable experience I had in the UX was actually as a passenger the previous evening, and one eager to see what the rear seats were like for a 6 ft 4″ bloke on his way to dinner in The Rocks. Before I'd even entered the UX, the particular car nominated to whisk us away to our destination was in a curiously beautiful olive green (pictured above). It might have just been the environment it found itself in or the stunning light of golden hour – but I absolutely loved it. Forgive me, I'm getting distracted (but that green though, c'mon).
---
---
Once my head had stopped spinning from an infatuation with the paint job, I became genuinely surprised at how at-home this compact piece of kit felt zipping us through the narrow cobblestone streets of Chippendale. It mixed the profile height of a sedan with the practicalities of an SUV much, much larger than itself. Backseat room was limited for a man of my size, as was to be expected, but as a carrier of four people in our instance, it got the job done with ease and in comfort. Our destination? Sydney's magnificent Sake Restaurant, courtesy of Lexus brand ambassador, Neil Perry.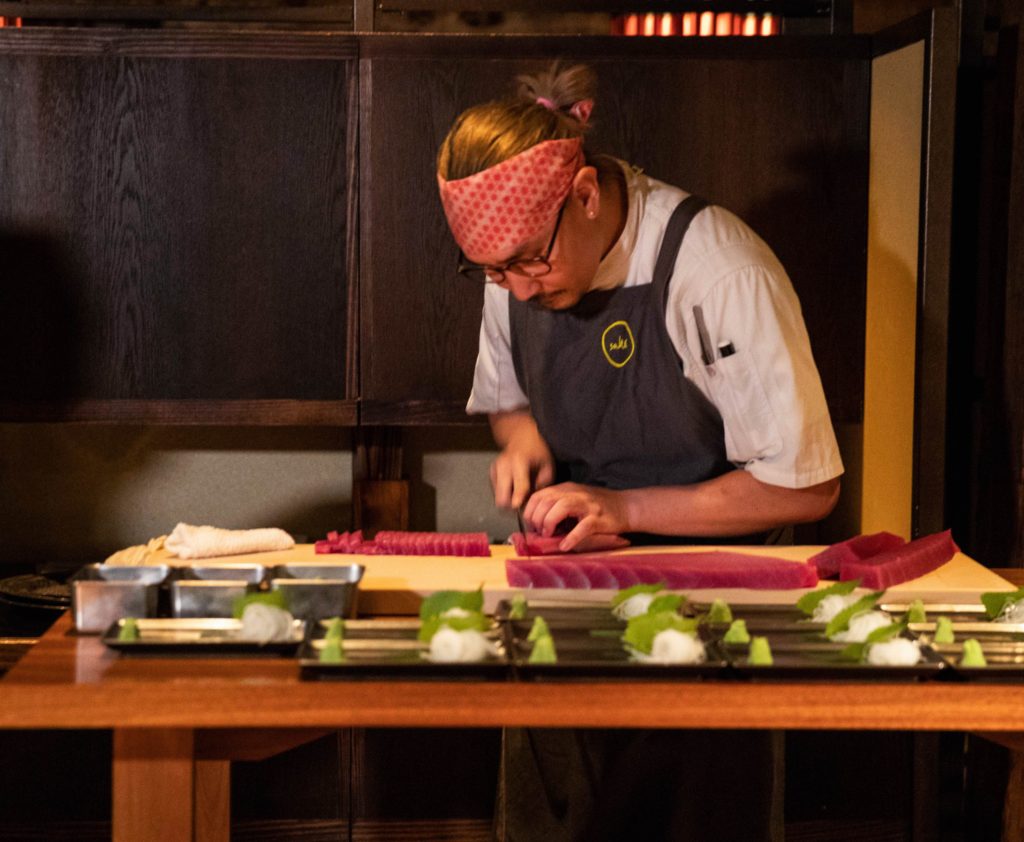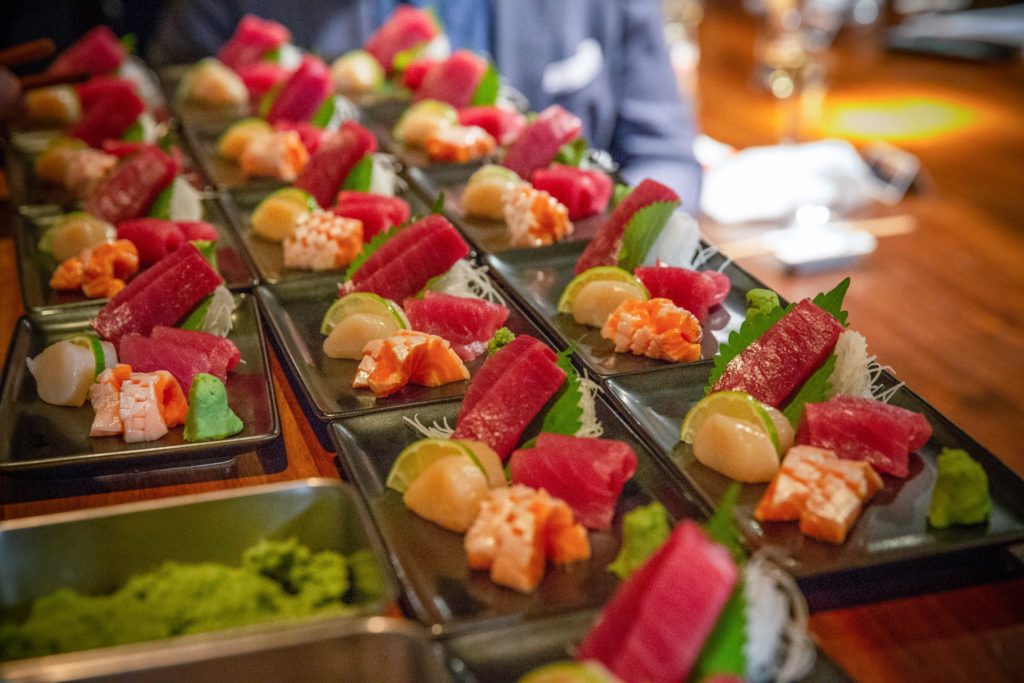 Following an indulgent evening of quintessential Japanese cuisine and craftsmanship, we retired to the Old Clare Hotel (of which the suites there are some of my favourites in Sydney – another tick for Lexus) and enjoyed a restful evening before being greeted promptly at 8 am by our personalised breakfast orders (in which they remembered my flat white coffee of choice, well done).
Wasting no time, I finally found myself in the cockpit of a UX250h 'F Sport' – which boasts a fourth-generation self-charging hybrid powertrain featuring a new 2.0-litre petrol engine specifically engineered for, and matched to, this new platform. The other option was the UX 200, a spirited 2.0-litre petrol vehicle with impressive efficiency and consistency, but in the urban conditions the ideal buyer of this car would find themselves in, I couldn't help but think the hybrid seemed like the no-brainer.
Asking for just $45,000 at its head-turning entry price before you consider all the fun on-road costs, it didn't take long for me to predict that the UX will perform well – very well – in a soaring urban SUV market that priorities size, efficiency and technology. As we meandered across the bridge and zig-zagged our way through the North Shore, the UX became so intuitive and hassle-free that I felt like the car had been pre-programmed specifically for me – an extension of this theme of omotenashi that seemed to reign true across our entire launch experience.
A day running about in the UX confirmed its place as a smooth, tech-laden city whip that drives like a coupé (thanks to a noticeably low centre of gravity) but with the practicality of an SUV. Aside from the 'F Sport' upgrade I found on my model, a 'Sports Luxury' package is also available to fulfil a customer's dynamic driving desires but with a touch more comfort. Regardless of each package, however, occupants of every UX will find a seemless, all-new infotainment and digital dash system that makes it hard to revert to any car made prior to 2019.
Now the smallest member of the Lexus SUV family and their most attractive entry vehicle into the brand, I completely understood why such a little car deserved such a meticulous launch event. If the UX is to appeal to the first-time luxury car buyer, then why not play the trump card on the first hand and blow them out of the water? Once they've had a taste, they'll never look back.
Lexus (and their PR team) clearly came to that conclusion well before I did. Once again, it seems I can find nothing but praise for the excellent Japanese experience and their equally excellent product. For more on the Lexus UX and to book a test drive yourself, head to the Lexus website.
---
---
RELATED: I'll Eat My Words, Turns Out I Would Actually Buy The Lexus LC 500