It was a horrific weekend which forced Mercedes to pull the plug on its sportscar programme and changed the design of Le Mans machinery forever.
Racing driver Peter Dumbreck was on a professional roll towards the turn of the century, joining Mercedes' endurance racing team in 1999 hot off the back of an impressive Formula 3 season.
The Le Mans race weekend of that year was a turbulent one for Mercedes, who were racing their CLR supercars for the iconic staple of the motorsport calendar. Dumbreck's teammate, Aussie Mark Webber, already had two bizarre incidents where his car flipped earlier in the race weekend, leaving tensions high in the Mercedes camp.
---
---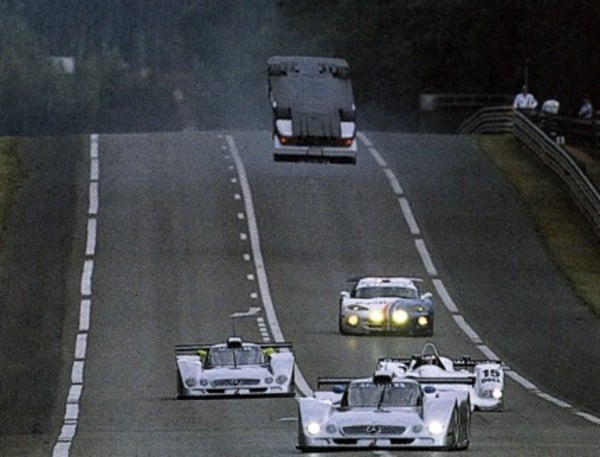 In light of Webber's mishaps, come race day Mercedes engineers explicitly told Dumbreck not to follow other cars too closely, yet the Scotsman admitted to Drivetribe he had no idea how close was too close.
"In the five laps or so that I did – that I was catching the Toyota of Thierry Boutsen in front of me," he recalls. "I remember thinking – I'm actually pretty quick here, I'm doing well. And I was running in third place and I was catching the Toyota, but I also had the words of the Mercedes team ringing in my ears saying: 'Don't get too close to any other cars!"
"How do I define too close? And if I can't get close how do I pass him? How does this all work? And then before I know it I'm flying through the air and thinking – I guess that was too close then!"
The sun was setting as the twice-around-the-clock endurance race descended into darkness on Saturday evening, when out of nowhere, Dumbreck spectacularly flew into the air and flipped several times before leaving the racetrack and ending up in the trees off to his left.
Unlike Webber who landed on the racetrack, many assumed Dumbreck's journey into the forest would have been fatal. Surprisingly, he walked away relatively unscathed.
Dumbreck went on to continue racing in the GT circuit, making his debut in the Nürburgring 24 Hours in 2003, a race he still competes in to this day with Falken Motorsport.
---
---
RELATED: Porsche GT3 rolls 10 times in horrendous Nürburgring crash.