First introduced to the world in 1989, the Mazda MX-5 sits amongst an elite company of cars that have not only stood the test of time, but gotten better and better with each refresh. The 2021 update of the fourth-generation MX-5 sees a raft of upgrades and improvements that keep this two-door sportscar in a class of its own.
Given the keys to our weekend warrior in Sydney – my partner and I decided a trip to Canberra to check out the rapidly improving dining scene, as well as the Masterpieces exhibition at the National Gallery of Australia – was the perfect way to put the MX-5 RF GT RS to the test, from the city to the rolling hills – with a good dose of freeway driving to boot.
The 3 hour drive from Sydney to Canberra is usually uninspiring, but at night in heavy rain you have to fully trust the abilities of your vehicle. Fortunately its low centre of gravity, 17-inch BBS alloy wheels, and a raft of safety features (notably adaptive headlights, driver-attention alert, and lane-departure warning) means the MX-5 handles it with aplomb – even if we have to keep the hard-top retractable roof on until the next morning. The heated leather seats were also very much welcome as the temperature hit single figures.
---
---
While not necessarily the most practical car with its limited storage space (don't expect to pack much more than a couple of weekend bags in the boot and an iPhone in the cabin); what it lacks in storage it well and truly makes up for in pure driving pleasure – or Zoom Zoom as Mazda like to call it – and I'm keen to see what else it can offer over the course of the weekend.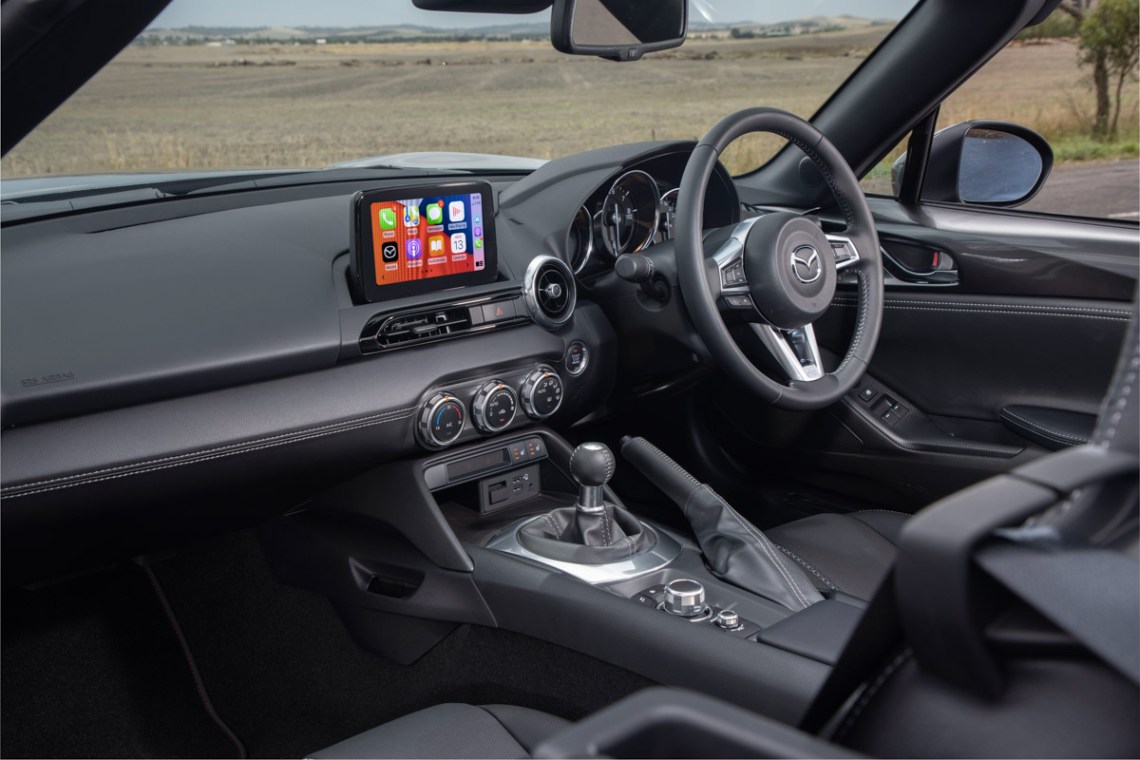 Arriving late into Canberra, we check in to the Little National Hotel and enjoy a good night's rest ahead a day of driving and exploration. Up bright and early, it's time to see exactly what the MX-5 is capable of, so we head back do the classic Coombs to Tharwa drive, which takes about half an hour each way. Full of long sweeping turns and rolling hills, it's the kind of road the MX-5 was built for.
With its long nose, perfect 50:50 weight distribution, and spritely – but not overpowering – engine, the MX-5 hugs the road like nothing else I've driven in its class, and it doesn't really get any better than a driving a great stretch of tarmac with the top down, while enjoying the GT RS' spirited 2.0L powerplant. This is a car that really excels at the mid to upper levels of its rev range. From 4,000 RPM's up the limiter is where it wants to be, so shifting down a gear is highly recommended.
Pulling back into Canberra heart still racing, we head to the highly rated Rebel Rebel for a delicious light lunch to recharge before hitting up the National Gallery of Australia to view the Botticelli to Van Gogh: Masterpieces from the National Gallery, London exhibition exhibition which is running until the 14th of June. With priceless works spanning 450 years, this is one of the most significant exhibitions in Australia in recent memory and worth a visit if you have even a passing interest in art. Mazda, coincidentally, are the principal partner of the exhibition, and our 'Soul Red' MX-5 looked particularly at home parked in front of the NGA.
After enjoying some Rembrandt and Renoir, we thought it apt to keep the European feel alive, and dashed off for an early dinner at what may be my new favourite restaurant in Australia – Bar Rochford. With an incredibly impressive wine list, exceptional food, and personable service, it's a must visit on your next trip to the Capital. Make sure you book well in advance and definitely sample the Kingfish Ceviche, Burrata, and Wagyu Skirt (to name just a few).
Canberra's come a long way from visiting Questacon on your year six camp, and the nation's capital is now well and truly a great place to visit. Similarly, the latest iteration of the MX-5 has come a long way from the car you grew up seeing. It's meaner, more poised, more fun, and has well and truly been brought into the 21st Century.
In my eyes, the user friendliness of in car tech can either make or break a new car, and Mazda have made sure that it's as simple as possible in the MX-5 with wireless (or wired) Apple CarPlay and Android Auto. It's activated as soon as I sit in the car and faultless for the three days I have with it, which is a very big tick.
---
---
There's a reason the MX-5 holds a world record for the highest-selling two-seater sportscar (with over 1 million cars sold), and that's because it's bloody good. It's always been sold at a very competitive price point too, and this update is no different.
The MX-5 RF GT RS we drove is the near top-of-the-range and priced at $47,020, but you can get into the MX-5 family for around $36,000. Is this the perfect weekend car? We'll leave that for you to decide, but it's well worth taking for a test drive regardless.