Like any fashion item, sports cars are hugely popular when they first come out and then quickly forgotten about when the next 'new thing' arrives. Very few sports cars stand the test of time and the ones that do usually wear an exotic badge with a price tag to match. Bucking the trend is the two-door Subaru BRZ coupe and its latest iteration the Subaru BRZ tS, that has been with us for over half a decade, equal to the last-generation Holden Monaro's lifespan.
The BRZ and its joined-at-the-hip Toyota 86 are still among the most dynamic and affordable coupes around with more driver engagement and involvement than most. Subaru has added a new top-of-the-tree model to the BRZ range, the tS. All the goodness of the BRZ remains, but its been given a fettle underneath and more bits and bobs added to further boost its appeal.
Priced at $39,894, here is what you get.
---
---
Let's start with the suspension.
Subaru handed the BRZ tS over to its performance arm, Subaru Tecnica International (STI) to crawl underneath and give it a makeover. First up STI has added SACHS shock absorbers, (as used by the Red Bull Supercar team) and specially tuned STI coil springs that has resulted in minimising body roll for a flat stance when throwing it through corners. Not only has the BRZ's agility gone up a notch or two, so has the ride quality, which is more pliable than before.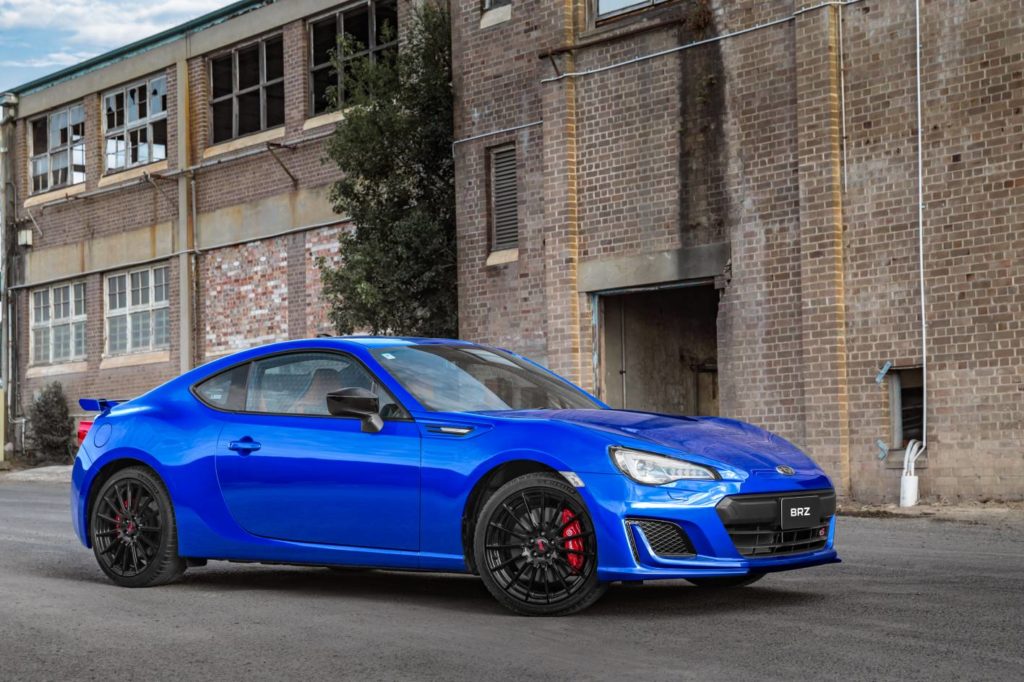 Brembo brakes, with their signature red callipers, have been commissioned. Four pot front callipers up front and two-pot at the back provide a solid progressive pedal, with plenty of feels and even after one memorable fang down a steep mountain road there was no fade from the larger disc brakes, just a bit of smell, so I knew I had given them a good workout.
Giving the tS a fresh look and improved unsprung weight, for another small gain in handling, are smart-looking STI 18-inch alloy wheels with 7.5-inch wide, Michelin Pilot Sport 4, super sticky low-profile tyres.
Spotting a BRZ tS is easy, the most obvious addition is the black rear spoiler but it also gets a re-profiled front bumper and grille with tS badge, black mirrors and shark-fin roof mounted antenna as well as tS and STI exterior badging plus STI side trims.
Inside sees the tS logo added to the snug-fitting Alcantara sports seats. There are also red trimmings used on the dash and door panels. Exclusive to the tS is a black with red accents steering wheel, STI button starter while red seatbelts to complete the picture.
Also new to the tS is Subaru's latest -generation 7-inch LCD infotainment touchscreen that includes a reversing camera, satellite navigation as well as Apple CarPlay™ and Android Auto™ compatibility.
---
---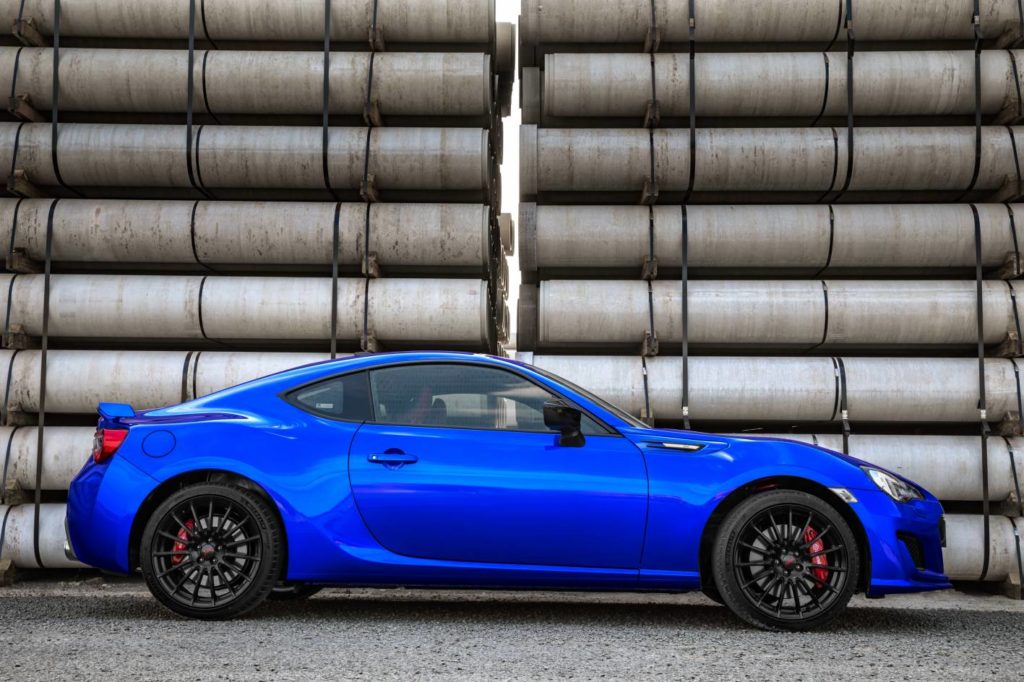 Under the bonnet is the familiar 2.0-litre naturally aspirated boxer engine that produces 152 kW and 212Nm. Bolted to it is a sweet shifting, short-throw six-speed manual gearbox that sends drive through to the rear wheels.
One of my favourite things about the BRZ and the tS is no different, is it's fantastic driving position. Low in the seat, gazing along the bonnet with the steering wheel set as far towards the driver as it will go, just like in a race car. The three pedals, (the right number to have in a BRZ) are neatly placed for easy heal and toe downshifts. The back seats are good to throw a bag on but not people in, but up front, there is an acceptable amount of leg and headroom.
The BRZ is a driver's car pure and simple and with the tS, that feeling has gone up a peg. It's better than ever.
The boxer four engine needs to be worked hard to hit its straps and through the exhaust note is rather dull it does get along very well, the only downside is a good degree of road noise on coarse bitumen.
While the BRZ tS is happy enough to trundle along in traffic, open roads are what it was bred for.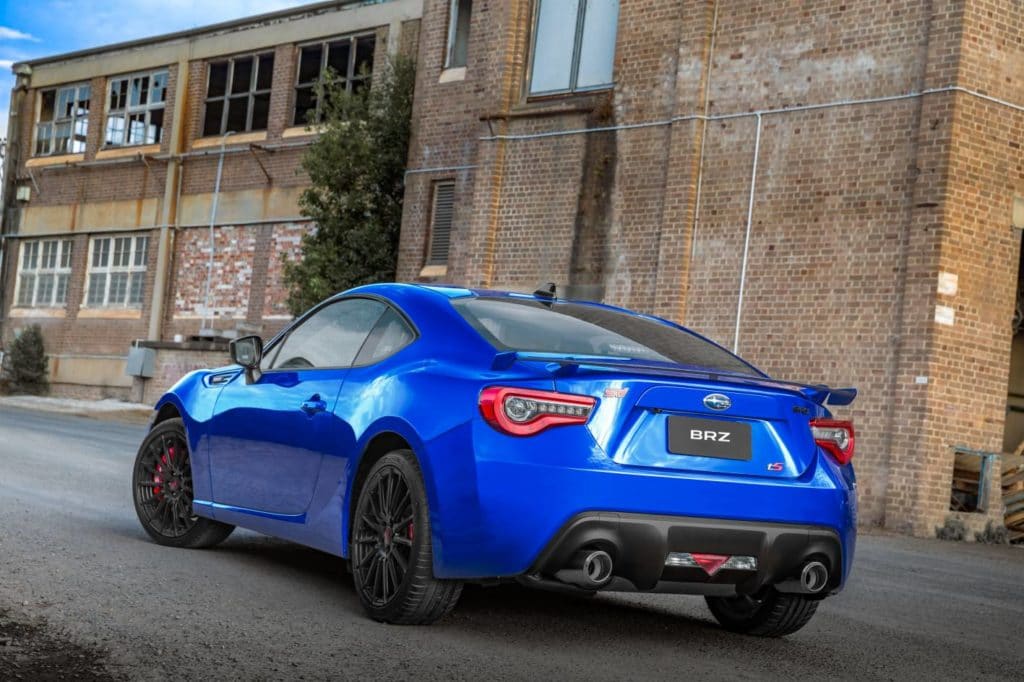 The revised underbody work by STI is immediately evident with its go-kart steering inputs and flat stance when you throw it at corners, its Michelin boots biting into the blacktop so you can drive it hard, really hard, wringing every inch out of the superbly sorted chassis, for a highly rewarding behind the wheel experience, every time.
Added to this is a full suite of the latest safety tech that gets the Subaru BRZ range a 5-star ANCAP safety rating.
If you love driving, you'll love everything about the Subaru BRZ tS.
---
---
For more information: CLICK HERE
By Mark Higgins