Debuted globally at the Monaco Yacht Show last month, the Dutch shipyard Oceano has finally given us what we've been waiting for: gorgeous, detailed photographs of Superyacht DAR's artfully designed custom interiors.
The 90-metre superyacht was first delivered to her owners in July and features a sporty exterior design from DeBasto Design with naval architecture by Azure. Luiz de Basto drew inspiration from nature when creating her profile, resulting in her quirky design and her nickname during construction: "Project Shark".
"DAR's curved main superstructure is made of a black, continuous organic form that reminded me of a shark, so I decided to make the mast shaped like a fin," explains de Basto. The exterior design and the interior layout are completely integrated, eliminating walkaround decks and producing a sleek, sporty look. Her custom interiors, created by Nuvolari Lenard, complement her stylish exterior with refined, natural elegance.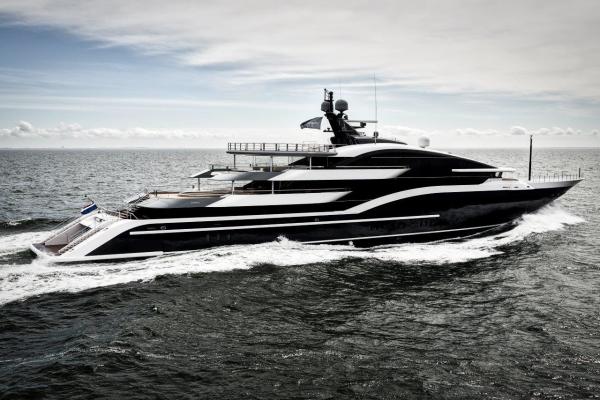 The newly released photographs showcase the finer details of DAR's interiors; light timbers, bright colours and references to flora, fish and sea life. In order to fulfil the owners' request for an airy but comfortable interior, Valentina Zannier, Chief interior designer and junior partner at the Italian design studio, made brilliant use of custom light fabrics and leathers.
"The art glass onboard, the sculpted leather panels, the metal decoration, and the perfect execution from the builders made this project an example of balance and harmony," says Zannier. Extreme attention was paid to the finer details of her interiors throughout to offer opulence and luxury alongside sporty, natural characteristics.
DAR is able to accommodate 12 guests across 6 cabins, all complete with ensuite bathrooms. As an added exquisite touch, she features a private owner's suite on the upper deck complete with ensuite bathroom and a private deck with a spa pool. DAR features floor to ceiling windows in the main gallery saloon to fill the space with natural light and provide scenic views.
Other standout features include a beautiful swimming pool, located on the bridge deck, complete with waterfall, the hammam, sauna and spa in the beach club, and the helipad. Powered by twin MTU 20V4000 M73L engines, DAR can hit top speeds of 20 knots.