The opportunity to hammer a quick car on private roads is a rare and coveted gem in Australia. Our country's strict road rules, combined with a populace that thirsts for performance cars in incredible numbers create an internal battle that can only be diffused with unrestricted time on a race track. You'd think, then, that track time would be more accessible and plentiful in our country. Sure enough, it isn't, but the Porsche Track Experience may be the hybrid solution to scratch that itch.
The Porsche Track Experience has been running for some years now, with over 100 event days held annually in capital cities. The program was put on hold in early 2020 due to the pandemic's cruel hand, but the Brisbane event has freshly resumed thanks to easing restrictions.
At its core, the experience is about teaching participants how to be quicker and safer all the while having incredible fun and getting exposure to Porsche's fleet.
---
---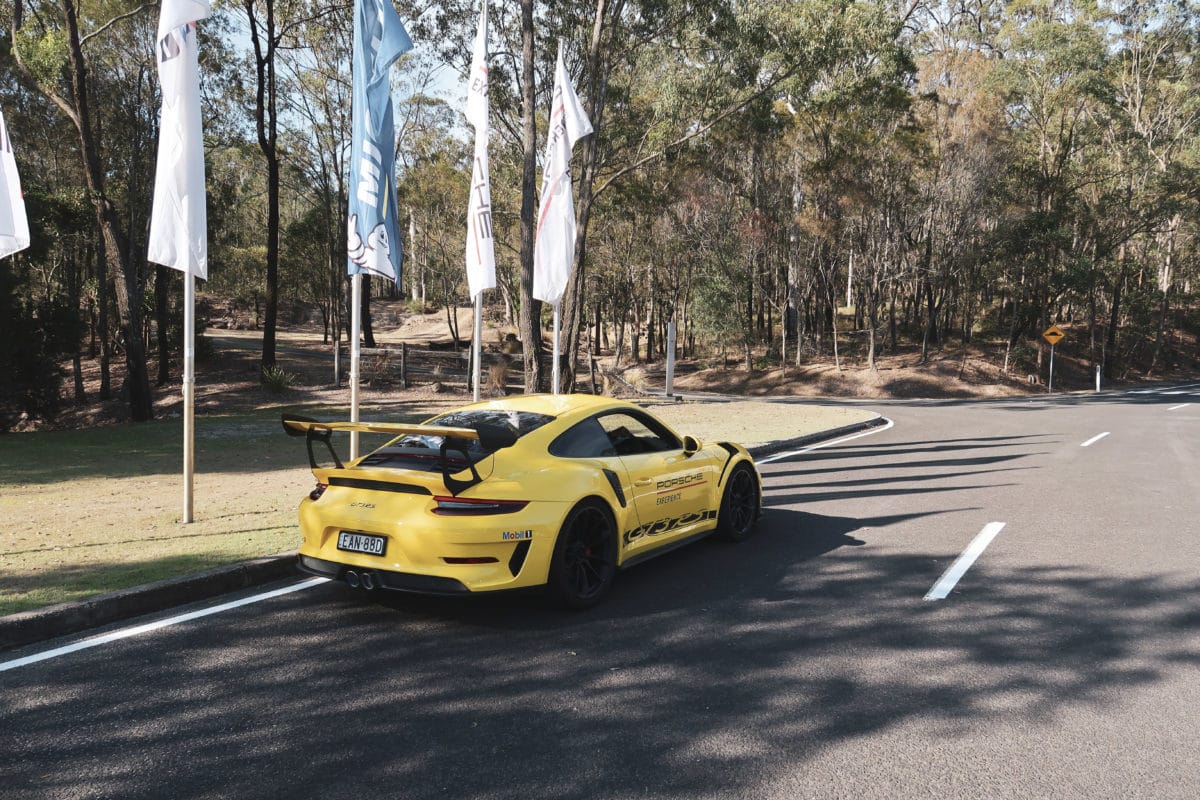 The Porsche Track Experience is staged as a five-tier program that intensifies in curriculum complexity and vehicle ability as it progresses.
Levels 1 and 2, Precision and Precision Plus, are held at the Mt Cotton Training Centre and are a broad introduction to closed road driving and dynamics. Level 3-5 are held at Queensland Raceway and turn the gas up in a hardcore fashion, with Level 5 being a full day of lapping in a GT3 Cup race car (I look forward to giving you a first-hand account of that). Pricing starts at $1,595 for Level 1 up to $6,820 for Level 5.
So there I was arriving at the Level 1 Precision day, greeted by a fleet of beautiful and menacing 718 Caymans, 911 Carreras, Macans, Cayennes, and a sleek Panamera GTS. My only concern coming into the day was that the content would be a bit rudimentary and the driving would be dialled down to cater to absolute beginners. I was sincerely mistaken.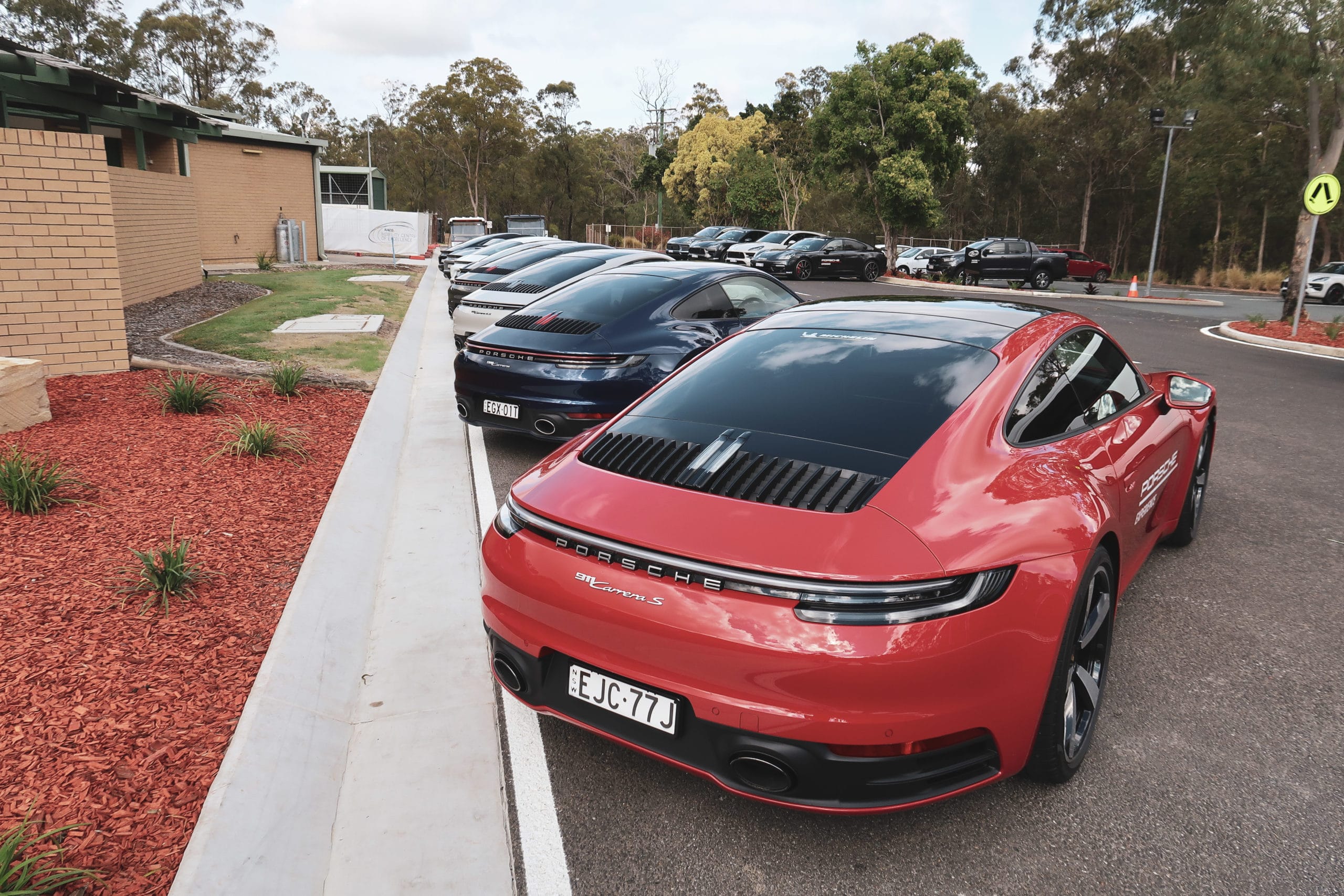 After a briefing from Bathurst winner Luke Youlden on why we needed to keep the shiny new cars shiny side up and the basic physics involved that would ensure we were off to the first of three activities: the skid pan.
Stepping off the bus, we were greeted by the tantalising image of a 911 Carrera and 718 Cayman laying at the foot of an expansive water and diesel soaked circuit. This alone was enough to get some of the other participants licking their lips. Apparently, it's one of the largest and most sought after skid pans in the country.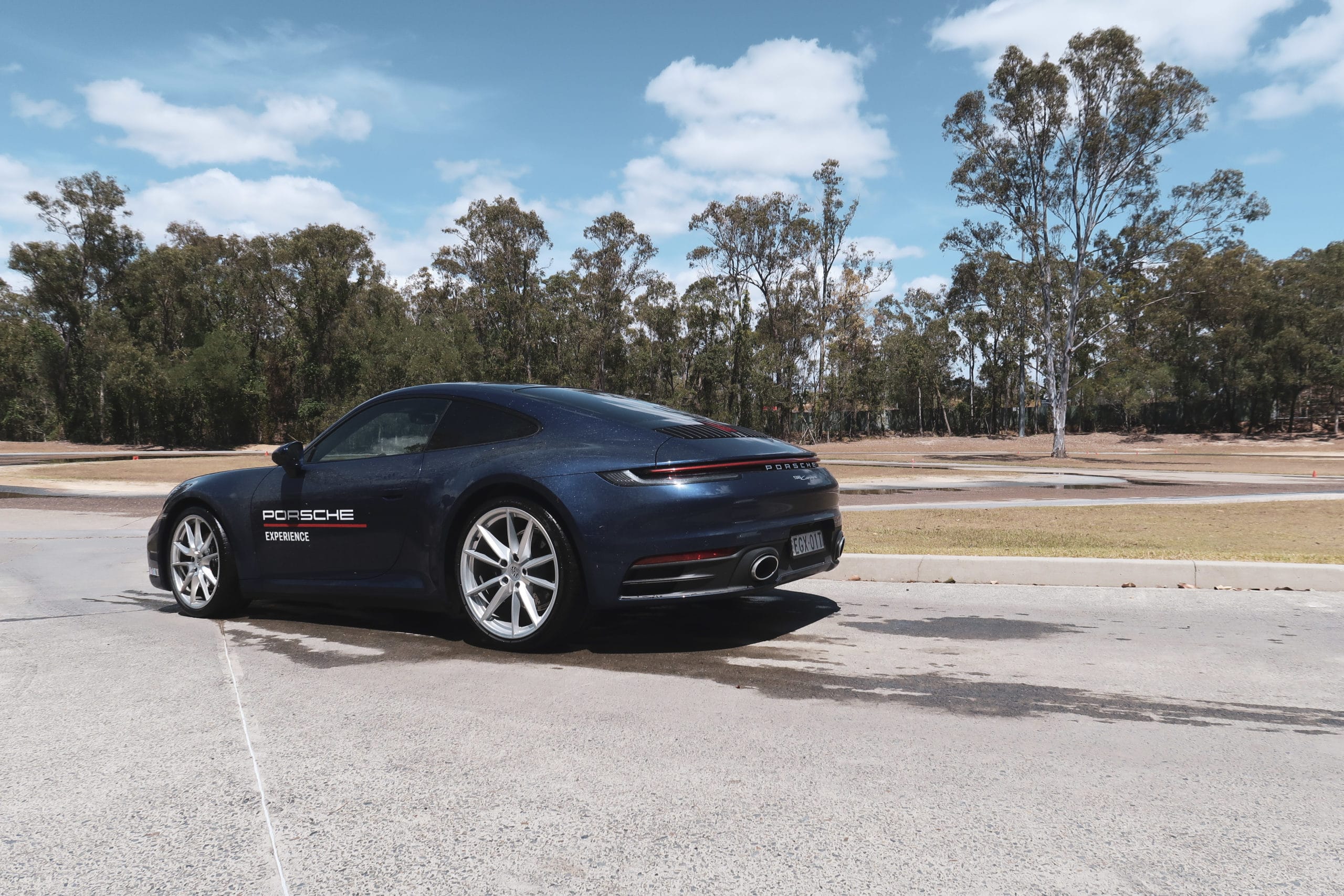 We were then given a rundown on the concept of oversteer and understeer in the context of both safety and fun before being set loose in the cars. The main aim here was to hold a sustained drift without spinning out, which, thanks to the diesel, was not easy at all.
It was absolute bedlam at first, but a few loops of practice saw us stylishly hanging the back out and letting the rear boots spin free in no time. The 911 was undeniably the more potent weapon, as its 283kW of power demanded only a small stab on the throttle before the rear of the car was overtaking the front. The 718 Cayman was not without its benefits, though, with its lower weight and smoother power delivery allowing heightened control when it was needed most.
---
---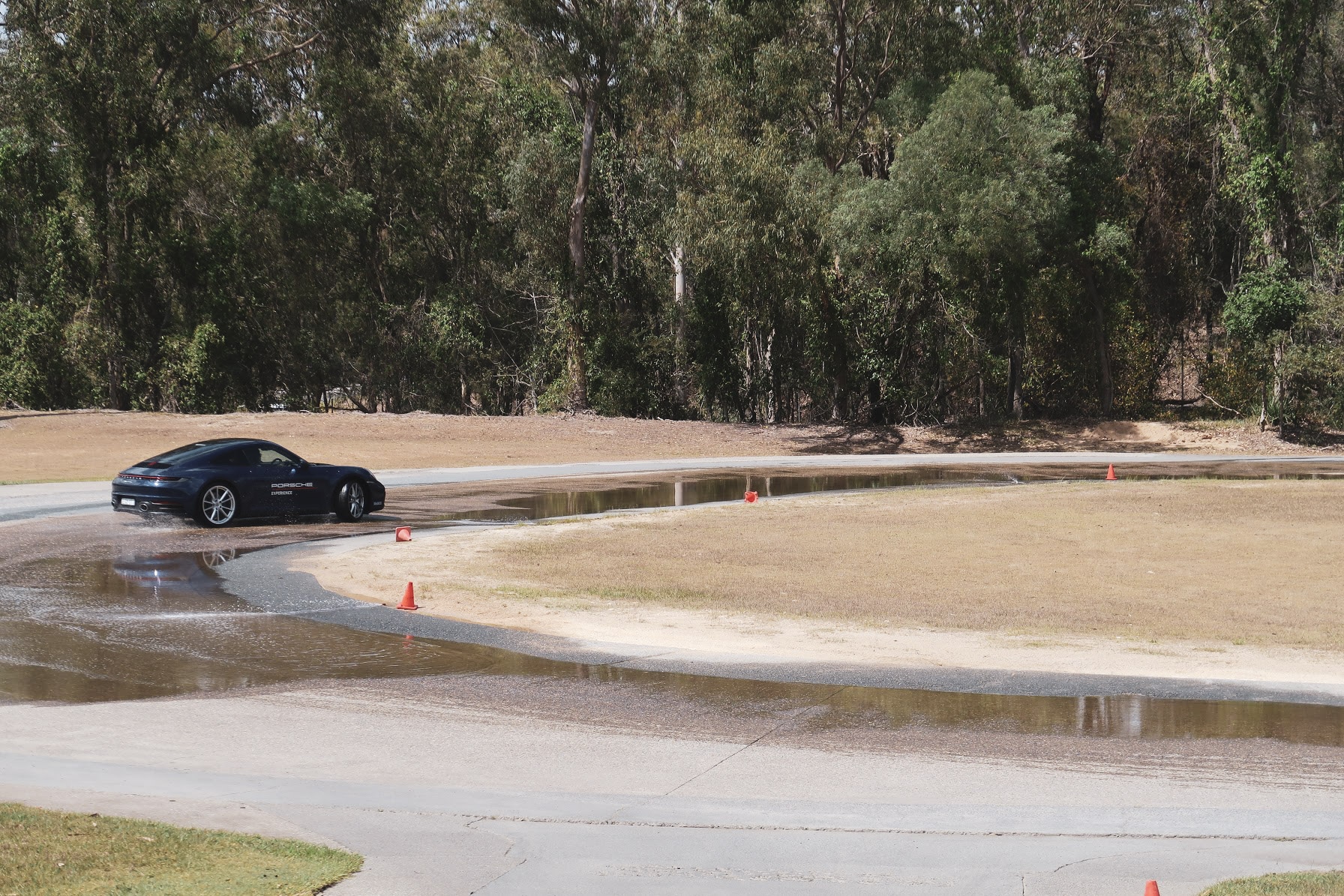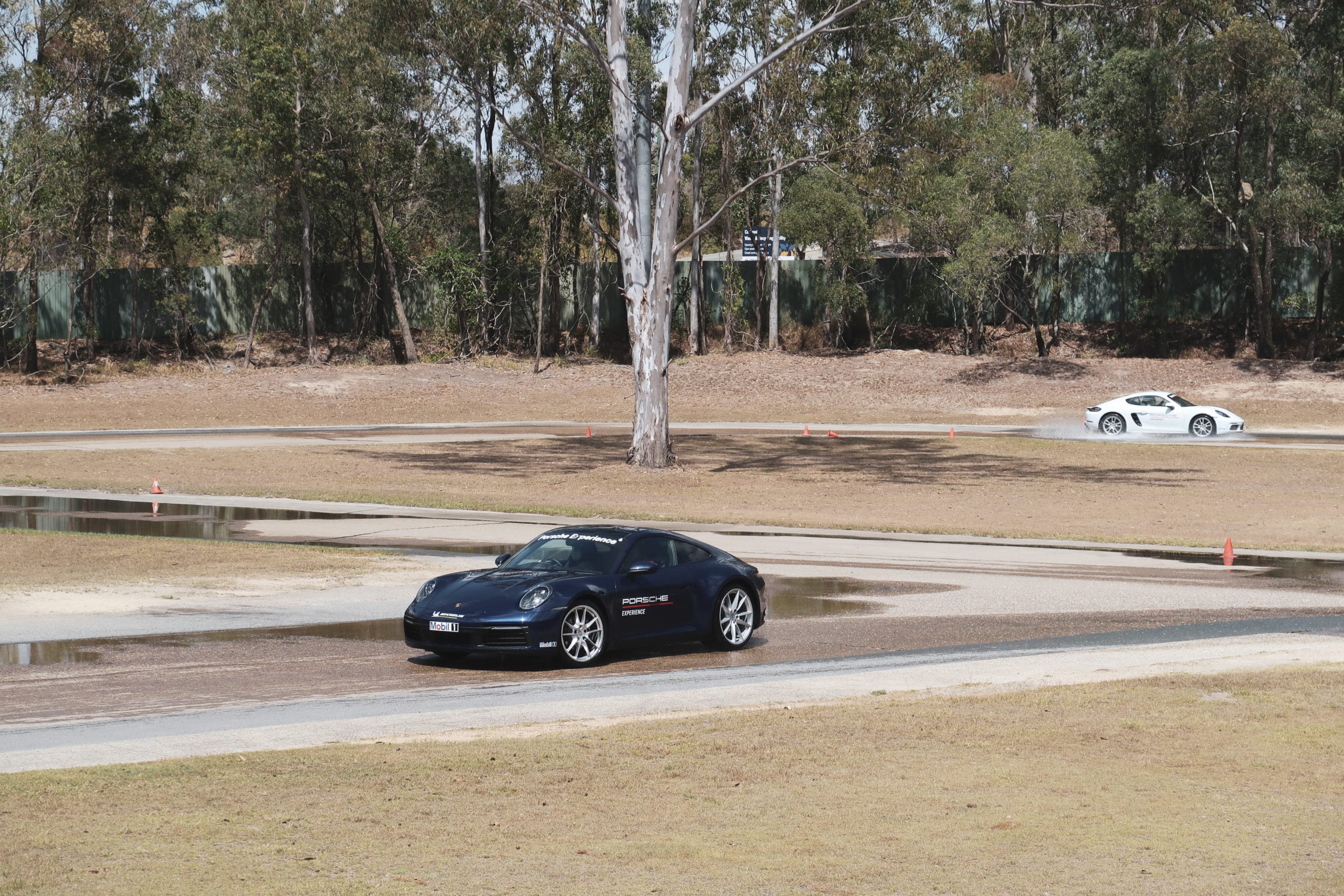 The key takeaway from the skid pan was how to react when a lack of traction is about to result in a loss of control. Putting yourself in that position on the edge of control repeatedly allowed a recalibration of what your response would be, even if that didn't feel natural. Jumping back on the bus, I was sure that I'd just enjoyed the best part of the day – what can beat getting absolutely sideways in a devilish 911 for 90 minutes?
The second session saw us head to the LVMA, a skid pan stretching over a two-hectare expanse of soaked bitumen. Unlike the first session, the premise now was to keep traction at all costs. We were told we would be launching into a zone at 80km/h and forced to negotiate a set of cones, effectively simulating an emergency braking situation.
Admittedly, my focus on the instructor's introduction was lost to the lustrous line of cars we'd be hustling: a 718 Cayman, 911 Carrera, Macan Turbo and Panamera GTS. The Panamera, in particular, piqued my interest – why was Porsche putting one of its heaviest models to work on repeated ABS braking drills? As turned out, they were simply showing off. Its ability to manoeuvre and pull up quickly was supreme.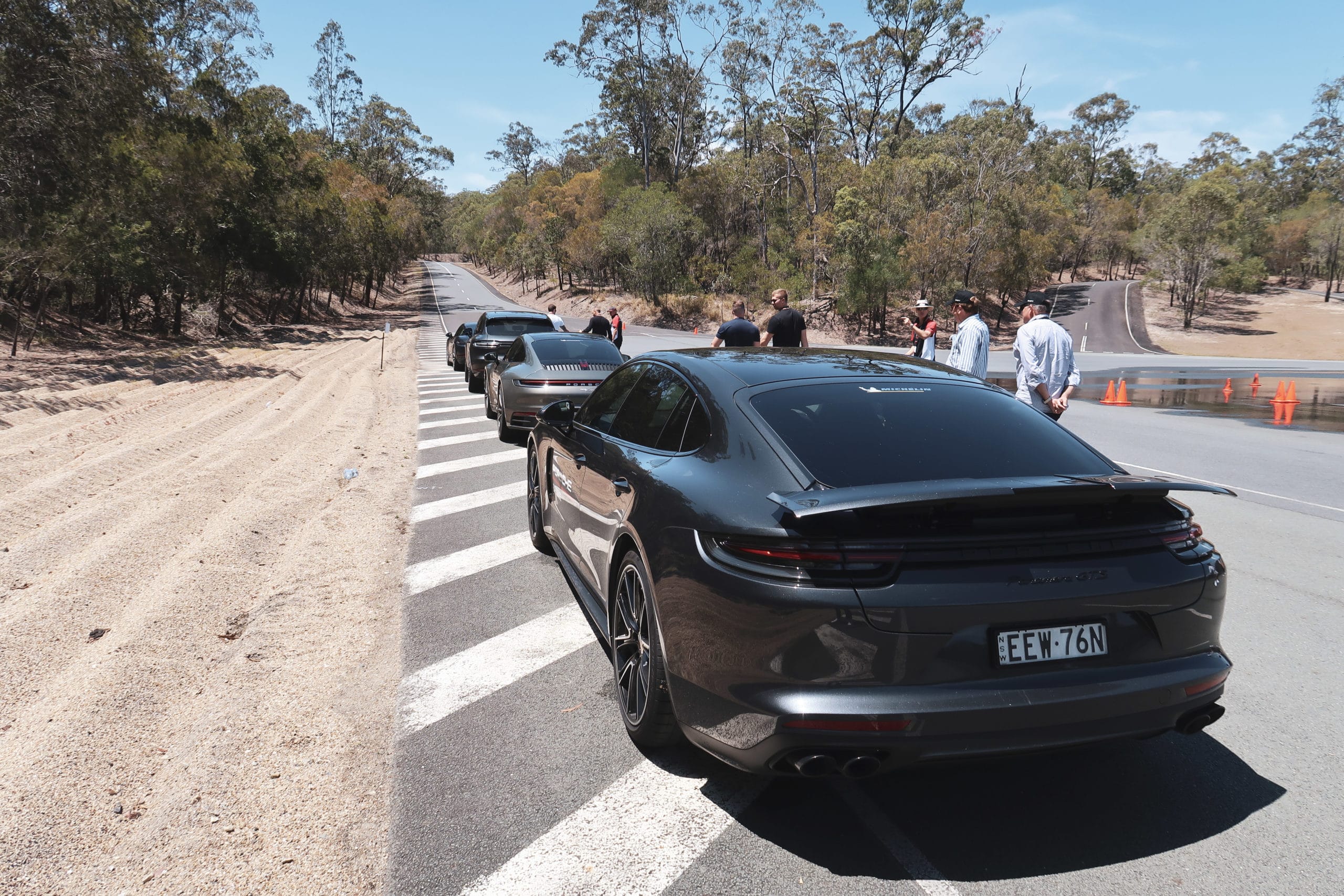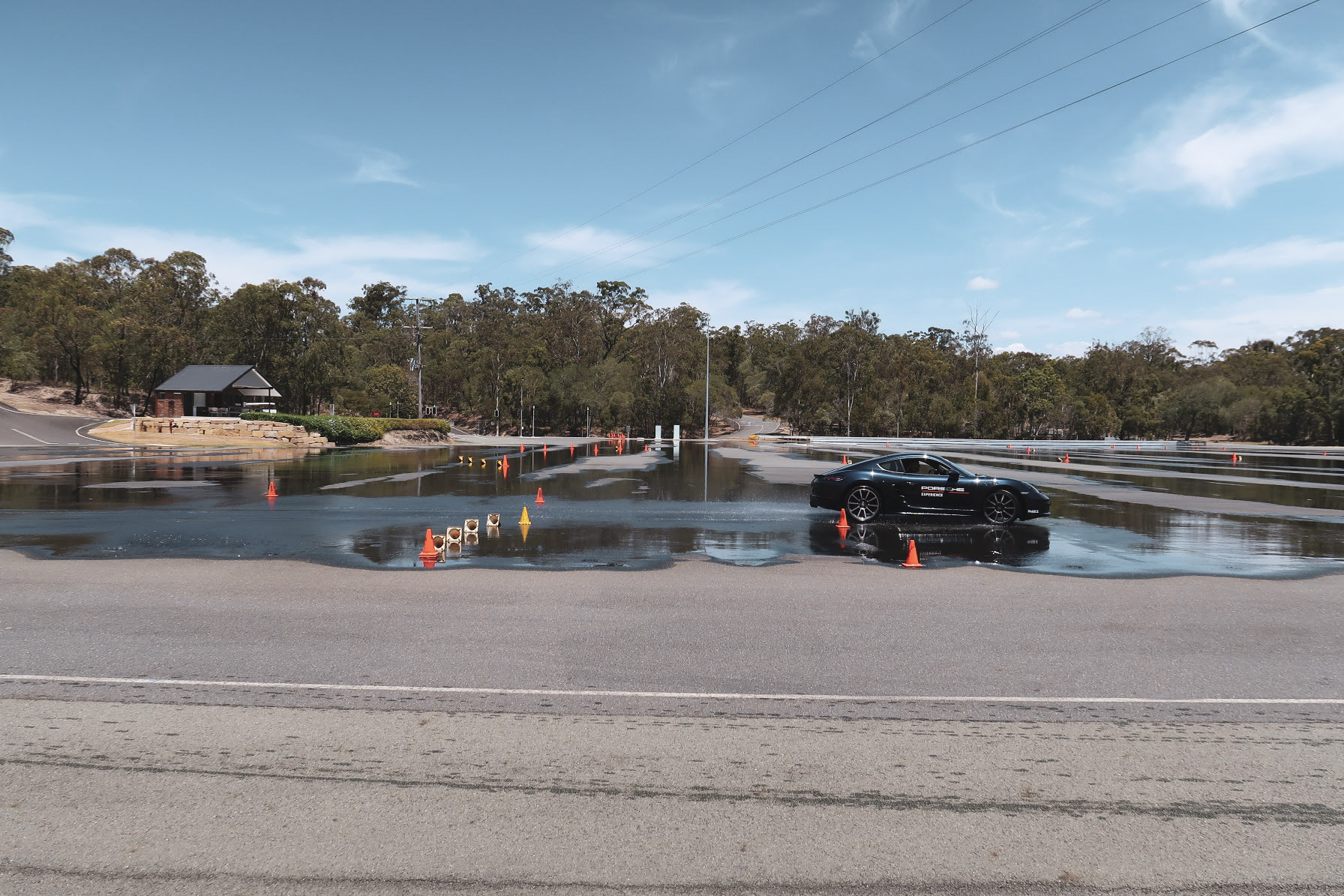 Our handling skills in the wet were then put to the test in a timed motorkhana circuit. As soon as a stopwatch comes out, everyone thinks they're a hero. According to the instructors, the key to getting a respectable lap time is to be smooth and keep traction, rather than trying to blitz it and pushing wide. The consequence-free nature of the LVMA fueled the 'raw fun' factor and you could focus on putting into practice what you'd learned without any risk of crashing. The final session – not so much.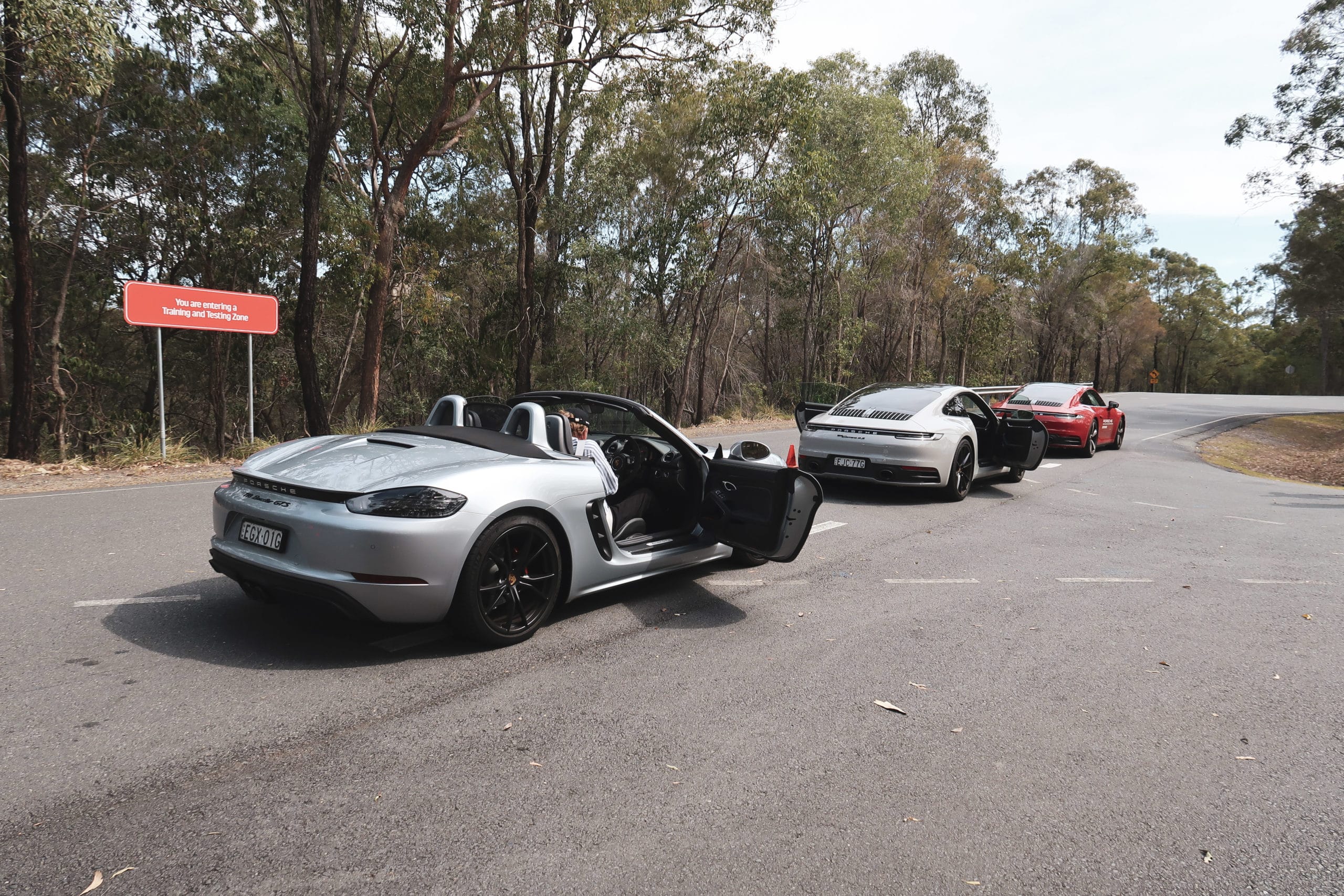 For those looking to improve their driving skills in a racing context, the closed-circuit lapping is the best element of the Porsche Track Experience. Nothing beats time on track for improving your abilities. The forces, sounds, and feelings all culminate to an addictive and exhilarating experience that can't be emulated elsewhere. Porsche had also saved the best for last, as we would now be commanding a 718 Cayman GTS, 718 Boxster GTS, a 911 Carrera S, and 4S.
The track at Mt Cotton resembles a country road, including lane markings and signage. That might sound somewhat pedestrian, but the opposite is actually true. A lack of guard rails, trees on either side, and the fact that you were ignoring the lanes made it feel like a thrilling closed road fantasy. Plus, it's plenty long enough.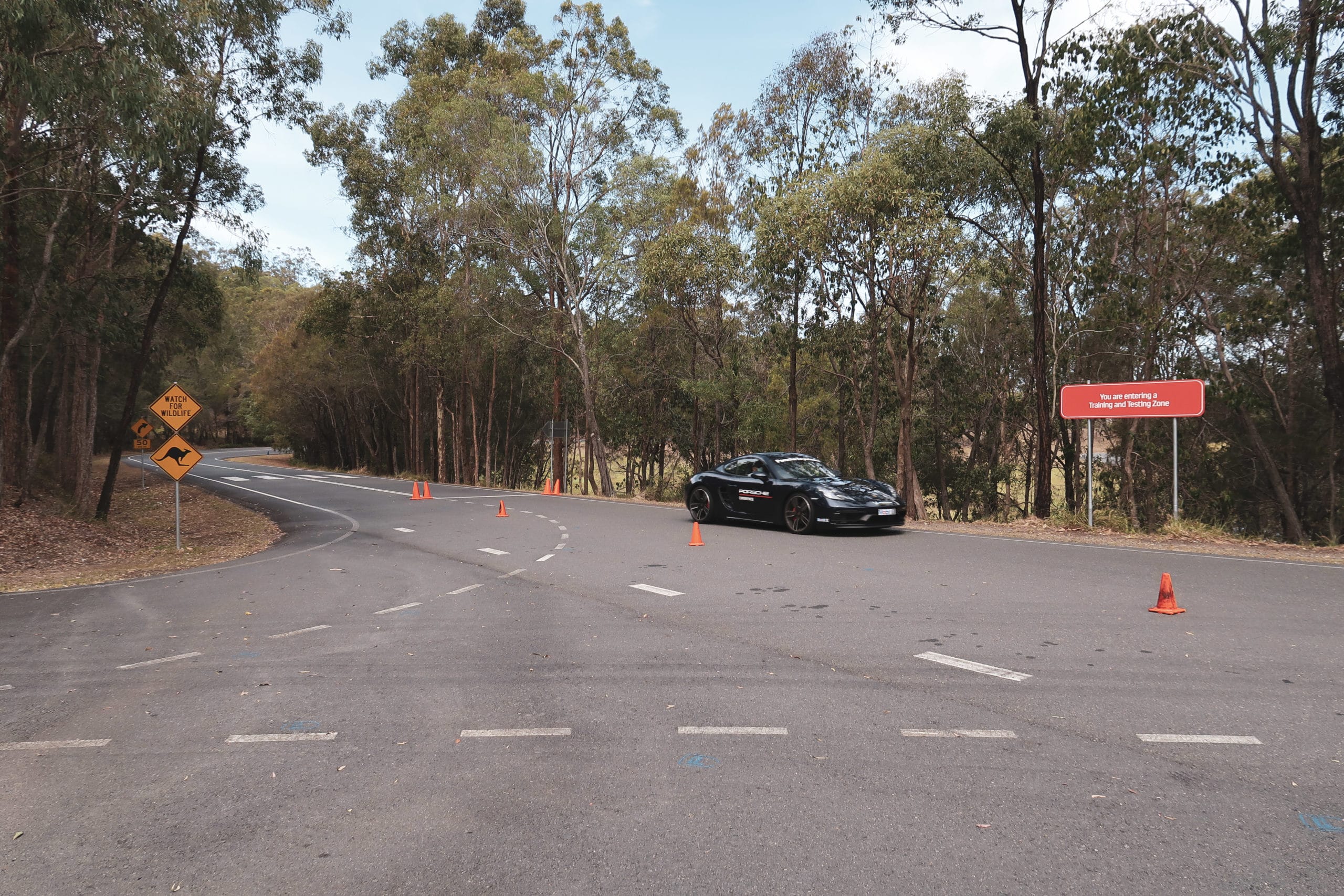 With instructors riding shotgun and whispering little pearls of wisdom and advice, we set off belting some of Porsche's finest. The Carrera S, with its thumping 331kw flat-six and rear-wheel drive was mind-meltingly good and a clear favourite of the day. The 718 Boxster GTS actually caught my emotions off guard too – screaming to the 7500rpm redline with the top down at 160km/h makes you feel things in your heart. As the session progressed, I felt myself getting quicker and more controlled under the instructors' tutelage. It truly is hard to imagine a better way to learn than this.
Another unspoken show of confidence and value was the fact that most of the fleet's odometers were in the low hundreds of kilometres. Porsche is apparently so confident in their cars that they take them straight from the boat onto a track to be repeatedly abused. You can rest easy knowing that you aren't getting any old demos here, and that in itself is impressive.
---
---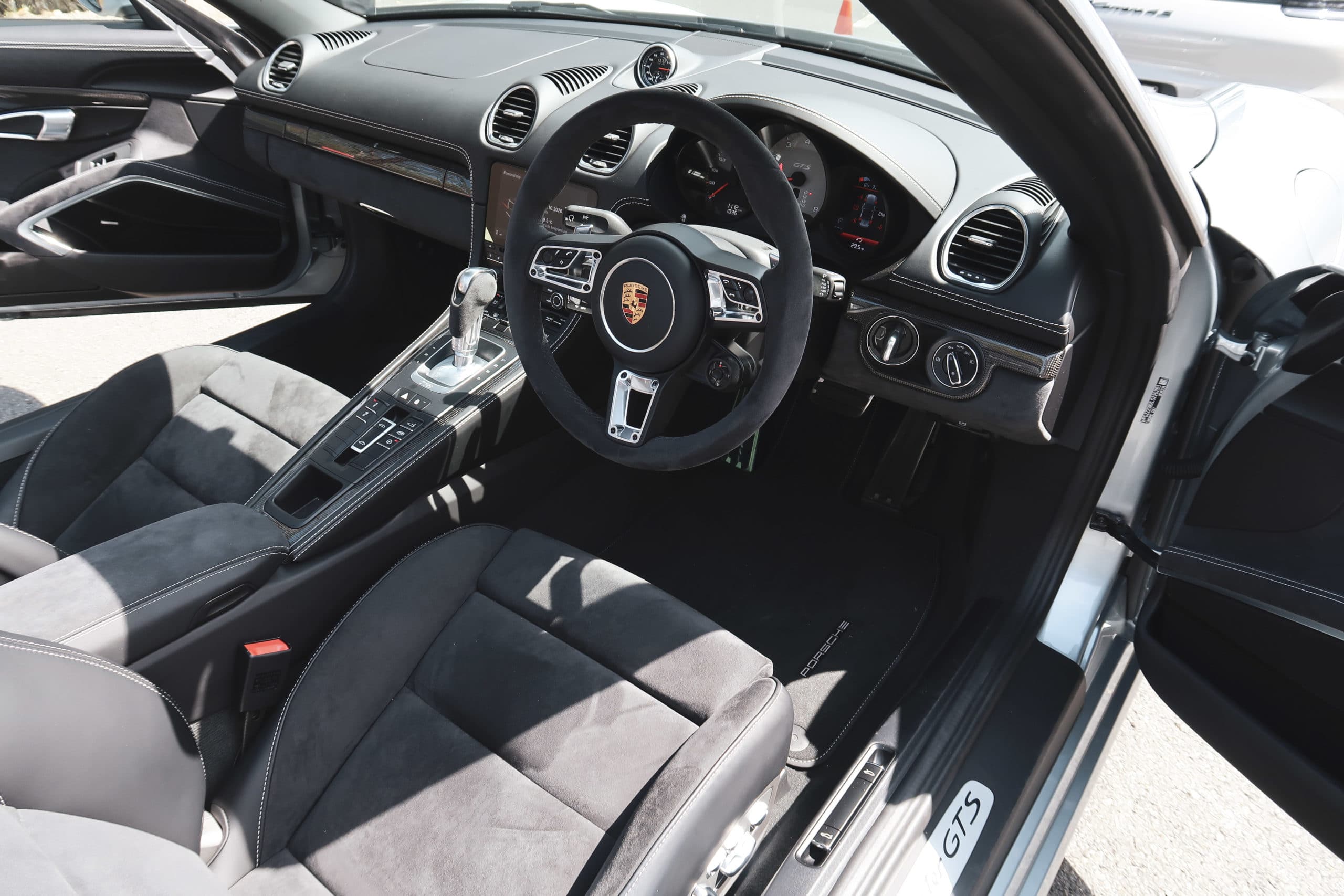 Looking deeper, it would seem that the program has elements of a sales and marketing campaign for Porsche rather than simply a standalone profit exercise. To that extent, it must be incredibly effective – I can only imagine how many vehicles have been snapped up as a result. The fact that the experience can act as a capability statement and an informative course is where the beauty lies. This was affirmed by a glance at the visitor car park, which was absolutely littered with sports cars. These owners were paying Porsche to learn how to drive fast cars, rather than tracking their own.
Part and parcel to the quality of the event are the instructors, all of which have a history racing professionally in some form. Tomas Mezera and Luke Youlden are both Bathurst winners and bring a wealth of knowledge and passion to the program. There is an understanding and attitude among the instructors that changes the dynamic of the day. From the get-go, it was apparent that they were here to help, as opposed to being the fun police enforcing the rules above all else.
In Luke's own words: "We are here to make you faster, not slow you down".
And faster you shall become.
Head over to the Porsche Track Experience website to book in your day, and watch a short preview of the fun below.