Legendary film director Steven Spielberg has listed his mansion-sized superyacht, the immense 86 metre-long Seven Seas, with plans to palm it off to anyone with a spare US$160 million (AU$206 million) lying around.
Assumedly, the director is selling before he climbs even higher in the world of superyachts – reports indicate that the Hollywood behemoth has commissioned an even bigger boat (insert obvious Jaws reference) for future delivery.
Seven Seas, most recently spotted in Gibraltar last year amidst COVID-19 lockdowns, is well known in the lavish world of superyachts. The white-and-navy yacht was delivered in 2010, built by iconic Dutch shipyard Oceanco to Spielberg's exacting specifications. With interior design and décor by Nuvolari & Lenard and Molly Isaksen, it immediately became one of the most awe-inspiring megayachts in the world and played a major part in building Oceanco's reputation amongst those who could afford to play around with these types of high-end pleasure vessels.
---
---
Seven Seas is big enough to accommodate 15-20 people across 7 cabins and 4 decks, including a private owner's deck with a supersized master bedroom that's big enough for a study, a bar (reportedly with Guinness on tap), an apartment-sized bathroom, and a private area with an outdoor pool. Space is maximised throughout all interiors, including 4 other large guest suites and a VIP statement on the main deck which measures the full width of the 14.2 metre beam. Another VIP stateroom is located on the terrace deck, sporting a similar size.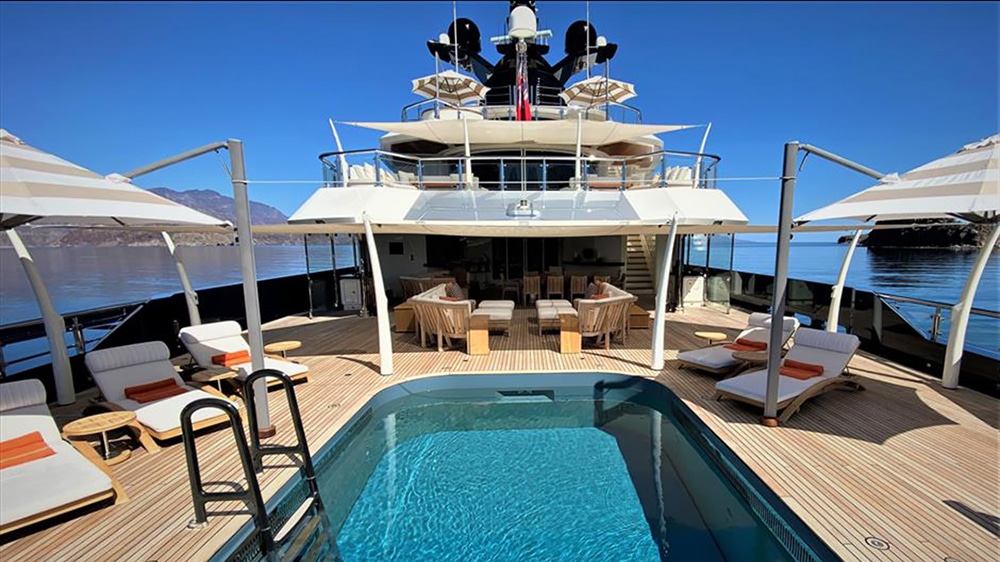 The 4 decks are connected both by a vintage glass elevator and a winding stairway, giving guests easy access to amenities like an outdoor swimming pool and two spas, a special screening room, and a gorgeous wood-panelled main saloon which is located on the same upper deck as the owner's suite. Aft of this watering hole is a lush circular dining room with floor-to-ceiling glass windows that slide open and expand onto a 250 square metre teak deck that has no doubt seen plenty of post-dinner cocktails being toasted to the wide open seas.
The aft deck can be transformed into a helipad, or kept as an entertainment area with Oceanco's trademark infinity swimming pool.
Elsewhere on the uppermost deck is the bridge and captain's quarters, as well as a fitness & wellness centre that spans a gym, massage room, sauna, and steam room.
RELATED: The Ridiculous Requests Of Superyacht Owners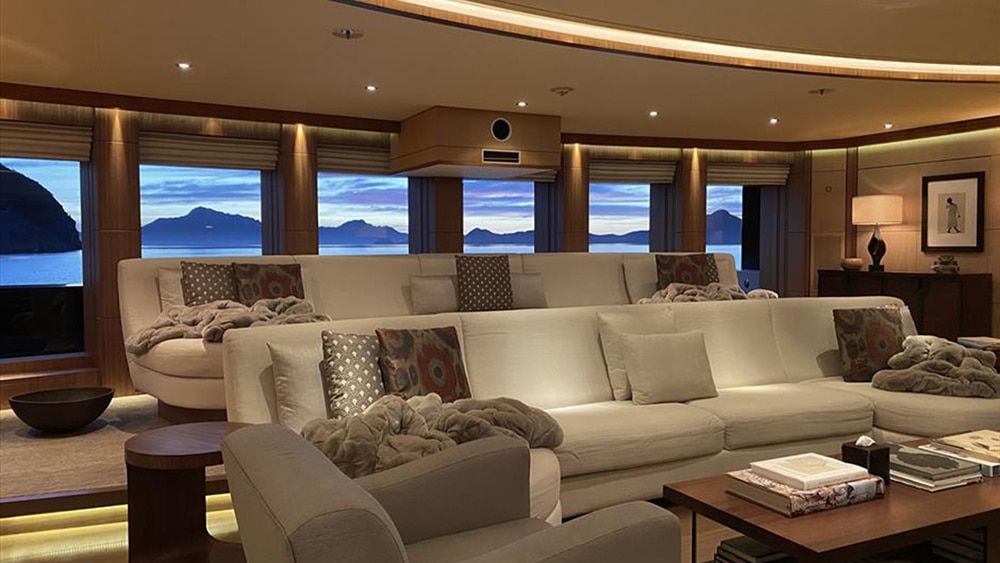 Although most interesting, and telling of Spielberg's specific tastes, is a state-of-the-art theatrette with plush sofa seating organised on tiers next to a full bar and a baby grand piano. It's highly likely that Steven Spielberg's most recent box office hits like Ready Player One and The Post were given more than a few preview screenings here.
The Steven Spielberg superyacht also features a trio of onboard tenders that are fitted to the highest standards of luxury, spanning a 9 metre sports boat, and a 10 metre limo-esque tender. The Seven Seas' garage also features three Wave Runners and various diving equipment.
---
---
RELATED: Planet Nine: Inside The 73-Metre Tenet Superyacht
As for what's driving the entire thing, the Seven Seas is capable of maximum 19.5 knots, with a cruise speed of 14-15 knots. The specs are driven by twin 4,680 horsepower engines, allowing for a range of 8,368km which is more than enough for one easy transatlantic crossing.
Celebrity-owned Megayachts have been plastered all over the internet lately due to a swift uptick in the industry, assumedly driven by the COVID-19 pandemic and the fact that all these mega-rich figures didn't actually lose much (if any) money during the lockdowns. Just about everyone on the internet would know by now that Jeff Bezos is awaiting a new superyacht from Oceanco which is big enough that it needs its own support yacht, just to fit a helipad and other essentials
If you've got a cool $206 million lying around, you could join this list of seafaring moguls. Although most of us will have to contend with picture-induced escapism. As such, check out more images of the Steven Spielberg superyacht below.