The problem with giving a score of 10/10 is you're confirming that there is no room for improvement, which is why every motoring publication under the sun is now scratching their heads thinking…shit. There's only one score we can give the 2021 Toyota GR Yaris Rallye Edition because there's just no way that the more track-focused iteration of the homologation special, super hot hatch, could be rated any worse than its predecessor.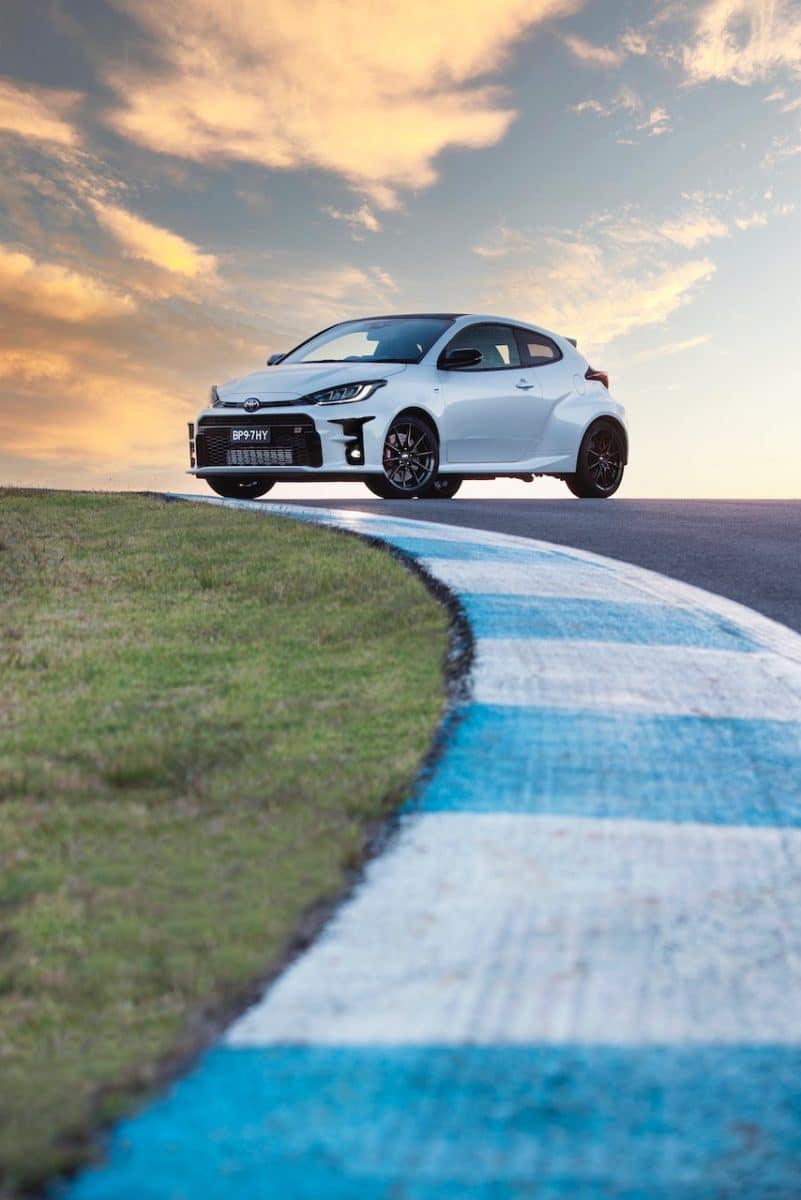 Driving the GR Yaris
I'll be honest with you, the existing 2021 Toyota GR Yaris, which Jack attended the launch of in late 2020, wasn't a 10 out of 10 car for me. I was fortunate enough to spend a week with it days before flying to Canberra for the launch of the Toyota GR Yaris Rallye (for the ultimate comparison) and while I found it to be a fantastic machine, with a cracking engine, it didn't come without its issues.
The Yaris in question had qualms with Apple Car Play, the active cruise control (it wouldn't set), and the lane-keeping assist, and it spent a week blipping at me over these and various other radar irks it had, asking me to refer to the owner's manual. Yes, it may have been specific to the vehicle, but it negatively affected my overall experience.
---
---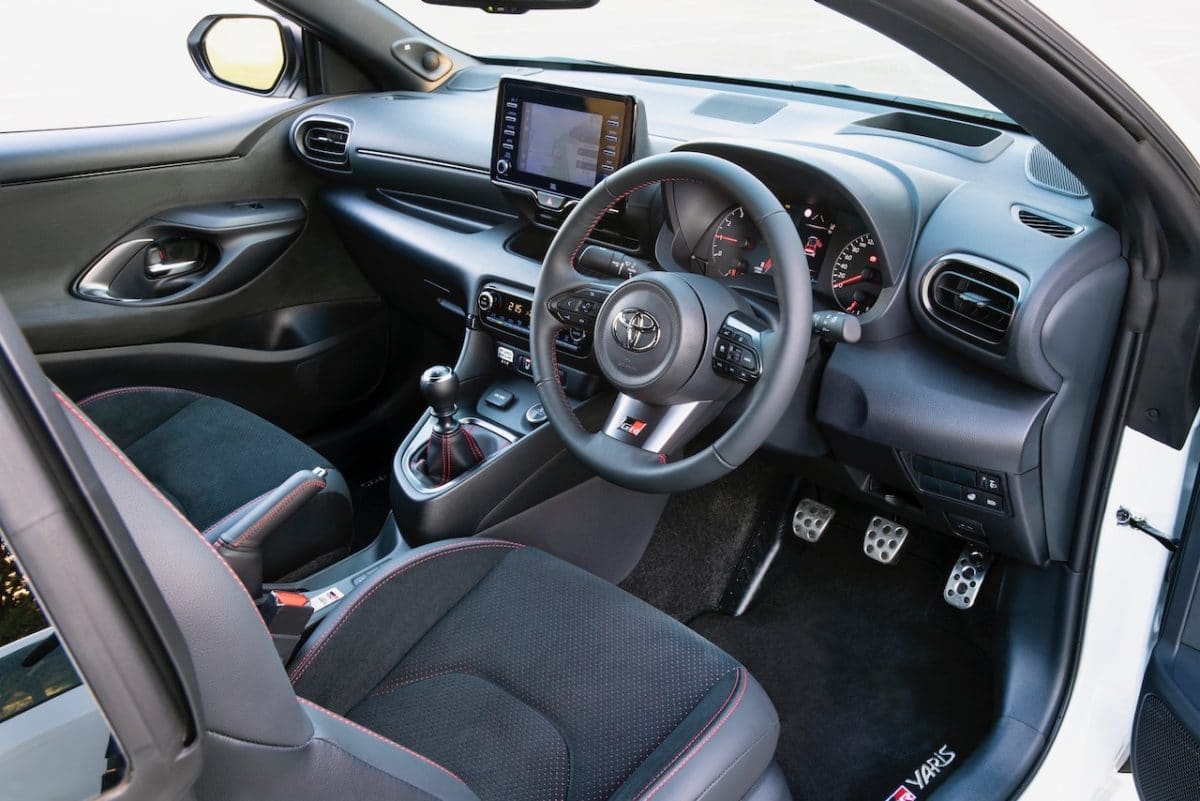 Outside of the technology woes, and the driving position, which is just a fraction too high, it was an undeniable hoot and an astonishing showcase of poise and pure unadulterated grip – without sacrificing ride quality or day to day liveability. This brings me to the Toyota GR Yaris Rallye, a car that seeks to magnify handling, agility, stability, and control. The 200kW, 1.6 litre, turbocharged three cylinder engine hasn't been touched, but the finer details, like suspension and cooling, have been finessed, and with the addition of lightweight performance parts, make the GR Yaris Rallye even quicker around a circuit.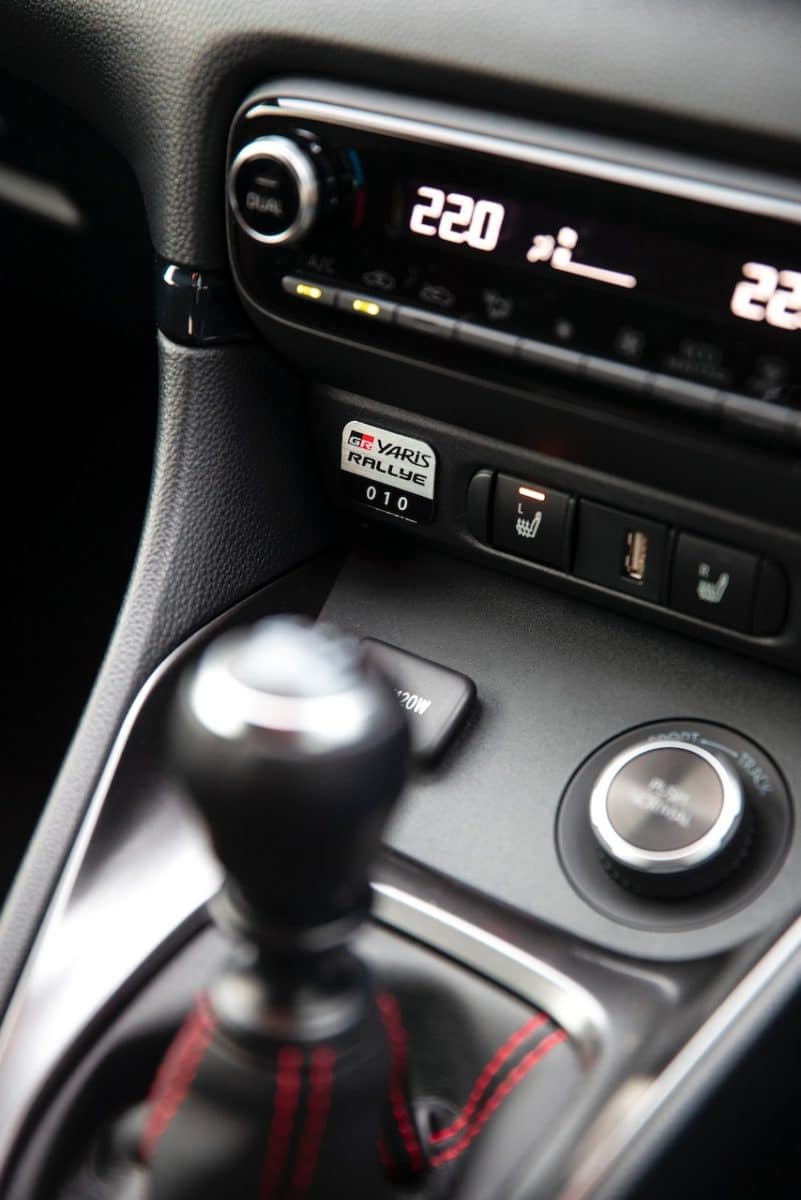 What's new?
Aesthetically, only the addition of a rear 'Rallye' badge, an individually numbered centre console (to reflect the limited edition nature), and ultra-lightweight BBS forged alloy wheels wrapped in Michelin Pilot Sport 4S tires will differentiate the Rallye. The vents that facilitate the improved front brake cooling look identical to those on the regular GR Yaris but are functional on the Rallye, capturing and directing air directly onto the discs and bright red brake callipers.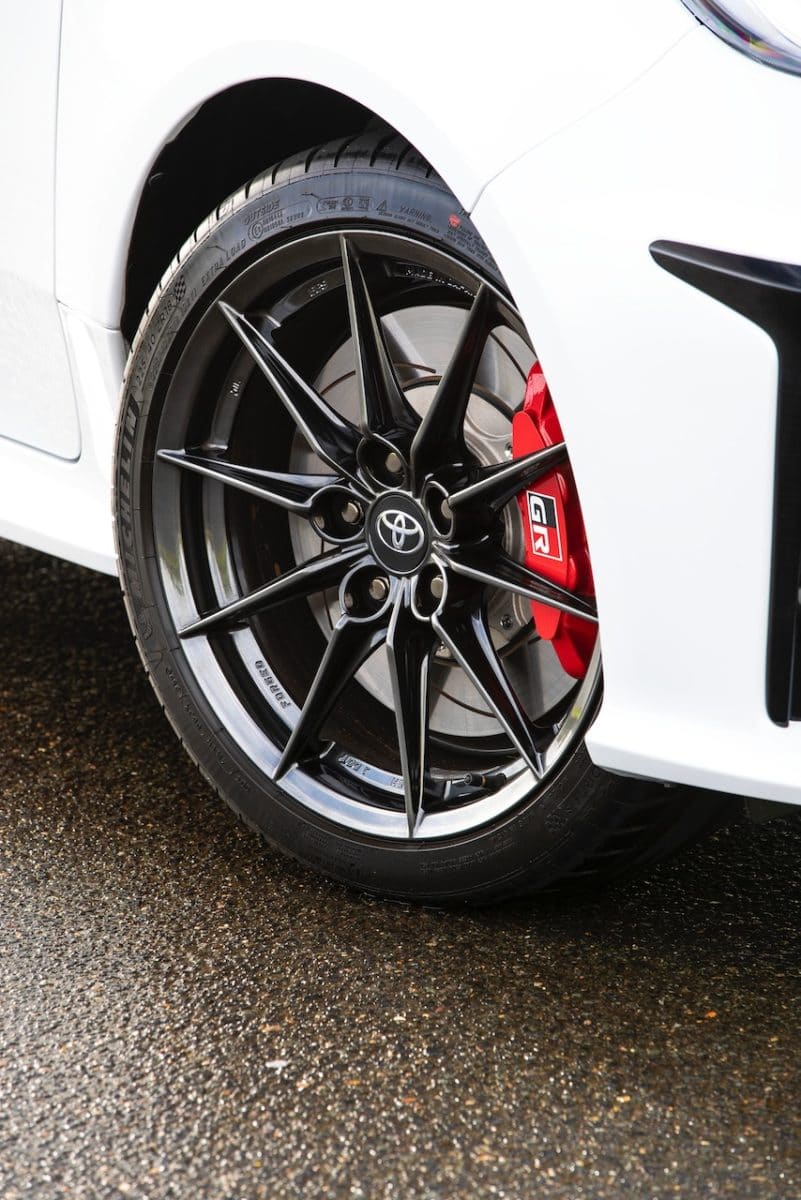 While we didn't drive the GR Yaris Rallye on the road, we got the chance to drive both variants back to back on a closed circuit and skidpan. Amongst the motoring journalist elite, I heard murmurs of the regular Yaris being more fun and free-willed than its track-bred sibling but there's no denying that the Rallye is the preferred choice for gentleman drivers (aka kooks like me) who want to improve lap times and link controlled drifts.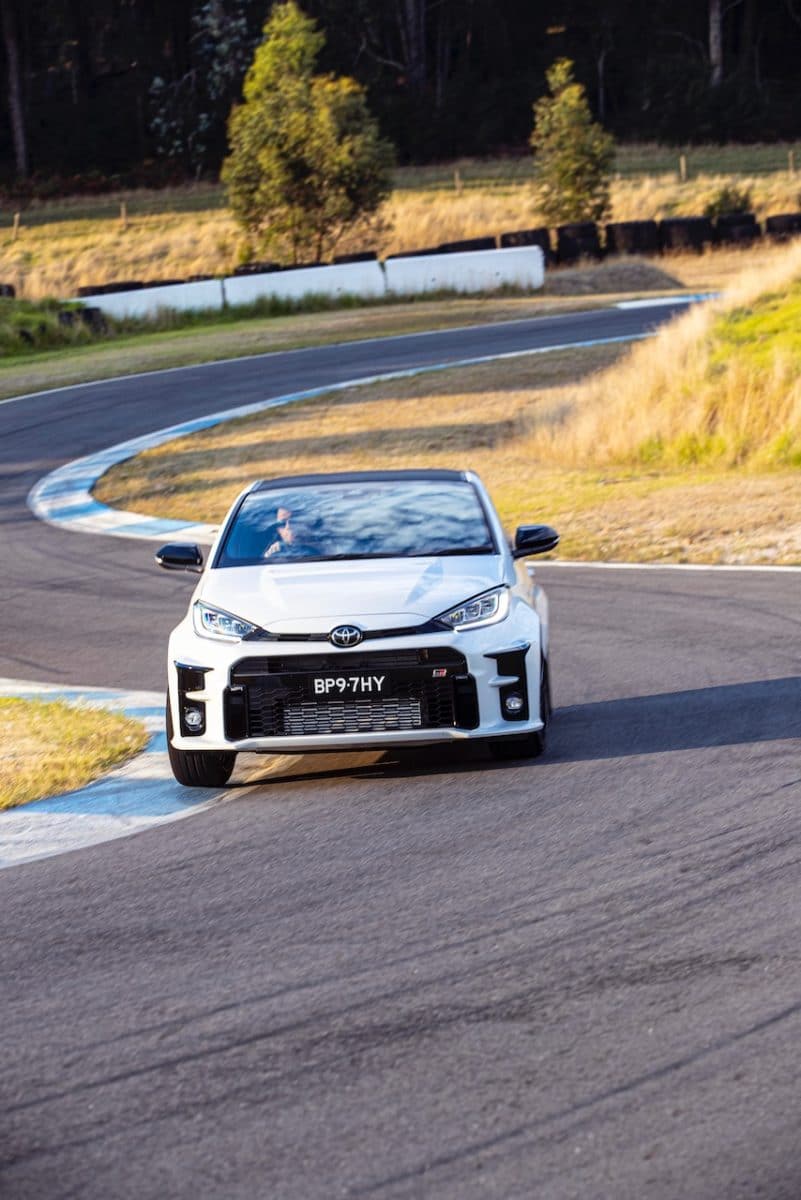 On the track
The GR Yaris Rallye's braking ability and sure-footedness through, and out of corners – assisted by beefier front springs and stabilisation components and more efficient torque distribution from the front and rear Torsen limited slip differentials – spiked my confidence, willing me to push it more. I drove each car back to back, sampling all three drive modes, and in the GR Yaris Rallye, in 'Track Mode', with equal 50/50 power split between the axles, I hit sweepers with more speed, got on the brakes later, maintained a more efficient racing line, and was generally just a better driver – and that's compelling.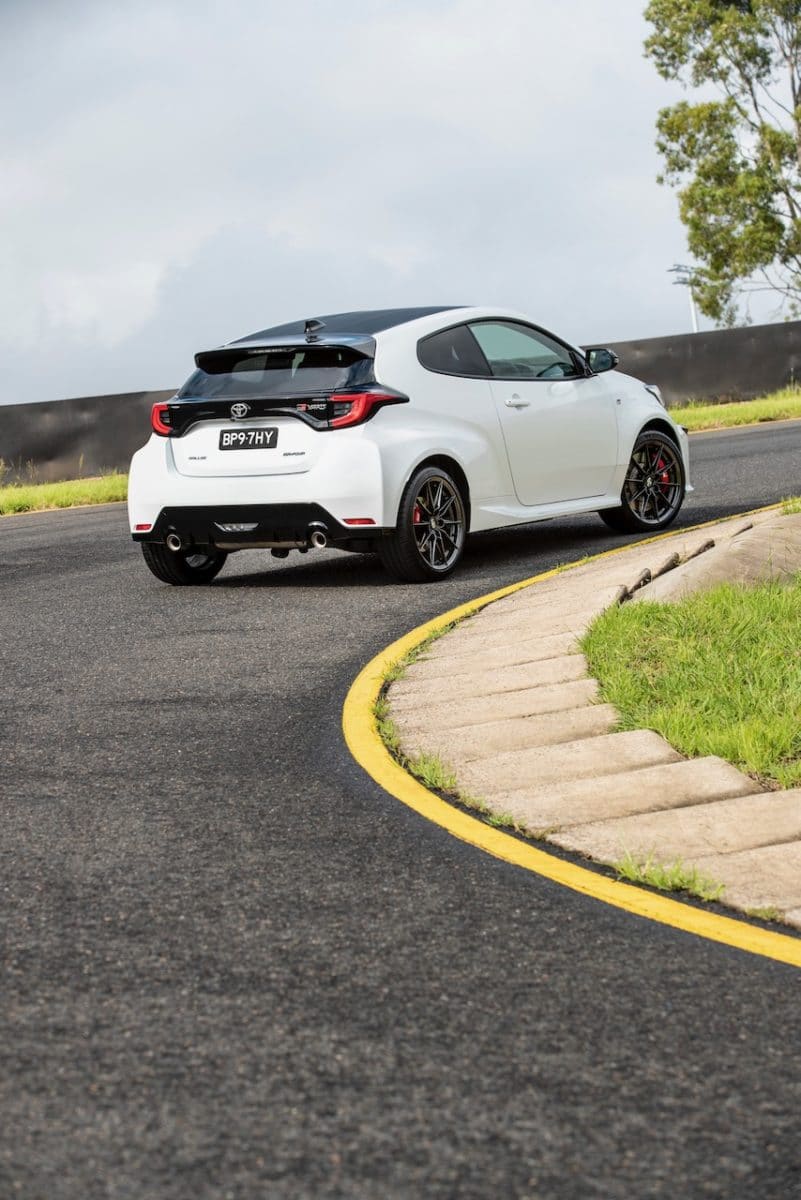 On the skid pan
On a newly drenched skidpan, I was finally introduced to the GR Yaris GR-FOUR all wheel drive system, and mechanical handbrake. Rally-inspired sourcery disconnects the rear axle to initiate a dramatic slide when the handbrake is yanked, then when it's dumped, sends the power back to the rear wheels upon release (best enjoyed in Sport Mode with the 70/30 rear to front split). Sure, the GR Yaris is still good fun, but the Torsen limited slip differentials in the GR Yaris Rallye place it in another league, with sharper acceleration response and better stability, allowing you to control an (occasionally) magnificent drift around one cone to the next. The Rallye is quite possibly the most fun I've ever had in a car.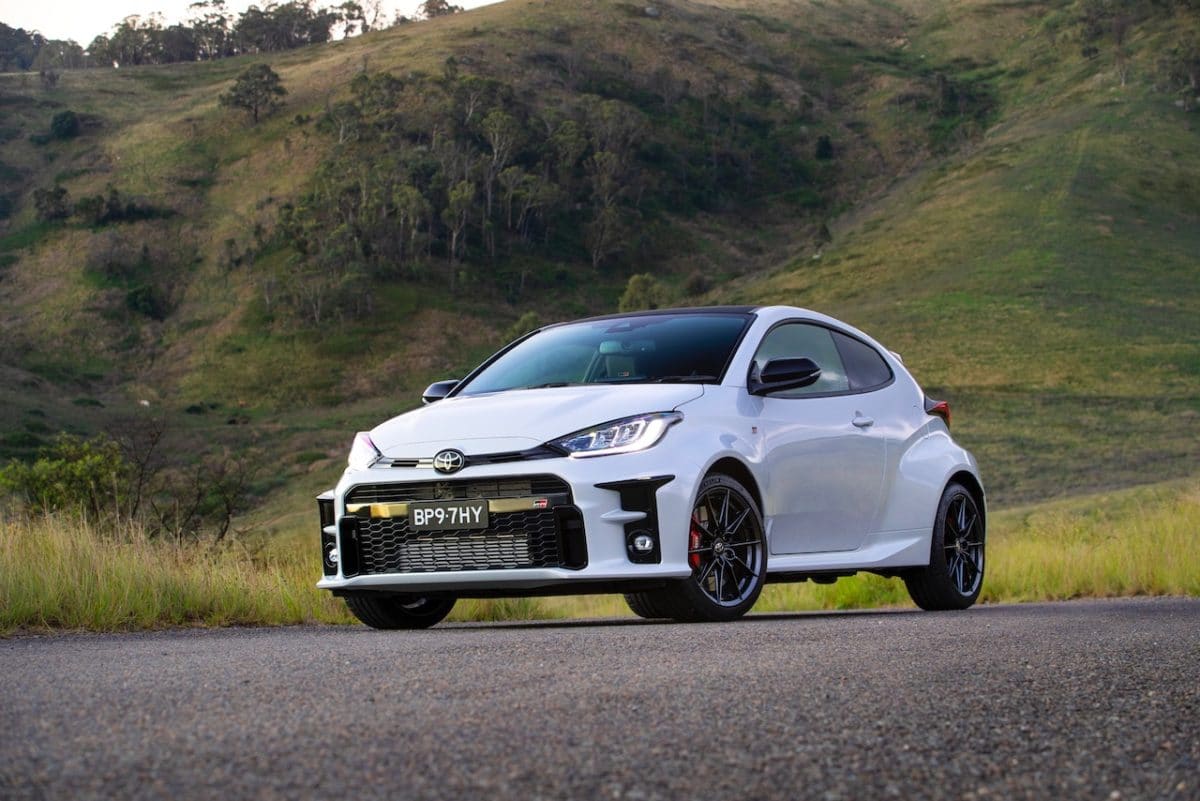 Rallye Verdict
Like the original, the Toyota GR Yaris Rallye will only arrive in a six speed manual but does so at a $5,000 premium over the existing car – at $54,500 plus on road costs. While I can't fault the joy of driving it, at this price – well and truly in Golf R territory & certainly – I do think the Rallye is a niche sell. However, for those enthusiasts who do want to jump into what is a very exciting, special, and unique car, why wouldn't you choose the Rallye over the regular GR Yaris, just from a collectibility/resale point of view? Unless of course, you nabbed a bargain and got into the GR Yaris at its introductory price of $39,950 drive away and can do the mods and Michelin Pilot Sport 4S rubber yourself.
What is the Toyota GR Yaris Australia stock situation?
Toyota Australia provided an official statement on production and wait times is as follows: We can confirm that Toyota currently has over 2200 orders including both GR Yaris and GR Yaris Rallye in our system. Based on our current supply schedule, we are expecting more than 2000 of these orders will be fulfilled in 2021, with a small percentage to be fulfilled in early 2022. For orders of both the GR Yaris and GR Yaris Rallye, we encourage all customers to contact their local dealer for the most up to date information on delivery timing for their vehicle.
---
---
What is the 2021 Toyota GR Yaris price?
The 2021 Toyota GR Yaris costs $49,500 plus on road costs (about $53,000 drive away) and the 2021 Toyota GR Yaris Rallye Edition costs $54,500 before on roads (about $56,200 drive away).
What is the 2021 Toyota GR Yaris 0-100 time?
Officially, the standard GR Yaris and GR Yaris Rallye can accelerate from 0-100 in 5.2 but there's no doubt that it feels faster.