If you want a hot hatch and need more space, with no less pace, let me introduce you to the Volkswagen Tiguan 162TSI Sportline.
This new performance model of the range combines the Tiguan's excellent dynamics and roominess with the performance of the legendary Golf GTI.
And at $45,990 the Volkswagen Tiguan Sportline 162TSI is within a whisker of the Golf GTI price.
---
---
Never one to miss an opportunity, the clever folk at VW have taken the two-litre 162kW/350Nm turbo engine from the legendary Golf GTI and transplanted it into the Tiguan body. All wheels are driven wheels through a seven-speed DSG gearbox and despite its extra weight the Volkswagen Tiguan Sportline 162TSI dashes from zero to 100km/h in 6.5 seconds, identical to the Golf GTI.
Volkswagen Tiguan Sportline
More Than Just A People-Mover
In many ways it is a shame the majority of Tiguan Sportline 162TSI's will be confined to lugging kids to school and sporting events, hanging out in shopping mall car parks and maybe the occasional drive out of the burbs.
Because when you find a sinuous piece of bitumen the Tiguan Sportline 162TSI impresses with the way it brakes, points, goes and steers. You can attack corners with confidence thanks to its all-wheel drive, hot hatch handling, quick, accurate steering and little if any body roll. Amp up the throttle response by selecting 'Dynamic' or 'Individual' drive modes and you can make the most of its excellent mid-range torque that lets you hustle it out of corners. Flowing roads are its party piece and driving it enthusiastically clipping apex after apex after apex is bloody good fun.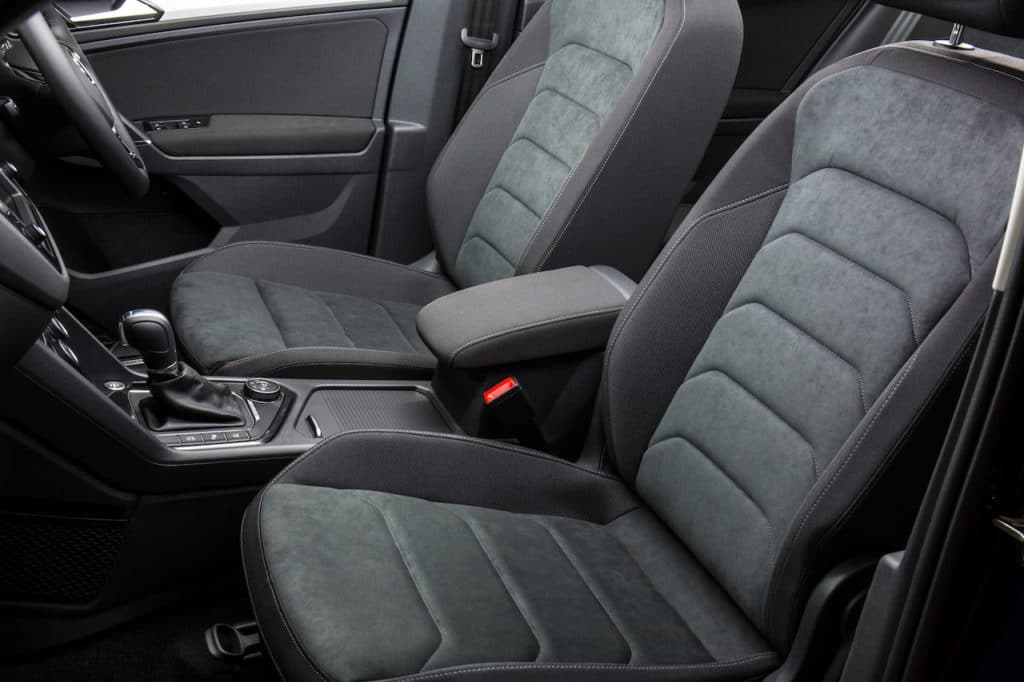 A Sleek Interior
Also deeply impressive is the look, feel comfort and size of the interior. It has the ambience of a premium luxury vehicle. Fit and finish is first rate and the quality of the materials used first class. Soft-touch surfaces are everywhere with harder more durable plastics used in less obvious areas. A panoramic sunroof is the only option.
Predominantly black, the interior is highlighted with chrome trimmings, gloss and matte plastics plus extremely comfortable ArtVelours microfleece/cloth seats. All round visibility is good and there is plenty of room up front. The Tiguan is one of the rare cars that hasn't forgotten the rear seat passengers. There is an exceptional amount of leg, shoulder and headroom and the split-fold rear seat partially reclines for added comfort and slides fore and aft to maximise luggage space or passenger space. Plus there are air-conditioning vents with a separate temperature control. Very thoughtful.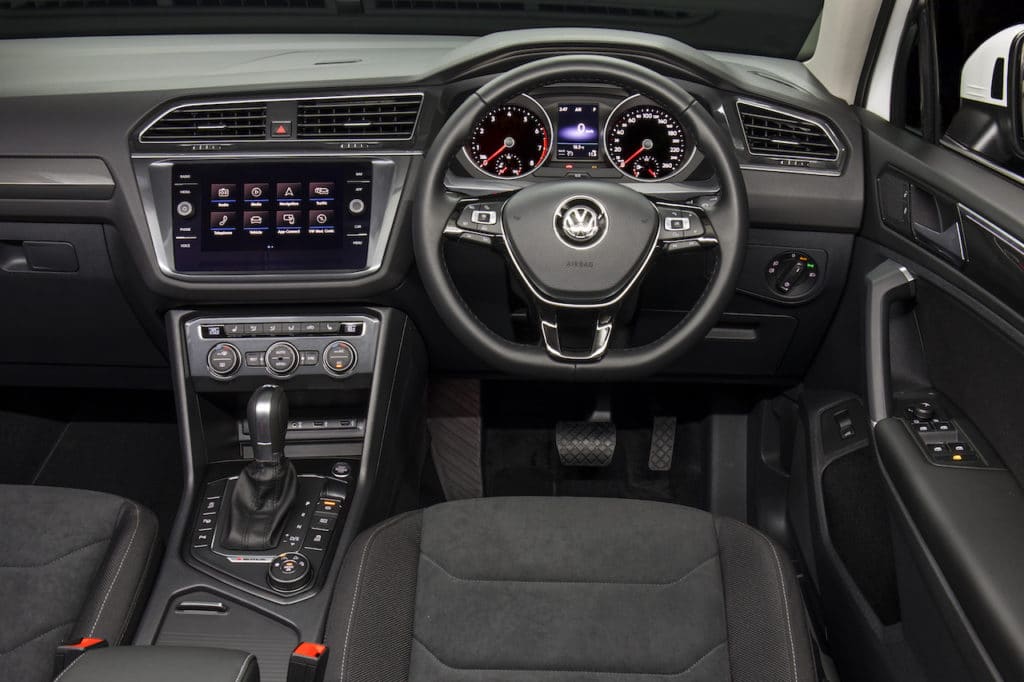 I also like the clever touches like the fold-down tray tables for a tablet or laptop complete with cupholders, and the under front seat storage boxes.
Infotainment is taken care of by an eight-inch high-definition colour touchscreen with CarPlay and Android Auto, reversing camera, satellite navigation, Bluetooth phone and music streaming.
---
---
At a glance, the luggage area doesn't look that big, but it easily accounted for a couple of large Samsonites, soft bags, a box of wine and even a set of golf clubs at the same time. The rear seats fold flat and can easily carry a bike with both wheels on.
Safety First
Safety wise the Tiguan Sportline 162TSI boasts plenty of driver assist and safety systems including, driver fatigue warning, adaptive chassis and cruise controls,front assist with city emergency brake and pedestrian detection functions, lane departure warning system with adaptive lane guidance, self parking front and rear parking sensors, reversing camera, lane change with rear traffic alert and traffic jam assist. Of course, there are the usual airbags, anti-lock brakes traction and stability controls.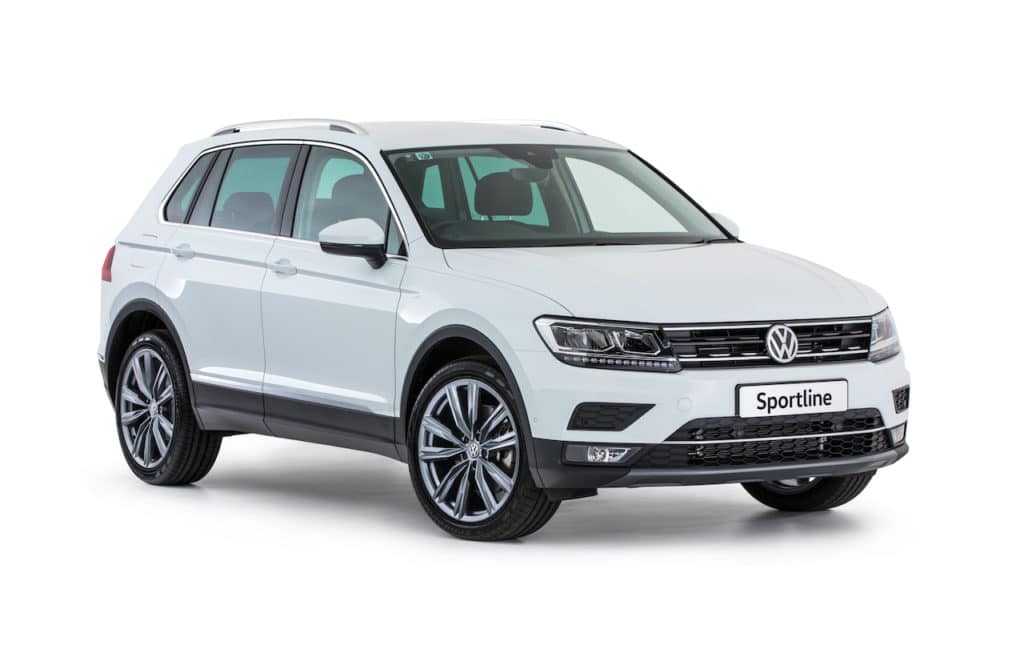 Hatchbacks and SUVs are bought for their practicality. Hot hatches are bought for the driving experience. The Tiguan Sportline 162TSI ups the ante on both by some considerable margin.
It's roomy enough for a family holiday, a day at the beach, weekend camping, shopping expeditions, sports events. And it offers never-ending fun behind the wheel, all wrapped in a smart looking and refined sporty package.
Whichever way you look at it; a hot hatch with a bloody great boot or a compact SUV GTI, it's game set and match to Volkswagen. If you're looking for more superpowered VW action check out this custom ABT Touareg.
By Mark Higgins