Long before his 7th Super Bowl victory, Tom Brady was practically synonymous with the NFL, boasting of an impressive sporting resume populated by multiple championship titles, MVP awards, and so forth. But once upon a time, before all the achievements and greatly uncertain of his future in professional football, the Tampa Bay Buccaneer's star quarterback was forced to put together a completely different kind of resume.
After graduating from the University of Michigan in 1999, Brady found himself being overlooked for other NFL prospects. Preparing for a potential life of clocking in from nine to give like the rest of us chumps, as revealed in the 2011 documentary The Brady 6, his backup plan apparently entailed selling insurance. That very summer, Brady had interned at Merrill Lynch; previous to that, Brady worked as both sales representative and assistant club manager at the University of Michigan Golf Course.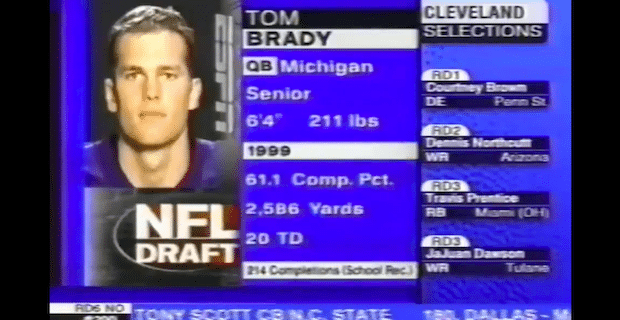 RELATED: Tom Brady Helped His Teammate Secure A $322,000 Bonus In The Last Two Minutes Of A Game
---
---
During the 2000 NFL Draft, it almost seemed as though Tom Brady would be needing said resume. He would not be selected until the 6th round as the 199th overall pick by the New England Patriots – something which has since been acknowledged as the league's most egregious oversight in this regard. Incidentally, the 2000 NFL Draft's first-round pick Courtney Brown (defensive end) is widely regarded as the biggest draft bust ever experienced by the Cleveland Browns franchise.
"Found my old resume!" Brady posted to Facebook back in 2014.

"Really thought I was going to need this after the 5th round. #tbt"
Check it out below.