On October 13th 2019, Eliud Kipchoge became the first human to run a sub-2-hour marathon after making a speedy sprint around a Viennese course in 1 hour 59 minutes and 40.2 seconds. The Kenyan native previously attempted the pioneering venture only two years ago, as part of Nike's Breaking2, however failed to make the cut.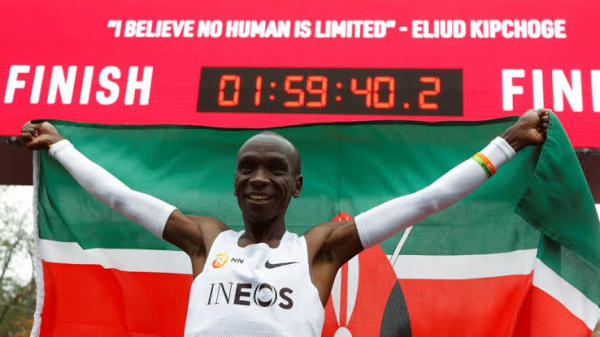 Averaging 2.50 per km for all 42.26 he ran, it actually took a squad of 41 of the world's running elite to bring Eliud home, with seven teams of rotating pacemakers both in front and flanking him, for the entirety of the run, each doing 4.8-kilometre stints. A lead car was employed to pace the runners, extruding an intricate arrangement of lasers to identify the ideal position on the road for Kipchoge and his pacers to follow.
The group of pacemakers comprised of Olympic silver-medallist Paul Chelmo, Olympic champion Matthew Centrowitz and five-time Olympic winner Bernard Lagat. The Ingebrigtsen brothers from Norway were also part of the accomplished squad, alongside Aussies Stewart McSweyn, Brett Robinson, Patrick Tiernan and half marathon specialist Jack Rayner.
The Ineos Company coordinated event took weeks of preparation for Kipchoge, who was accomplishing weekly runs of 140 miles at an extremely high altitude. Although Kipchoge holds the existing world record for his time and distance, the marathon will not be officially acknowledged as the conclusive world record due to the alternating pacers and the fact that it wasn't an actual competition open to the public.
Hours of esteemed and thorough devising is accredited for the success of Kipchoge's marathon run which was created to perfection. Kipchoge ran along Vienna's Danube River, which is completely flat and extremely close to sea level.
The road had different aspects marked with the quickest route feasible. Kipchoge was fitted in the most advanced version of Nike's Vaporfly shoes, that they haven't even been released yet, which the brand claims can improve performance by 4 per cent.
Cyclists who rode alongside the runners provided live data and on the run sustenance to Kipchoge via scientifically developed drinks, with the event planners making sure the marathon occurred on a day that served Kipchoge the best weather possible.
Watch the full feature on Kipchoge's road here:
RELATED: The Nike Go LA 10K Run Shut Down One Of Los Angeles' Busiest Freeways