In this new age of professional working life, companies the world over are scrambling to provide employees with recreational and 'fun' amenities. But it's high time you forget about all that basic shit.
Yoga? Not until I start getting arthritis. A ping pong? That'd be perfect if I was a 12-year-old from Beijing. OK, but pool tables? Only on the condition that you sling me a few schooners of mid-quality piss to keep it interesting.
No – you need to start thinking in the ballpark of is this AU$270,000 F1 Hammacher-Schlemmer racing simulator.
---
---
Reportedly the most realistic racing simulator in the world displayed on a gloriously wide 108″ triple HD monitor – not to mention the incredible 500-watt audio system – this rig has won the favour of Ford Motor Company as the go-to means for demonstrating ride experiences. So what exactly makes this set-up tick?
This isn't just your run-of-the-mill stationary gaming setup. But you've probably deduced that from the price tag alone. Suspended by linear servo actuators, the simulator's monocoque fibreglass chassis has full 360° mobility.
Roll, pitch, rotation – those lucky enough to sit behind the wheel will feel every bump, turn, and skid. The front of the chassis dips when you hit the brakes and pushes forward when accelerated. According to the product description, it even "…faithfully [reproduces] actual racing conditions such as entering a turn at 200 mph or moving up a bank in the slipstream of an opponent…".
The level of authenticity is kicked into higher gear when you consider the fact it features an actual racing seat, seatbelt, paddle shifters, and a clutch, in addition to the more obvious steering wheels, accelerator, and brakes.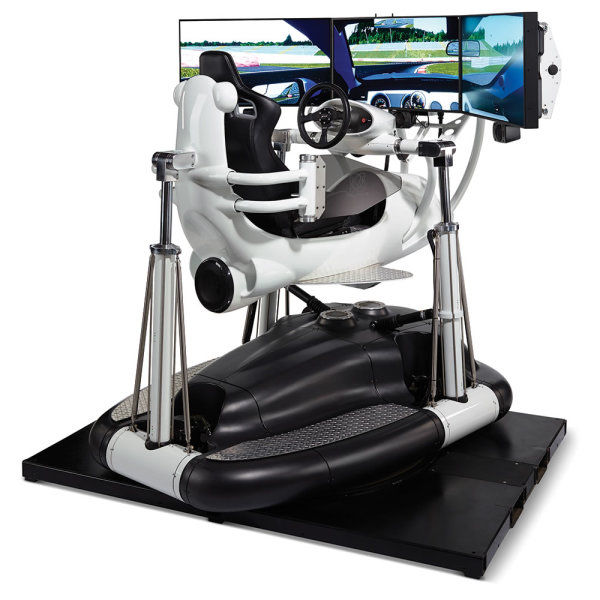 Onto the digital aspects, there's a total choice of twelve race cars which includes F1s, F3s, GTs, and stock cars. There's also a wide array of road-courses with such well-known tracks as the Nürburgring.
Try going back to Friday arvo Jenga knowing this is what you're missing out on.