There are moments in Formula 1 history that remind us why millions fucking love this sport. Today, for instance, marks the nine-year anniversary of such an occasion which will (hopefully) live on in eternity. An occasion involving the last time icon Michael Schumacher piloted an F1 car, the third consecutive world championship title of Sebastian Vettel, and a lifetime of admiration coming full circle. This is the story of Schumi's parting gift to fans, F1 as a whole, and of course, Vettel himself.
November 25th, 2012. Brazil. It was a weekend of mild temperatures. 10 minutes before lights out, light showers occurred. Every team on the grid opted to start on slicks. And as for the matter of this particular season's championship, it was a close title fight between Red Bull's Sebastian Vettel (273 points) and Ferrari's Fernando Alonso (260 points). Cinematic stuff.
"Wet races are a bit more unpredictable so we need some kind of damp race with many things happening – because we know that in normal conditions, fighting for the championship will be very difficult," noted Alonso.

Vettel's race start was the opposite of ideal. Dropping from P4 to P7 while Alonso muscled his way up from P8 to P5, there was certainly work to be done by the German motorsport talent. At Turn 4, Vettel collided with Willaims' Bruno Senna in a racing incident, which caused the former to spin while the latter touched the rear of Sauber's Sergio "Checo" Pérez. Vettel suffered damage to his left sidepod, sliding to P22. Like any driver worth his salt, however, he carried on. The checkered flag hadn't been waved yet.
---
---
RELATED: Kimi Raikkonen Is Officially Retiring From F1
A crash, restart, and a whole lot of hustle later, Sebastian Vettel had closed the gap, running in P5 while Fernando Alonso was sitting pretty at P4 – despite the fact his damaged Red Bull car had slowed him down and then some in drier conditions. As fate would have it, the rain would later start again, and Vettel was the first to pit for intermediates. But just his luck: his radio wasn't working, meaning the team wasn't ready for him to pit, and considerable delays were experienced.
Here's where it all gets rather sentimental. When Sebastian Vettel was finally up and running again, he found himself in P7 behind fellow countryman, close friend, and lifelong idol, Mercedes' Michael Schumacher. Schumacher understood better than most what was at stake here, as well as what it'd take for Vettel to retain his title.
In defiance of the ruthlessly competitive persona cultivated over the course of his entire career, Schumacher quite literally stepped aside for the next generation, graciously allowing Vettel to overtake without any resistance, and effectively gifting the young bull enough points to earn his third Formula 1 world championship. The 2012 Brazil Grand Prix – otherwise known as the Grande Prêmio Petrobras do Brasil 2012 – ended with Seb Vettel at 281 points and Fernando Alonso at a very close 278 points.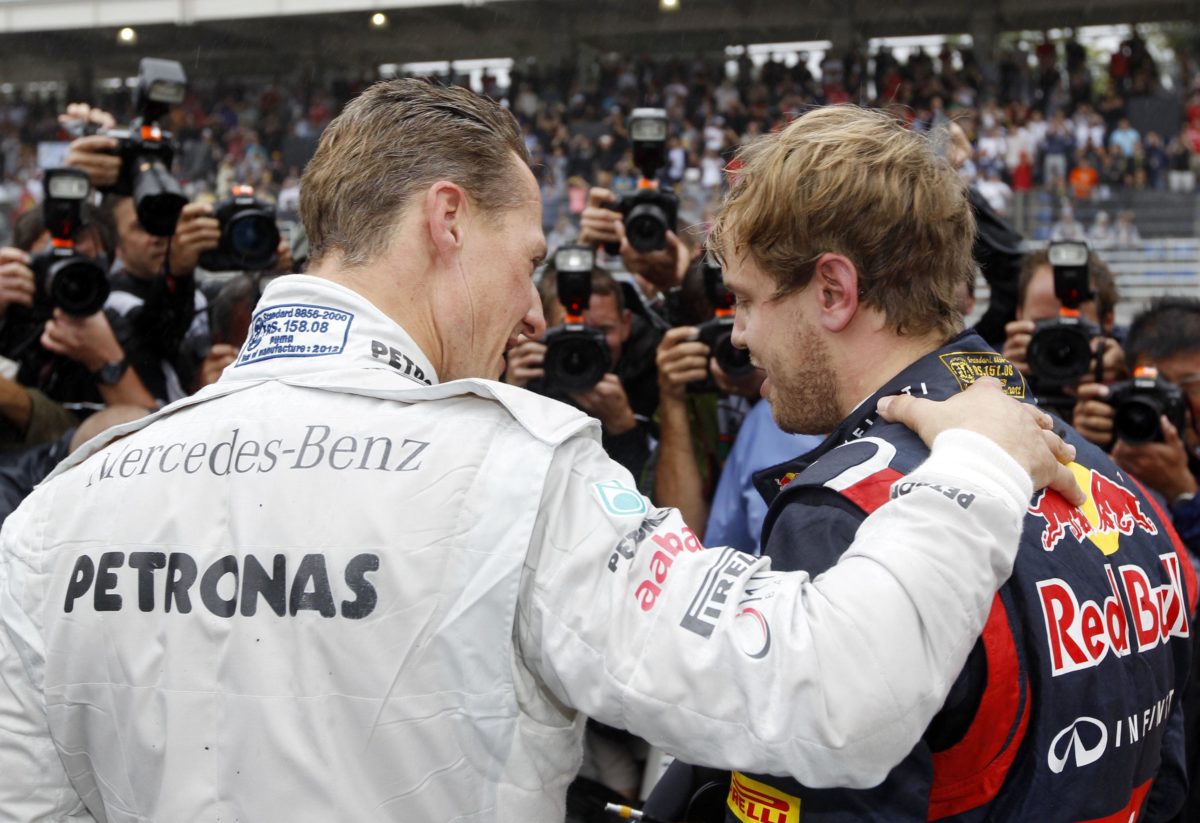 "He was a lot quicker and there was no point getting engaged with him," Michael Schumacher would offer post-race.

"I didn't see the point so that's why I moved over and let him through."
"I'm proud of him. He's a good friend of mine."
"He was my hero," Seb Vettel told F1 Racing magazine (via Autosport).
---
---
"I used to have posters on the wall of him. I met Michael for the first time when I was seven. Then, later, I got to know him as a person, and he was always there for me, with a word of advice or help."
It's enough to bring a tear to our goddamn eyes.
You can relive the legendary closing chapter for Michael Schumacher featuring Sebastian Vettel below.