If you didn't get a chance to catch the Floyd Mayweather vs Logan Paul fight, don't worry… you didn't miss anything. What many had hoped would be either the undefeated professional boxer's humiliation or the controversial YouTuber's comeuppance resulted in neither. Instead, the voracious marketers-cum-athletes will walk away from today, relatively unscathed – scratch that, tragically unscathed despite the decision to use 10-ounce gloves – with aggregate earnings nearing $200 million divvied up between their bank accounts.
As with the modus operandi of these recent celebrity events, there wasn't a shortage of fanfare and celebrity appearances. Once all the bullshit and pony processions were done, they entered the ring. Within the first two rounds, Logan Paul was drenched from head to toe in sweat and visibly gassed. Swiping at the empty air had worn him down something fierce, though clearly not fierce enough to keep him down.
Initially, many had assumed Floyd Mayweather was simply playing with his food before he ate. As round after round lapsed, however, the truth revealed itself to be something far duller: he wasn't willing to risk anything. Head movement and slipping aside, there were glimpses of excitement on the odd occasions. A lightning-fast jab that Paul barely registered. Some well-timed check hooks, even. The majority of his time was spent tied up in a clinch and keeping a safe distance.
---
---
RELATED: Jake Paul Will Fight Former UFC Champion Tyron Woodley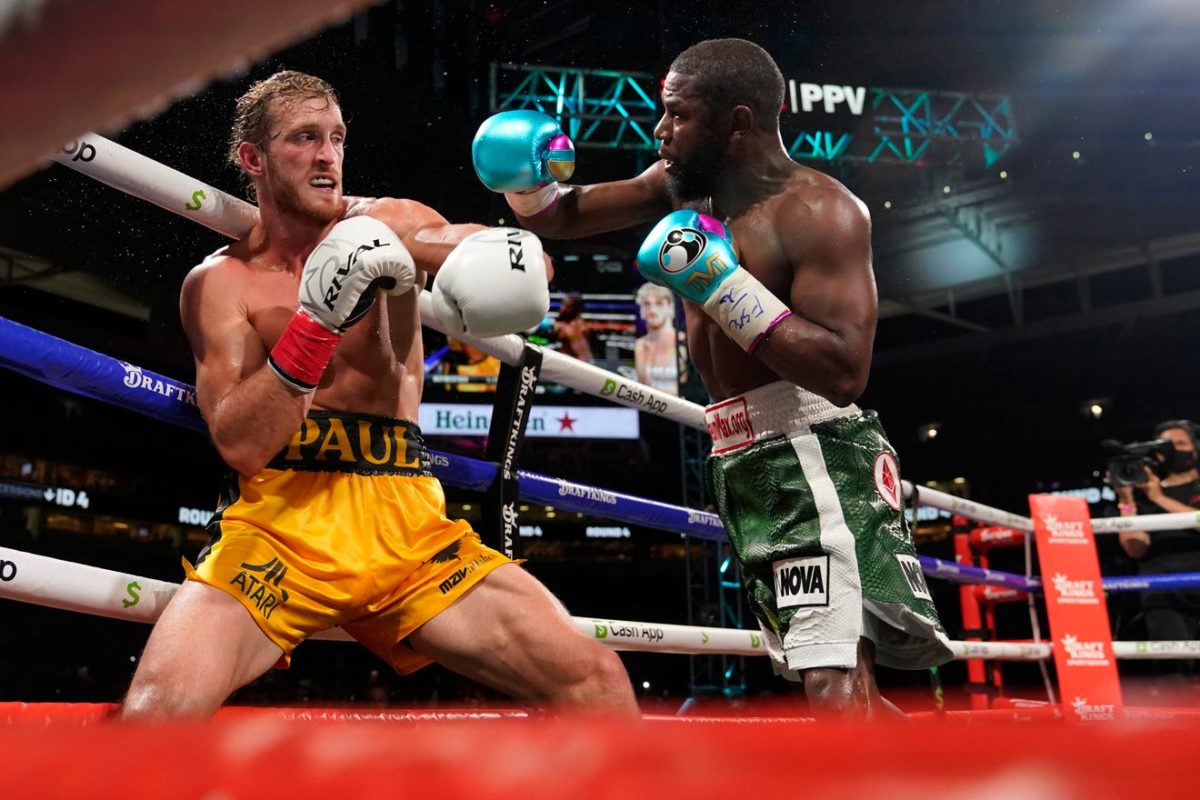 The entire fight ended how it should have begun the moment we received the public announcement: with boos from spectators the world over, the collective wrinkling of noses, before dissolving into the background as nothing more than a minor footnote of our infinitely more interesting days. Because let's be honest, this never really deserved our attention. Yet here we are. Mayweather might do well to take a few pages out of Khabib Nurmagomedov's book by rejecting multi-million dollar offers and preserve some dignity.
In retrospect, the major indication there was a good chance nothing exciting would actually happen first presented itself long before cameras rolled at Miami's Hard Rock Stadium. We were all so caught up in the prospect of blood – given the lighter gloves and other reasons – that we conveniently forgot the following:
Floyd Mayweather is one of the greatest defensive boxers of all time, not exactly renowned for his knockout power – and especially not against someone 23 kg heavier at the ripe age of 44.
Floyd Mayweather has a flawless 50-0 record – why would he risk tarnishing his legacy (in this regard, personal lives are another matter) against an 0-1 amateur like Logan Paul?
No judges would be present, meaning no scorecards or official winners if the fight does the distance – so neither one really stood to "lose" anything by riding it out.
And most importantly… this fight shouldn't have even been a possibility to begin with. Realistically speaking, what the fuck were we expecting?
There might not have been an official winner, but it's safe to say boxing lost today.