Japanese master golfing craftsmen, Honma, have just dropped their Honma Beres 06 golf clubs – and there's something about them that is sure to make you stand out on the green.
That something is 18k gold inlays, lining the clubs to create a truly luxurious aesthetic. Golf courses are renowned for being the meeting spot for society's wealthiest but this is really bringing another level to the game.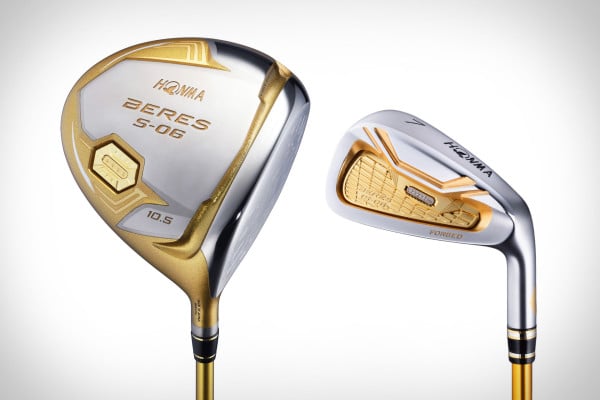 But don't let the shiny parts deceive you; the Honma Beres 06's are still finely made, handcrafted instruments of golfing excellence. Apart from the gold, the clubs also feature iron heads forged from a more mild, malleable steel as well as shafts built from ten layers of hand-laid carbon fibre.
---
---
As is the case with all Honma products, these clubs will be made one-by-one, forged by the hands of an experienced craftsman, and entrusted with that intricate Japanese ingenuity.
If you're happy to drop a cool 70 grand on these golf clubs then head over to Honma's site now.
For another frankly bonkers, gold-infused purchase, see 'Foil Skis' $65k Gold-Plated Italian Skis Are For Die-Hard Shredders'.