John Daly subverted the expectations of a professional golfer at every possible turn, but nothing — not his hair, dress sense, or even his non-country club ethos — could even dream of touching the grave chemical imbalance that was his diet.
Daly calculated that at the height of his sickening consumption levels, his annual cigarette tally amounted to a staggering 18,000, which was washed down by 515 gallons (close to 2,000 litres) of Diet Coke, and almost no water. And just in case neither of these figures made you flinch, rest assured, an entire litany of the usual suspects were also present.
RELATED: Does Intermittent Fasting Actually Work? We Tested It Out
So what did John Daly consider to be a "healthy" diet? According to Golfweek, the man claims to have shed 30 kilos back in his collegiate days using a rather unconventional method (which, incidentally, was also how he formed a lifelong nicotine habit):
"Daly recalls that in order to play college golf at Arkansas, he was told he had to shed some weight. So, he lost 67 pounds in two and a half months thanks to the time-tested diet of Jack Daniel's and popcorn."
"As for a long-term way to keep off weight, Daly claims that then-Razorbacks coach, Steve Loy — who would eventually coach at Arizona State and before becoming Phil Mickelson's agent — told him, 'Smoke a cigarette, it'll curb your appetite.'"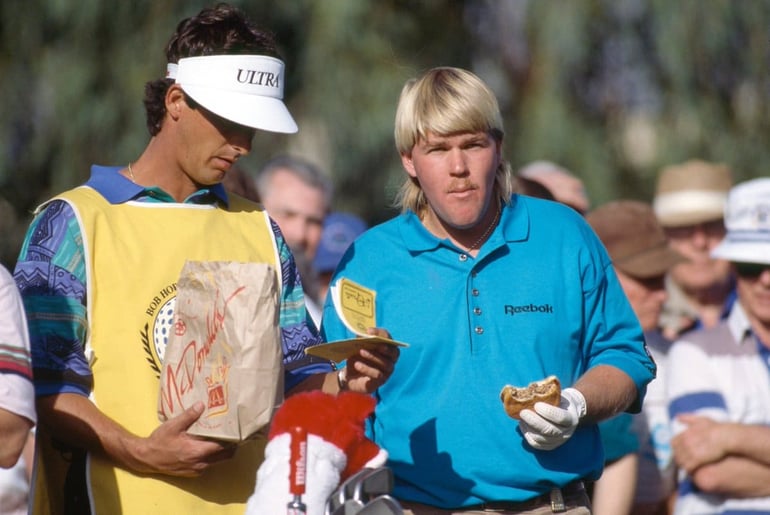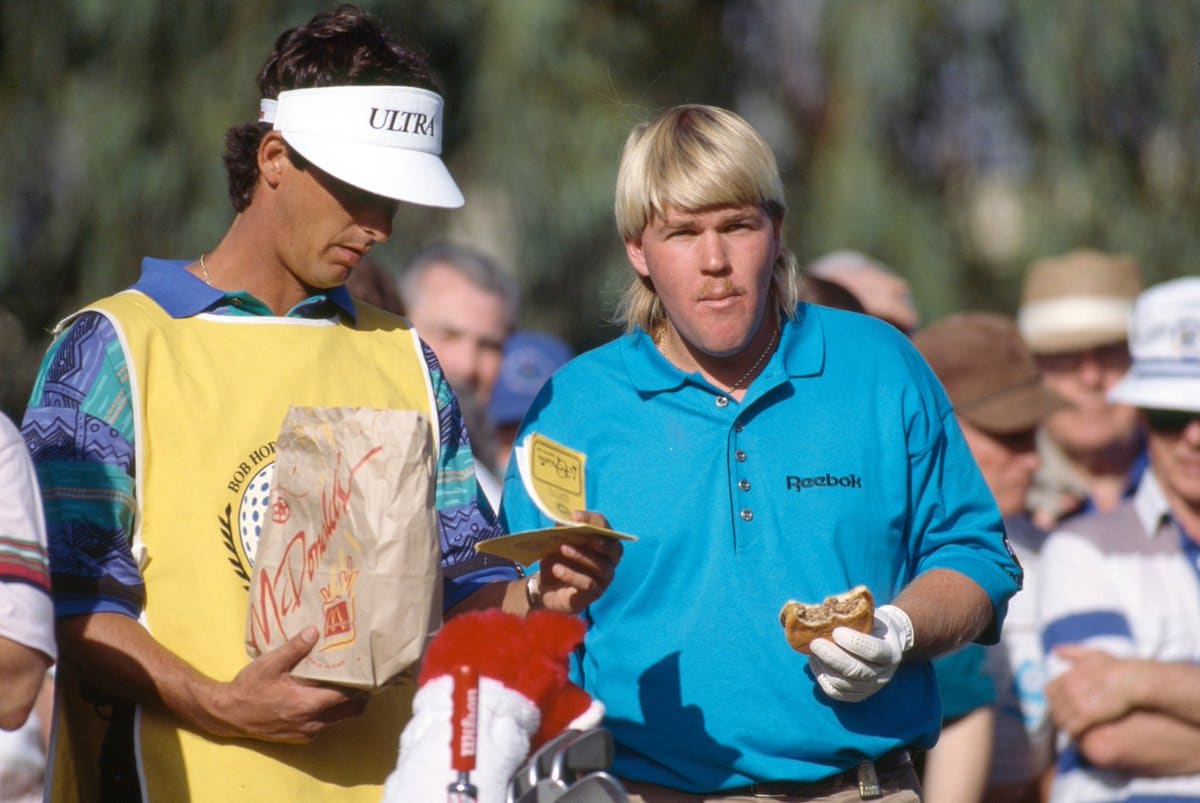 The headline, however, isn't exactly an exaggeration. Back in 2020, Daly found some fresh motivation to correct his lifestyle choices after revealing he had been diagnosed with bladder cancer. Thankfully, he had undergone a successful surgery. Though he's not out of the woods just yet.
"There's an 85% chance it comes back… luckily for me, they caught it early," Daley noted.
"I'm cutting way, way back on the Diet Coke and counting minutes before I can have a cigarette. I'm trying to quit smoking."
RELATED: Joe Rogan's Workout & Diet Plan Isn't For The Faint-Hearted
"The doctors aren't saying it's too late. Unfortunately, it's a cancer that keeps coming back. I'm going to listen to them and I'm going to try quit smoking… If it doesn't go away, I'm going to live my life, I'm gonna have some fun."
But let's be honest, anything is an improvement from what you've read as well as what you're about to read below.
John Daly Diet [Daily]
3-4 trips to McDonald's ("I used to be able to eat two Big Macs, two or three cheeseburgers, chocolate shake, regular Coke back then in a sitting pretty easily.")
Burger King
Taco Bell
4-6 packs of M&Ms ("Peanut M&Ms… loved 'em.")
Multiple packs of chocolate muffins
Chocolate ice cream
12-20 Diet Cokes
Over 40 cigarettes ("Two packs… two and a half packs a day.")
No water ("I don't drink water… I hate water. I cannot stand to drink water.")
---
John Daly's F***ed Taco Bell Order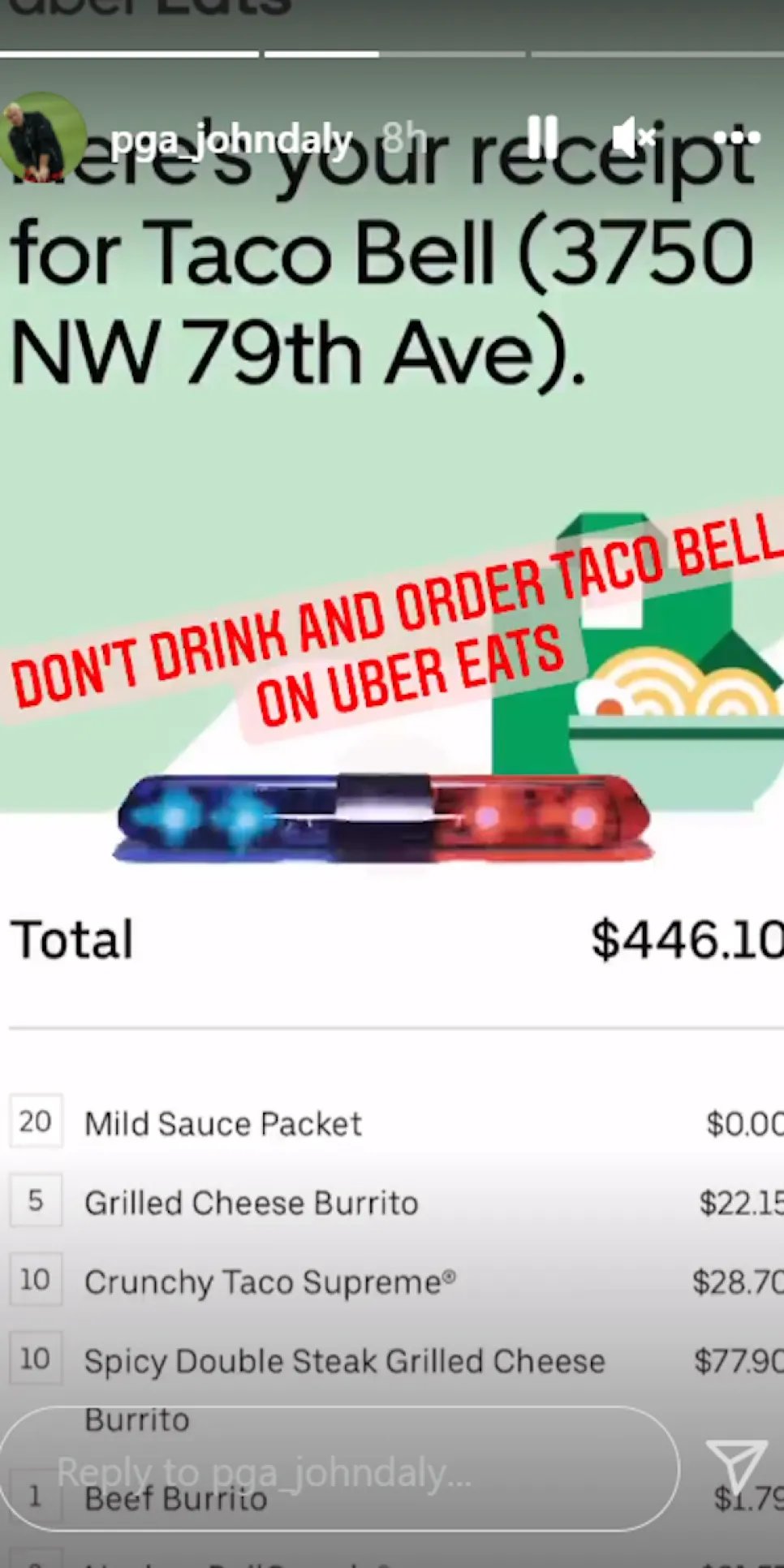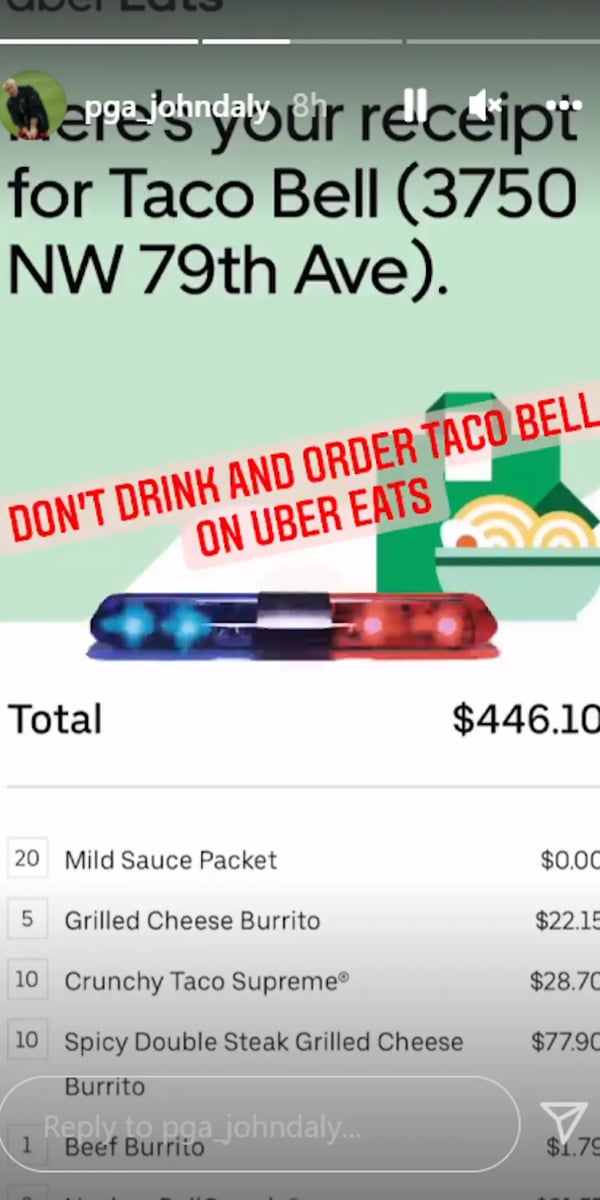 UPDATE [19/05/2023]: Earlier this year, old man Daly was back in the headlines after posting a receipt for his ridiculous Uber Eats order on Instagram.
After a night on the lash, the "grip it and rip it" golfer apparently spent $450 on Taco Bell.
"Don't drink and order Taco Bell on Uber Eats," he captioned the IG Story.
While it's unclear what the full order resembled, we know he received at least 20 mild sauce packets, five Grilled Cheese Burritos, 10 Crunchy Taco Supremes, 10 Spicy Double Steak Grilled Cheese Burritos, and a single Beef Burrito.
What a man.