Not many men in this world would have the sheer conviction to just walk away from US$100 million (AU$129.7 million) on the table. Then again, former UFC Lightweight Champion Khabib Nurmagomedov isn't your everyday bloke, which we're once again learning as manager Ali Abdelaziz reveals The Eagle himself turned down a staggering offer to throw hands with fellow undefeated combat sports talent: Floyd Mayweather.
"$100 million… $100 million… You can ask Floyd," says Abdelaziz, who also handles Kamaru Usman, Justin Gaethje, and Henry Cejudo via his company, Dominance MMA Management.

"You can ask everybody. Khabib said, "No, I'm retired. I told my mother I'm retired. I'm going to keep my word to my mother. If my mother told me to fight again, maybe I will. But right now, she told me not to fight.""
Abdelaziz also revealed he'd received a call from UFC President Dana White just weeks ago. The matter at hand? The legendary Georges St-Pierre himself had apparently agreed to storm the octagon for a non-title fight at 165 pounds against Nurmagomedov (read: every MMA fan's wet dream). Naturally, the prospect was shut down in similar fashion.
---
---
RELATED: The UFC Is Now A Publicly Traded Company
"In a way, we've been waiting for Georges. I like Georges. He's my friend. I like Georges. We've been waiting for Georges for four or five years… Now, [he's saying], "Hey, Khabib is retired. I'm retired. What about coming back and fighting Khabib now?""
Nurmagomedov publicly announced his retirement at UFC 254 after submitting Gaethje with a triangle choke in the second round and successfully defending his world championship title. Marking the first professional fight without his father and lifelong coach Abdulmanap Nurmagomedov, here's what the Dagestani pugilist had to say during the post-fight interview:
"I promised my mother this is going to be my last fight… No way I can come here without my father."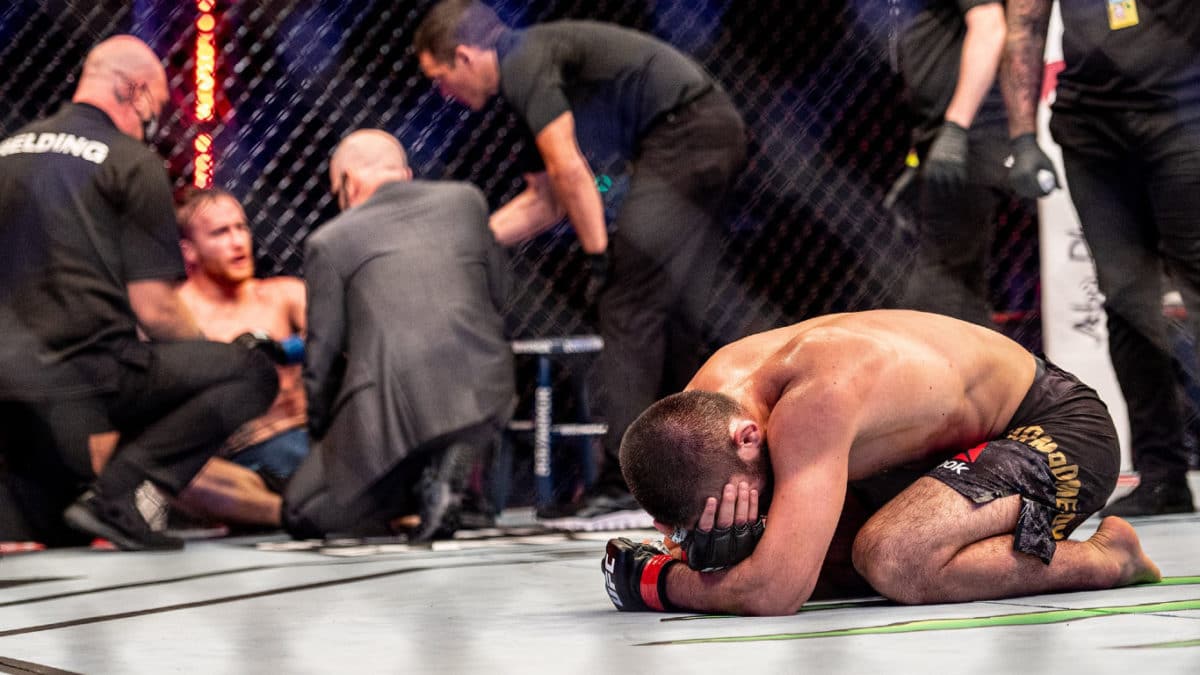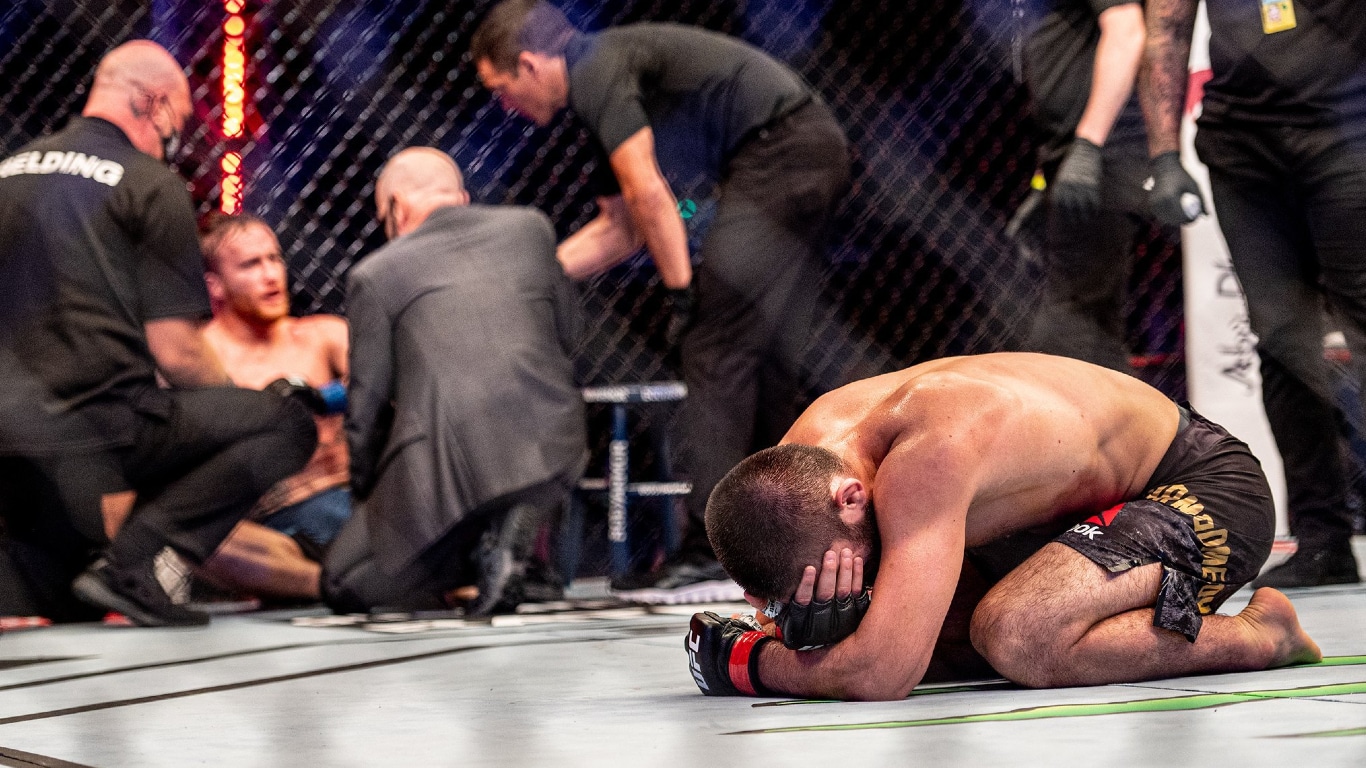 RELATED: Floyd Mayweather vs Logan Paul Fight Date Confirmed For June 2021
Mayweather, on the other hand, has been cherry-picking some well-paid bouts approaching his twilight years. The last time the 43-year-old stepped into the ring was New Year's Eve in December 2018 against young Japanese kickboxing prodigy, Tenshin Nasukawa. Mayweather knocked Nasukawa down three times in just 139 seconds throughout the exhibition match before Nasukawa's corner threw in the towel. Mayweather cashed in an easy-breezy US$9 million (AU$11.7 million).
A little before that, he earned a tidy sum of US$280 million (AU$363 million) against perennial hype magnet Conor McGregor; the latter of whom copped US$85 million (AU$110 million) for his loss troubles. Now, the boxer is preparing to face off against notorious YouTuber Logan Paul come June 6th… with a far heftier payday at stake.
---
---
Khabib Nurmagomedov leaves behind a Hall of Fame-worthy 29-0 professional record as well as an untouchable legacy – with or without the Floyd Mayweather event in question.
Check out the original interview with Ali Abdelaziz on Hotboxin' with Mike Tyson for yourself below.