With the exception of a rather unconvincing majority-decision win against Reyes Sanchez at Madison Square Garden last December, Nico Ali Walsh has been steadily honouring the legacy of his illustrious grandfather. Boxing's heir apparent (effortlessly) made his professional debut against Jordan Weeks back in August 2021, before making light work of both James Westley II and Jeremiah Yeager; tested by Sanchez in between the latter two. This past weekend, Nico Ali Walsh secured yet another first-round TKO victory – this time against Alejandro Ibarra on the undercard of Shakur Stevenson vs Oscar Valdez – improving his pro record to 5-0.
The MGM Grand Garden Arena in Ali Walsh's native Las Vegas, Nevada was rumbling with chants of "Ali" as the 21-year-old middleweight entered the ring. Less than three minutes into R1, he would unleash a monstrous left hook + overhand right combination that sent Ibarra to the canvas. A clinical finish.
RELATED: Muhammad Ali's Grandson Recreates Iconic Shuffle Before TKO Victory
---
---
"Just a testament of all the work that I've put in," Nico Ali Walsh said of his electric victory against Alejandro Ibarra.
"Stuff like this happens when you put that work in."
"I'm bringing my grandfather back to life."
Nico Ali Walsh was previously being trained by the one and only SugarHill Steward – the same professor of the sweet science training WBC heavyweight champion Tyson Fury. Since then, however, he's parted ways with Steward on amicable terms due to the latter's ongoing commitment to Fury. His current head trainer? Richard Slone. And clearly, this renewed sense of focus on the undefeated rising star is paying dividends.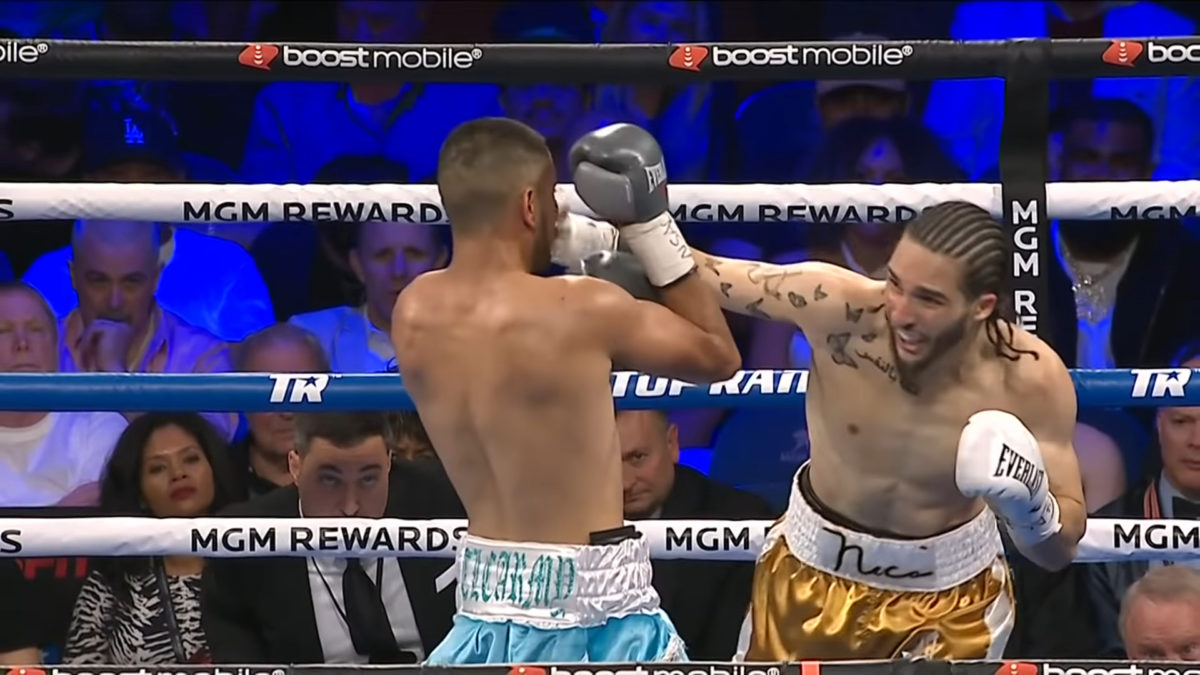 "Working with Nico is something I never anticipated but I have known him for most of his life and I know that he has a good work ethic," says Richard Slone; who spent over a decade training boxers, working corners for top fighters alongside Emanuel Steward (uncle to SugarHill), as well as being a former protege to the great Joe Frazier.
"Nico has worked very hard in preparation for this fight and I think that will show in his performance."
"Working with Slone is a blessing to my career," says Nico Ali Walsh.
---
---
"Most people recognise Rich Slone as the world's greatest boxing artist but I've known him for many years. I know his extensive background working with Joe Frazier and Emanuel Steward as a professional boxing trainer. Together we will do great things."