Listos para la pelea! Lets get ready to rumble!
On November 21st in Las vegas (Sunday afternoon AEST), the great Mexican-Puerto Rican boxing rivalry will be renewed.
Miguel Cotto (40-4, 33 knockouts), 35 years old of Puerto Rico will be fighting Saul 'Canelo' Alvarez (45-1-1, 32 knockouts) 25 years old of Mexico.
To Mexicans and Puerto Ricans this rivalry is as much about the fight as a theatrical event as it is about the skills displayed. The rivalry has always been about not only the spectacle displayed through the wills and technical proficiency of both fighters but as a climax in which two of the sports strongest cultures, both with rich and dynamic histories, clash in celebration.
The history and growth of Hispanic and Latino culture in the United States of America over the last 300 years is on display now more-so than ever. Latino-Americans as an ethnic group make up 17.4% of the American population, which amounts to around 55 million people, a number that is growing rapidly. Within that population the two largest subgroups are latinos of Mexican descent (64%) and Puerto Rican descent (9%), aided by the fact that Puerto Rico is an unincorporated US territory, making all Puerto Ricans natural-born citizens of the United States. Before World War II each country's fighters rarely met in the ring, but with the influx of Mexicans and Puerto Ricans to states like California, New York and Arizona in the last 40 years, inevitably these two groups have met more frequently.
Inadvertently these two countries have created such a demand for viewing they have shifted the audiences eyes to the lower weight classes in boxing. With that some of the most remarkable and fan-friendly fights have been produced between both of these countries. In 1981, Mexico's Salvador Sanchez and Puerto Rico's Wilfredo Gomez fought in "The Battle of the Little Giants" as promoted by Don King. In that fight, Sanchez was victorious with an 8th round TKO of Gomez due to a barrage of right hands. On September 12th 1992, on the eve of Grito de Dolores (Mexican Independence Day) perhaps the greatest fighter Mexico has produced, Julio César Chávez fought Puerto Rico's Hector 'Macho' Camacho for Light Welterweight supremacy. Chávez won a unanimous decision (scores were 117-111, 119-110 and 120-107) with his signature left hand liver shot battering Camacho's body for 12 rounds. Then the Felix Trinidad (Puerto Rico) vs Oscar De La Hoya (Mexico) Welterweight bout in 1999 was the richest non-heavyweight fight in boxing history. Both fighters came into the ring with unbeaten records and both were close to their professional prime. However the event was marked by controversy with De la Hoya seemingly in control the whole fight except the last 3 rounds, continually jabbed and boxed effectively outside of the harder punching Trinidad's range. Most ringside journalists and boxing experts were shocked when the final scores were read out with Trinidad winning a close Majority Decision.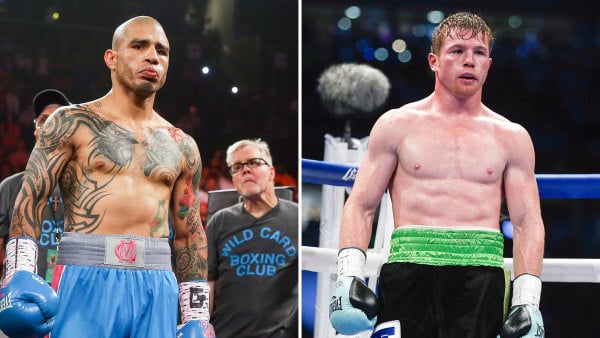 Tomorrow (Australian time) a new epoch of history will take place.
Miguel Cotto is at the end of his legendary career and will go down as possibly the greatest Puerto Rican boxer of all time. He is the only Puerto Rican to win four belts across four different weight classes, even if his latest middleweight belt was against the disabled ghost of Sergio Martinez. Under his new trainer Freddie Roach, Cotto has a renewed sense of confidence in himself and has shown this by winning their last 3 fights together in impressive knockout fashion. Beating Canelo would for Cotto mean that he could attainably reach out from the shadow that Floyd Mayweather Jr. and Manny Pacquiao have cast over him for much of his career.
For Canelo, this is the second chance at becoming boxings 'Golden Boy'.
Since Alvarez's loss to Mayweather on September 14th, Mexican Independence Day weekend he has been working to regain his pride. Now at the age of 25, with much experience gained from the loss to Mayweather he has found another opportunity at superstardom. Since Oscar De La Hoya 'The Golden Boy's' retirement in 2008 Mexico has been waiting for another national sporting symbol. Most believe Canelo to be that man. His opportunity now sits on a knife edge; win this fight and have a chance to be in the conversation as one of the greatest Mexican boxers of all time – a loss however would linger as a shadow over him for the rest of his career.
Alvarez has the size, youth and hand-speed. Cotto has the experience, footwork and technical boxing adeptness. Both fighter's punching power is relatively equal.
Ultimately in boxing people are always remembered not for how many wins they have or how many knockouts are on their record but for who they fought and how they fought them. For Mexicans and Puerto Ricans, boxing is not only about winning but about the theatrics displayed in order to win. Sometimes, even the drama shown in the ring eclipses the result.
Cotto vs Canelo is available in Australia on Mainevent for $29.95, with the undercard starting from 1pm tomorrow, November 22nd.