This was meant to be it. The showdown of all showdowns in MMA history. Israel Adesanya: the rising star, famed for being one of the most lethal strikers in the game with off-the-charts fight IQ in one corner. Yoel Romero: the inhuman grappler, infamous for being damn near impossible to finish, decorated with Olympic accolades in the opposing corner – and also somehow cheating biology by throwing hands with the best of them at 42.
After all the hype, all the intense marketing, and an intense nailbiter of a co-main event in the women's strawweight division championship fight – Weili Zhang vs Joanna Jedrzejczyk – to set the tone; it all came down to this…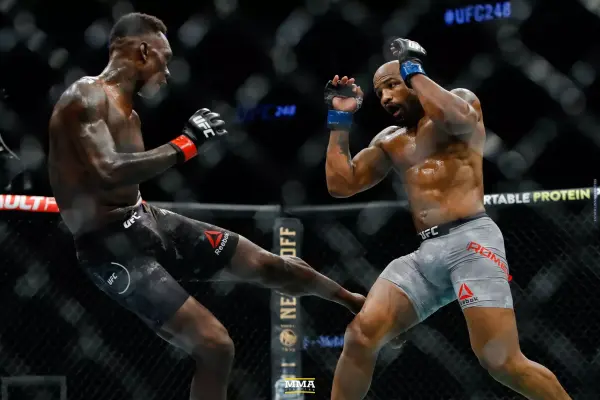 If only we'd been warned that "this" would be somewhere between those first five minutes when you and a mate first cracked open Street Fighter, both lazily figuring out what exactly the controls do, and a local U12's karate point-sparring tournament hosted at some bullshit McDojo.
When you and your friend are trying to figure out the controller buttons. ?#UFC248 pic.twitter.com/B5rY6D00Q3

— Durell "The Bull" Edwards (@Gamble_Healthy) March 8, 2020
Except "this" was neither of those things, and it was meant to be a headline-making championship event, with two certifiably dangerous grown men, a whole lot of money and global anticipation behind it, sustained across five (5) five-minute rounds. Yeah… I'd be pretty pissed too.
The first round was… unorthodox. Yet we were all willing to give both fighters the benefit of the doubt. Each fighter was well aware of just how deadly the other's explosive potential was, as well as the consequences for dropping their guard. "They were feeling each other out," we'd all tell ourselves. "They're going to go for it… any moment now." Only that moment would never come.
As the fight progressed, there was an occasional burst of action. A wild left from Romero, perhaps a flurry that would have Adesanya backed up against the cage. Some nasty leg kicks from Adesanya. Maybe even a successful, though shortlived, takedown from Romero. The glaring problem? There wasn't a single instance of follow through. Neither one of them was willing to actually put anything on the line. To the point where everyone at the bar I was sitting in arrived at one of two conclusions:
Romero has lost his goddamn mind.
Adesanya doesn't give a shit anymore.
It was incredible to watch, sure. Just not in the sense that any fan of combat sports was hoping. The most exciting thing about this main event was when some drunk dickhead threw out a racial slur, only to have a bunch of guys threaten to pump him for it. At which point, everyone's attention was drawn to the real-life donnybrook. The heated brouhaha. The impending left-right goodnight. Not that I'm saying racial slurs are by any means acceptable or fun. Though if something we see every second day through random train footage posted by Seven News' Facebook page for cheap clicks is more entertaining than a championship event put together by the fucking UFC, you have to stop and think. Where did it all go wrong?
Adesanya and Romero went forehead-to-forehead in the final seconds of their #UFC248 fight. (via @espnmma) pic.twitter.com/LqhVsxw3eq

— SportsCenter (@SportsCenter) March 8, 2020
Anyways, here were my personal highlight for UFC 248: Israel Adesanya vs Yoel Romero —
When Romero stood with his hands up, stationary, for a solid minute and twelve seconds during round one
When not a single strike was thrown until three minutes and change into round one
When Romero jumped up in the air, a la Super Mario Brothers
When the chips I ordered just before the fight started finally arrived
When Romero dive rolled forward, a la Tekken
How pissed Dana White looked placing that belt around Adesanya's waist after half an hour of being the fight equivalent of blue-balled
When I finished the chips I ordered just before the fight started
To conclude a long-winded and partially self-indulgent article – this was shit. And I weep for anyone that forked out hard-earned cash to pay-per-view that garbage.
RELATED: UFC 251 Has Just Been Confirmed To Go Down In Perth 2020.