When we think of Zac Efron, we remember the skinny teen from High School Musical. But things couldn't be further from the truth these days. While consistently quite a fit bloke, after scoring a major role in the Baywatch reboot alongside a shirtless Dwayne Johnson, Efron knew he had to get really buff. Enter L.A.-based trainer Patrick Murphy.
Well known for his work amongst the Hollywood community – he helped the likes of Tobey McGuire and Jason Segal get ripped during their careers – Murphy is the go-to guy when it comes to film stars getting shredded.
But Patrick Murphey has one condition when it comes to working with new clients. As he told Men's Health, "All my clients follow the Murphy Rules." So what exactly are "Murphy Rules?"
---
---
Dial In Your Alignment
"Don't jut your head forward," Murphy explains. "Keep your shoulder blades back and down. Contract your abs and glutes on every rep." What this does is keep your body in the strongest and safest position when working out, so there's less chance of you injuring yourself.
Choose Your Exercises Carefully
Murphy believes if there are exercises that mess with your alignment then you might as well bin them. This is one of the main reasons why he doesn't endorse vomit inducing Burpees. "Your knees cave in, your back flexes. It's one big negative adaptation," the trainer says. So if any of the exercises in your standard workout are causing you problems or effecting your alignment, give them a miss and concentrate on something else.
---
---
Watch Your Muscles
No, this doesn't mean spend hours in front of the mirror flexing. It's more to do with being aware of the muscles you are training and making sure your positioning is accurate. Watching yourself working out can be useful for things like correcting your stance and making sure your spine is straight when exercising.
Go Hard Or Go Home
Murphy is all about intensity and is a big fan of using what's known as 'compound sets' or 'tri-sets'. Basically, you choose two or three exercises and perform them back-to-back or until exhausted. "I threw everything I had at him," Murphy said in his interview with Men's Health. "Stability training, power, mobility, athletic training." Efron would average two gym sessions a day lasting an hour along with 2-3 hours of lifeguard training. So if you want to look shredded as fuck then you need to put in the work.
Diet Is Key
Efron put in hours at the gym to get his phenomenal physique, but Murphy also attributes his diet to helping him look so good. As well as working out twice a day Efron had to adjust his eating habits, conforming to a virtually carb free diet. So if you really want to lose the gut and pump up the pythons, you better be prepared to cut out the pizza and beer and commit to hitting the gym on the regular. Good luck.
---
---
Workout
The exercises below are all supersets and meant to be performed back-to-back with no rest. You'll need to perform three rounds of each group.
Set 1
Lateral Raise – 15 to 20 reps
Front Raise – 15 to 20 reps
Inverted Row – 15 to 20 reps
Set 2
---
---
Kettle Squat – 15 to 20 reps
Set 3
Banded Reverse Fly – 15 to 20 reps
Explosive Bosu Pushup – 15 to 20 reps
Set 4
Reverse Lunge to Forward Step – 16 to 20 reps
Alternating Step-Up Hop – 16 to 20 reps
Set 5
Floor Press – 15 to 20 reps
Imaginary Chair High Row – 15 to 20 reps
Set 6
Bosu Opposites Meet – 15 to 20 reps per side
Single-Leg Hip Thrust – 15 to 20 reps per leg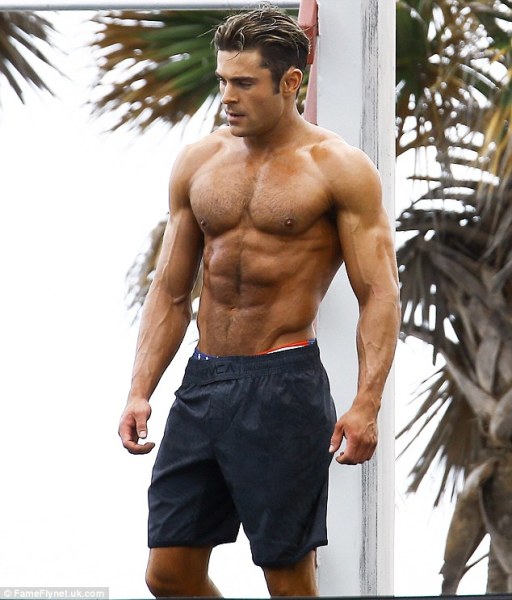 RELATED: The Rock's intense workout for Fast & Furious will bring you to your knees