Historic luxury perfume house Amouage has just brought their newly launched Renaissance Collection to Australia, turning over a new page in the Oman-born brand's long history. That's four new fragrances, each available as 100ml Eau de Parfum with a solid 25% fragrance oil.
All four fragrances – 'Enclave', 'Crimson Rocks', 'Ashore', and 'Meander' – have been designed as a "romantic interpretation of encountering pure joy", formulated by legendary perfumers like Domitille Michaelon-Bertier, Mackenzie Reilly, and Julian Rasquinet.
Amouage's endearing reputation for creating some of the world's finest luxury perfumes seems like it will only grow from here, as the brand views this new collection as a key moment in their self-described "epic fragrance odyssey".
---
---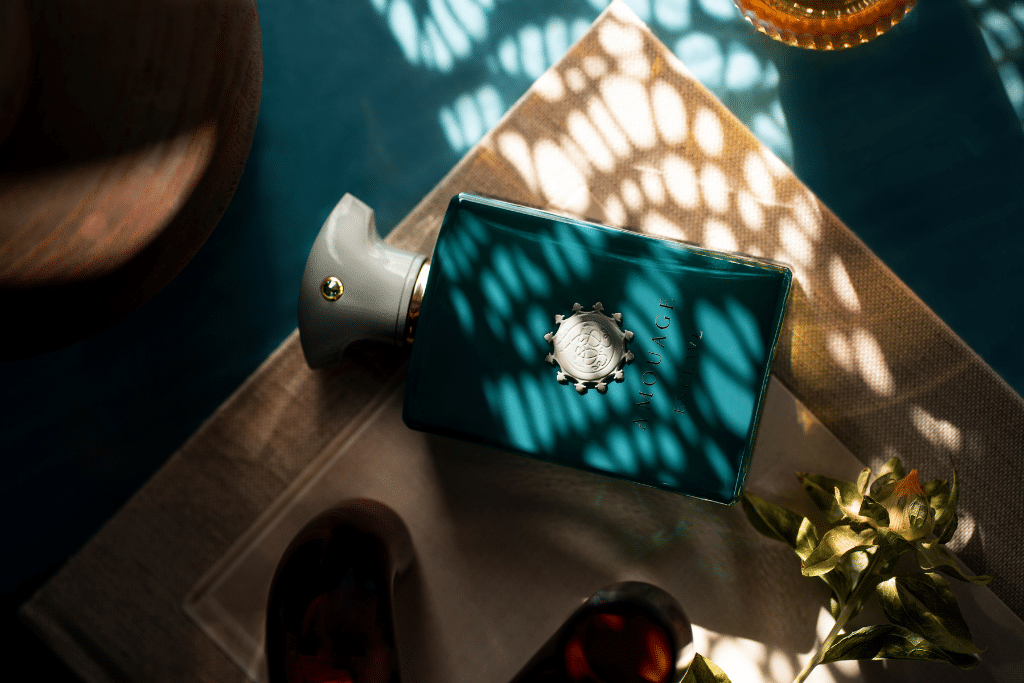 Each fragrance has been lovingly designed with bold, artistic bottles and boxes to match. Take Enclave for example – the fragrance comes in a rich, earthy bottle where blue and green shades reflect the top notes of cardamom and spearmint oils, which in the fragrance are complemented by pink pepper CO2 and cinnamon bark oil. This gives way to a heat of rose absolute, patchoili heart, olibanum oil, and vetiver oil, before resting on a base of saffiano, amberxtreme, and labdanum resinoid.
If you're intimately familiar with the above notes then you may also recognise that they have been chosen specifically to evoke different parts of Oman. The cinnamon oil and saffiano in Enclave, for example, work with the earthy vetiver to reflect the surrounding hot mountains of Oman, with perfumer Julien Rasquinet aiming to capture the "sun setting on the fjords of Musandam".
As another example, Crimson Rocks has been built to celebrate the majesty of the Al Hajar mountains at dusk, translated as a scent with top notes of pink pepper CO2 and cinnamon bark essential, heart notes of rose essential, rose ultimate, and jujube honey accord, and base notes of oakwood CO2, cedarwood atlas oil, and vetvier oil.
The launch of this new collection is obviously a significant moment for Amouage, given that they have collaborated with many creatives to put together every aspect of the new fragrances.
Belgian artist Louise Mertens came on board to capture the collection's accompanying sophisticated, sensual, and abstract imagery, while the abstract packaging for each fragrance was designed by British designer Bill Radzinowicz, and the bottles were handled by French art director Jerome Faillant-Dumas. The brand even commissioned the talents of Belgian music producer Copal to curate special soundtracks for the fragrances, while Spanish artist Maria Sanchez Fernandez matches the fragrances to the Oman locations which inspired them via individual paintings.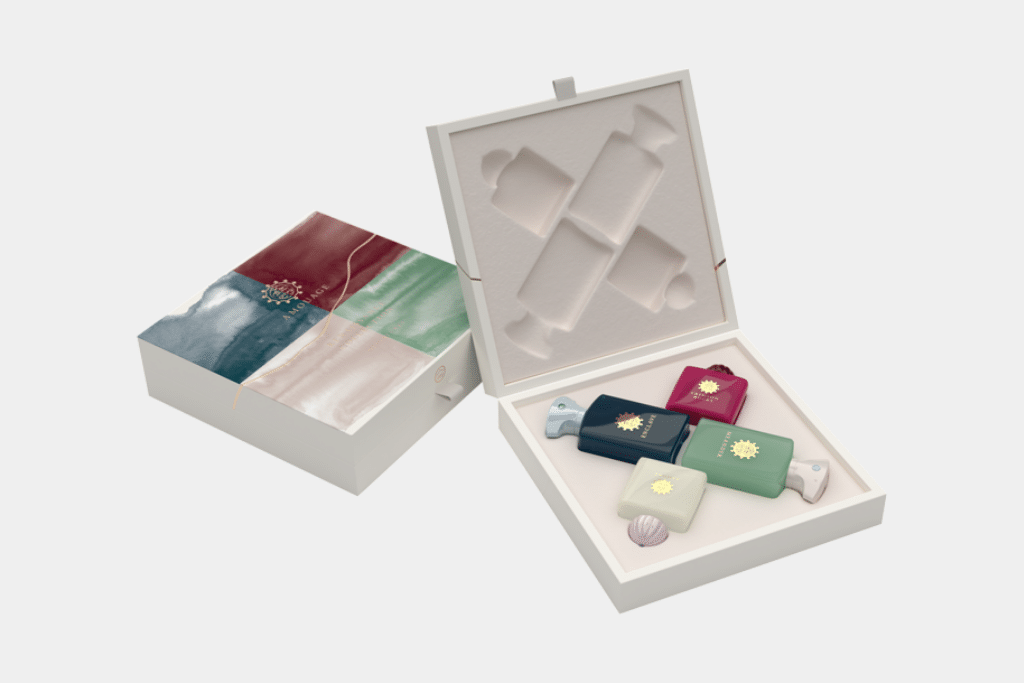 You can check out the full official description and RRP for each of the fragrances below.
Enclave (woody, spicy, oriental)
Top notes: Cardamom oil, spearmint oil, pink pepper CO2, cinnamon bark oil.
Heart notes: Rose absolute, patchouli heart, olibanum oil, vetiver oil.
Base notes: Saffiano, amberxtreme, labdanum resinoid.
---
---
Crimson Rocks (floral, spicy, oriental)
Top notes: Pink pepper CO2, cinnamon bark essential
Heart notes: Rose essential, rose ultimate, jujube honey accord.
Base notes: Oakwood CO2, cedarwood atlas oil, vetiver oil.
Ashore (floral)
Top notes: Pink pepper CO2, Cardamom oil, turmeric leaf oil.
Heart notes: Jasmin sambac absolute, solar accord, rose absolute.
Base notes: Ambergis accord, olibanum hyperabsolute, sandalwood oil.
Meander (woody)
Top notes: Olibanum oil, carrot heart, pink pepper CO2, black pepper oil.
Heart notes: Orris, rose absolute, cypriol heart, jonquille absolute.
Base notes: Olubanum resinoid, vetiver oil, sandalwood oil.
All Amouage Renaissance Collection fragrances are $459 for 100ml EDP and can be purchase from Agence de Parfum's retail arm linked below, as well as some niche perfumeries in Australia and New Zealand.