Iris Hantverk is an oddity in the world of design; the Swedish manufacturer has chosen to specialise almost completely in brushes. As a result, the company has found a creative niche in which they excel. What makes Iris Hantverk even more special? Each one of their brushes is handcrafted by a visually impaired craftsperson.
Iris Hantverk, since its inception in Stockholm, has always been a brush manufacturer, employing a select number of visually impaired individuals from many various cultures. But don't think for a moment that Iris Hantverk is a charity case. In fact, the manufacturer's renown has spread between their two retail stores as well as through various domestic and international outlets.
Sara Edhäll and Richard Sparrenhök took over the company from the previous owner in 2012 after the Swedish government withdrew funding for businesses such as Iris Hantverk that employed visually impaired workers. Edhäll and Sparrenhök's efforts have been far from in vain as today the company thrives thanks to a compelling story and strong online presence. They also receive generous donations from the De Blindas Väl foundation. Today, Iris Hantverk employs six visuallty impaired individuals and just 17 employees in total.
---
---
Although Iris Hantverk manufactures more than just pristine, handcrafted brushes, it is undeniable that these expertly made products have won them their renown. Here are a select few of our favourites.

Bath Brush With Handle
Made of oak and horsehair, this bath brush is as equally soft and exfoliating as it is durable. Allowing the brush to dry with the head hanging down will result in the water dripping away from the wooden handle, which will increase the longevity of the product.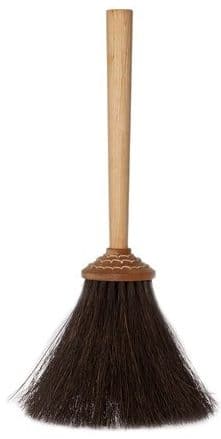 For more local Iris Hantverk options, check out Peter's of Kensington. If you're looking for other Swedish design pieces to deck out your place, cop this Ikea x Sonos collaboration.