Championship-winning NBA players know how to celebrate in style, be it Jordan lighting up a cigar, Magic Johnson spraying the locker room with Krug, or in more recent years, the likes of Curry and Antetokounmpo donning a pair of snow goggles. To celebrate its 75th anniversary this year, the NBA has finally launched its own pair of oversized lenses called Victory Goggles, which will be given to this year's winning team.
The tradition of slapping on a pair of snow goggles after winning a championship isn't exclusive to the NBA, with Melbourne Storm famously wearing Puma shades after taking out the 2020 NRL grand final (appropriately celebrated by the cultural zeitgeist that is The Betoota Advocate). However, the unofficial element of this tradition is over with the NBA working with ESPN to create these fresh gold-coloured glasses.
While the lenses are executed in a shade of gold that should only ever be worn by those on the top step of the podium, the frames are blacked out to match the elasticated strap that features a diamond-shaped emblem with the "NBA 75" logo next to ESPN'S logo. The NBA Victory Goggles were initially designed by Arts & Letters Co. before being manufactured by Matador Project.
---
---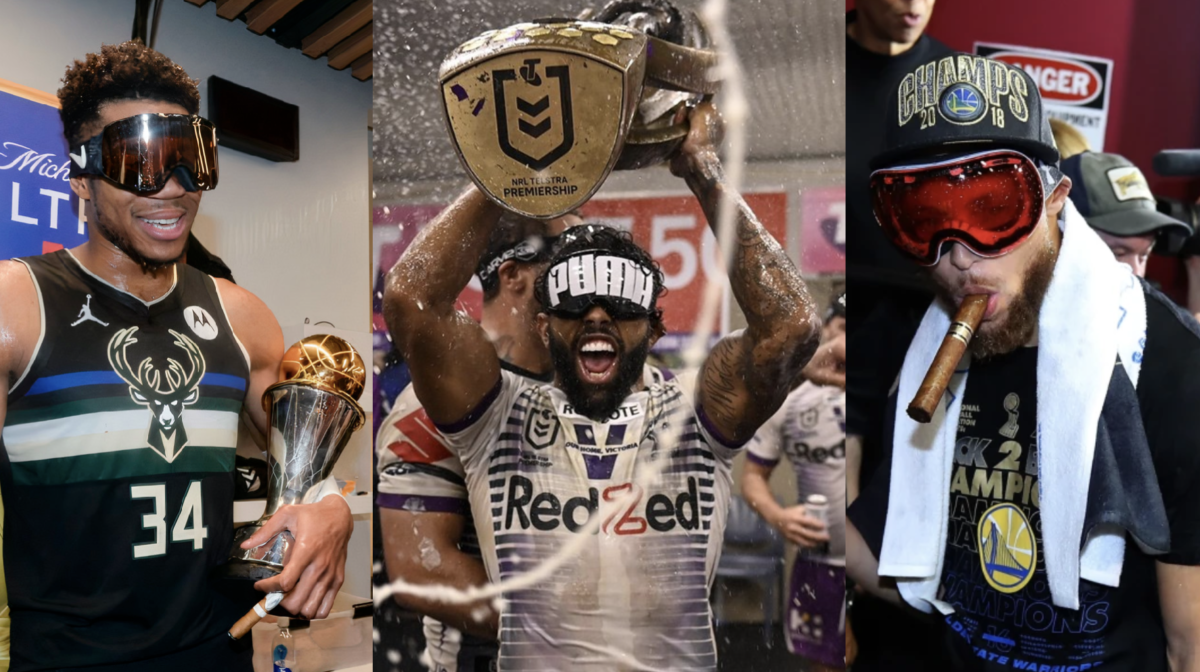 RELATED: Maximise Your Next 3-Day Bender With The Oakley Sub Zero
"We knew we wanted to take our partnership with the NBA to the next level for the 75th anniversary season, and we felt like developing customized victory goggles would be a great touch," explained ESPN's Vice President of Sports Marketing, Emeka Ofodile.
"It represents the final leg of a long journey for everyone from us at ESPN to fans to the players and staff of the winning team, and we're looking forward to watching whoever wins celebrate in style," she added.
While the Victory Goggles won't be available for sale to the general public, we've only got to wait a couple of weeks before we see which NBA team takes home the Larry O'Brien trophy and a new set of golden snow goggles.