RIMOWA has just reunited with Moncler for a collaboration you surely won't be forgetting anytime soon. A collaboration that quite literally makes a statement, given the inclusion of an LED ticker that actually allows you to program in a custom message.
This creative product of both the LVMH-owned brand and Moncler comes complete with a digital imprint, and has been dubbed "REFLECTION" by the style powerhouses. An obvious allusion to the polished, aluminium shell finish that is supposed to resemble a mirror.
"RIMOWA is delighted to join Moncler for a project that pushes the boundaries of both houses' frameworks," says Alexandre Arnault, son of LVMH's chairman – Bernard Arnault.
---
---
"For us, Moncler Genius is a natural fit as it highlights some of RIMOWA's most enduring values and links the innovative with the timeless. It's been an exciting opportunity to exchange creative approaches and explore novel ways of integrating technology into modern travel."
In terms of the bold and eye-catching draw – the LED ticker – RIMOWA's official site description has stated this nod to transport hubs around the world as well as the overarching theme of travel is a "… reflection on the state of personal communications…" and the "… social media messages that populate our digital domains…".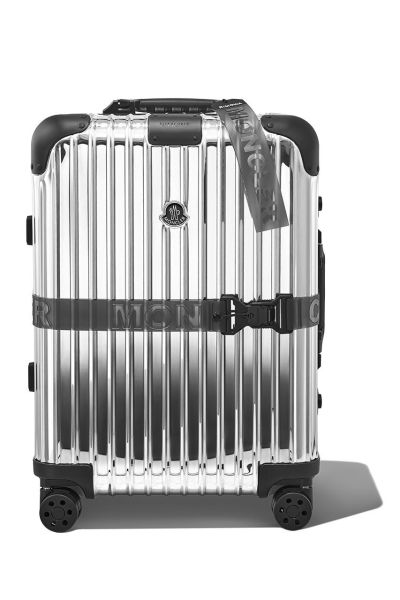 And while we're not too sure about how much all that resonates with us personally, what we will say is this: it'd be bloody handy to have your name and whatnot flashing on the side while you're standing around waiting at the airport baggage carousel. Something like that is generally pretty hard to miss.
Despite being the centrepiece of the RIMOWA x Moncler collaboration, it is actually possible to detach and remove said LED ticker if you find the prospect of flashing lights on your luggage a little… loud. But in all honesty, if you're even remotely considering this collaboration, it's almost solely because of the ticker. Let's not kid ourselves here.
Inside each suitcase, you'll also find an exclusive silver packing cube within Moncler's signature padded nylon fabric, plus a neon yellow luggage tag and belt for more practical reasons. That isn't to say, however, that they aren't as stylish to the rest of the kit.
The RIMOWA x Moncler "REFLECTION" suitcase will officially be available by June 2020.
Find out more at rimowa.com.
---
---
RELATED: Rimowa's Gold Attaché Case Is A Serious Boardroom Flex.