Adrian Brody might have been the youngest actor to ever win an Academy Award for Best Actor (at the tender age of 29), but nearly two decades later, his presence in front of the camera is as strong as ever. However, the most recent project Adrian Brody was a part of left the moving image behind briefly, as he was photographed for the Kith & Kin Fall/Winter 2021 campaign.
The shoot has a gritty, New York feeling to it, perhaps thanks to both Brody and the Founder of KITH, Ronnie Fieg, being born in the district of Queens. It's a link that has seen Brody become something of a friend of the brand, with his native Queens status seeing him featured by Feig in the book 10 Years of KITH. It was a book that celebrated a decade of the streetwear brand, profiling Brody alongside the "New York OGs" including Bobby Cannavale, John Turturro and Michael J Fox.
The Kith & Kin Fall/Winter 2021 campaign highlights a few key pieces from the brand that were made with the colder months in mind, including the thick Royce Coat, the Denim Ginza Shirt, and the Classics Double Knit Coaches Jacket.
---
---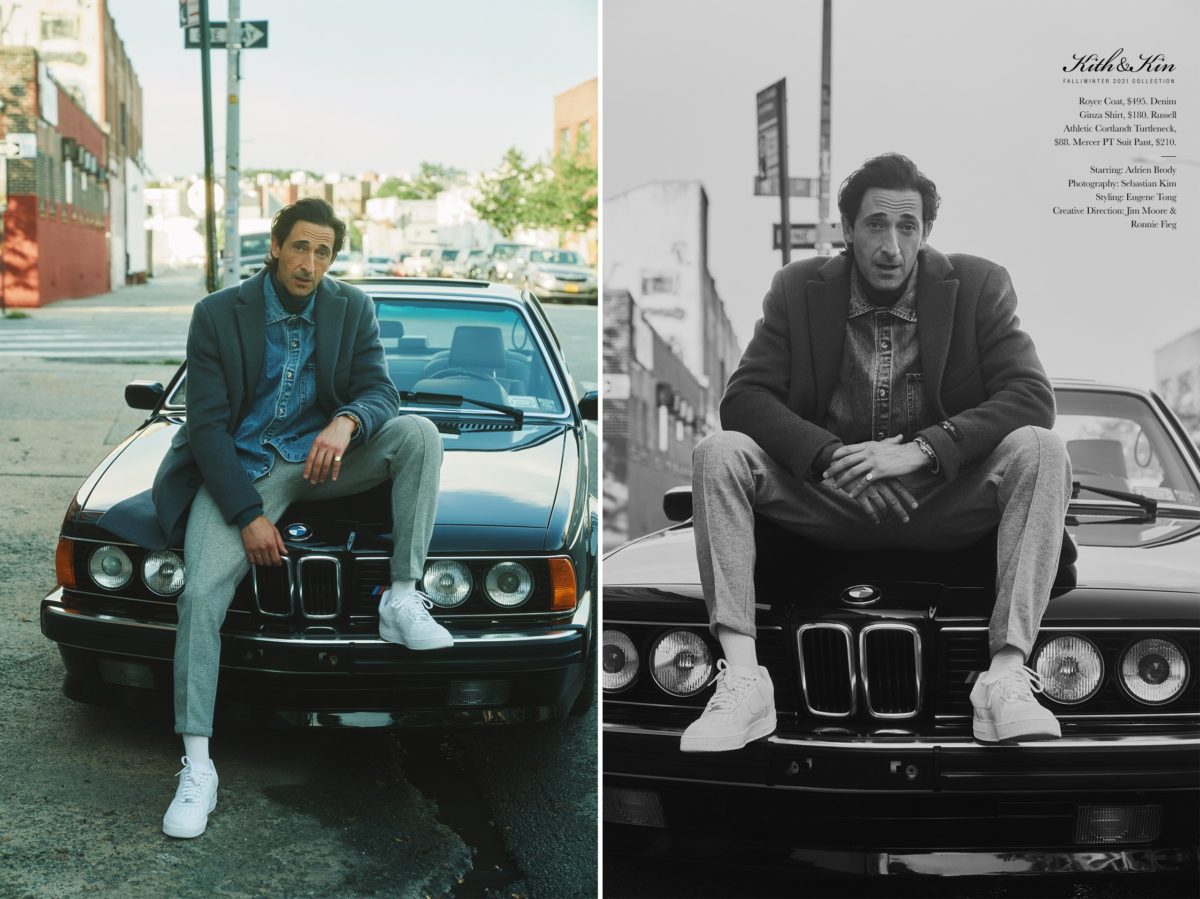 RELATED: KITH & Wilson Unleash Tennis Collab For WASPs With Street Cred
The campaign was shot by Sebastian Kim, who built his career as a photographer by assisting Richard Avedon and Steven Meisel, before hitting his own stride as a fashion and portrait photographer. Kim has shot everyone from Bryan Cranston and Christopher Plummer to Justice Ruth Bader Ginsburg for the cover of Time magazine.
As well as the Kith & Kin Fall/Winter 2021 collection, the shoot also featured a black late-'80s BMW M6, while Brody wore all-white Nike Air Force 1's on his feet, and a solid yellow gold Rolex Daytona on his wrist. The Hollywood career of Adrian Brody is showing no signs of slowing down, but if he ever needs to shoot campaigns full-time, he's got a good looking book already. The collection is out now, available over at KITH.