Every quarter, the hard-working folks at Lyst wrangle the data of their 150 million annual customers, to create the definitive Lyst Index. The results for Q3 were released this week, which had a few surprising results, showing the likes of Nike, Gucci, and Prada slipped in the rankings. They were overtaken by a new number one brand, which is officially the hottest brand in the world right now: Balenciaga.
The Lyst Index is collated using their own data and Google search data, as well as a range of metrics that look at social media mentions and engagement, building a three-month snapshot of the sentiment about the global fashion landscape. It was this process that picked Balenciaga as the winner, with the Parisian label maintaining a strong presence in headlines of late, with a few key moments that built and sustained hype around the brand.
Following the Met Gala, where both Rihanna and Kim Kardashian were clad in Balenciaga (of which Kim became the source of countless memes), search volume for the brand spiked 505% following the event. This quarter was also the first time Balenciaga produced an haute couture offering in 53 years, winning fans in the upper echelons of fashion commentary.
---
---
RELATED: Balenciaga's $5,625 Hi-Vis Jacket Is The Apex Of Tradie Chic
Other reasons for Balenciaga's slew of good-news stories included working with Kanye West on the launch of his latest album Donda, complete with a jacket inspired by an antique Russian bear-fighting suit. But the success of Balenciaga wasn't limited to the physical world, with the brand taking a journey into the metaverse with a range of digital clothing for the game Fortnite.
If that wasn't enough, Balenciaga recruited the help of The Simpsons to open their Paris Fashion Week show, dressing members of the Simpsons family in Balenciaga garments. The sheer length and breadth of Balenciaga's collaborative power have been unparalleled of late, seeing the French fashion house move from 6th position in Q2 of this year.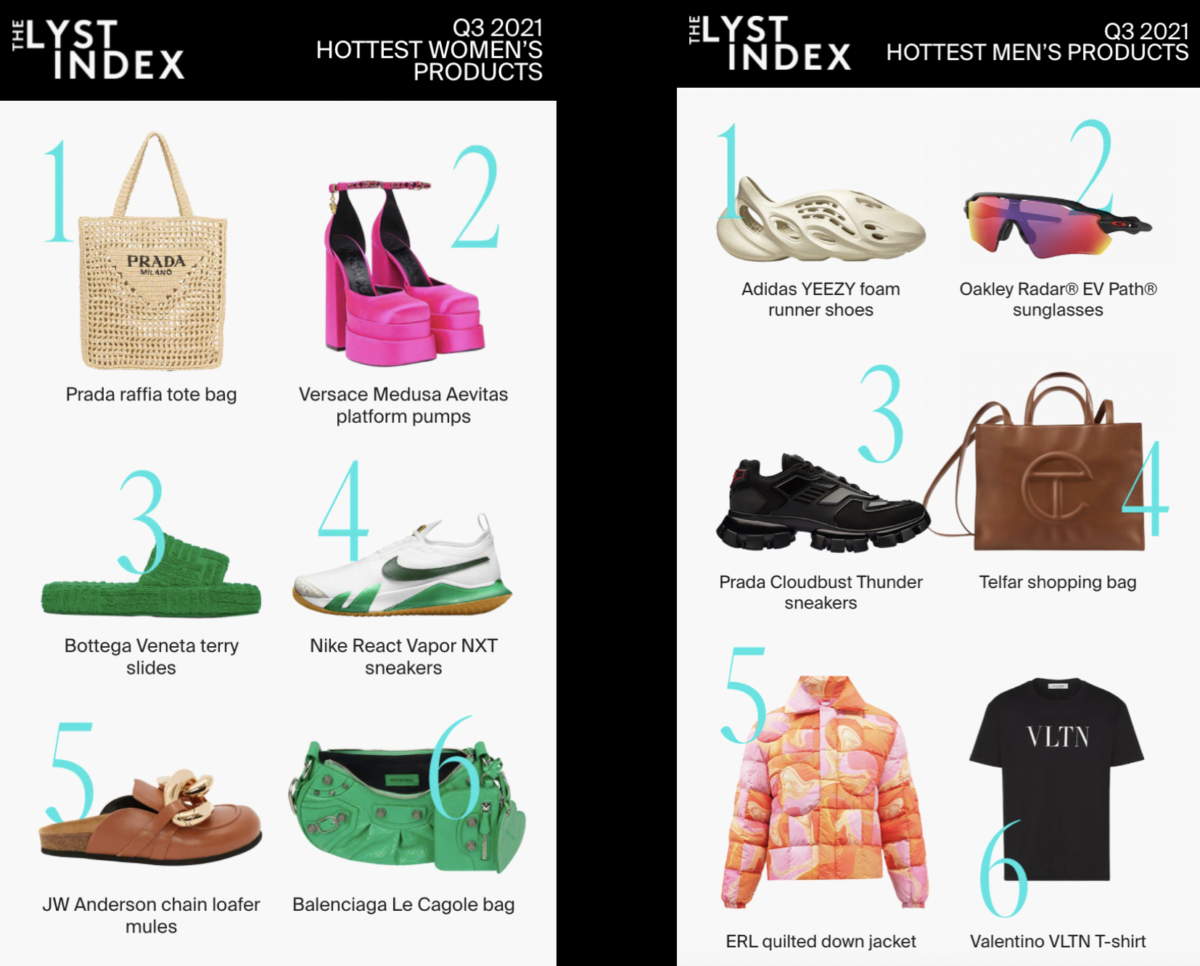 The Lyst Index also ranked the hottest individual products of Q3. Broken into men's and women's products, the hottest items for women included a Prada raffia tote bag, Versace Medusa Aevitas platform pumps and Bottega Veneta terry slides. In contrast, the hottest products for men were also footwear focused, including Adidas YEEZY foam runner shoes, Oakley Radar® EV Path® sunglasses and Prada Cloudbust Thunder sneakers.