These days, NBA stars are known to be some of the most stylish and fashionable athletes in the world. Interestingly enough, if we rewind the tape back to the earlier days of the game, during the era of Bill Russell, Kareem Abdul-Jabbar, and Wilt Chamberlain – their fit game was equally on point. But something happened towards the late 90s/early 2000s that would leave an indelible (and hilarious) mark in the history of NBA's off-court culture. A detour, if you will, that many still look back on today for a good chuckle.
The unholy image above was taken during the 2003 NBA Draft. As the Bleacher Report so aptly writes, it was the greatest NBA Draft class dressed in the worst threads of all time. For the initiated, this was the cohort that included four (4) future Hall of Famers:
LeBron James
Dwayne Wade
Carmelo Anthony
and Chris Bosh
Just look at them – I don't even have to add any further commentary. The oversized jackets, the extra fabric draping the floor, enough buttons to supply a national textiles shortage in Guatemala… it all practically speaks for itself, and it was all nothing short of horrendous.
---
---
Here's a brief timeline of the good, the grim, and then back again.
Good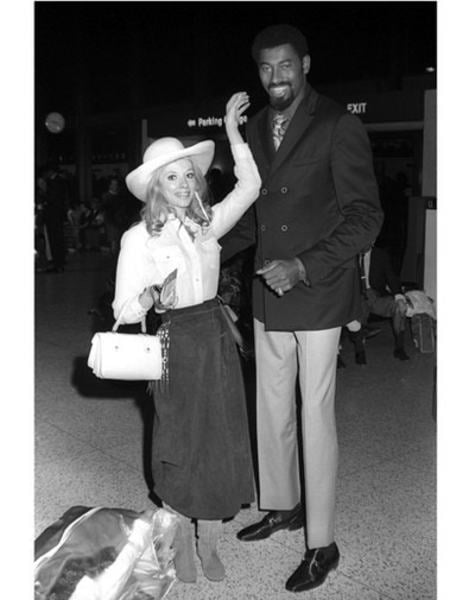 Wilt Chamberlain – 1969
Double-breasted blazer, crisp trousers, and what appears to be Gucci loafers. Tight.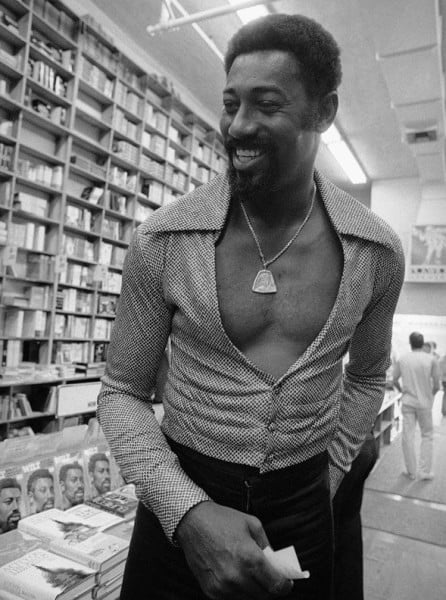 Wilt Chamberlain – 1973
Chamberlain back at it again with the fitted shirt, exposed chest, and maximum 70s sex appeal in effect.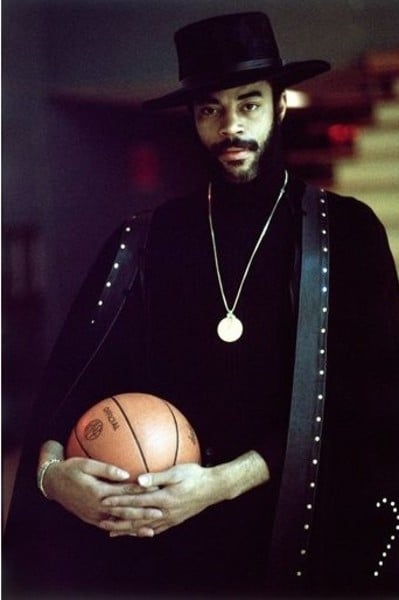 Walt Frazier – 1973
Jacket draped over the shoulders, medallion, wide brim hat – in two words: absolute don.
Grim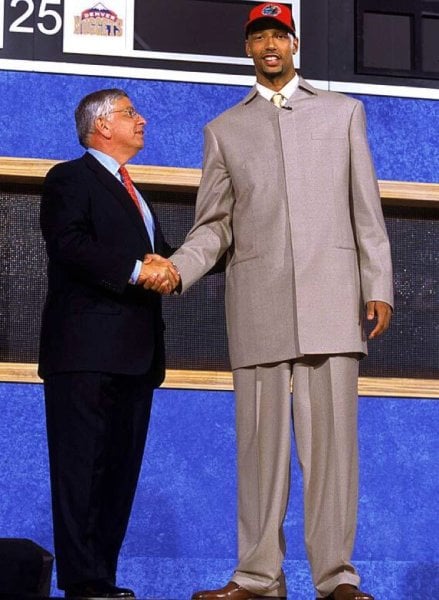 Drew Gooden – 2002
I call this one the Kim Jong-Il special. There's so much wrong with this that it's more practical to just focus on what it gets right… nothing. It gets nothing right. Next.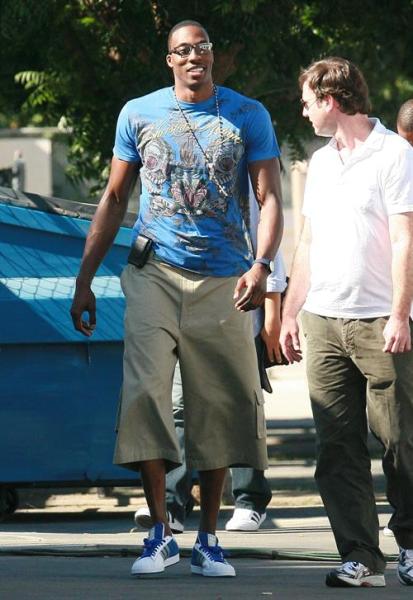 Dwight Howard – 2004(?)
Despite how terrible the world may seem right now, lets all just take a moment to be thankful that cargo shorts died in the early 2000s. Throw in a shirt like this and the phone holster at the hip, and you have a certified panty dropper. /s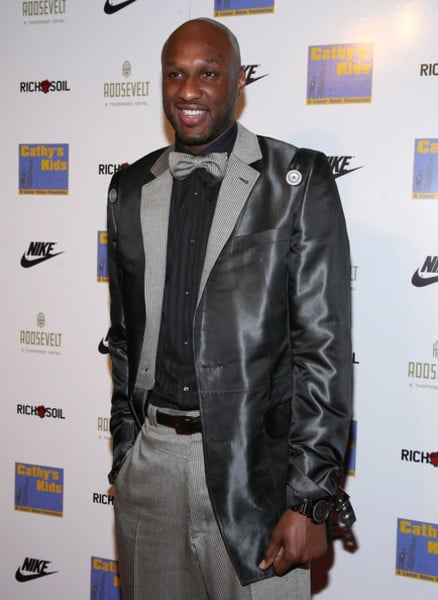 Lamar Odom – 2009
This is a classic case of trying to do too much at once. You either stick to the leather look, or you swing to the suit look. Why confuse the two distinct stylistic choices in a mess of uncertainty? Safe to say, this is the second-worst decision Mr Odom has made. Wait… make that third.
---
---
Good (again)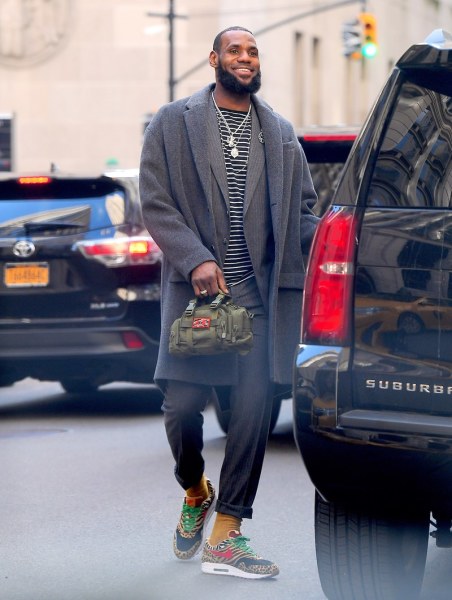 LeBron James – 2019
LeBron James just keeps getting better with age – on and off the court. As the picture above is any indication, his "King" aura is clearly peaking.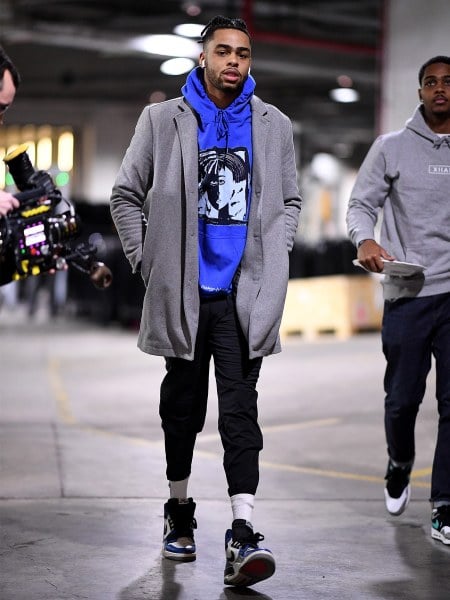 D'Angelo Russell – 2019
Voted the most stylish operator in the game by multiple publications, D'Angelo Russell constantly plays the delicate balance between streetwear and high fashion like a classical maestro on the violin. NBA fashion really doesn't get much better than this in the modern age.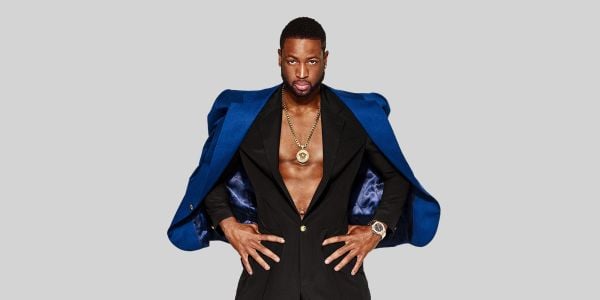 Dwayne Wade (The Comeback) – 2019
The big man has more than redeemed himself for his 2003 crimes in recent times. Case in point. A picture paints a thousand words, so I'll just do us all a favour and quit while I'm ahead here.