In most articles you come across about style and suiting, it feels like you need a reason to splash out on some nicely woven threads. Justification comes in the form of a wedding, spring races, garden parties, or any other vaguely festive event, but we're here to tell you linen suits don't need a special occasion.
If ever there was a kind of suit that didn't need to be apologised for, it's the infinitely versatile (and frankly wardrobe-elevating) linen suit. There's a good reason those who take their style seriously love linen suits — they're comfortable, trans-seasonal and most importantly, the perfect thing to wear when the dress code is ambiguous.
RELATED: 6 Summer Cocktails To Freshen Up Your Weekends
The other reason linen suits are so versatile is the ability of the pants and jacket to be separated from each other. Linen pants can look excellent with a casual shirt, while the jacket can bring a touch of sophistication to a pair of jeans or chinos. Work smarter, not harder with your outfits.
So if you're in the market for a summer suit that can do it all, we thought it would be a good idea to highlight some of our favourite linen suits right now. From the familiar names of M.J. Bale and Suitsupply, to a few tailors you might not have come across before, let's get into it.
---
---
The Best Linen Suits For Men To Buy In Australia Right Now
Todd Snyder Tobacco Linen 'Wythe' Suit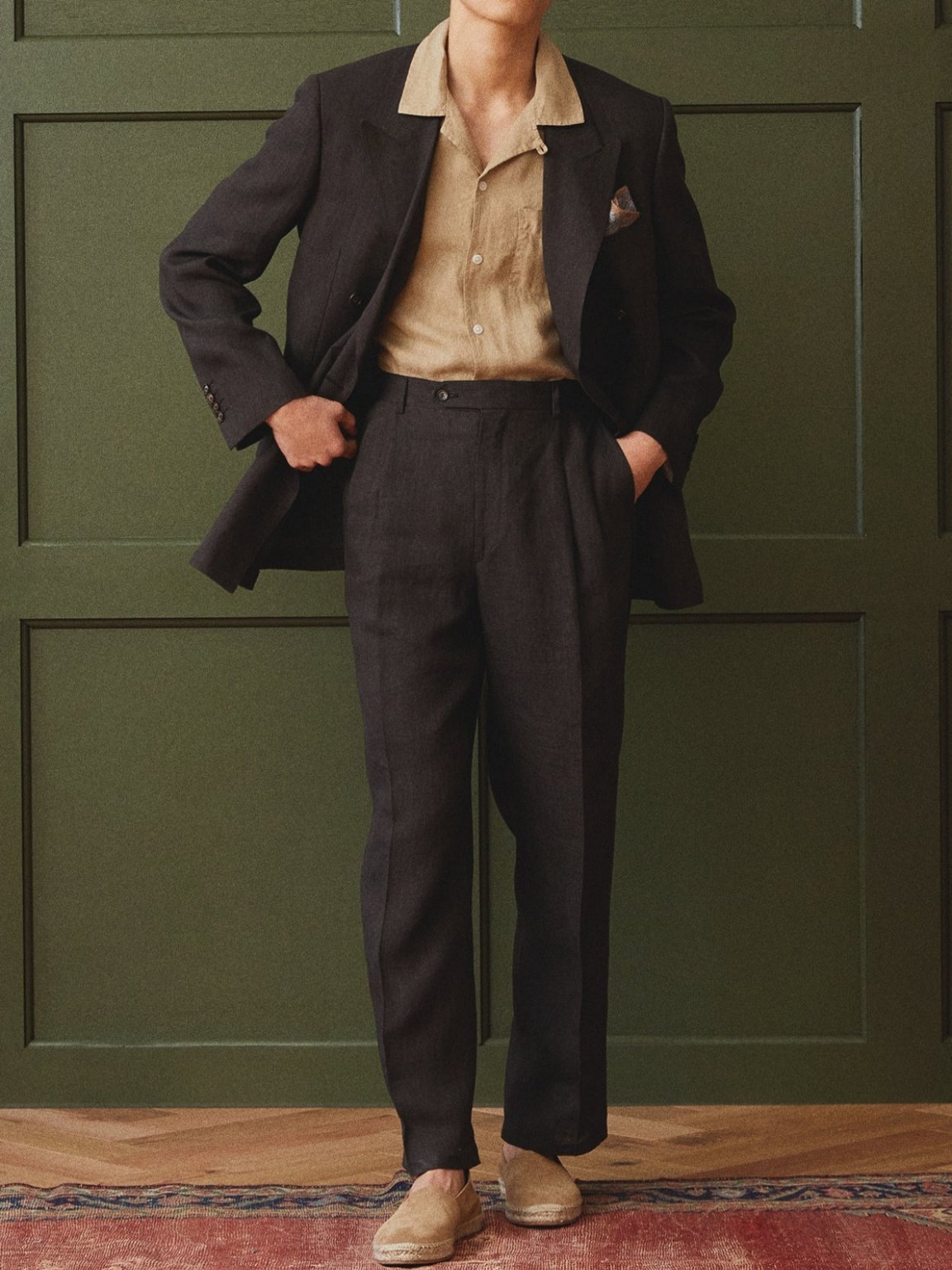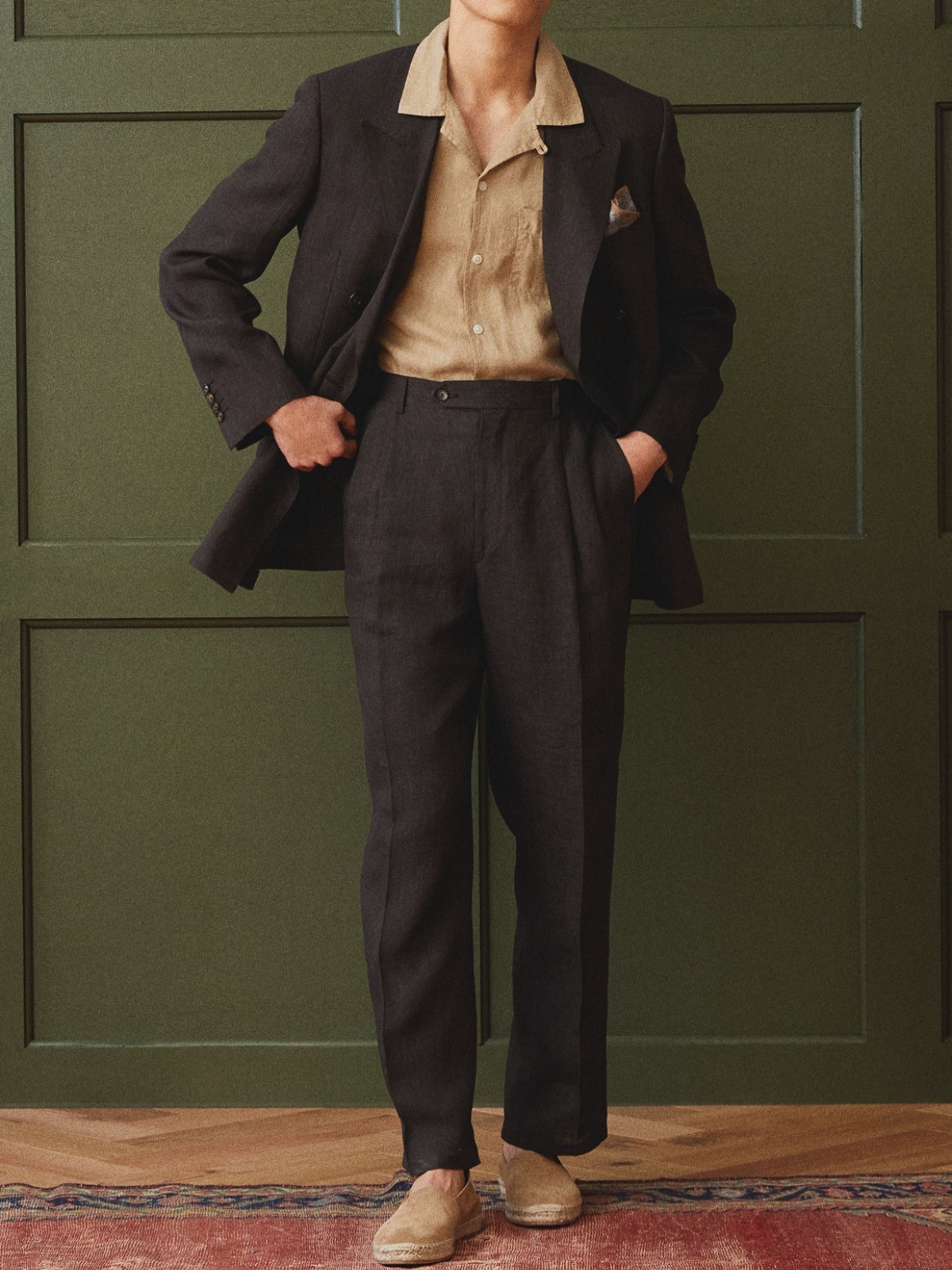 DETAILS
100% linen
Double-breasted (6 x 2) closure
Relaxed fit
Available as suit separates
For years, CFDA designer Todd Snyder has been making clothing that is "gently fashionable": suits and sportswear that nod in the direction of industry trends, (wisely) without fully embracing them.
Snyder's 'Wythe' suit is the perfect example of this. Subtly informed by the billowing proportions and sleazebag aesthetic that has been so popular in 2023, it is cut in a délavé (i.e. "washed out") chocolate linen that may be dressed up with a tie or, more intriguingly, with your favourite camp-collared summer shirt.
Consistent with Snyder's ethos, the block used to cut the double-breasted jacket has a "slouchy and chic" feel. The lapels sit low on the wearer's chest and the shoulder, while technically natural, is slightly elongated around the sleevehead.
---
The Anthology Linen/Cotton Twill Suit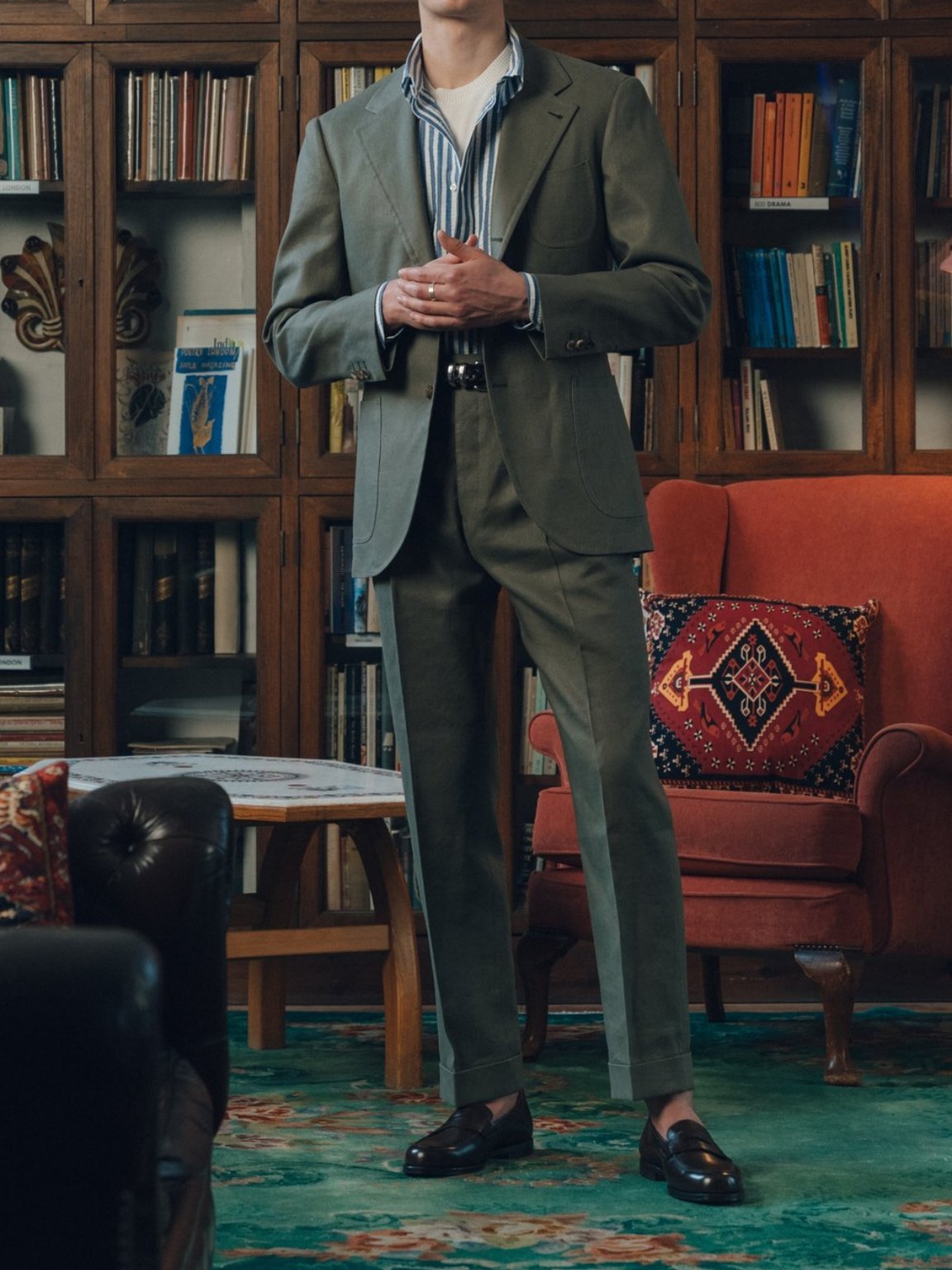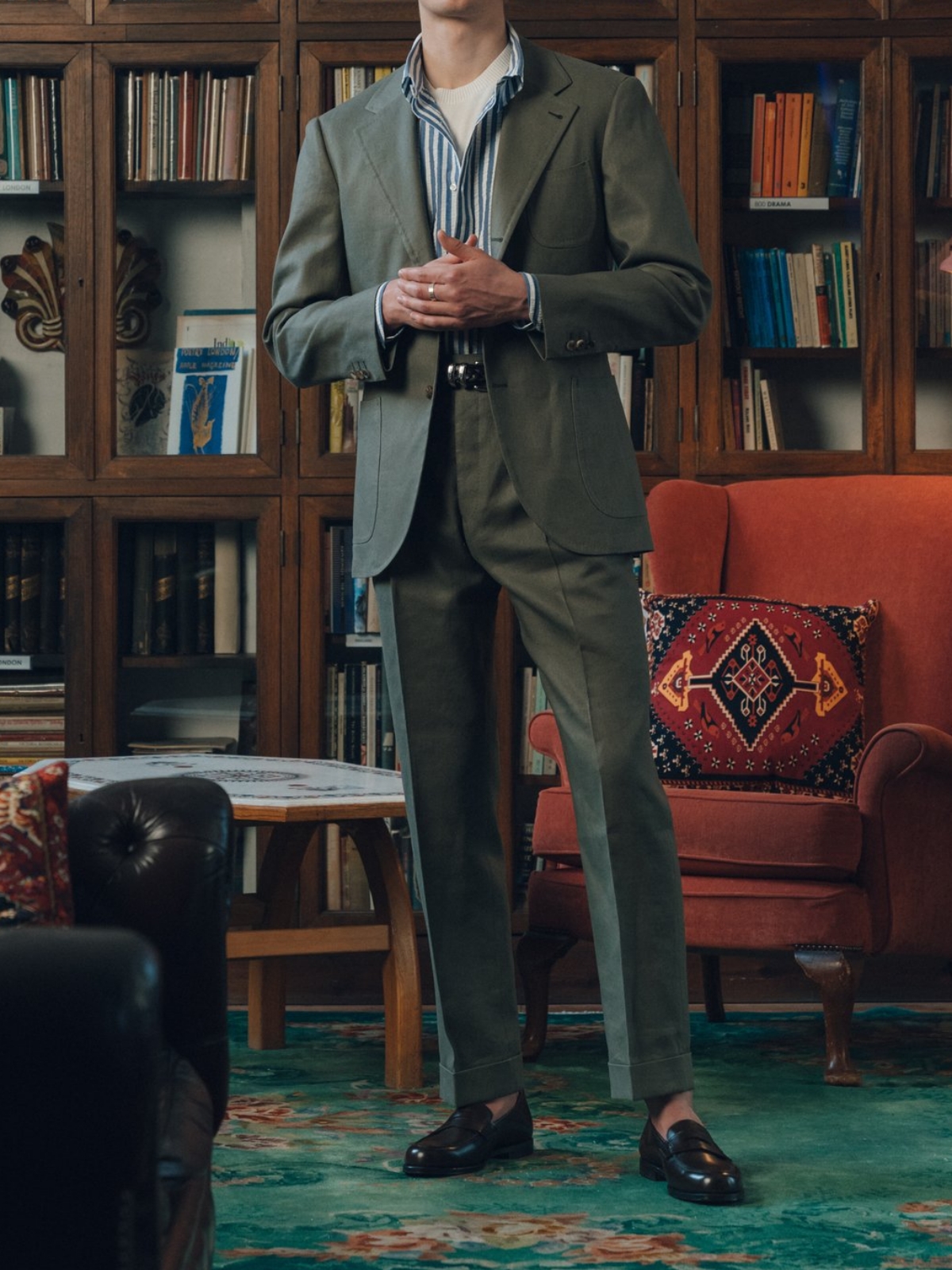 DETAILS
55% linen, 45% cotton
3-roll-2 notch lapel
Typical Anthology 'house' style
Available as suit separates
Yet another ready-to-wear banger from the boys at Hong Kong/Taipei-based Anthology, this twill suit articulates everything great (minus the bespoke fit of course) about classic sartorial clothing made in the 21st century.
For instance, the fabric that The Anthology's team has chosen for this buoyant springtime suiting, is a proprietary Japanese-made blend of linen and cotton — blended in almost equal ratios. In English? That means a suit with the breathability and carefree aesthetic of linen, yet the softness and tensile strength of cotton.
Woven into sage-green twill, this is the kind of cloth that will look even better once you've put a few miles on it. In particular, the jacket offers an emblematic snapshot of The Anthology's "house style": a longer skirt and sweeping shoulder, lending the whole affair a generous look.
---
Polo Ralph Lauren Soft Linen Suit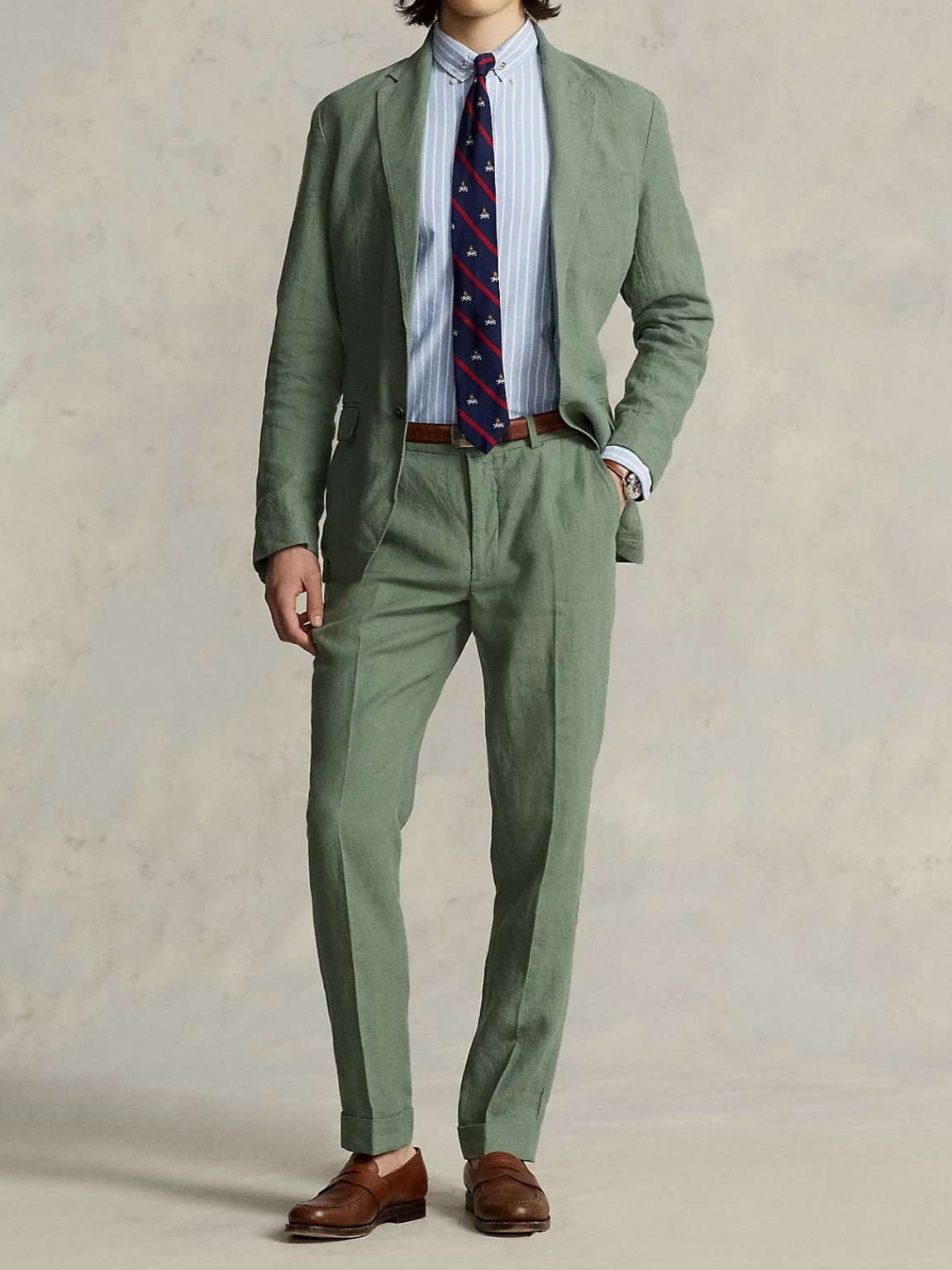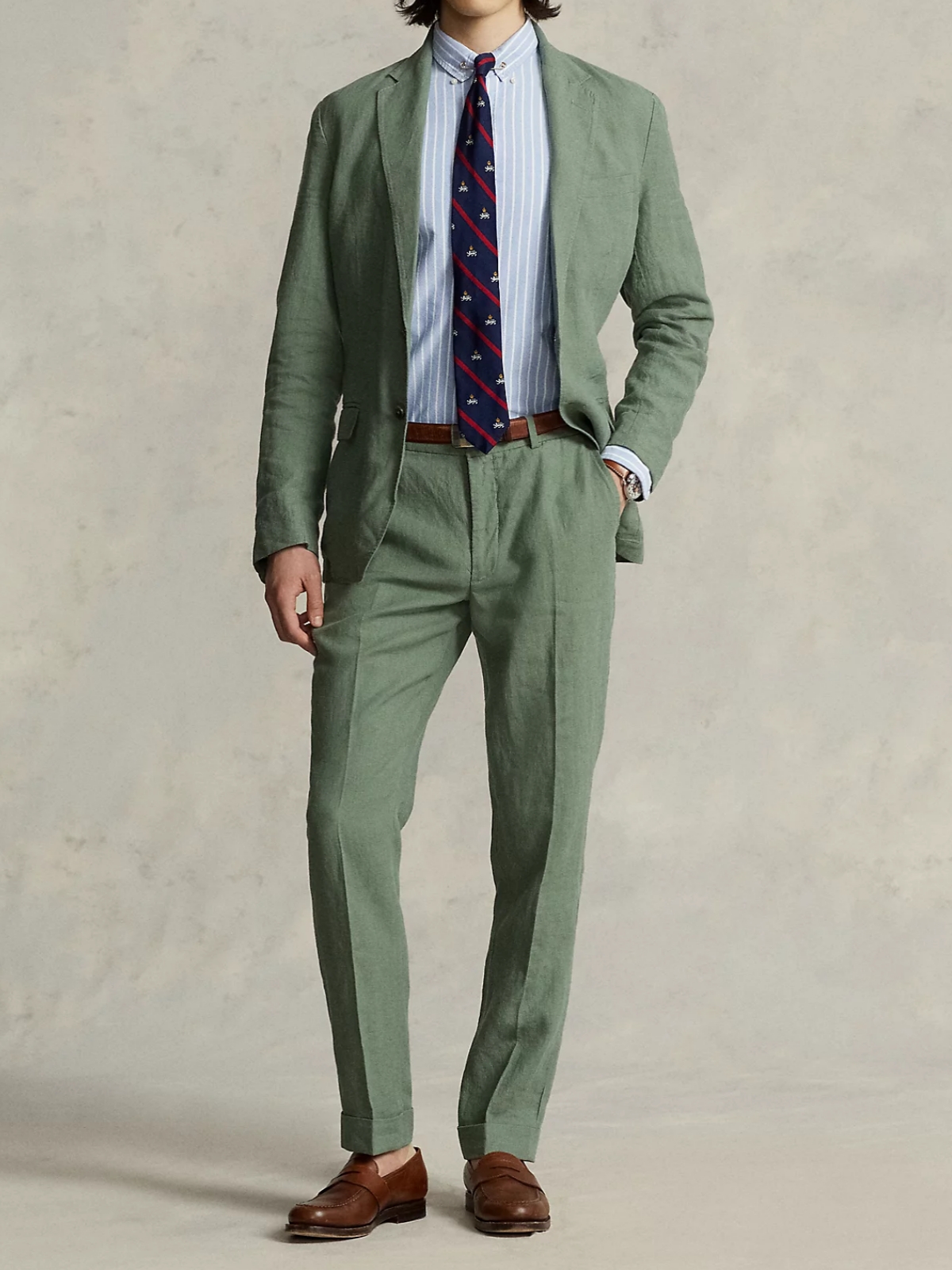 DETAILS
Cropped length, natural shoulder
2-button closure
Half-canvassed
Available as suit separates
Among the Ivy League set, there is a strong tradition of linen suits and jacketing. So what better way to bring those classic mid-century styles into the 21st century than with Polo Ralph Lauren?
The label's appropriately named 'Soft' suit is pre-treated for a look that is extra crumply. Even before you throw on the cargo-green jacket, it's positively pulsating with comfy, lackadaisical Ferris Bueller-esque energy. For a hint of 90s airport style, try donning the jacket over beat-up hi-tops and a pair of jeans.
Devotees of the PRL cut probably know what to expect. The jacket is on the "trim" side, favouring a shorter length; high armholes; and lapels that are slightly bellied whenever you're buttoning up.
---
COS Linen And Cotton-Blend Suit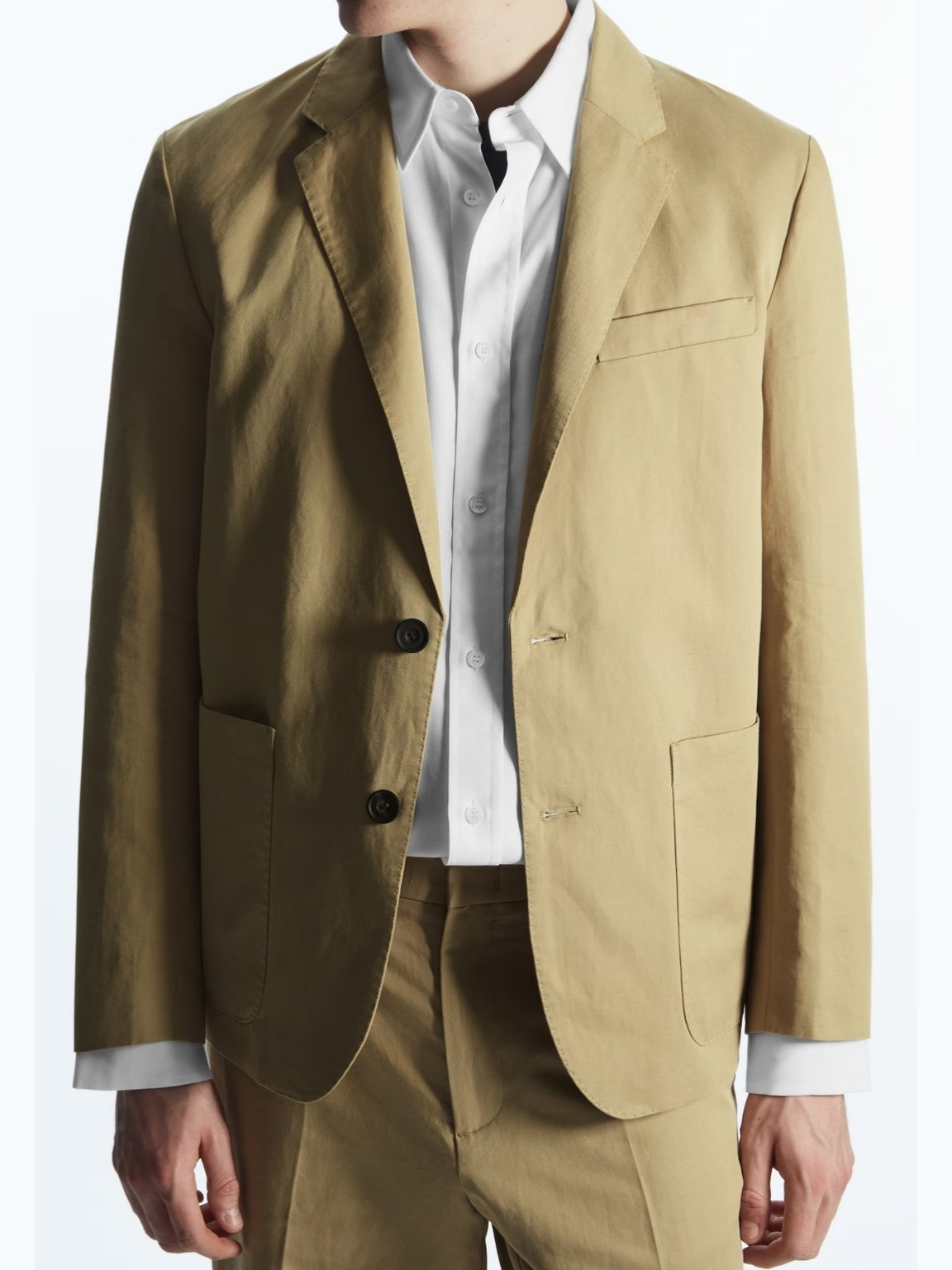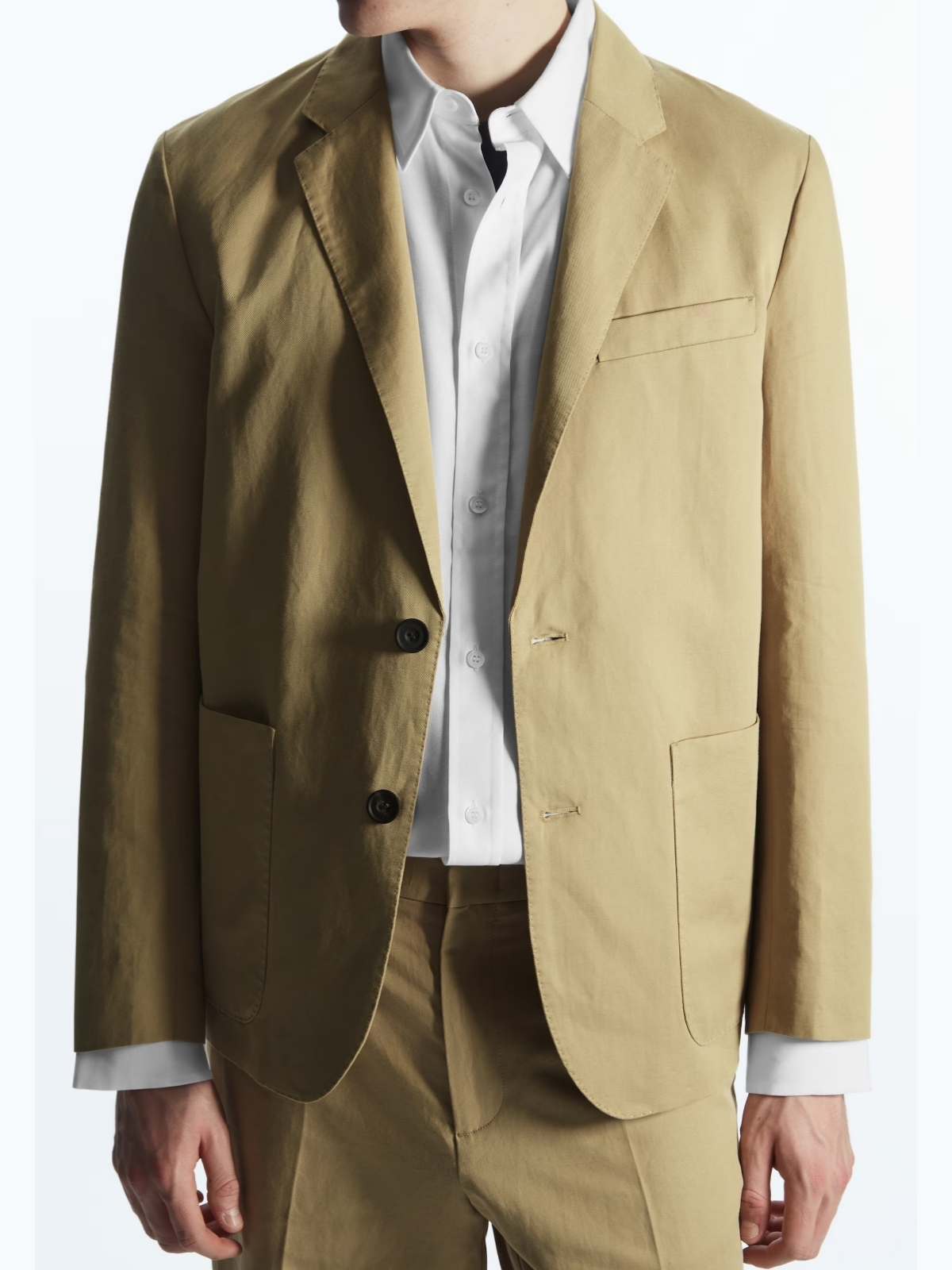 DETAILS
57% linen, 43% organic cotton
Cropped sleeve, high armhole
2-button closure
Available as suit separates
One of a few contemporary options for the man who doesn't wish to look like a cosplayer at Pitti Uomo, COS' assortment of blazers and pants comes highly recommended.
Made in a blend of linen and non-GMO cotton, the look is one that's most accurately described as "architectural". Compact notch lapels cut straight down the chest; the jacket sits high on the body (almost at hip height); and the cropped sleeves work a treat if you're in the mood to show some shirt cuff.
One to consider if your day-to-day wardrobe is heavier on the indie sleaze than it is classic menswear.
---
Thom Sweeney Unstructured Double-Breasted Linen Suit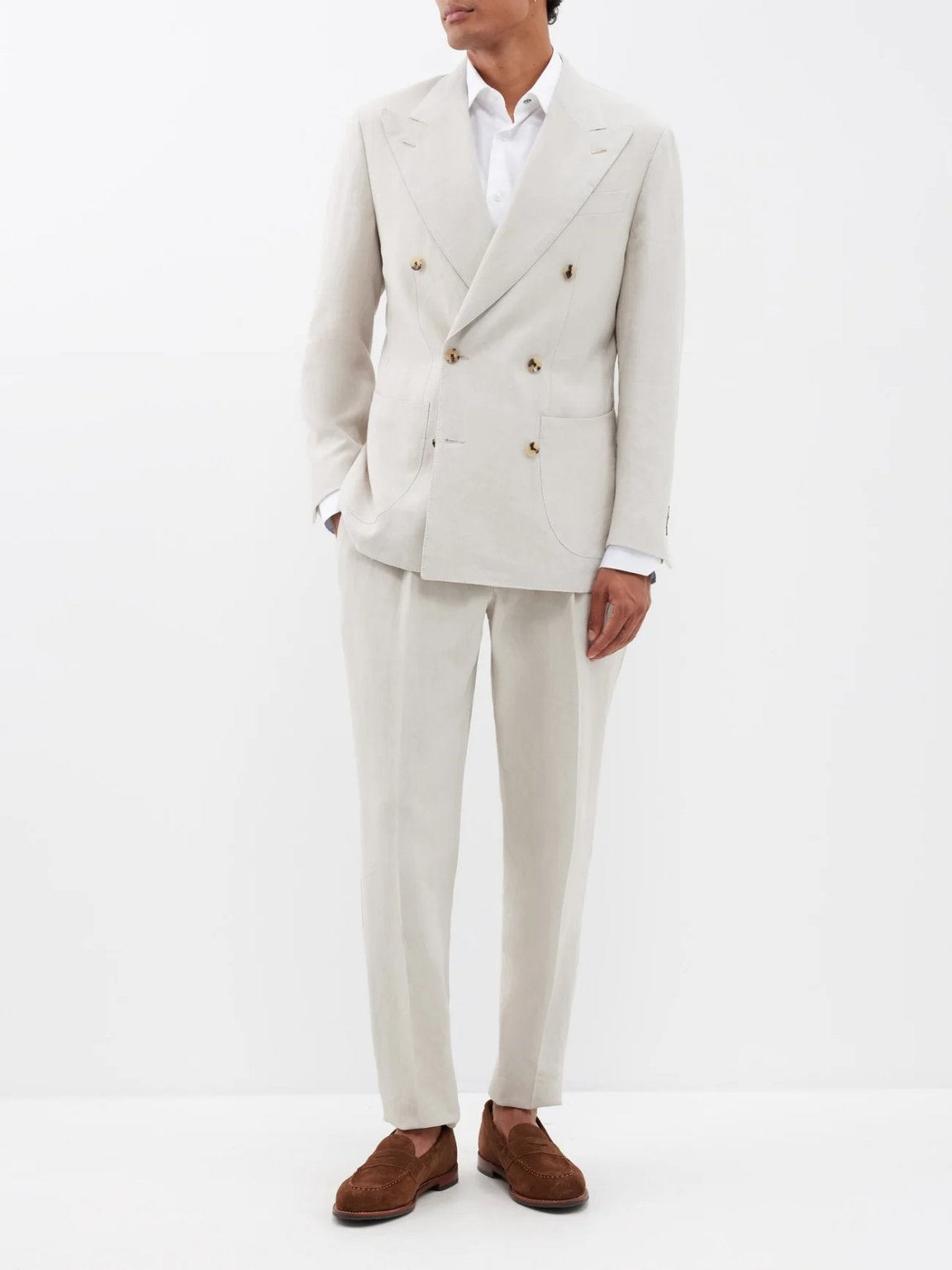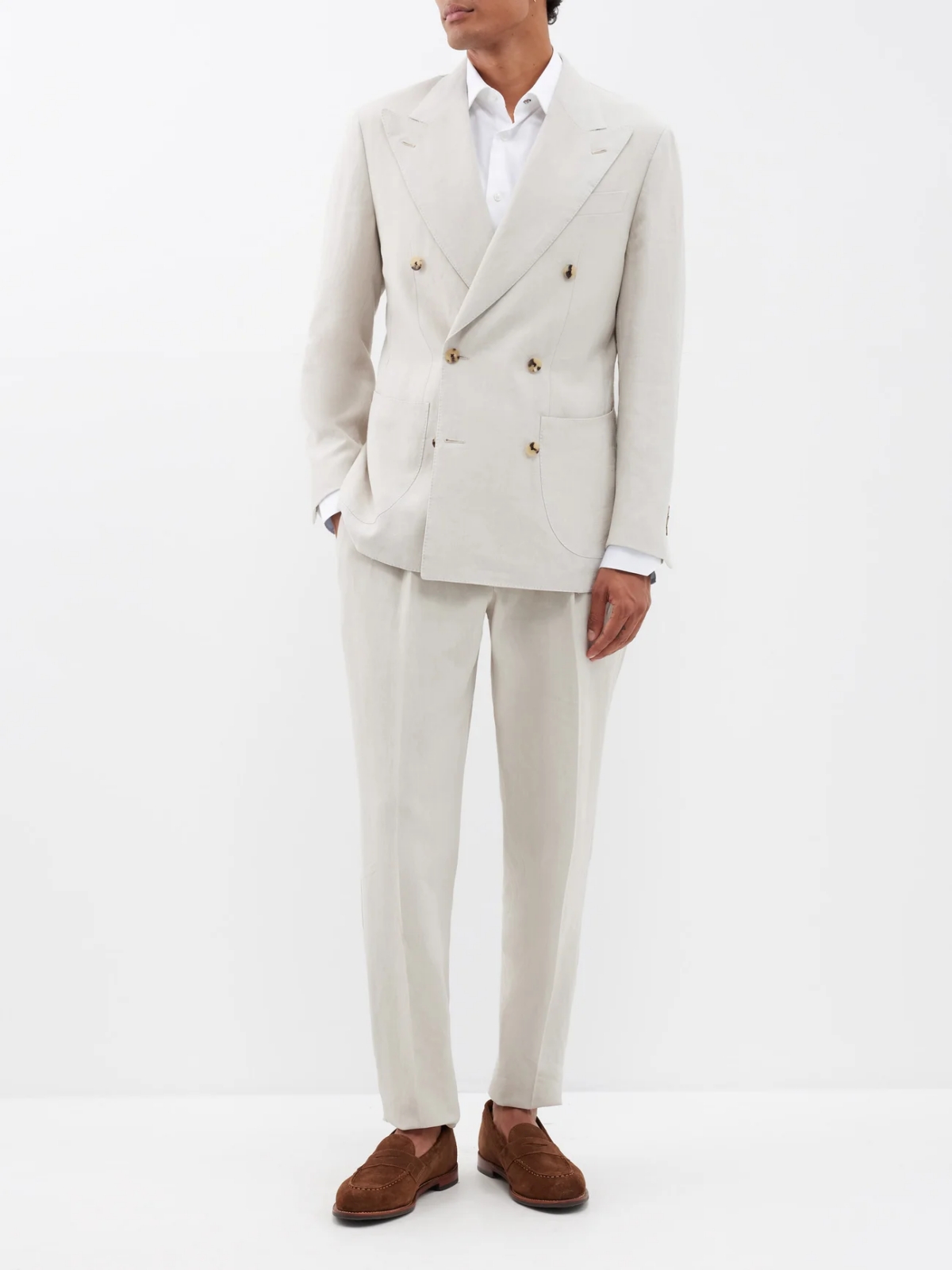 DETAILS
100% linen
Unpadded chest, natural shoulder
Double-breasted (6 x 2) closure
Sold as a full suit
At the opposite end of the spectrum to labels like Commas or COS, Thom Sweeney is a London-based clothier and bespoke tailor whose speciality lies in "contemporary" British style.
Having been an early adopter of capsule collections with online retailers in the mould of MR PORTER, it's unsurprising that the brand continues to offer a robust range of online ready-to-wear — including several rather dashing linen suits. This particular version, in a rakish off-white colour that has been labelled "beige", will work wonderfully at your next summer engagement.
Made in Italy (rather than at the brand's bespoke-focused Mayfair atelier) there's unmistakably something of the Continent in the jacket's styling. Soft shoulders and a lack of padding in the chest reward those who choose to wear it separately, with that versatility enhanced further by the linen's cloudy, lived-in texture.
---
Venroy Unlined Blazer & Side Tab Trousers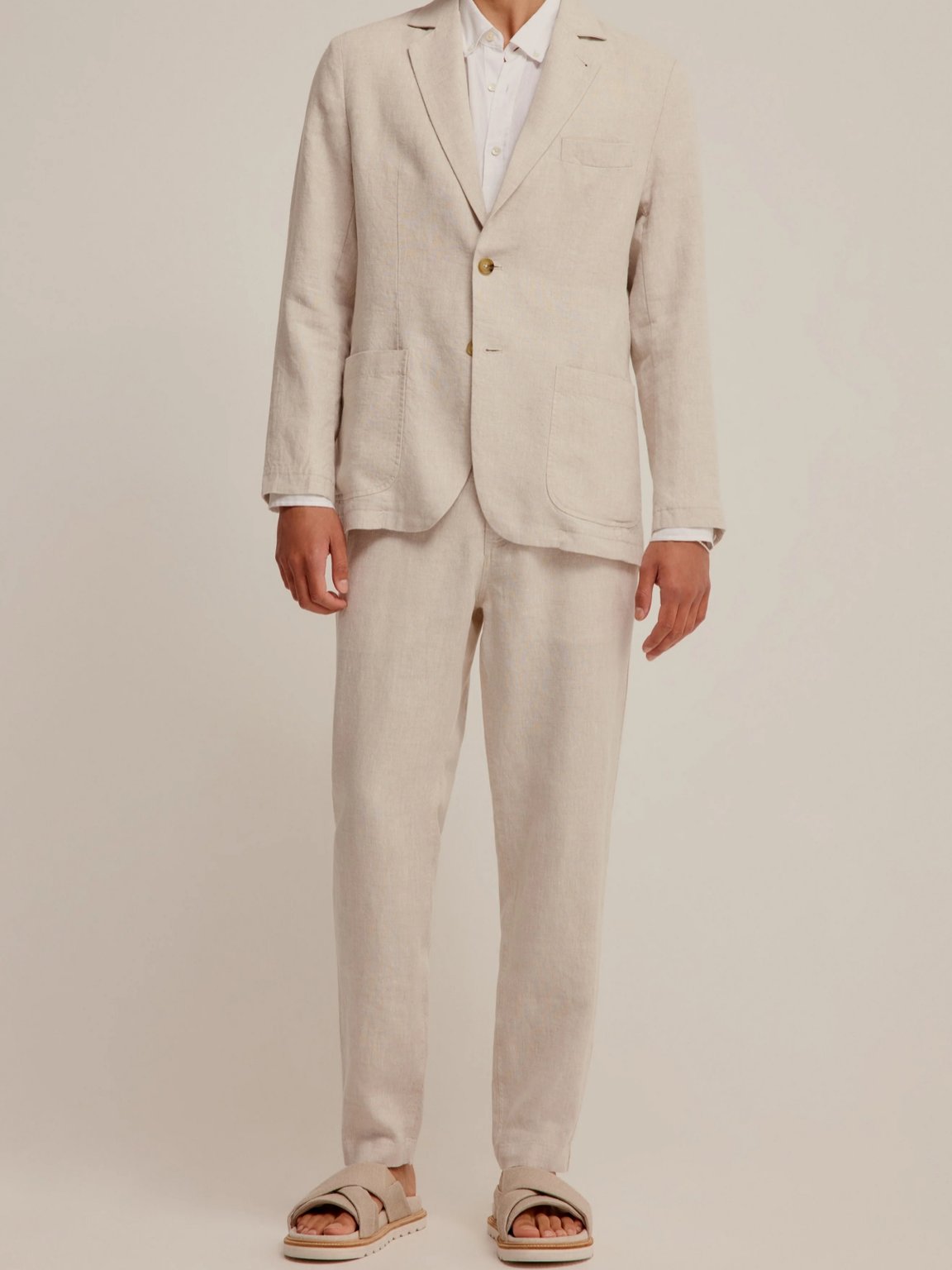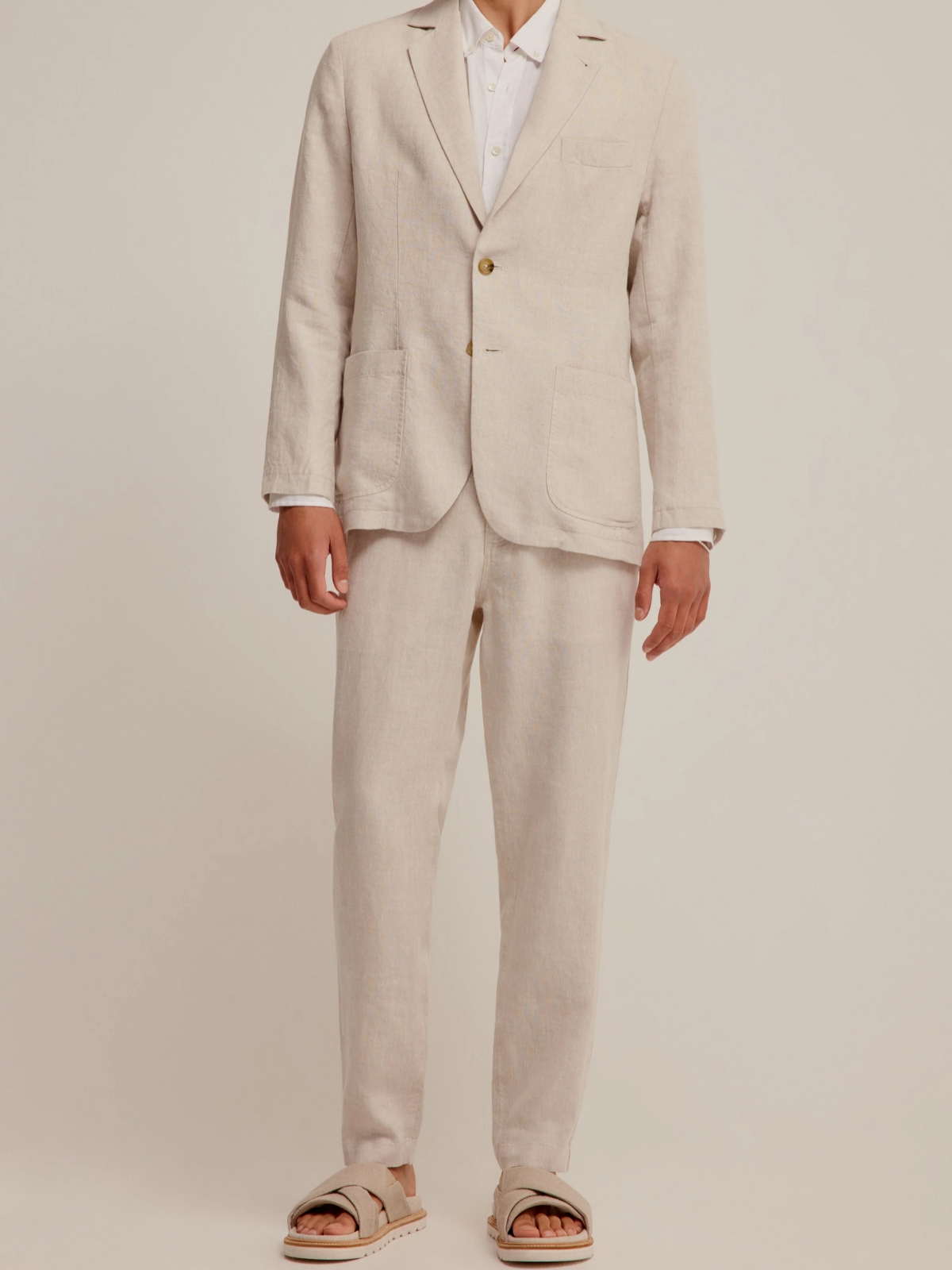 DETAILS
100% linen
Unlined and uncanvassed
2-button closure
Available as suit separates
Soon to be glimpsed on the muscularly defined shoulders of every second Bondi influencer, it's the little details that remind one this linen suit is definitively a product of the Venroy universe.
Cut in pure linen that's been dyed in a vacay-approved "sand" shade, this is the sort of garment that (in another iteration) might very well have been designed without buttons.
At its best when worn wide open — likely in tandem with a knit polo and your best pair of overpriced designer sandals — the watchwords for this particular skew on summer tailoring are "ease" and "comfort". That's not something you could say of most suits on the market.
---
Suitsupply Dark Brown 'Havana' Suit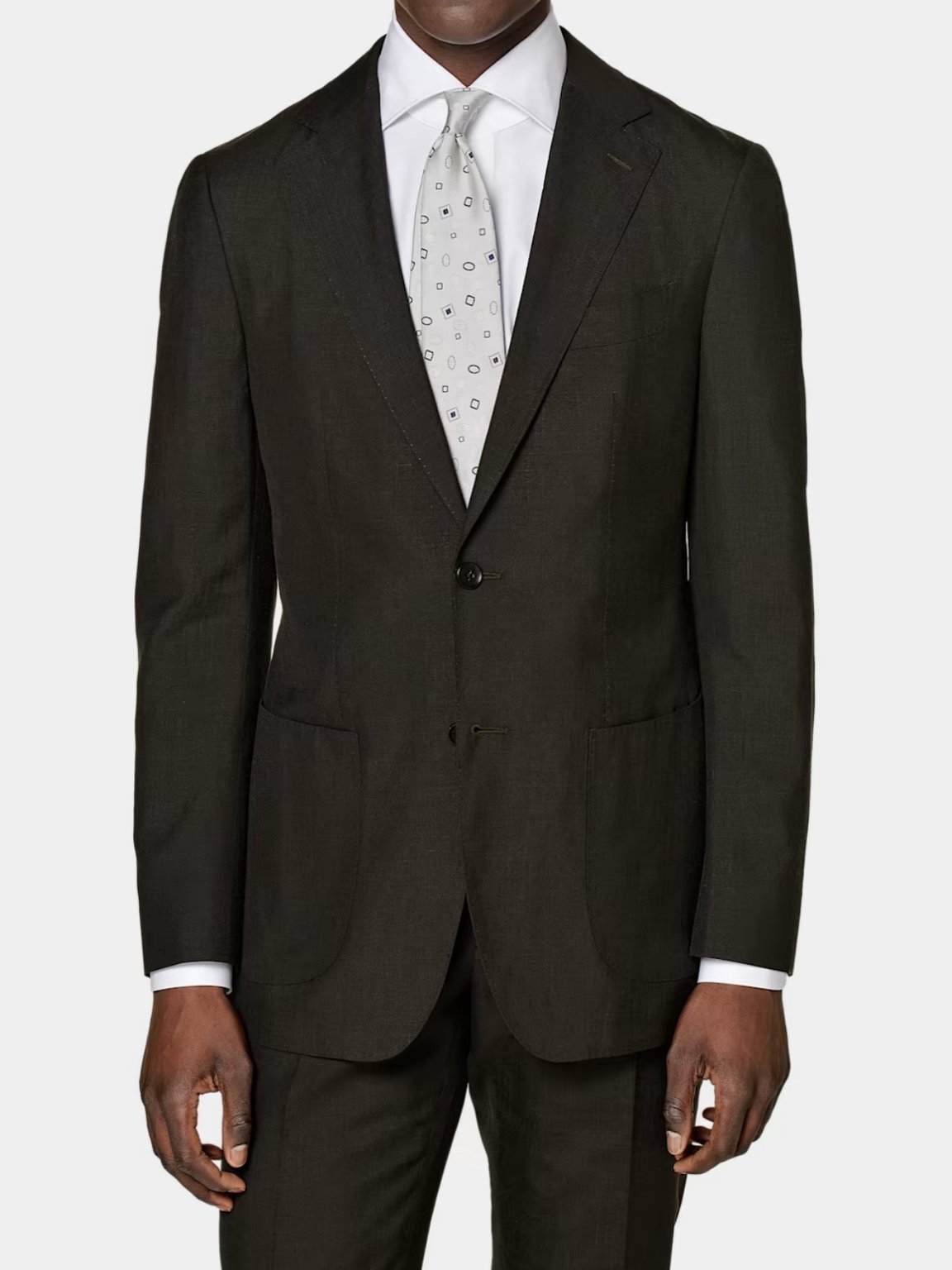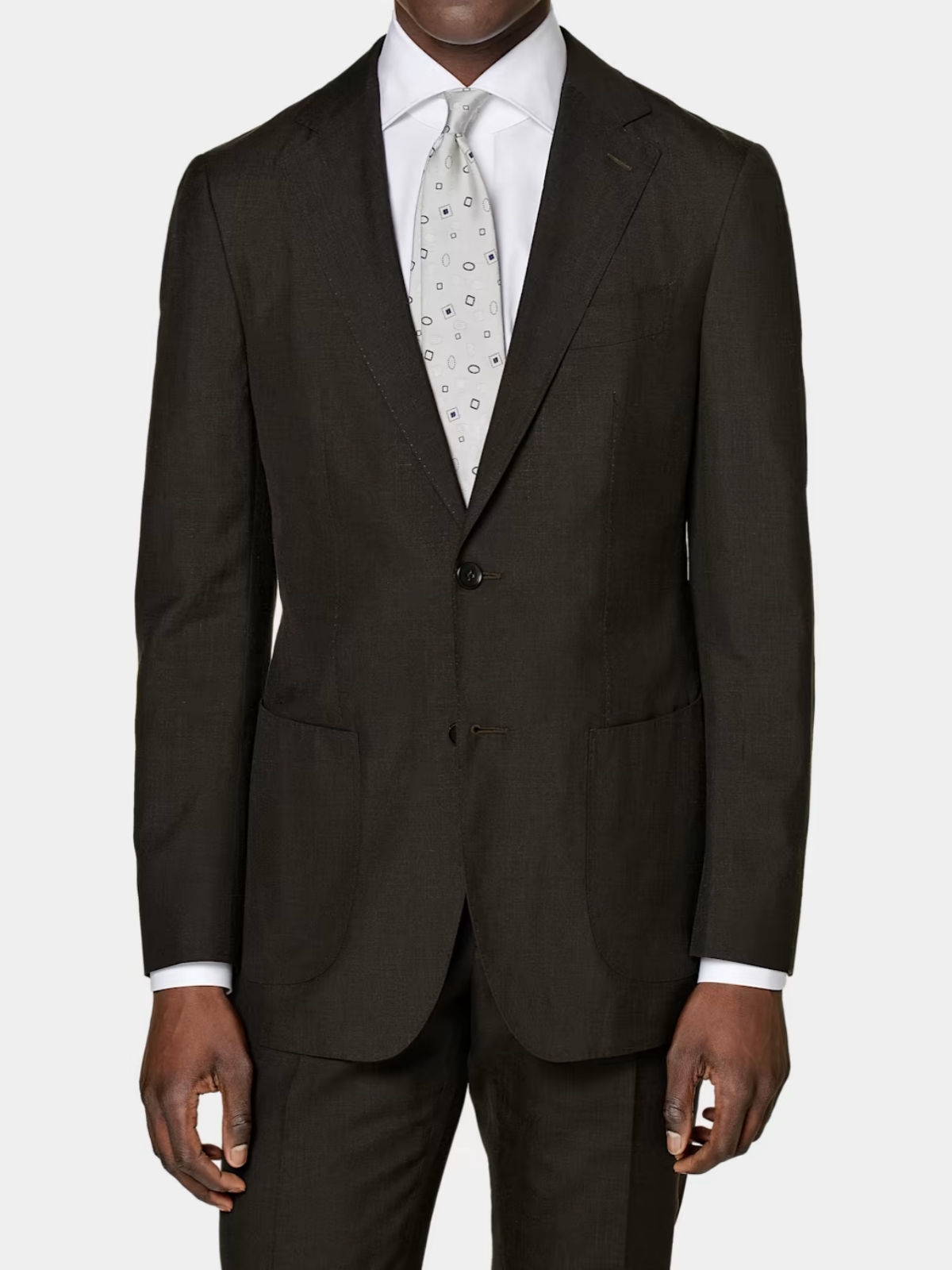 DETAILS
70% wool, 18% silk, 12% linen
Half-canvassed
2-button closure
Sold as a full suit
No sartorial buyer's guide has ever been worse off for the inclusion of Suitsupply. Sometimes dubbed the "Apple store" of classic men's suits, the brand is renowned for its excellent value proposition and deep array of styles — made possible via mindboggling economies of scale.
Linen suits are, of course, a core part of the Suitsupply offering. However, this time around, we've opted to include a style that's technically made using a linen blend: more wearable and texturally interesting due to the co-mingling of wool and silk respectively. The fabric is woven by Rogna: a family-owned mill in the heartland of Italy's textile industry.
As previously mentioned, Suitsupply has a staggering number of shapes to choose from; with this one being part of the best-selling 'Havana' line. Smartly cut (albeit with a "sporty touch"), what you'll get for just south of $1,000 is one of the more resolutely untrendy linen suits on the market.
One to wear through events season, at the office; perhaps even on date night.
---
M.J. Bale 'Sandino' Linen Suit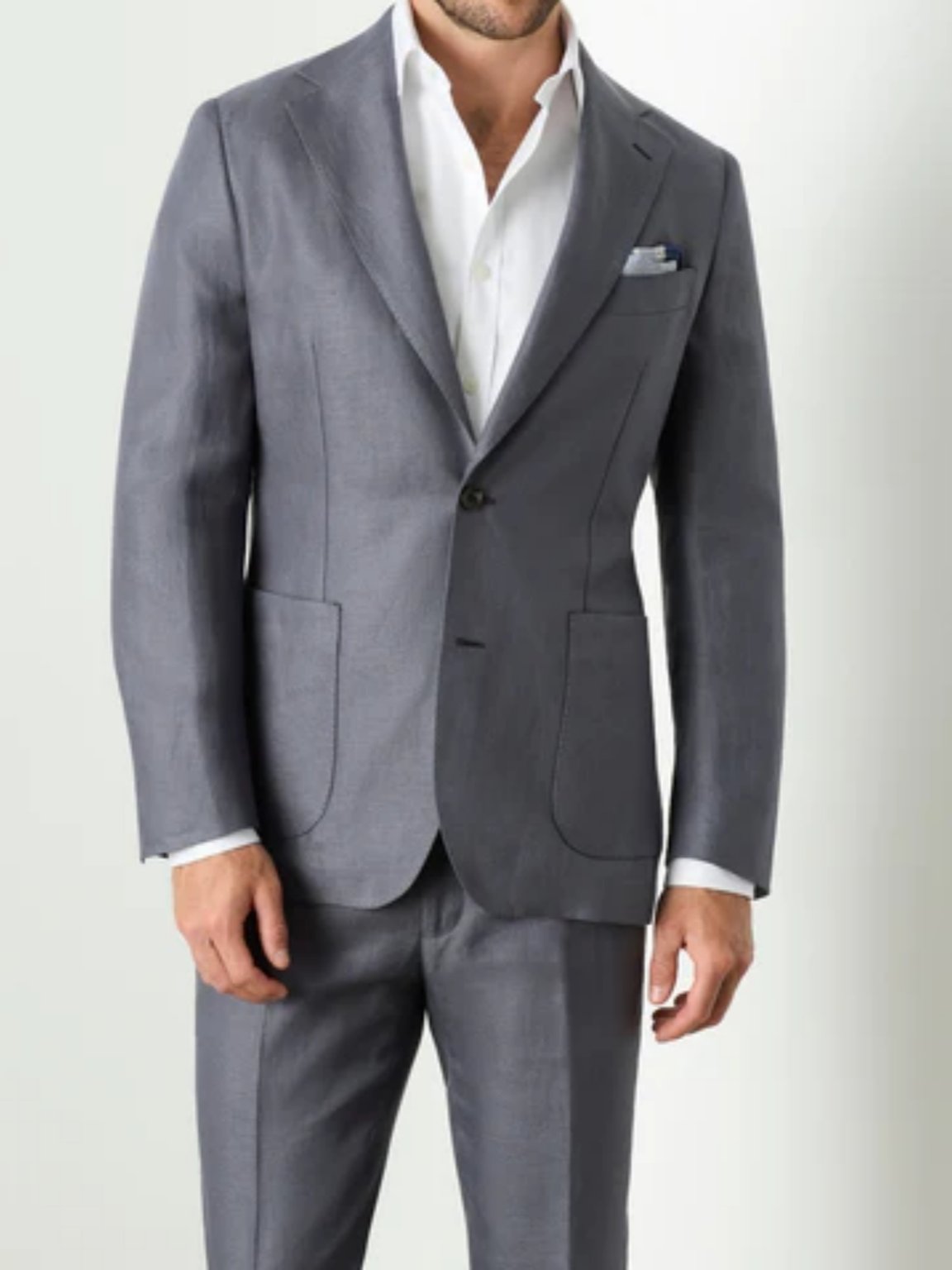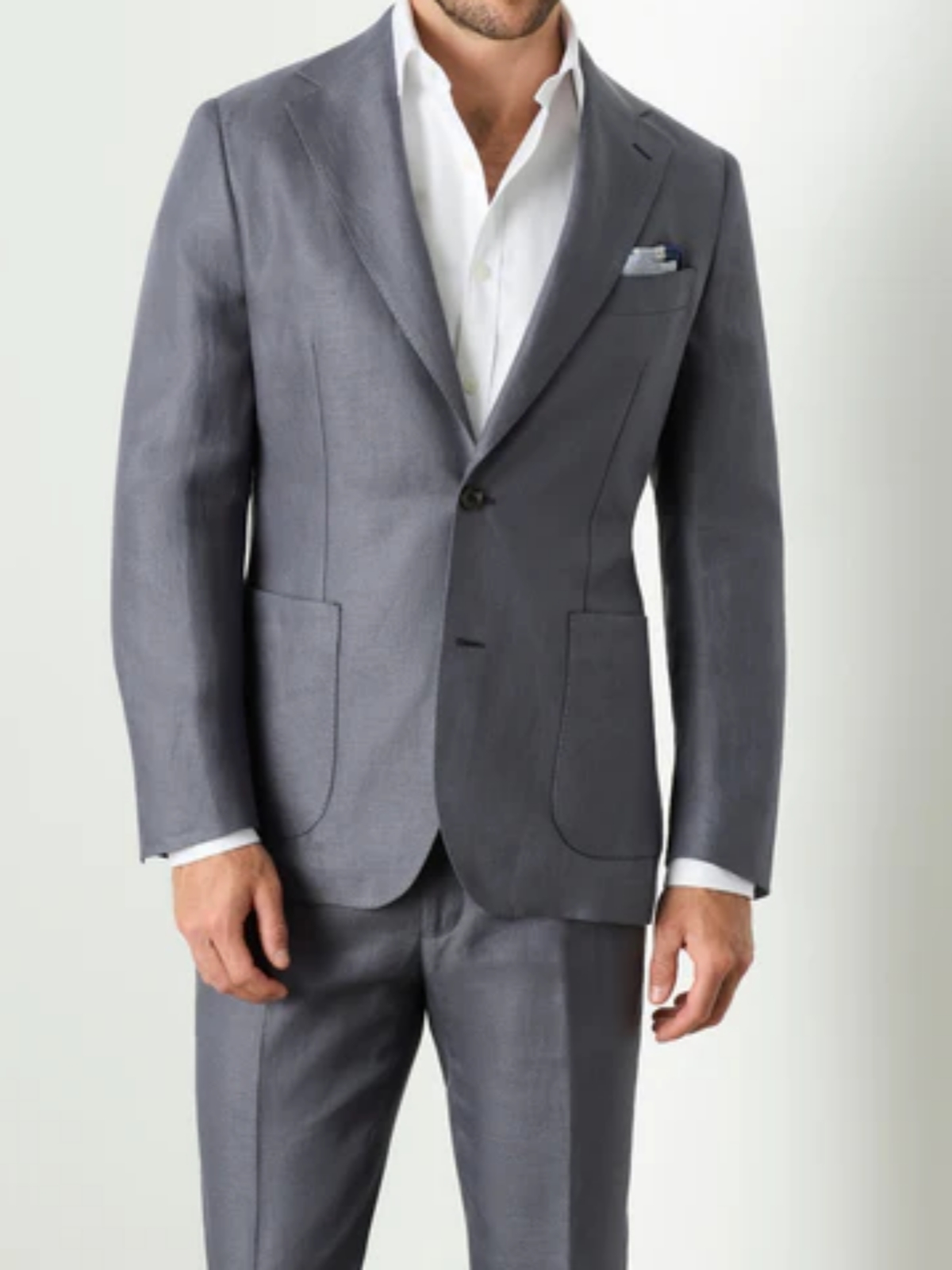 DETAILS
100% linen
Unstructured, soft shoulder
2-button closure
Available as suit separates
Bringing together two unlikely tropes in men's suiting (i.e. linen and the colour grey) M.J. Bale's 'Sandino' suit separates are another lucky coup for those who prefer to ball on a budget. Nominally just shy of $600, they're currently part of the brand's regular spring sales promo; bringing your cart total to $378.
Nabbing a deal aside, this particular 2-piece is cut using a medium-weight twill: an assured choice when you want a more fully-bodied linen that is resistant to moisture and humidity.
The shade of grey the Bale team has settled on is also of interest. Flecked with a bluish sheen that's most perceptible under artificial light, this is an unusually nocturnal iteration of a suiting style that is more commonly associated with going on holiday or beachfront weddings.
---
De Petrillo Lyocell, Linen and Cotton-Blend Suit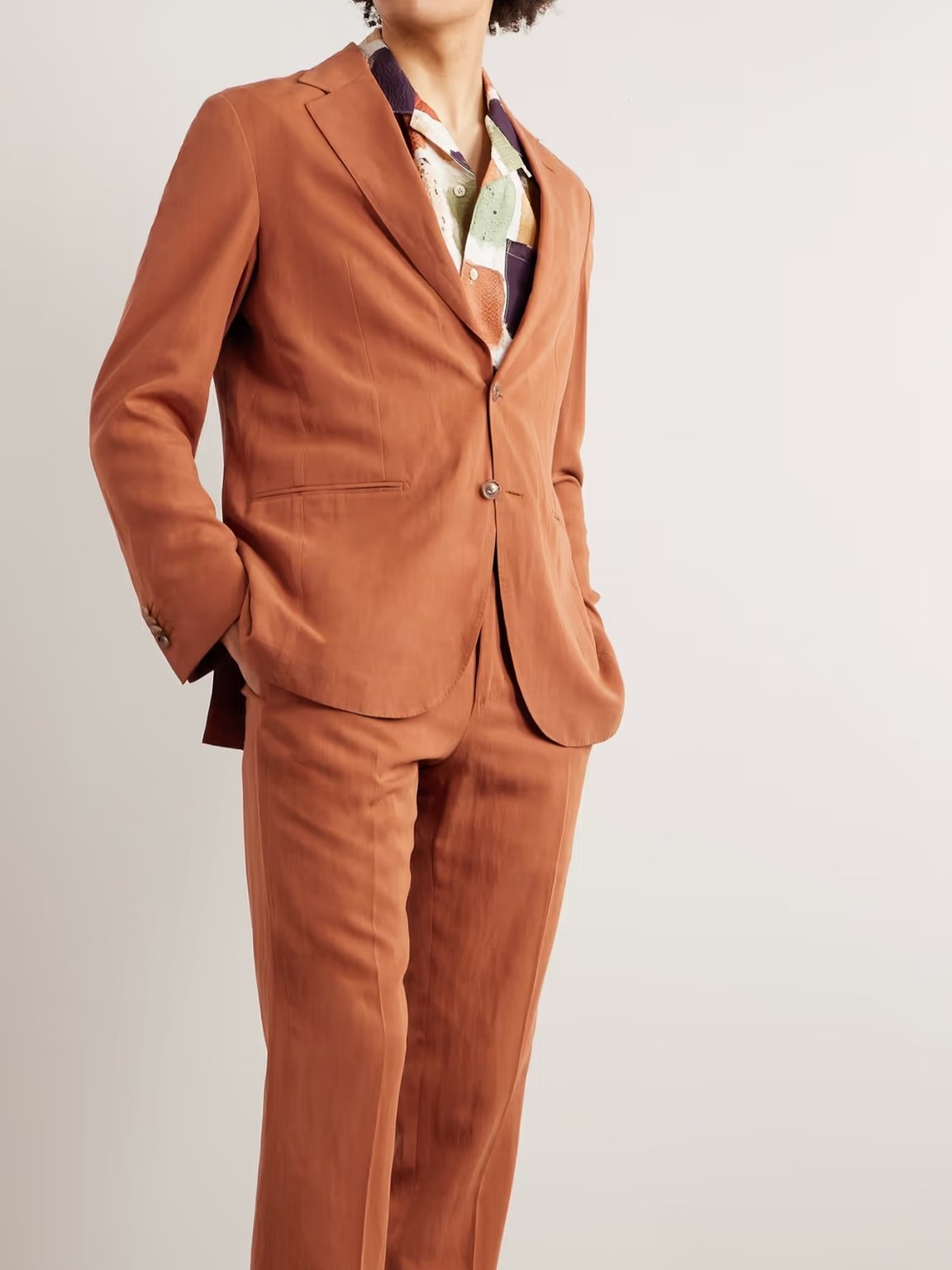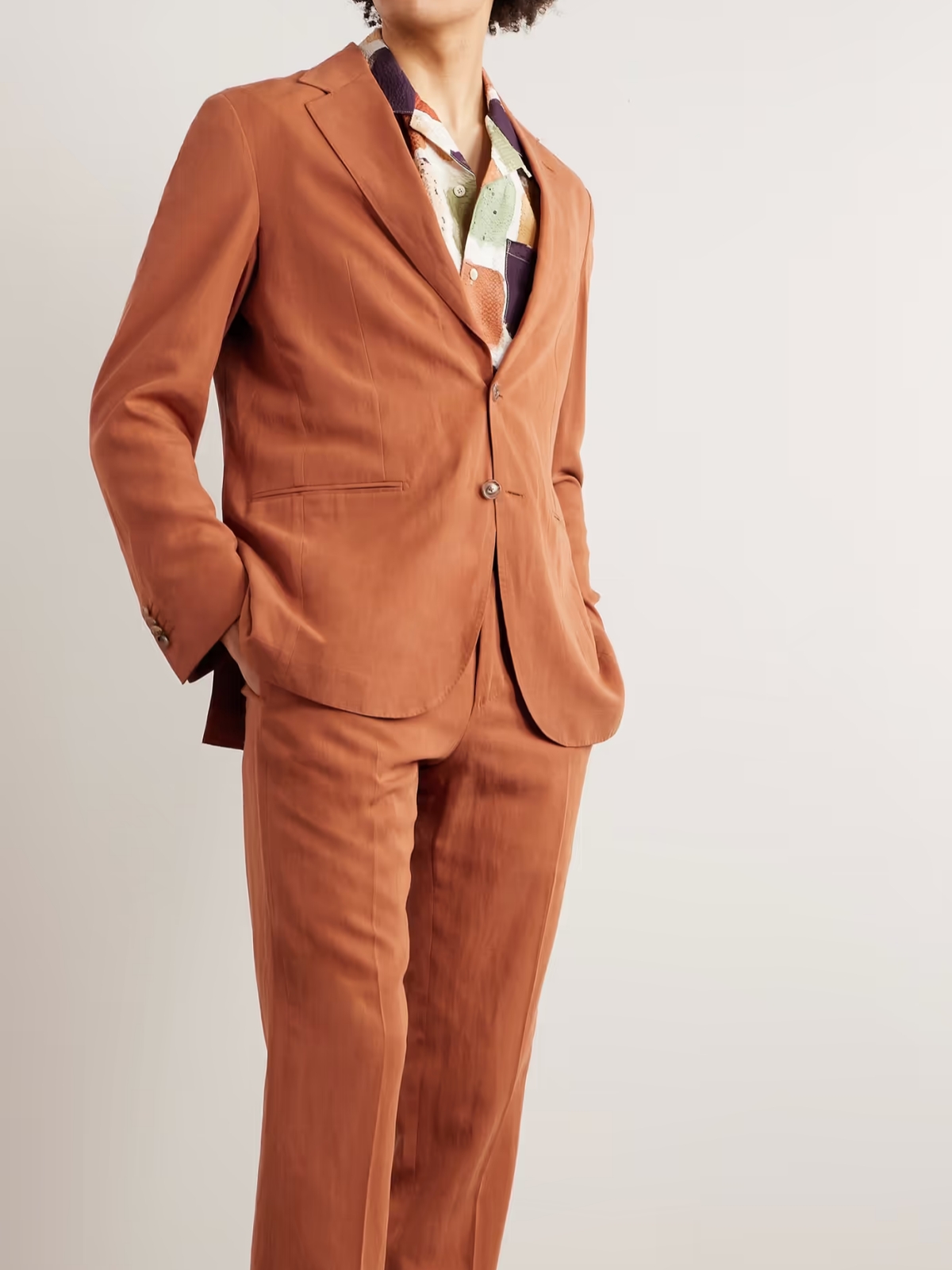 DETAILS
70% Lyocell, 19% linen, 11% cotton
Fully unlined
2-button closure
Available with matching drawstring trousers
If you were active in the extremely niche community that was the menswear blogosphere circa 2010, then brands like LBM 1911 and Lardini will probably ring a bell. De Petrillo is very much in that vein: a family-owned Neapolitan operation that treats tailored clothing with all of the curiosity and intellectual rigour of Stone Island. Only there's nary a parka or football jersey in sight.
The brand's summer suit separates (mostly made out of a recycled cellulose fibre known as Lyocell) utilize linen for its rumpled look and moisture-wicking properties.
The resulting fabric's broadly techy aesthetic works well alongside the relaxed construction of the jacket — garment-dyed in a "brick" colourway that brings to mind sun-dappled piazzas and one too many Negronis.
---
Commas Double-Breasted Linen-Blend Suit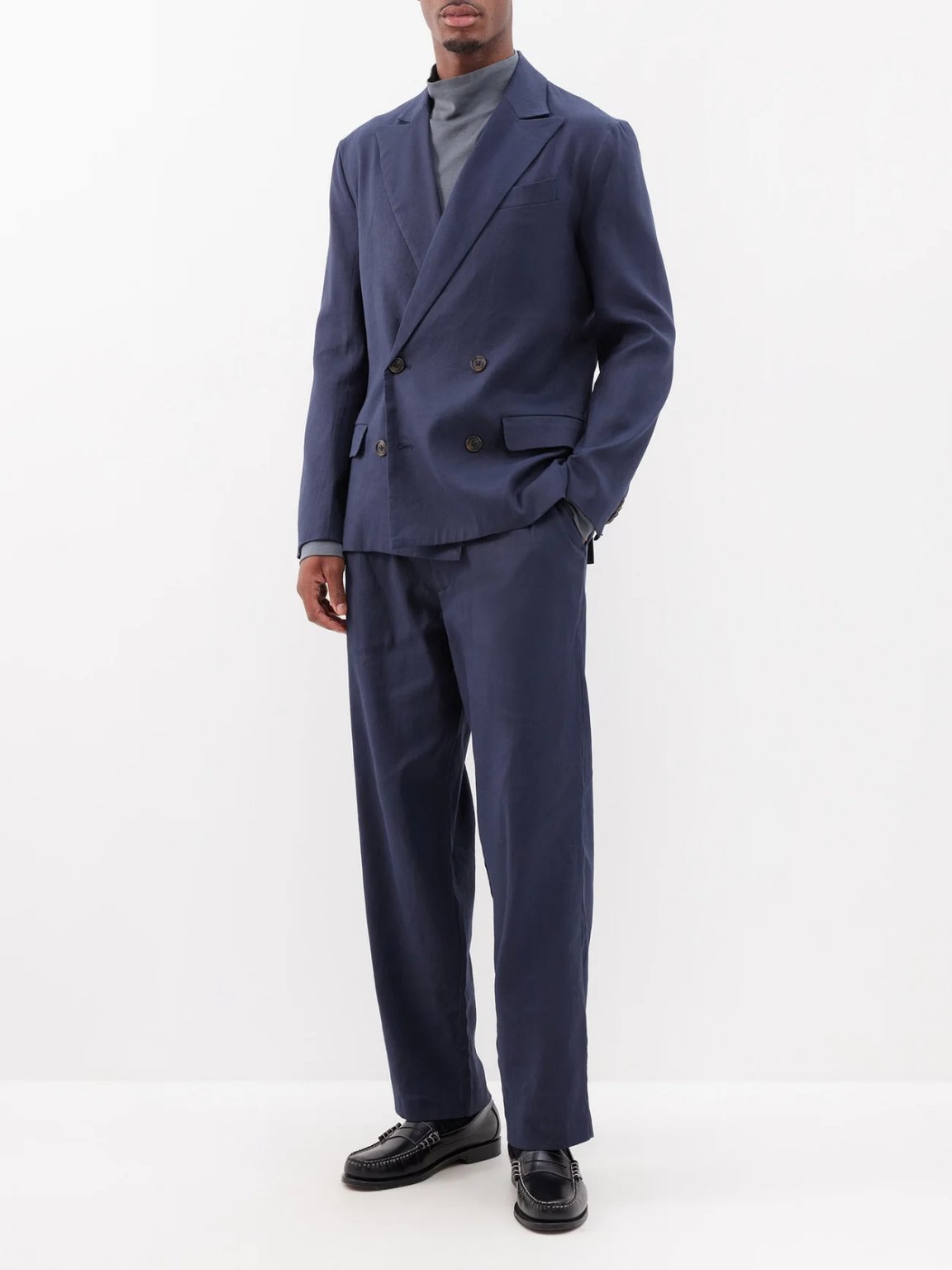 DETAILS
65% linen, 34% cotton, 1% elastane
Double-breasted (4 x 2) closure
Unstructured, with lowered gorge
Available with matching belted trousers
One of three (well-deserved) Aussie brand inclusions, this cotton-linen number from Commas is proof that the cult Sydney label is capable of doing more than just sophisticated swimwear.
This style offers a thoughtful deconstruction of the traditional double-breasted suit. In make, the jacket bears more in common with a cardigan than it does traditionally structured tailoring, while the matching trousers — when worn on their lonesome — feature a self-belting waistband.
A great option for fashion killers and lovers of unconventional suiting alike.
---
Assembly Label 'Locke' Jacket & Pants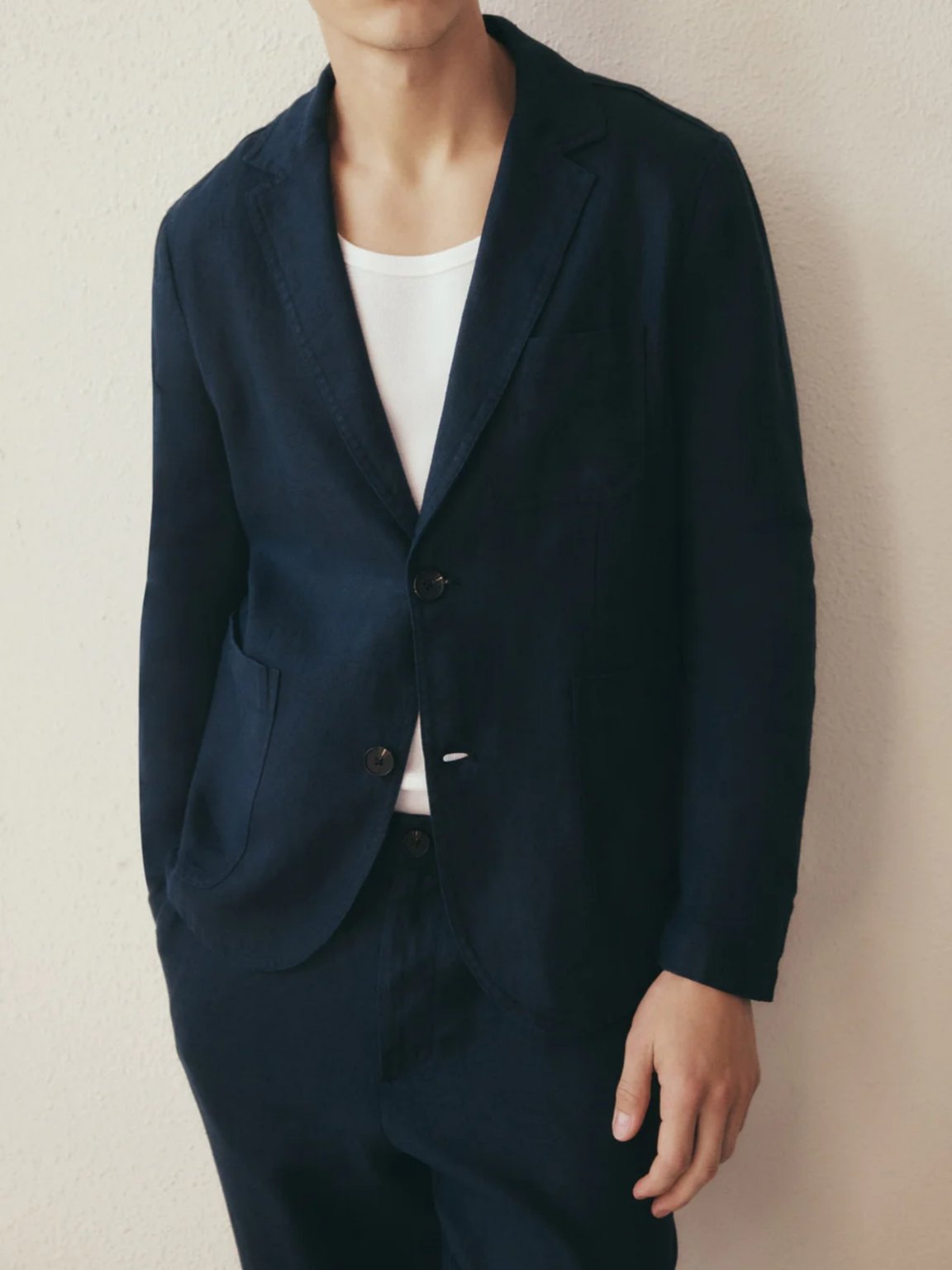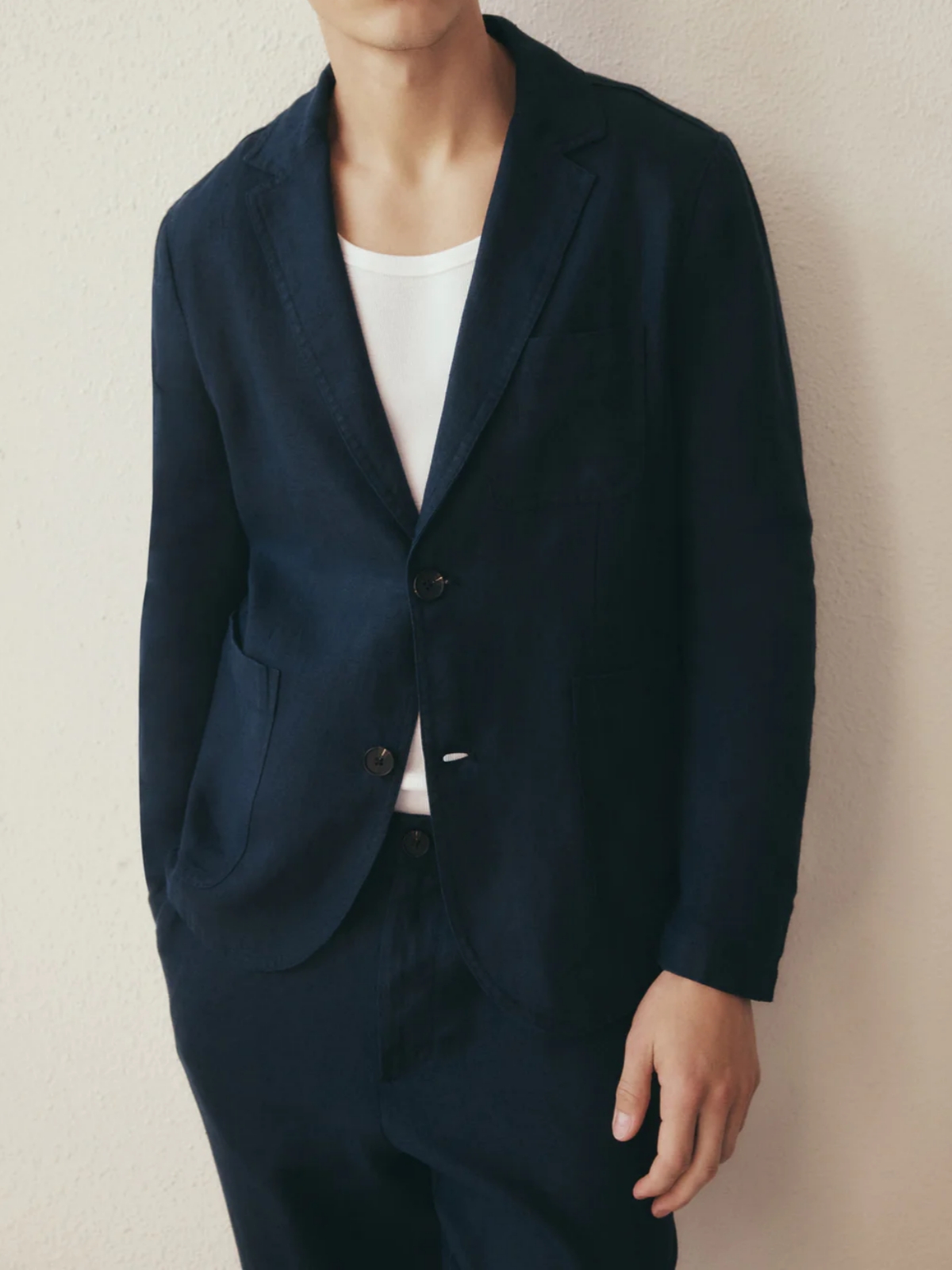 DETAILS
100% French linen
Two-buttoned closure
Deconstructed, with triple patch pockets
Available as suit separates
Another homegrown label that is popular for its durably made and affordable basics, Assembly Label is also in the business of offering a small, yet essential edit of linen suits.
Available in two styles, the 'Locke' is the more contemporary of these: defined by a cropped length, narrow natural shoulder, and flat-front trousers that — in all honesty — would work as a permanent substitute for chinos.
The gauzy, semi-permeable appearance of French linen means this is unlikely to work as part of a broader suit & tie ensemble. But if the images on the brand's own website are any indication: you really should be rocking this with a tee and Roman sandals.
---
Now that you've locked down your Spring/Summer suiting game, consider a range of our related articles from the realm of classic men's style: