In the age of the sneaker and kick-down mule, it's becoming increasingly hard to justify the essentialness of quality men's shoe brands — the kind that make Goodyear-welted styles, crafted with traditionally tanned calfskin leather.
Still, in this most old-school of industries, the conventional wisdom about "getting what you pay for" happens to ring true; and buying the best brands you can afford is a gesture that may well save you pennies in the long run.
If properly cared for, traditional men's dress shoes also have a capacity for ageing that's entirely absent in the market for athletic footwear. Leather patinates, creases (ergo character) gradually form, and there comes a point when your pair of handmade shoes will even have paid for itself — likely following the multiple resoles that simply aren't possible with a pair of glued-together trainers.
RELATED: The 17 Best White Sneakers For Men
Guaranteed to offer a similar emotional allure to the ownership of bespoke tailoring or a fine mechanical wristwatch, here are over a dozen of the best men's shoe brands that we rate in 2023.
From a storied bootmaker based out of Adelaide (who certainly needs no introduction) to the usual range of artisanal shoemakers operating across Europe; one look at this line-up and you'll never need to go to Aquila ever again.
"Spend as much money as you can afford because you are buying value and longevity; and look after them well, because you will be rewarded in style and longevity."

– Simon Crompton, Permanent Style
---
BH Approved: The Best Men's Shoe Brand You Can Buy In Australia (2023) – Overall Pick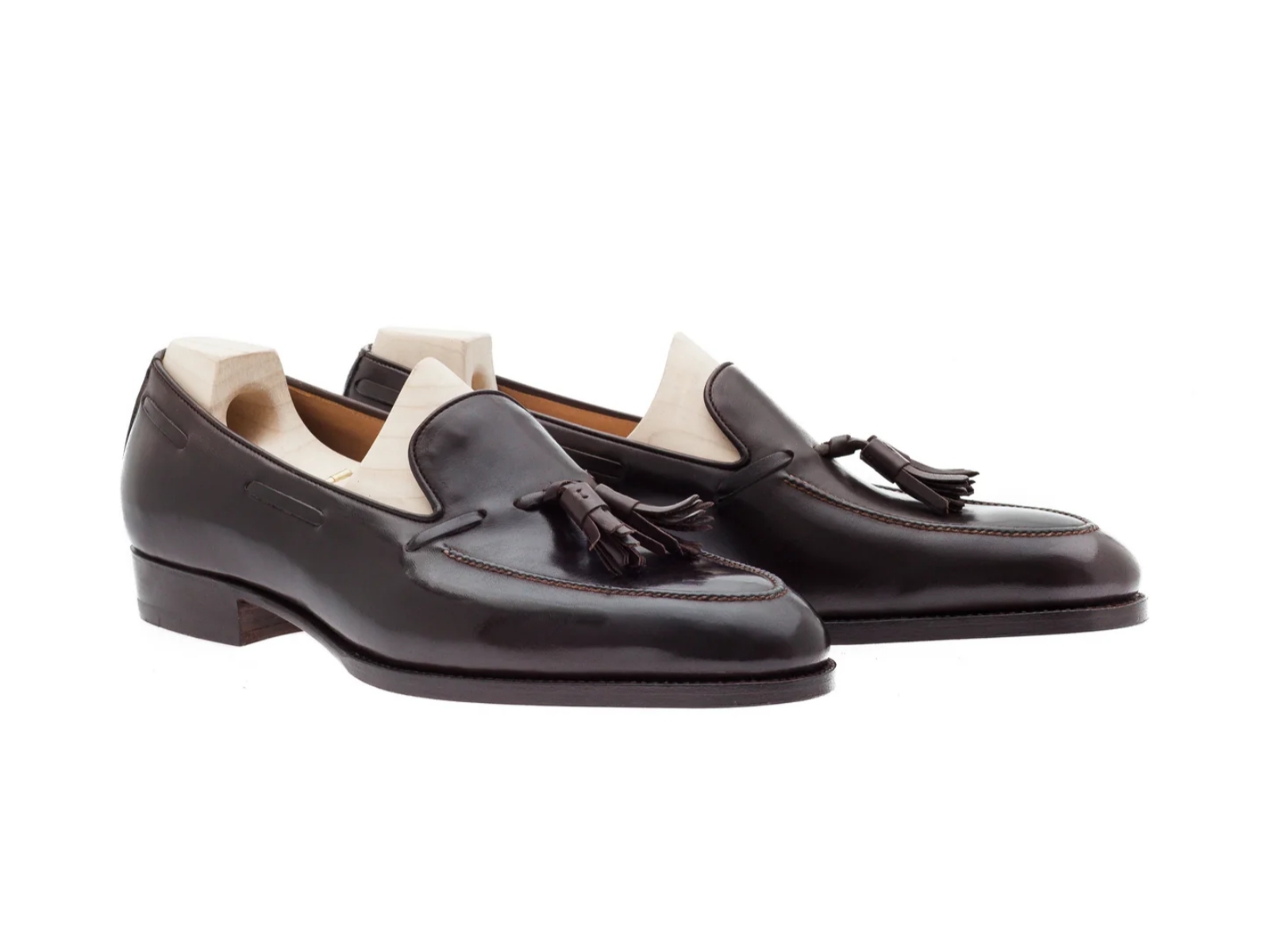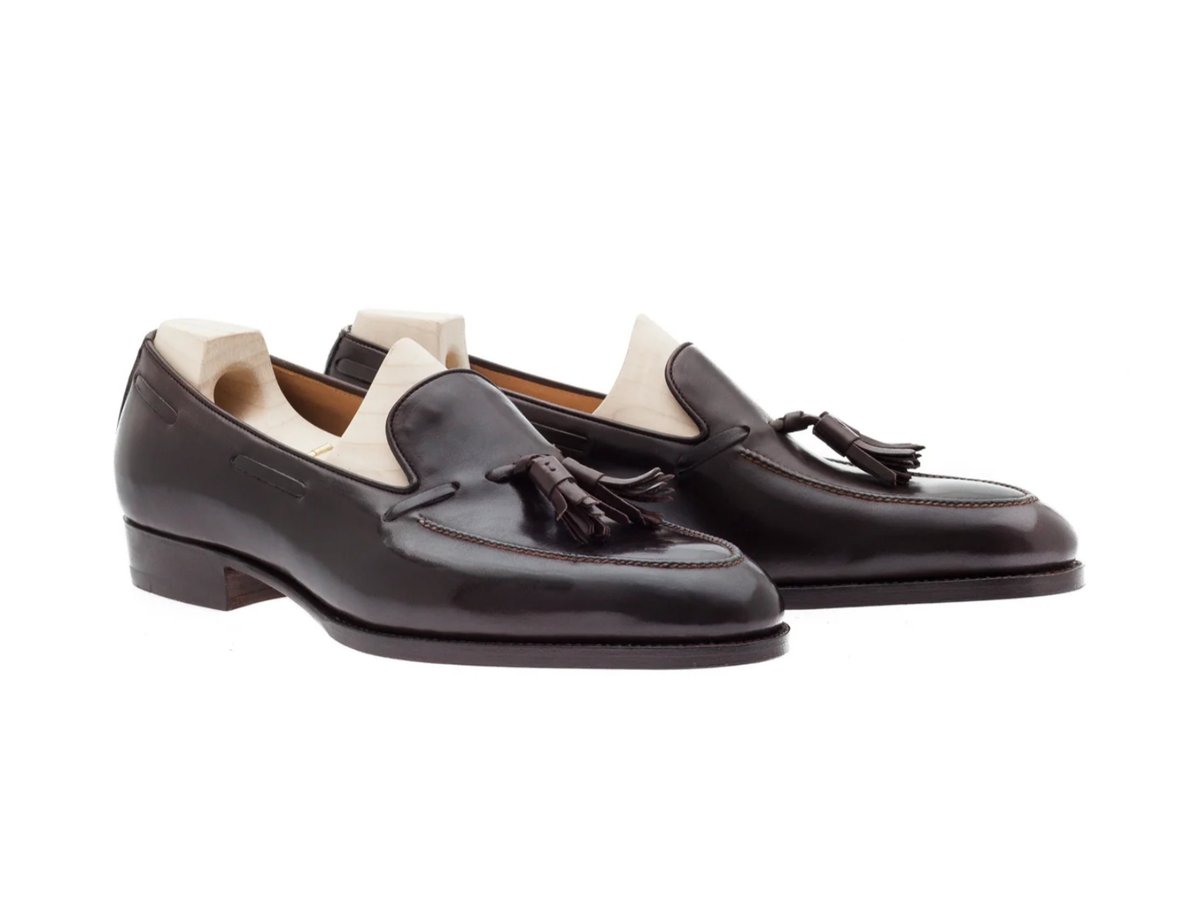 Saint Crispin's
PROS
Strikingly detailed house style
Handwork where it counts
CONS
Obscenely expensive
Extended delivery times
A recurrent sight amongst well-heeled footwear cognoscenti (pun intended) Saint Crispin's are an unusual men's shoe brand (even in 2023) by dent of the fact that they are, overwhelmingly, a made-to-order operation.
With a total production capacity of around 1,500 pairs annually — all of which are made within the brand's Romanian workshop — the Saint Crispin's offering is a unique fusion between ready-to-wear and true bespoke shoemaking.
Unlike many of the men's shoe brands on this list, Saint Crispin's hand-welts all of its footwear. That technique, combined with an archive of foot-hugging, strongly-waisted "lasts" (i.e. the solid form around which each shoe is constructed) gives its core product a beautiful contour that's hard to beat when worn alongside sartorial clothing.
The bad news? Even at quasi-bespoke prices, a pair will set you back north of $2,000 — the kind of moolah that's admittedly hard to justify unless you love classic men's footwear made in the best tradition of European craft, which you're confident you'll wear for a lifetime.
---
Table of Contents
---
The Other Best Men's Shoe Brands To Slip Into (2023)
J.M. Weston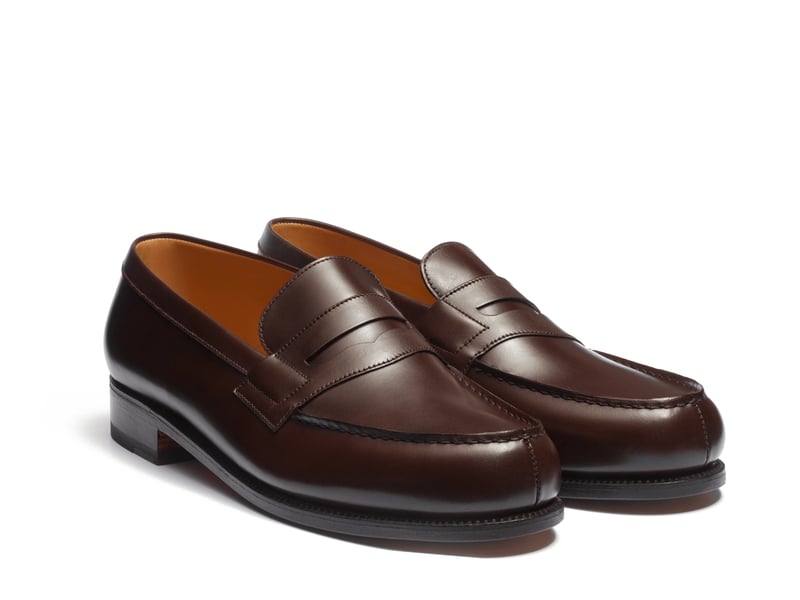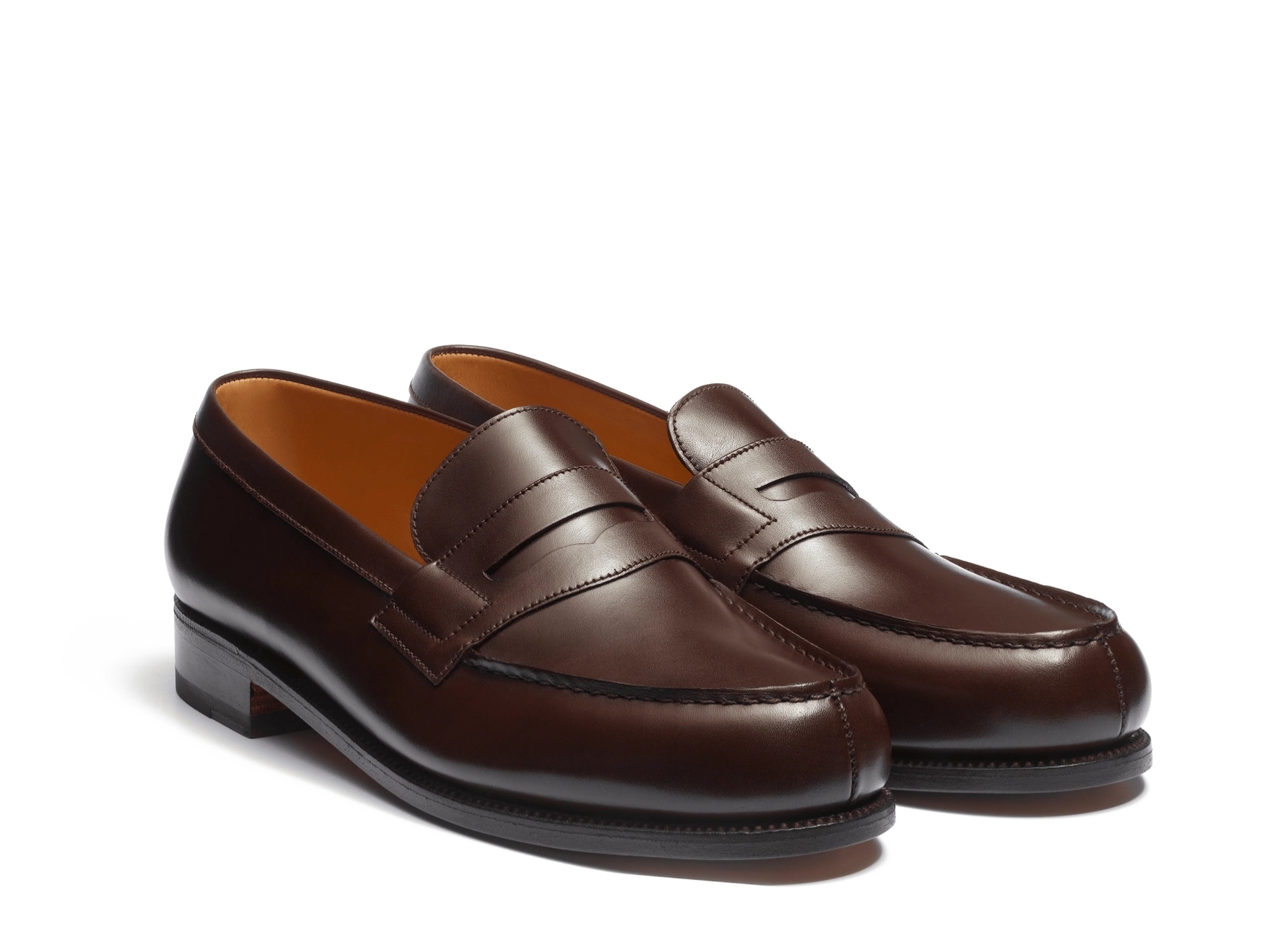 Made in: Limoges, France
Budget: $$$
Signatures: '180' loafer, Le Moc
To European and Japanese shoe lovers what Alden is to the Ivy League set, J.M. Weston is a niche heritage label that has been extant since the late 19th century in the central French city of Limoges.
The company initially came to prominence for its various chaussure designs: hard-bottomed derbies, like the model '677,' that were popular with European hunters for much of the early 20th century.
Following WWII, the brand expanded its remit into making penny loafers — then a burgeoning style of leather dress shoe that became popular with American college students thanks to their (relative) casualness and ease of wear.
J.M. Weston's most popular contribution in this area is the '180' — a classically handsome version of the standard penny loafer, characterised by a shortened vamp and high side wall.
Today, still made with a combination of machine and manual labour in Limoges, it's really the ideal choice for men in search of a shoe that can tackle 90% of what urban life throws at them.
---
Alden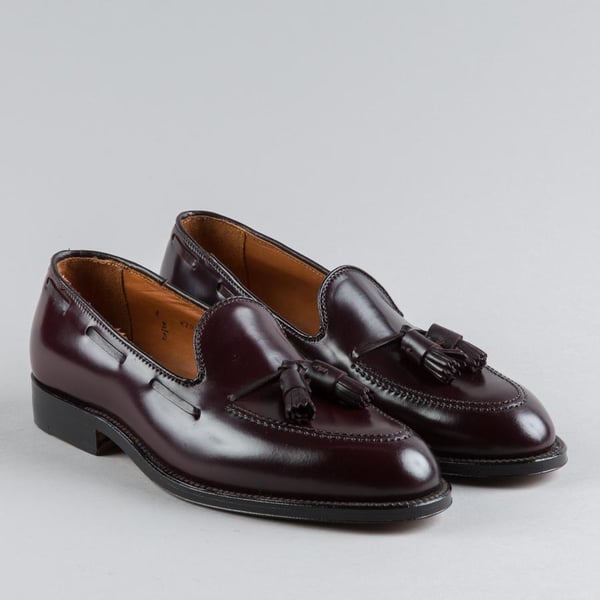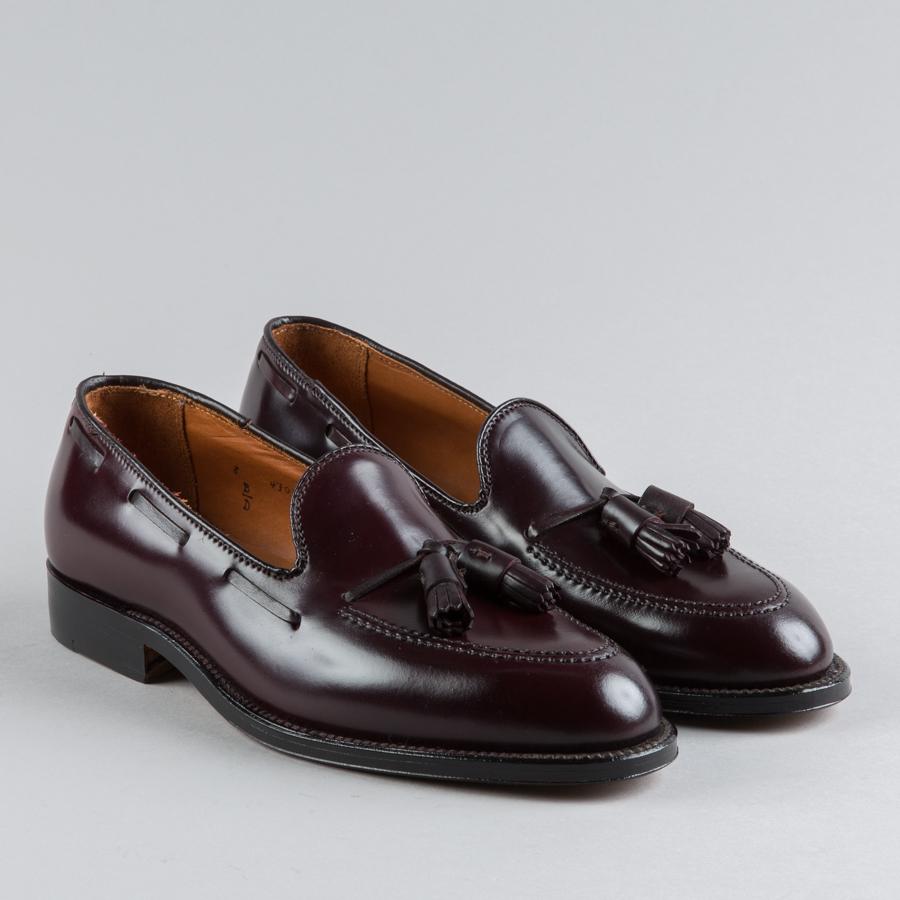 Made in: Massachusetts, USA
Budget: $$-$$$
Signatures: 'Indy' boot, NST blucher
Much loved for its expertise in Chromexcel leathers and heritage boot-making, Alden was established in 1884 by the titular Charles H. Alden, and since then has gone on to build a reputation for making some of the best dress shoes in America.
Now among the tiny handful of genuine New England shoemakers that have been in operation for over 100 years, there is no shortage of classic Alden bestsellers to choose from.
Urbane dressers are likely to gravitate to the brand's unlined penny loafers or tassel moccasins, but in our view, it's the 'Indy' work boot (nicknamed because of their popularity with Indiana Jones actor Harrison Ford) that has cemented Alden's legacy.
---
Alfred Sargent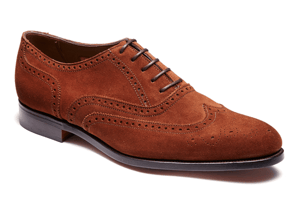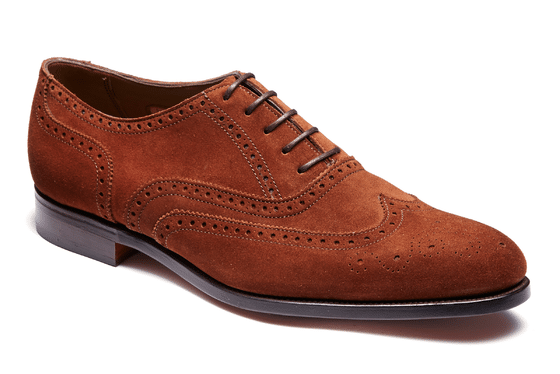 Made in: Northampton, UK
Budget: $$-$$$
Signatures: 'Rufus' wholecut oxford, 'Clarence' balmoral boot
Alfred Sargent was established in 1899 and has been working out of the same premises in Rushden, Northamptonshire, in the heart of Britain's most renowned shoemaking region, for over 120 years.
Over four generations, the family-owned business has acquired an enviable reputation for its MTO (made-to-order) service and its wide-ranging RTW collections, both of which still offers plenty of bang for your buck.
It's worth paying particular attention to their high-quality leather boots, which are some of the most popular in the industry and equal in quality to their more casual shoes.
---
Berluti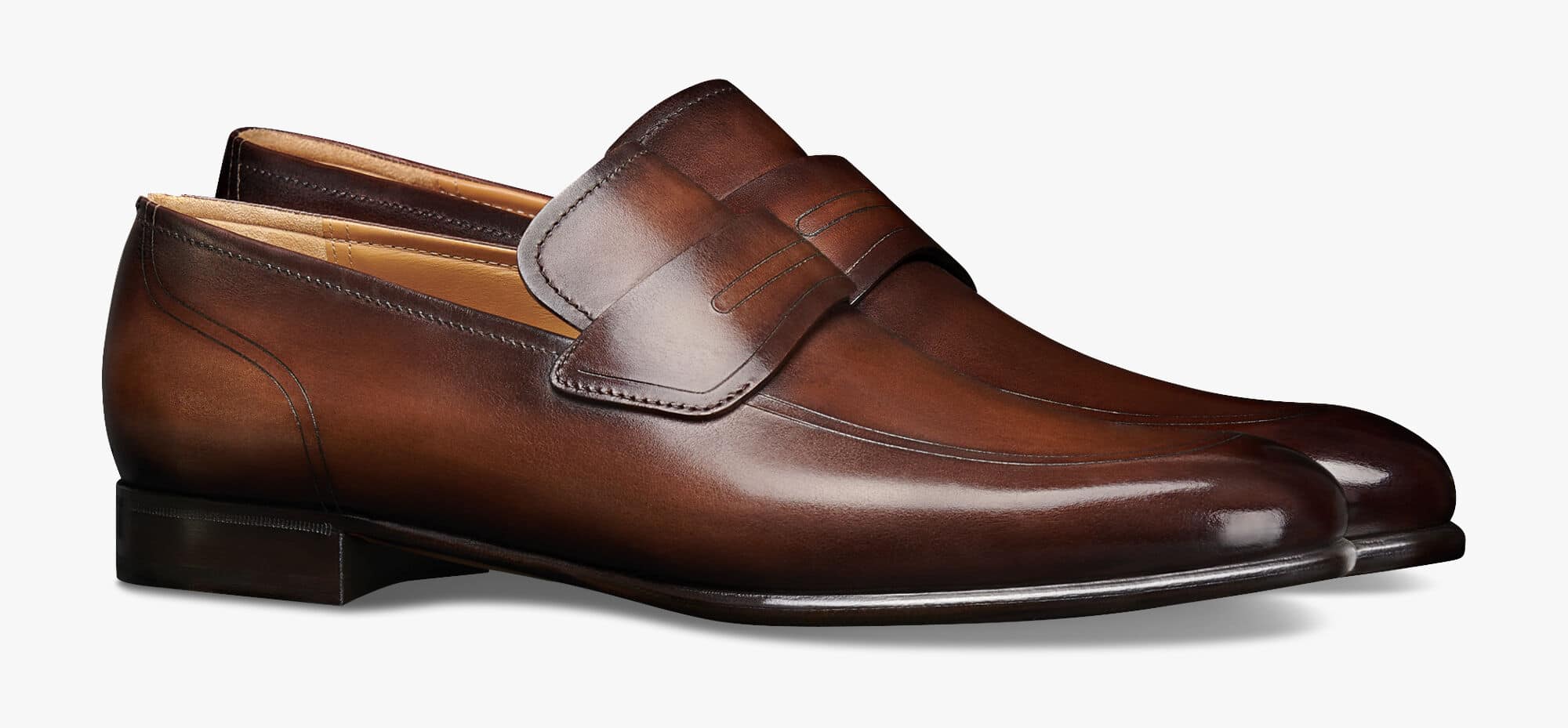 Made in: Paris, France
Budget: $$$$
Signatures: 'Blake' wholecut oxfords, 'Andy' loafers
A brand that has had a profound impact on the French aesthetic of leather dress shoes, Berluti was founded in 1895 by the eponymous Alessandro Berluti, and has been a member of the LVMH group since 1993.
A favourite of well-dressed public figures ranging from Robert De Niro to Marcel Proust, Berluti's two big signatures are its range of chiselled loafers and wholecut oxfords. Both are distinctive styled and often made up in the company's range of antique, hand-painted leathers.
RTW prices start at just shy of the $4,000 mark, rivalling what you'll pay for even the most authentic of bespoke shoemakers in Tokyo or Florence.
---
Carmina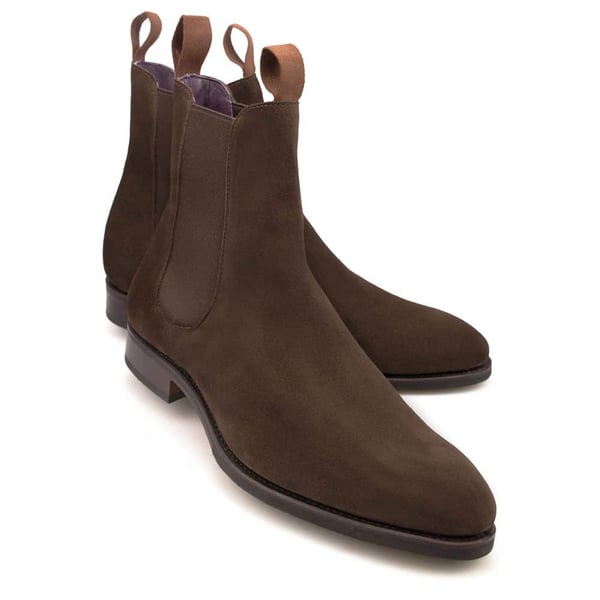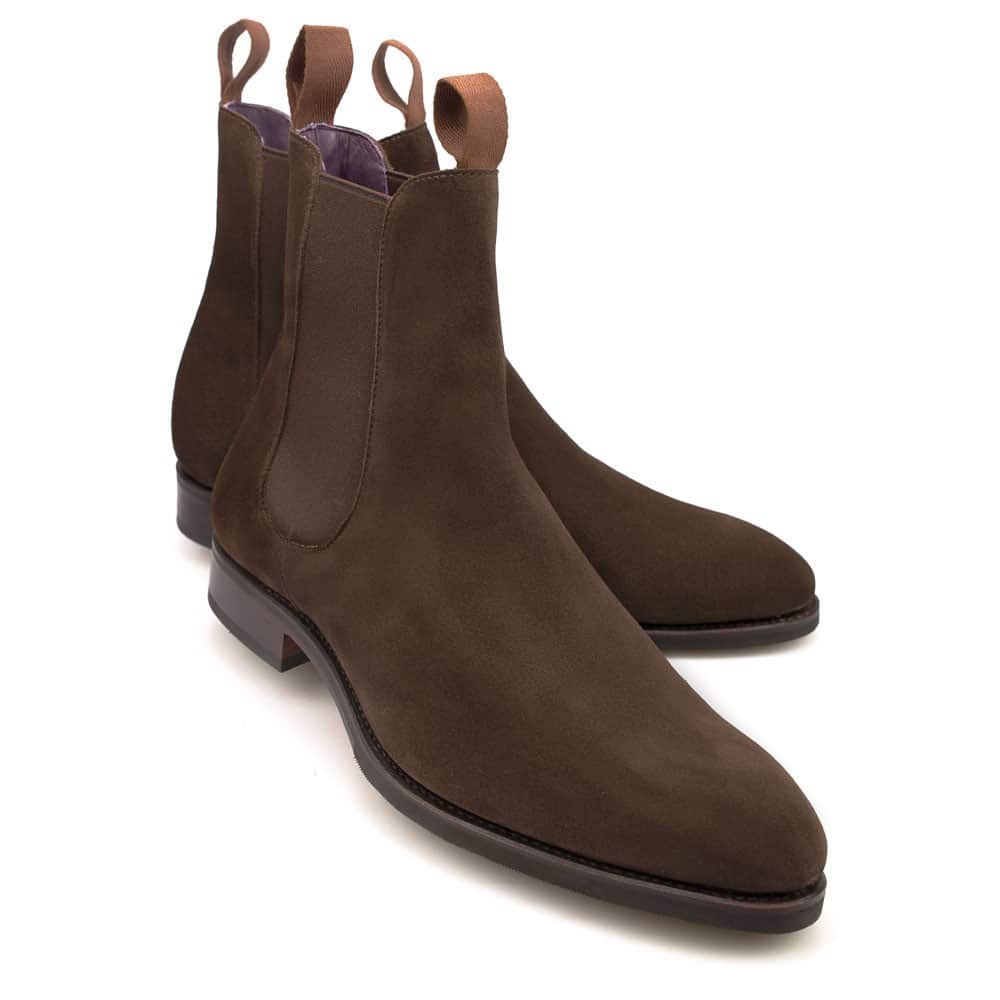 Made in: Majorca, Spain
Budget: $-$$
Signatures: 'Rain' chukkas, 'Funchal' horsebit loafers
A devotee of the still-under-recognised tradition of Spanish shoemaking, Matías Pujadas founded Carmina in the village of Inca, Majorca — the Northampton of the Iberian Peninsula — in 1866.
Unusually, for the entirety of its history, Carmina has continued to operate as a family business, developing a robust network of global wholesale clients that sees its shoes retailed as far afield as Seoul and Hong Kong.
The first brand in Europe to work with cordovan leather (i.e. made from horse hide), Carmina's inclusion on this list comes down to the way in which the brand melds craftsmanship and variety together with a reasonably reflective price tag.
Quality isn't pitched at quite the "bench grade" level of British shoemaker Crockett & Jones, but for less than $1,000, customers can still expect a shoe with a Goodyear-welted construction fashioned using leathers sourced from some of the best tanneries in France and Germany.
To date, some of our favourite models offered by the brand have included the 'Uetam' range of penny loafers and the 'EEE' Oxford — one of Carmina's oldest and best-selling styles.
---
Yohei Fukuda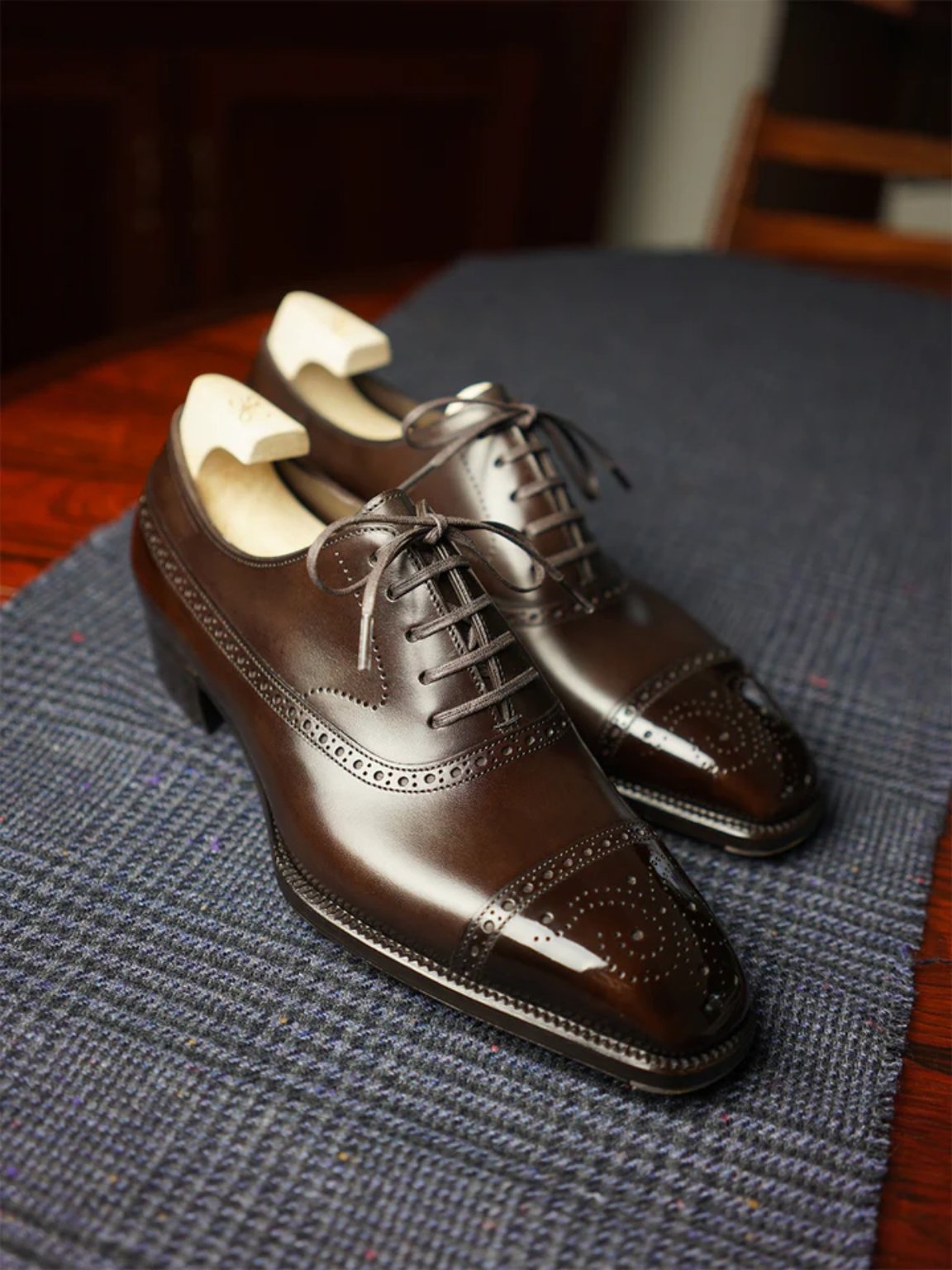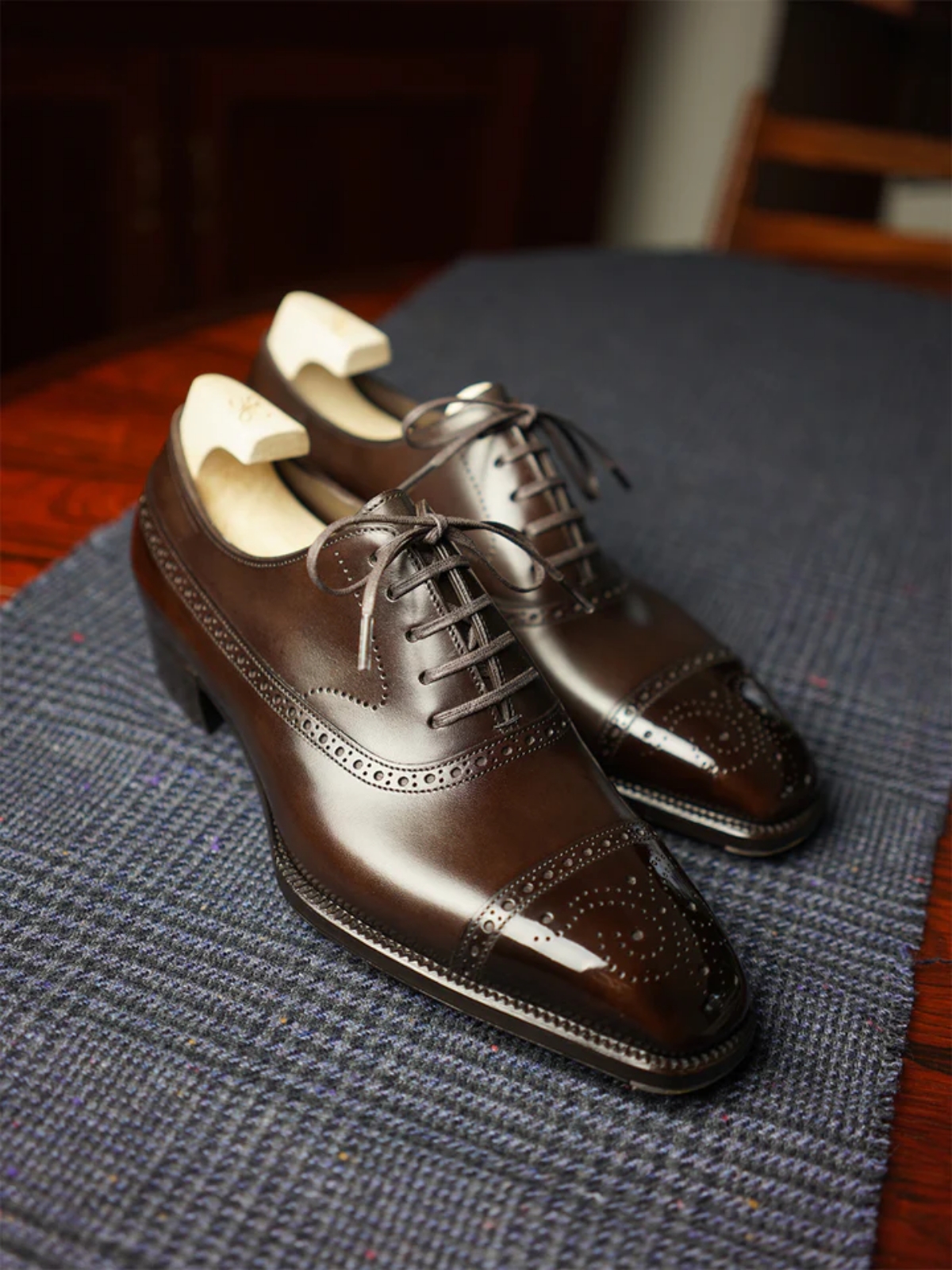 Made in: Tokyo, Japan
Budget: $$$$$
Signatures: 'Guethe' captoe oxford, 'Celeste' oxford
A name that is widely known among the first wave of Japanese master shoemakers who've made it big abroad, Yohei Fukuda has trained with not one, but all three of the most legendary English firms of the 20th century.
An alumnus of John Lobb, Cleverley and Gaziano & Girling; Fukuda-san's own trademark aesthetic sits somewhere at the intersection between these three brands — making for dress shoes that are best described as "softly chiselled."
Like Saint Crispin's, Fukuda favours a shoe with an extended vamp and low-slung profile: details that are only open to those craftspeople who have mastered the art of making shoes using a handwelted construction.
To be sure: +$3,300 dollars is a helluva price to pay — especially when the end result isn't fully bespoke — but for your trouble, lasted shoes trees and metal toe tips also come as standard.
---
Crockett & Jones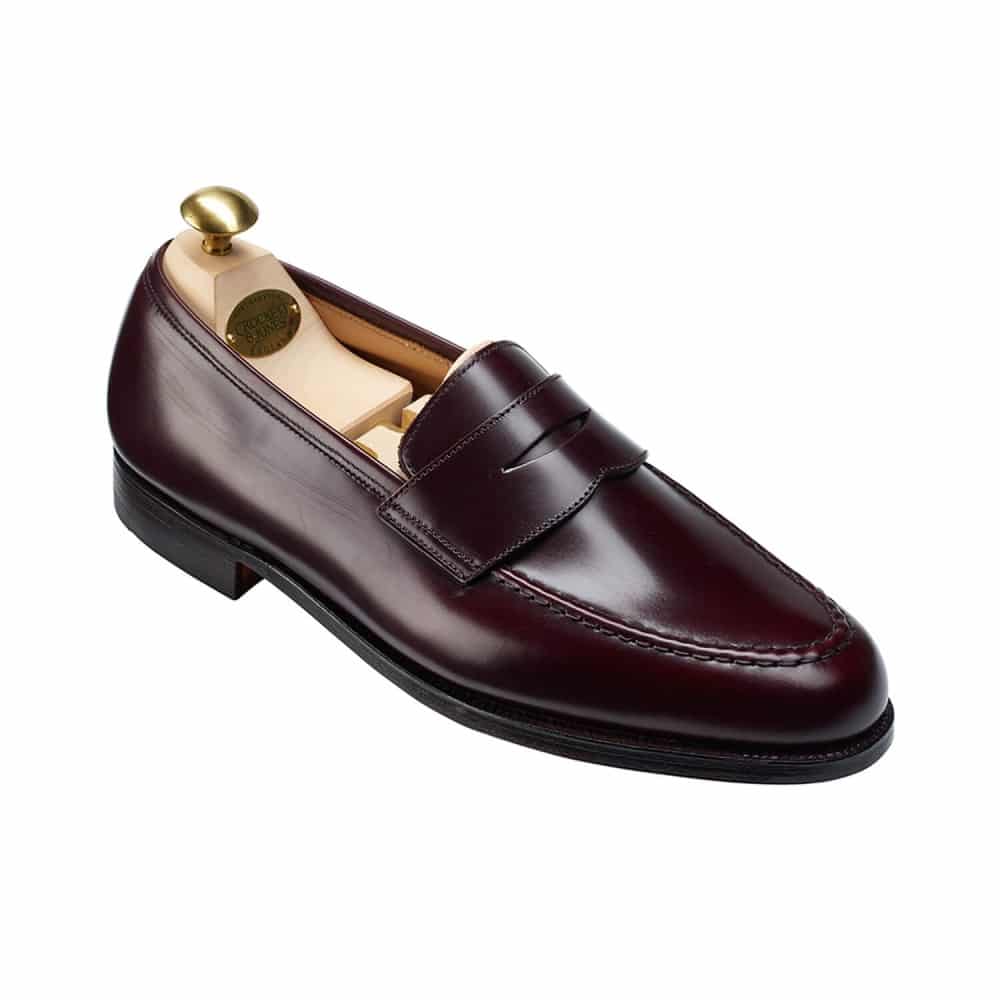 Made in: Northampton, UK
Budget: $$$
Signatures: 'Tetbury' boot, 'Sydney' loafers
A long-running favourite of specialty retailers and Hollywood action stars (Daniel Craig famously wore the brand throughout his James Bond tenure) Crockett & Jones offers one of the widest selections of high-end, British-made footwear in the modern era.
A "cut above fellow British heritage label Church's, in terms of quality," according to our Co-Founder James Want, Crockett & Jones should invariably be on any serious shortlist of the best men's shoe brands, thanks to excellent build quality and value propositions across the board.
The iconic Northampton factory was also one of the first to tap the enormous potential of collaborating with small independent retailers; which today, explains why you can find C&J models that are exclusive to best-in-class labels like The Anthology or Anglo-Italian.
---
Edward Green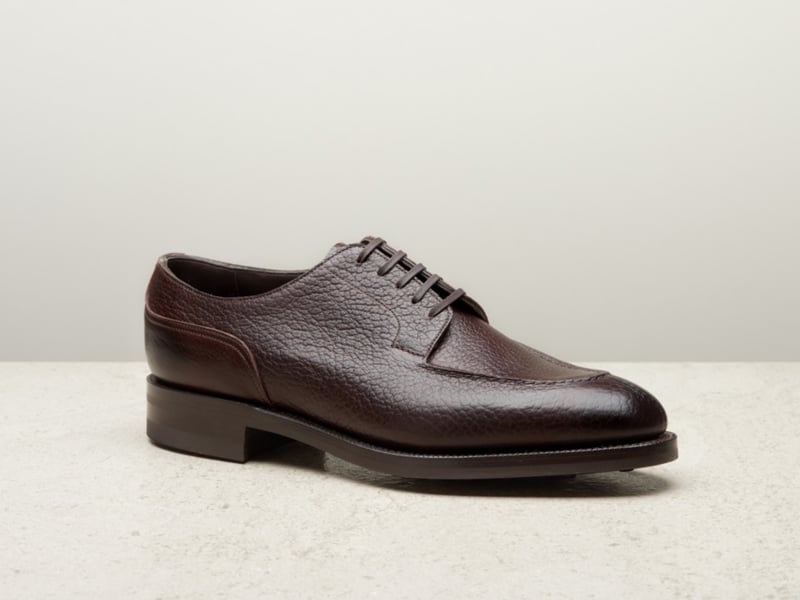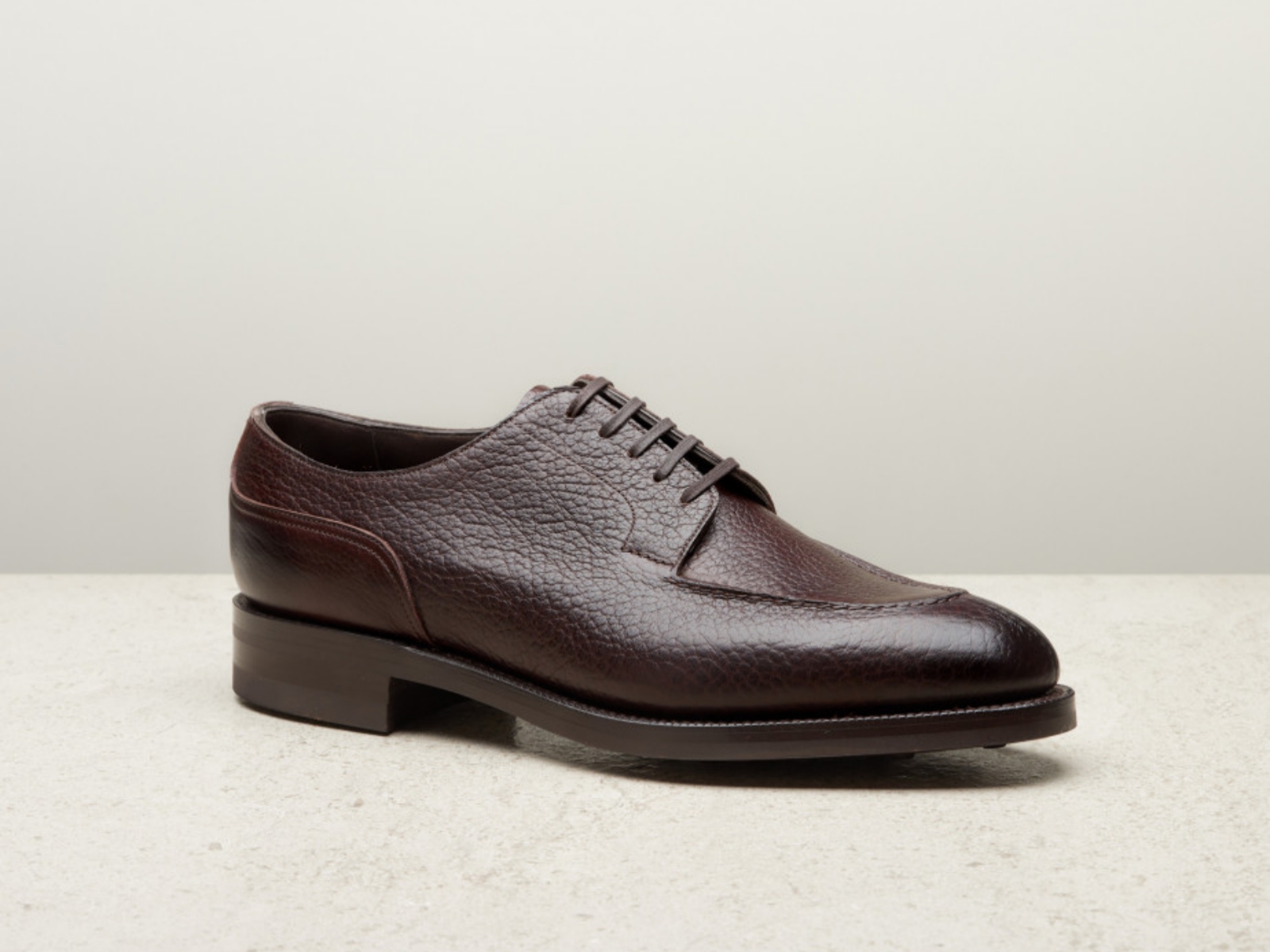 Made in: Northampton, UK
Budget: $$$-$$$$
Signatures: 'Dover' derbies, 'Piccadilly' suede pennies
Likely the apex of quality in ready-to-wear men's shoemaking, few labels are as quietly opulent as Edward Green — the English shoemaker who has been in the business of making classic, overengineered footwear since 1890.
The brand's iconic split-toe derby was (for a good long while) the "it" shoe of the #menswear era, though styles like the 'Belgravia' tassel loafer remain perennially popular due to the brand's ironclad quality.
As with so many great British makers, here, subtlety is the name of the game. The brand eschews aggressive lines or gaudy detailing in favour of beautiful, gently curved lasts — the '184' being a particular favourite of ours thanks to its almond toe shape and gently bevelled waist.
Additionally, comfort is of the utmost importance at Edward Green. One of the company's signature processes in this regard is the use of tanned leather soles: the all-important bottom layer in the traditional dress shoe that is given enhanced durability and comfort, after being tanned for nine months in a solution of spruce, oak, and mimosa bark.
Preferred by Hemingway, and perfect for you.
RELATED: Slob Rock – 5 Exceptionally Louche Sneaker Alternatives For A Post-Streetwear World
---
Gaziano & Girling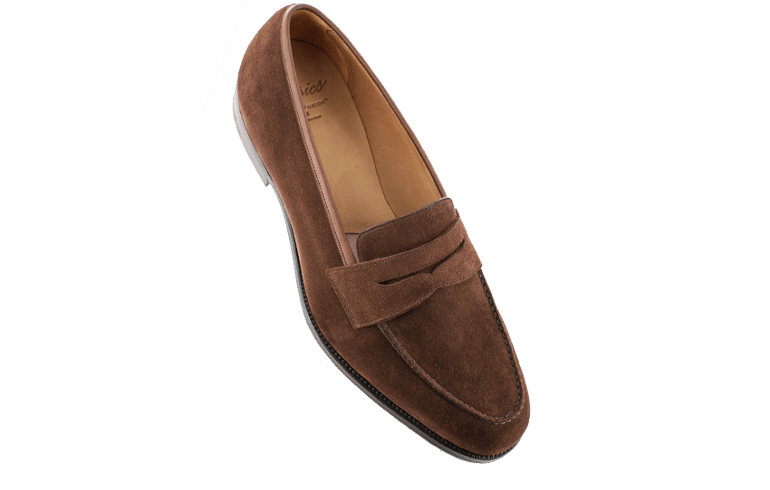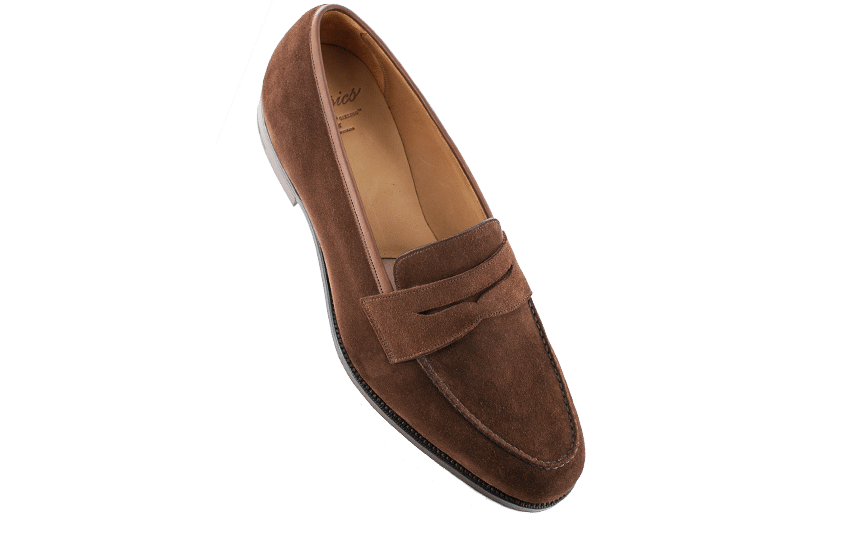 Made in: Northampton, UK
Budget: $$$-$$$$
Signatures: 'Antibes' loafer, 'St. James II' vintage calf oxford
Named for founders Tony Gaziano and Dean Girling (who between them have 25 years of experience in shoemaking) Gaziano & Girling was established in 2006, with two outposts in London and Tokyo.
The brand is synonymous with the 'soft square' style that has inspired so many veteran shoemakers working on Savile Row; though Gaziano & Girling have been successful in modernising it — by wisely choosing to focus on shape and leather quality rather than fussy designs.
In addition to its RTW and traditional bespoke options, the brand has also launched 'Optimum': a program that bridges the gap between manufactured shoes and a true 1-of-1 product.
---
George Cleverly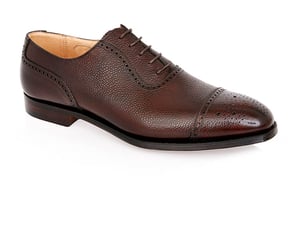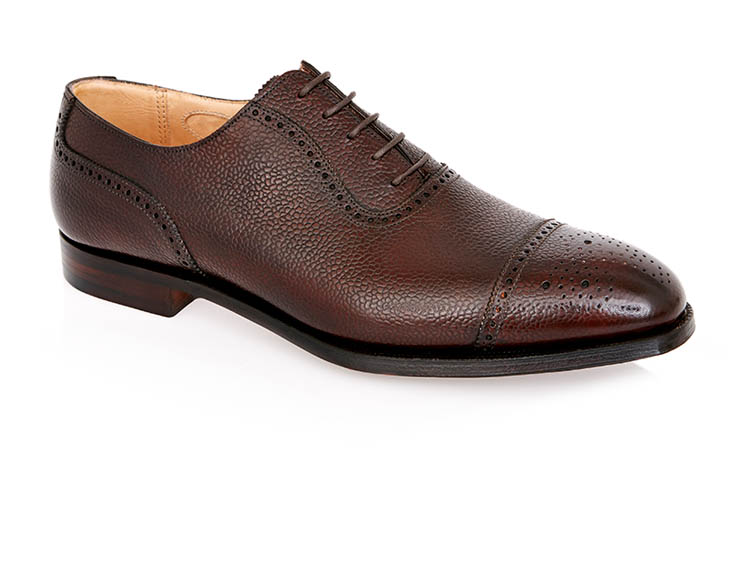 Made in: London, UK
Budget: $$$$
Signatures: 'Archie' derbies, 'Merlin' whole-cut oxfords
George Cleverley built a formidable reputation crafting only bespoke shoes; out of a shopfront in the historic Royal Arcade in London.
At Cleverley, the process of making a new pair of boots, captoe oxfords, or even plain white sneakers pays tribute to the historic craft of shoemaking — evidently, a romantic quality that has attracted quite the fanbase with King Charles II, Sylvester Stallone and Jason Statham among the brand's longtime clients.
Cleverley's full $5,000 bespoke experience mightn't be readily available to those of us who are based in Australia. But fortunately, the brand is available through a range of leading online retailers.
---
John Lobb/John Lobb Ltd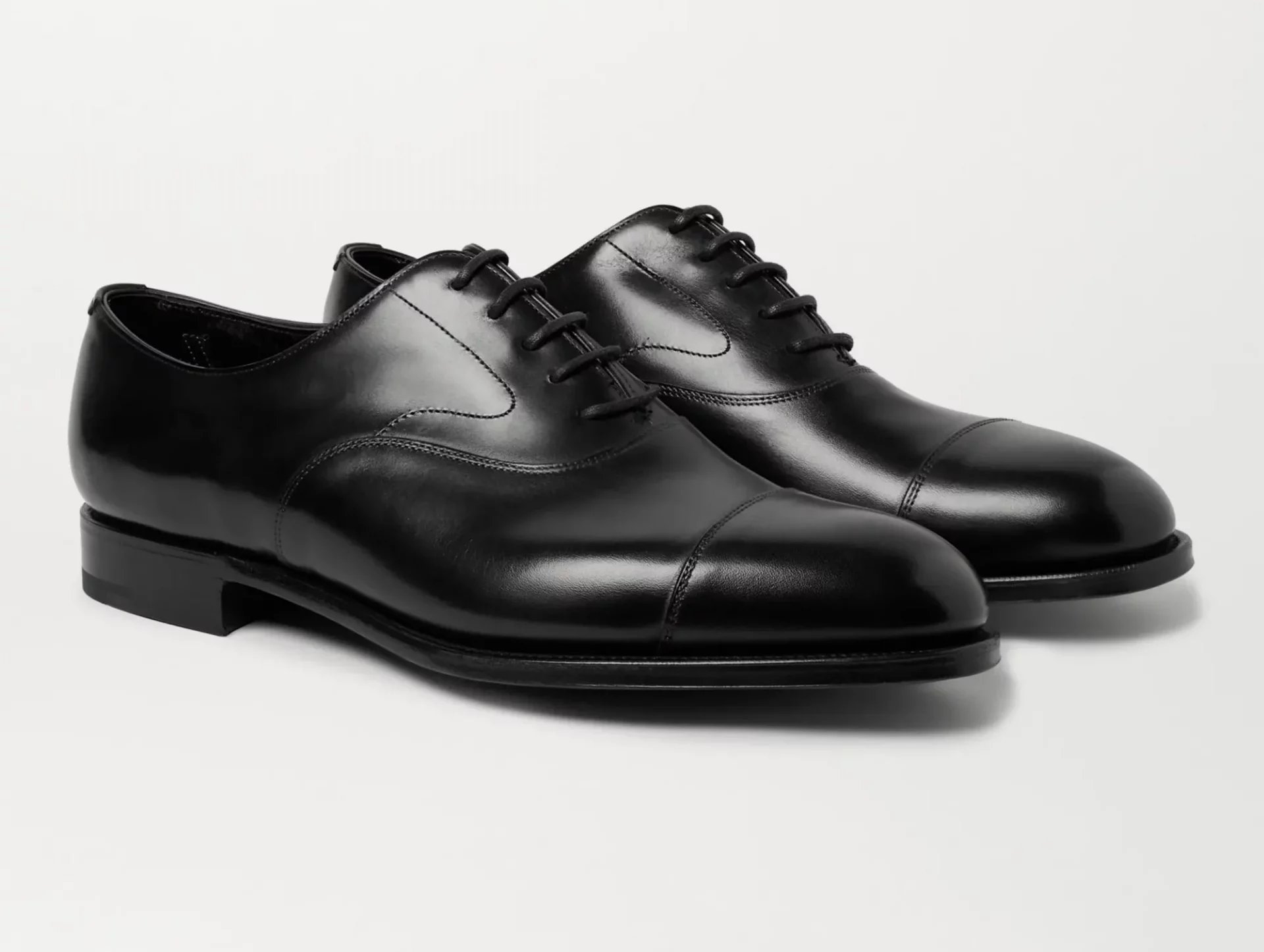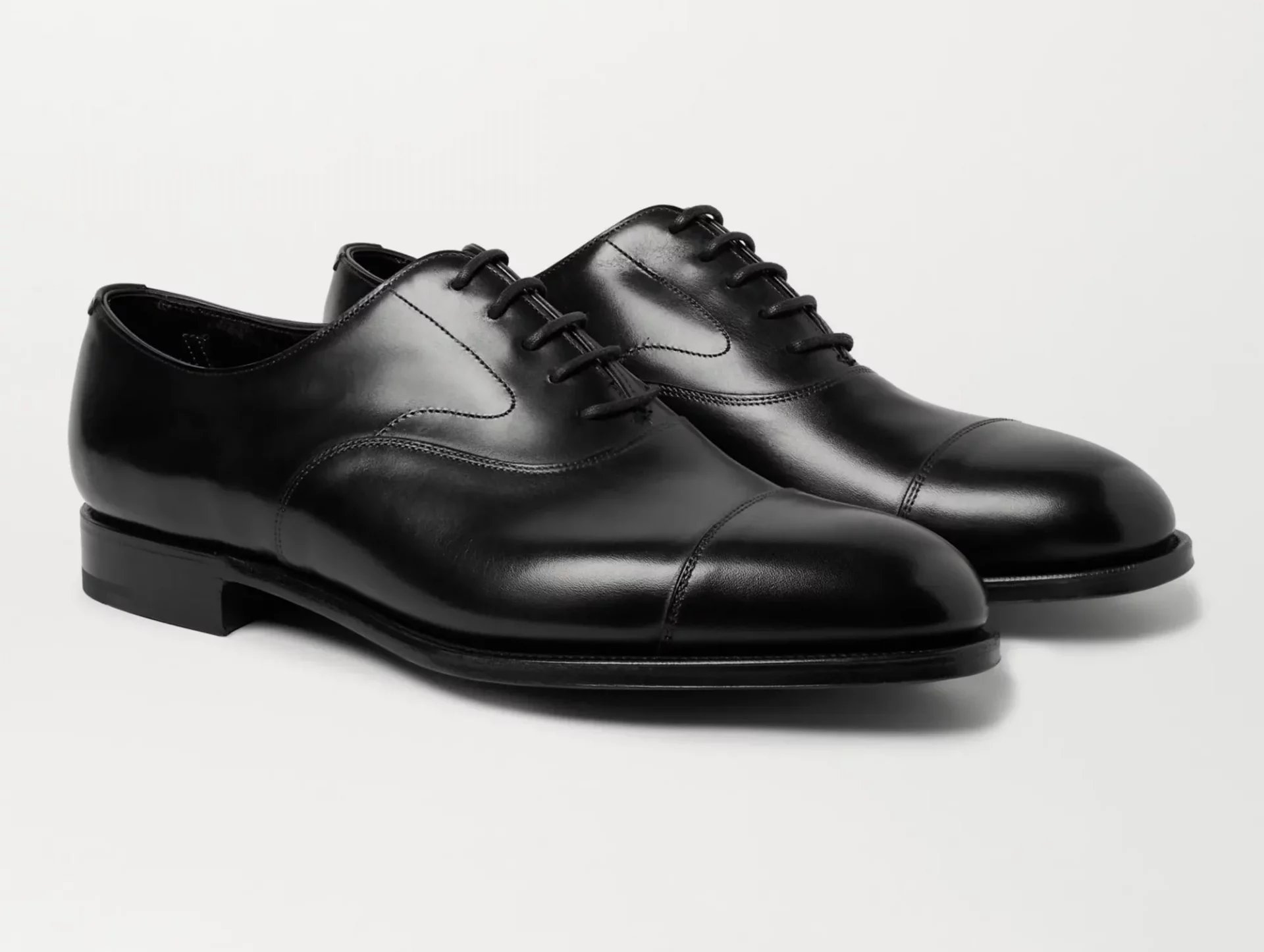 Made in: Northampton/London, UK
Budget: $$$$-$$$$$
Signatures: 'Lopez' loafers, City II oxfords
A brand with a fascinating heritage that today technically consists of two separate entities: John Lobb was first founded in London circa 1849; and subsequently in Paris circa 1902.
Hermès Group acquired the brand's French operations in the mid-1970s; although the London workshop — located at a historic address at 9 St James's Street — remains a private enterprise in the hands of the Lobb family. While historians would argue that the St. James's Street workshop remains the authentic repository of the Lobb family tradition, Hermès' globally traded label is hardly some phoned-in cash grab.
The brand's iconic 'Lopez' penny loafer (first launched in 1950) requires 190 individual steps to make; and now, thanks to the wonders of technology, may be fully customised with a range of custom preferences on the John Lobb website. Stick that in your pipe, 'Nike By You.'
---
Meermin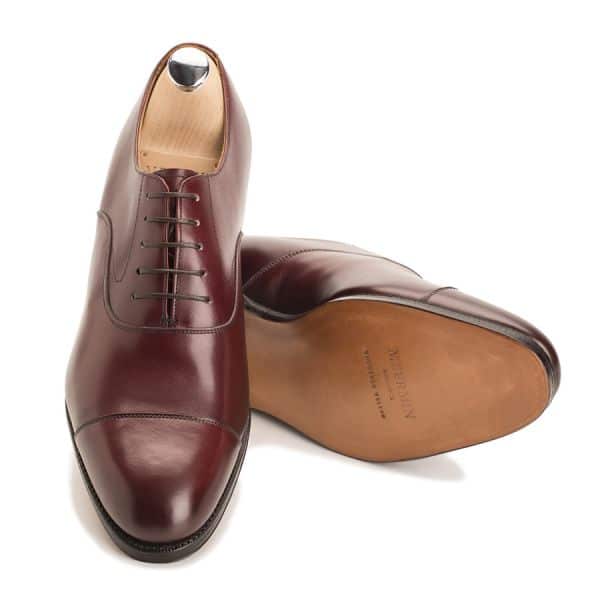 Made in: Majorca, Spain
Budget: $
Signatures: '101381' E-last loafer,  '102625' Freudenberg oxfords
The original high-quality Spanish footwear label of the people, Meermin burst onto the scene back in the early 2010s when double-breasted jackets, Neapolitan tailoring, and The Sartorialist were all the rage.
The brand's approachable pricing and direct-to-consumer model have since been widely mimicked; though, even today, few labels are able to offer the same dollar-for-dollar value that is still a Meermin signature.
$310 for a hand-welted Oxford? Made with French calf no less? You'd be a fool to refuse!
---
R.M. Williams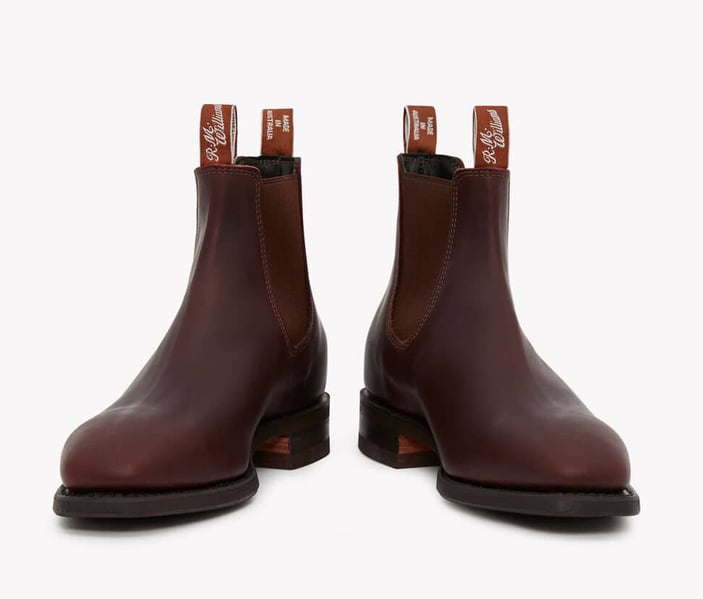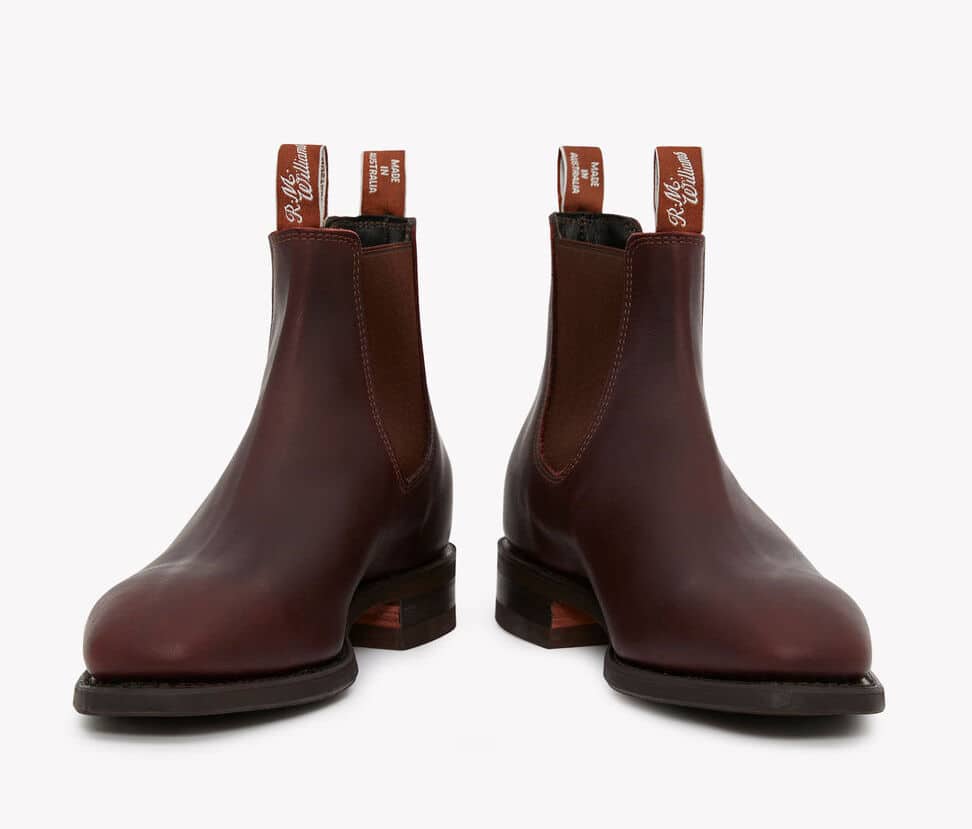 Made in: Adelaide, Australia
Budget: $$
Signatures: Comfort Craftsman, 'Blaxland' suede boot
One of our most popular posts of all time pays homage to the versatility of Reginald Murray William's iconic 'Craftsman' boot: an all-round Aussie icon and one of the most emblematic pieces of fashion to ever come out of the Land Down Under.
Back in the hands of homegrown investors after a brief stint inside the LVMH portfolio, R.M. Williams has intensified its efforts to remain at the forefront of Aussie wardrobes with new styles like the 'Yard Boot' and 'Surry' tennis sneaker.
Far and away considered to be the most iconic homegrown shoemaker, R.M. Williams has been steadily developing a reputation further abroad; with many footwear enthusiasts coming to specifically appreciate the brand's signature 'Craftsman' — expertly made wholecut chelseas that are a no-brainer for men who spend a lot of time on the road yet can ill-afford to be poorly dressed.
---
Stefano Bemer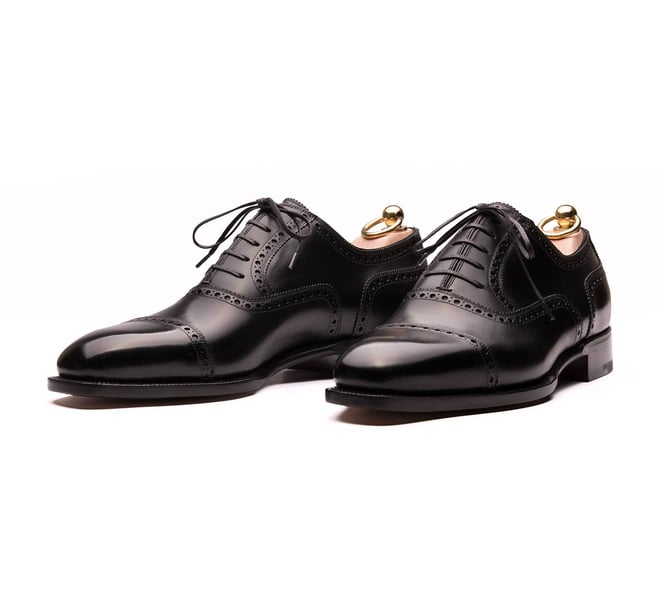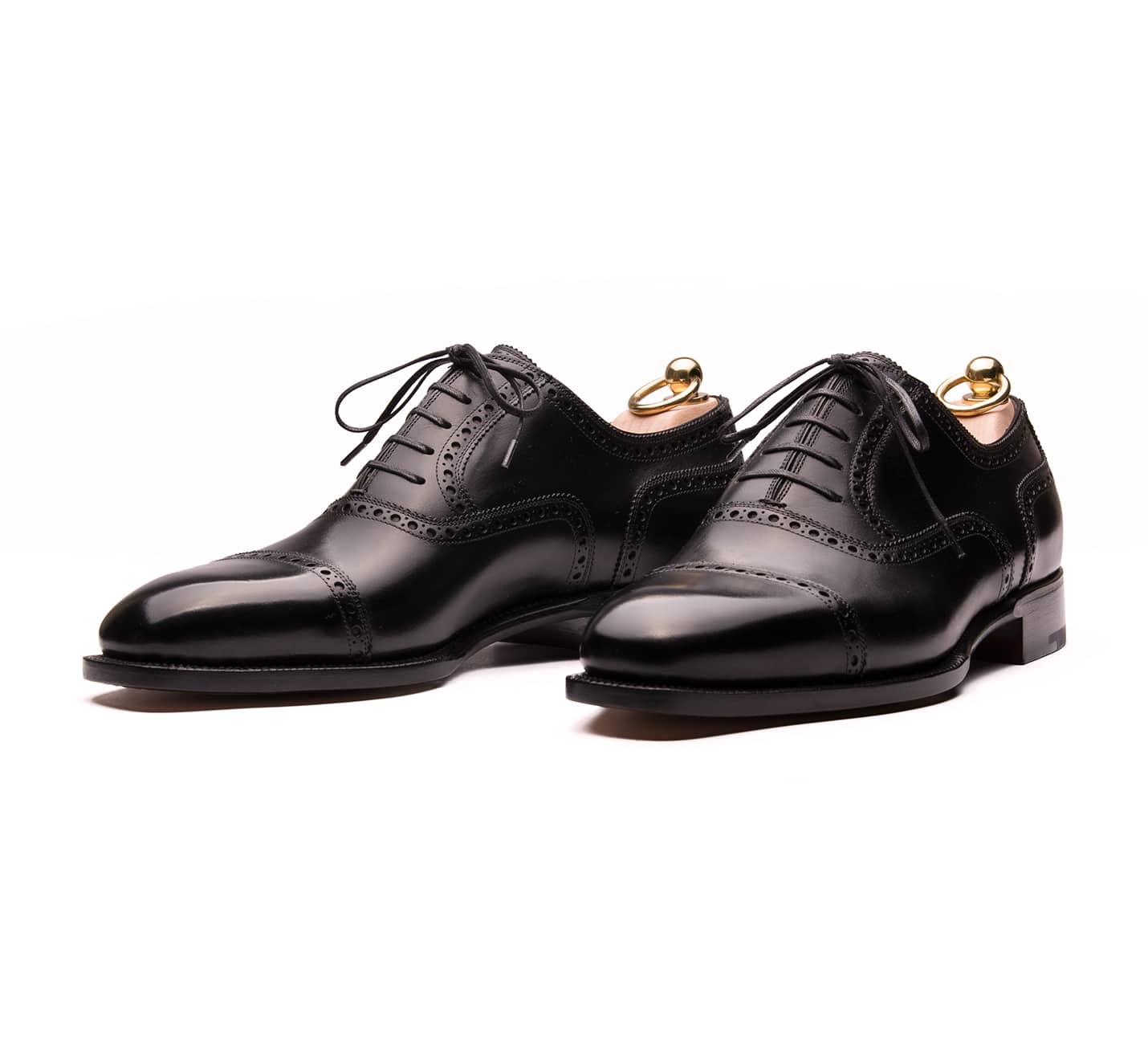 Made in: Florence, Italy
Budget: $$$$
Signatures: 'T6461' oxfords, 'C6260' semi-brogue
Quite possibly the most emblematic bespoke shoemaker to come out of Florence, Stefano Bemer has built an unwavering reputation over the years for artisanal footwear that has all the sculptural beauty of a Scaglietti-built grand tourer.
Established by Stefano Bemer in 1983, the company was acquired by Tommaso Melani following Bemer's untimely passing in 2012 — with the latter continuing the firm's commitment to a "masculine, elegant silhouette" that is characterised by raised insteps, elongated wings, and a mirror-polished finish prior to packaging.
Not for nothing: of all the brands we've recommended, Bemer's packaging is probably the most beautiful of any you'll find on this list. Minor detail? Perhaps. But at an average unit cost of $2,000, no stone should be left unturned.
---
Vass Shoes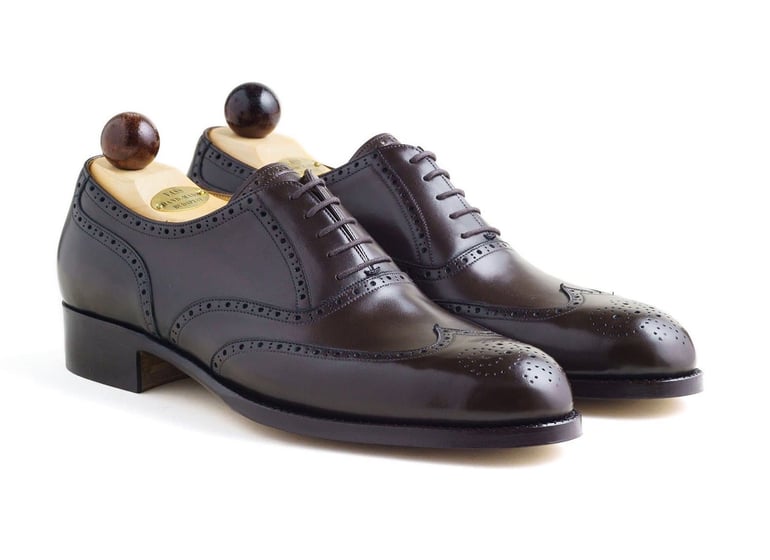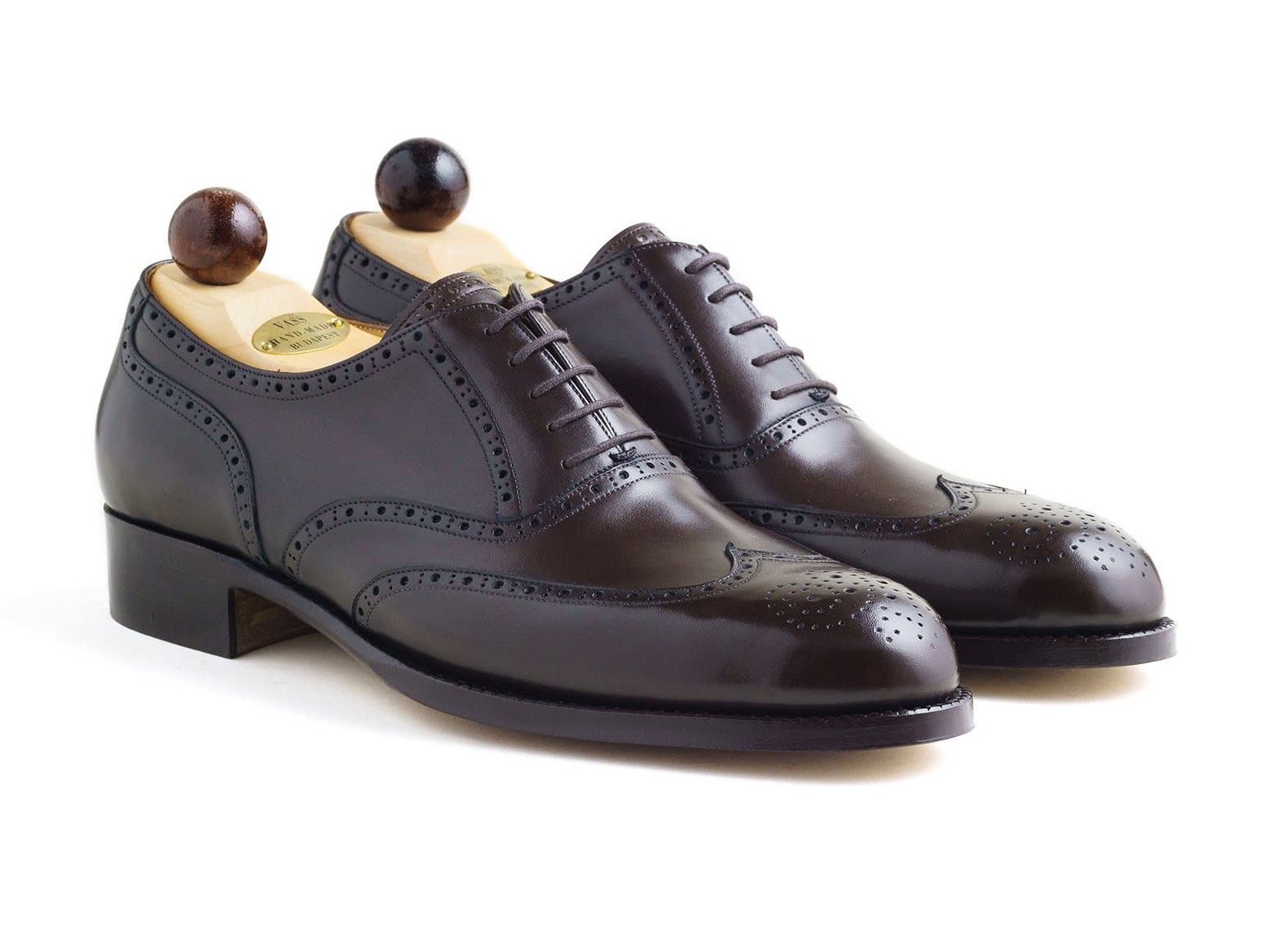 Made in: Hungary, Budapest
Budget: $$$
Signatures: 'Valway' calf/suede boots, 'Old English II' oxford
If exclusivity is what you desire, then there's a good bet Vass is a brand you'll like. The family-owned firm has been crafting shoes since 1978 — out of an unassuming shopfront in Budapest. They offer an unbelievable range of styles (interestingly, cribbing from both Italian and British aesthetics) which are available as both RTW or fully bespoke orders.
If you're in Budapest, it's a must-visit for any shoe snob; and is certainly one of the more distinctive options on a list of recommendations that skews heavily toward makers based in Western Europe.
---
Etymology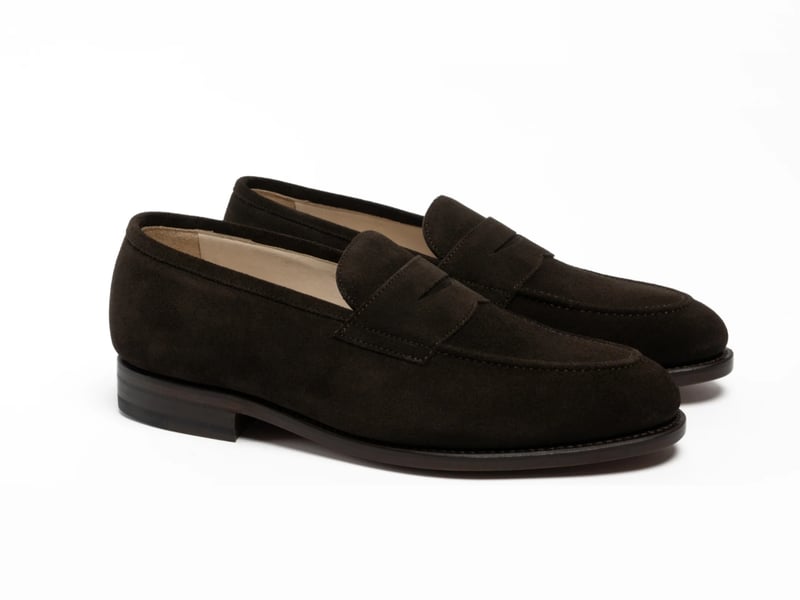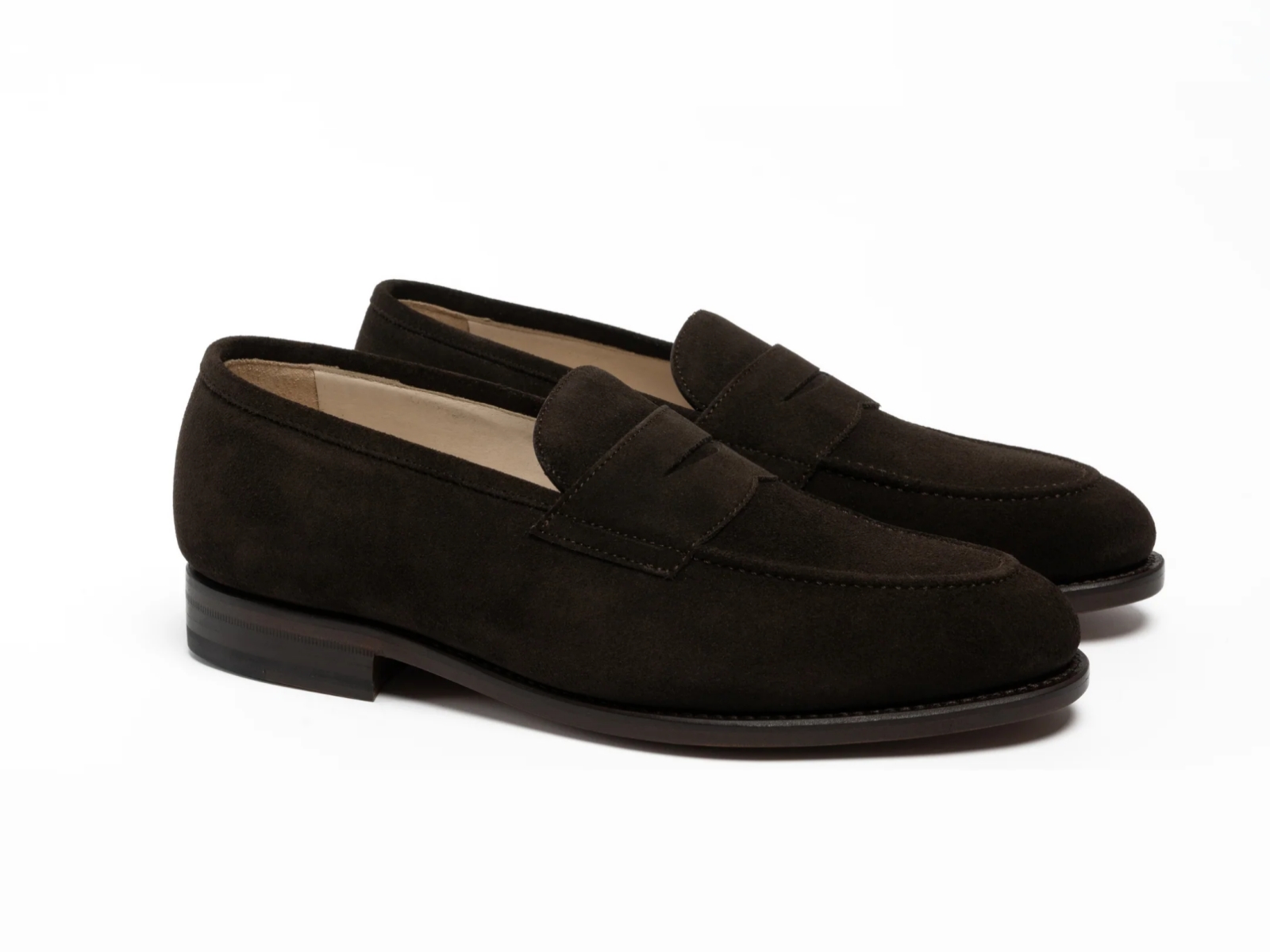 Made in: Almansa, Spain
Budget: $
Signatures: 'Ito' penny loafer, 'Utzon' oxfords
A relatively affordable newcomer in the market for classic men's shoe brands, Etymology is the brainchild of Gabriel Abi-Saab and William Phung — two well-dressed Sydneysiders looking to offer quality footwear options closer to home.
Trading fusty monologues about British manufacturing for moodboards of Serge Gainsbourg and Atelier Brancusi, the Etymology tagline is "progressive footwear made to last"; reflecting Phung and Abi-Saab's desire to make a traditional Goodyear-welted shoe (in this case handmade in Spain) with plentiful relevance for the modern world.
---
Frequently Asked Questions
After R.M. Williams, what are some of the other best Australian men's shoe brands?
Blundstone is a popular alternative, known for its best-selling '585' and '1609' chelsea boot models.
What does it mean if my shoe has a 'Goodyear Welt' construction?
A method invented hundreds of years ago that is both more expensive and time-consuming than Blake stitching, Goodyear welting requires a shoemaker to stitch a specially prepared strip of leather to ribbing bonded inside the insole.
The welt is then stitched to the rubber/leather outsole, allowing it to be easily resoled at a later date without risking damage to the shoe's upper.
What is the best or most popular style of leather men's dress shoe?
For men working in traditional white-collar settings, a pair of captoe oxfords is bound to be essential. However, in a more casual working environment, a pair of Chelsea boots (or even chukkas) should be sufficient.
Those who enjoy wearing tailored clothing casually should also consider a pair of loafers – which can be dressed up or down according to your needs.