After a long day of carving crisp pow on the slopes, there's nothing quite like returning to the ski lodge for a beverage or three, to discuss the day's events with your mates. As you're leaning on the table, cocktail in hand as you explain your mediocre exploits for the day, there's one way to make up for your terrible snowboarding skills: a fresh 'fit. This season, Prada has made good outfits easy, linking with the team at Aspenx in a collection that promises peak performance on the ski slopes, whatever that looks like for you.
The collection features a trio of styles, cut for men and women respectively, and features two technical jackets and a more lightweight jersey. The two jackets, called the Extreme-Tex Jacket and Extreme-Tex Ski, feature a three-layer fabric that ensures both warmth and waterproofness, which is exactly what you need as you're heading down a run.
Prada is responsible for the designs of the trio of garments, working with artist Paula Crown on the printed crisscrossed black and white pattern found across the collection. It wouldn't be Prada without the brand's signature red logo stripe, which is featured here in a nod to the sporty Linea Rossa line.
---
---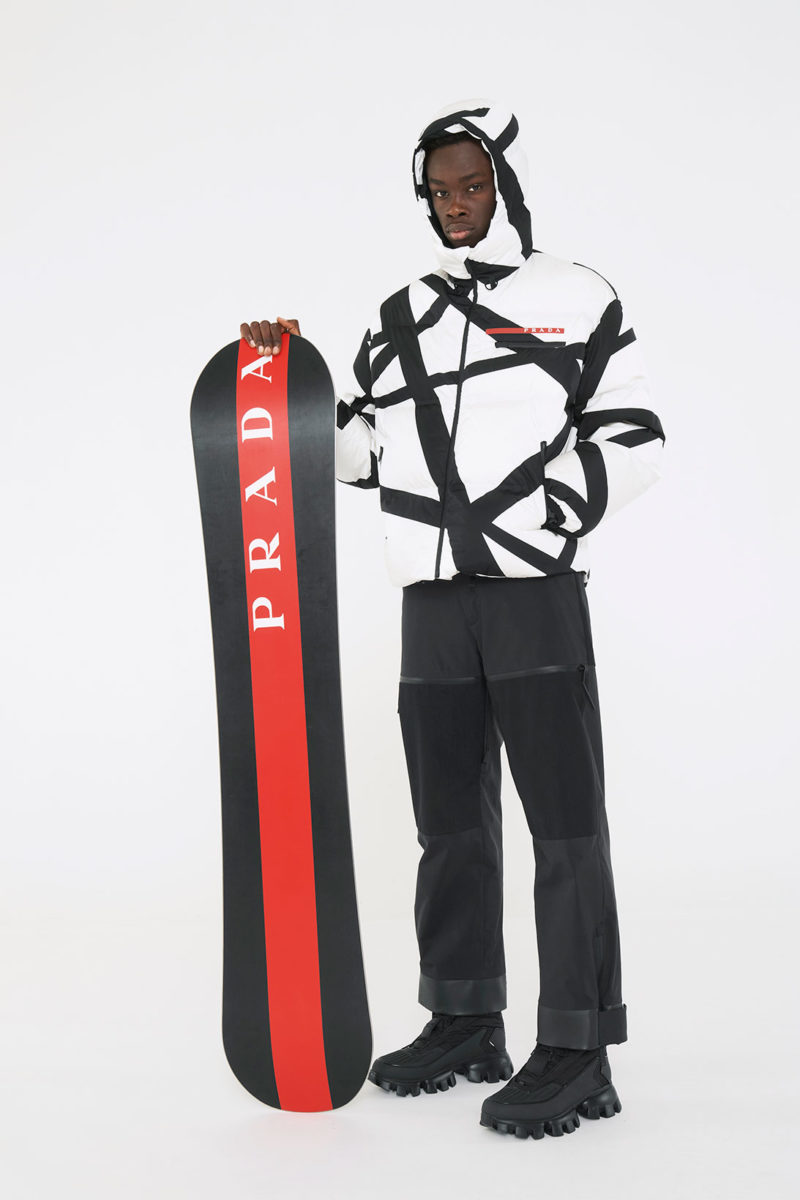 RELATED: Prada Links With Frank Ocean's Jewellery Brand Homer In Latest Collaboration
"We are excited to reveal our partnership with Prada as an integral part of ASPENX's inaugural lineup of premium offerings for the 2021/2022 ski season," said Crown about the collaboration.
"More than a fashion collection, this collaboration is a physical representation of the one-of-a-kind spirit of Aspen just ahead of the destination's 75th anniversary. Built for uninhibited exploration, the capsule complements ASPENX's founding vision of new possibilities, and I am beyond pleased to work with such a revered house as Prada on this momentous occasion."
Not only does the collaboration look good and keep you warm and dry, but it's also produced sustainably. Prada was recently the first major fashion house to sign a five-year-long "green" loan, meaning the jackets are produced using sustainable recycled materials.
The collection is currently available via Aspenx with prices ranging from $1,950 to $5,400.