The Blueprint Series is a rolling release of profiles on individuals from any walk of life, pioneers of what they do best. From athletes to artists, fashionistas to entrepreneurs, this series gives you a personal insight into the minds of masters at the apex of their respective professions.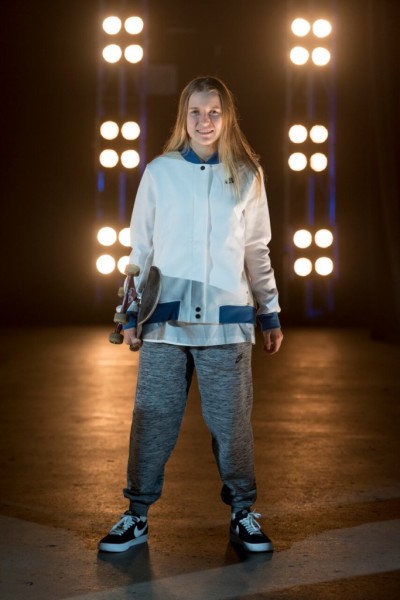 Earlier this month Nike Australia hosted a panel with some of the country's top athletes, including Andrew Johns, Steve Moneghetti, Nic Naitanui, Kyah Simon, Kim Ravaillion and Hayley Wilson, to launch its new brand campaign; focusing on 'No Turning Back' moments in sport.
The campaign was developed as research reveals the amount of pressure Aussie kids face in sport and aims to inspire young athletes to play like there is nothing to lose and release their competitive spirit. The panel discussion focused on the personal make or break moments of the athletes, the current pressures facing young people in sport today and what can be done to inject fun back into sport.
---
---
Haley Wilson is one such person who would know all about the conditions surrounding young athletes in Australia. If you haven't yet heard of the 15-year-old skateboarding prodigy from Mansfield in north-eastern Victoria, she is by far one of Australia's most promising young skaters.
Last year, Hayley took out both the Victorian and National Skateboarding competitions, before going on to represent Australia in 'Exposure' – the world largest all female skateboarding competition in California. Hayley continued her winning form in the birthplace of skating, winning the open AM women's street skateboarding competition.
We caught up with the extremely down to earth Hayley to discuss a range of things; from her 'No Turning Back' moment, to her dream of competing in the 2020 Olympic Games.
What words do you live by?
Believe you can and you're half way there.
What are your three most treasured possessions?
My family, my skateboard and my collection of Nike shoes.
---
---
Do you play any other sports?
My whole family is very active so I have grown up around sport. I bet my parents weren't expecting their daughter to become a skater and their son to become a dancer though. I love playing tennis in summer and surfing and snowboarding in winter.
When did you start skateboarding and how did you first learn?
I started skateboarding at the age of eight. We were out shopping and mum gave my brother Liam and I $10 to spend. As a joke we bought a skateboard and I've never looked back. All the boys at my local park have supported and helped me through my first few years of skating.
Which aspect of skateboarding has contributed most to your love of the sport?
I love the fact that you can take skateboarding anywhere and everywhere. I love exploring and trying new spots to skate and get footage. I love how it gives you so much freedom.
What was your 'No Turning Back' moment?
I remember it clearly. I was eight-years-old and I had entered my first competition at my local park in Mansfield. I was the youngest there and also the only girl. There was a girl's division but no other girls had showed up, so I decided to enter the U12 Boys competition to see how I would go. I ended up placing first and from there I knew anything was possible.
---
---
https://www.instagram.com/p/BR5M8muAmJd/
At just 15, is skateboarding starting to feel a bit like a job? How do you balance having fun with the competition side of things?
It can be like a job in a way, as I have been fortunate to win prize money at competitions which helps fund my trips. If it is a job, it's a job I love. There is a lot training involved, so I can stay fit and healthy for when I compete. Just like Nike's 'No Turning Back' campaign, I'm always having fun and love the challenge of competitions and just skating like I've got nothing to lose.
Do you feel like too much pressure is placed on young athletes in Australia?
I personally don't feel there is pressure on me because my family, coaches, sponsors and mentors are super supportive. I love skating when a comp is tight. I think the best part about being young and so new to the sport is I can skate with freedom and not worry about it too much. When I skate, I have so much fun that I can block out the pressure and I hope all young athletes can do the same.
What do you hope to achieve in both the short and long term?
I'm heading over to the USA for the X Games which is one of my main goals. My long-term goals are competing at Street League and representing Australia for female street skateboarding in the 2020 Olympics. But above all else becoming pro would be everything to me.
What has been the greatest opportunity skateboarding has provided you with thus far?
---
---
That's a hard one to single out. Skateboarding has given me the opportunity to travel across Australia and overseas and I would love to give a huge thanks to my sponsors who have helped me out so much with all these opportunities.