Just because Perth is one of the most isolated cities on earth, doesn't mean you have to skimp on quality hair care. While the Western Australian capital has a reputation as the hub for FIFO mining workers, you're not losing out on excellent grooming spots that are up there with Sydney and Melbourne. There are some of the best barbers in Perth for men to get their next cut, going above and beyond what other capital cities around Australia have to offer.
We've put together a selection of the best out west to choose from, with a variety of options to cover your vibe and style. If you need some fresh idea for your next hair cut, hit up our compilation of the best short hairstyles and finish it up with some quality hair products that we've given a comprehensive test run.
Best Barbers In Perth
Uncle Joe's Barber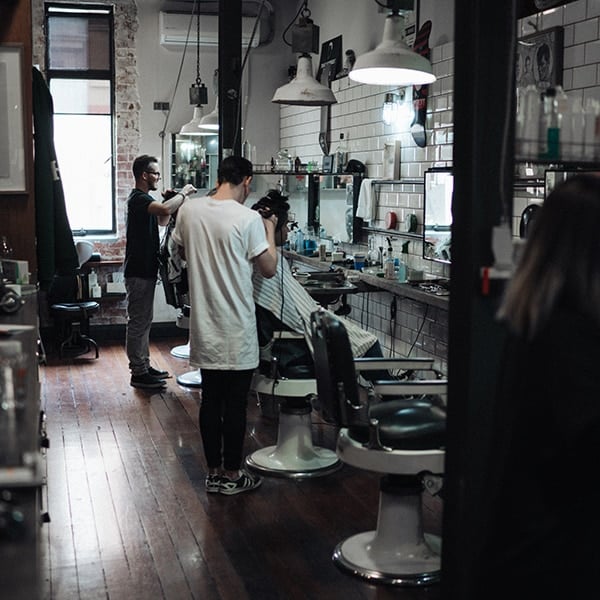 Located within a warehouse on the famous King Street hub, Uncle Joe's is a homely option for those looking to pair a fresh cut with delicious burger and coffee. They also have plenty of delicious pastries from local joint Bare Baker and you're welcome to lounge around. If you're sick of stuffy venues, this a nice approachable vibe change for barbers in Perth.
---
---
Location: 74-76 King St, Perth WA 6000
Hours: Mon, Tue, & Thu 10am-6pm, Wed 10am-8pm, Fri 8am-6pm & Sat 9am-5pm
Website: unclejoes.com.au
The Milk Barber
With traditional cut throat shaves, beard trims and classic cuts on deck, The Milk Barber is a simple venue that'll really hit the spot. With brews (of the alcoholic and caffeinated kind) available while you get chopped up, there are also student discount if you're looking to save a little dosh.
Location: Hillarys Boat Harbour, 86 Southside Dr, Hillarys WA 6025
Hours: Mon-Sun 9:30am-5pm
Phone: 0411 957 147
Stanford Barbers
Stanford Barber is one of the trendiest spots in the Mount Hawthorn area, the allure of whisky and beers should be more than enough to convince you to come through. It's the hottest spot in town and the perfect option for those looking to get the full treatment. An escape from the world to truly treat yourself, it's also super easy to book your appointment online.
Location: 1/186 Scarborough Beach Rd, Mount Hawthorn WA 6016
Hours: Mon-Tue + Fri 9am-6pm, Wed-Thu 9am-8pm & Sat 9am-5pm
Website: stanfordbarbers.com.au
---
---
Barber Shop
If you want an easy in and out experience without the fuss of bookings, Barber Shop is a no-frills option that will get you through the door quick smart. An easy 30 minutes blitz, the friendly staff and inconspicuous retro vibe will make sure you come back again and again.
Location: 2/224 Carr Pl, Leederville WA 6007
Hours: Tue – Wed + Fri 8am-5:30pm, Thu 8am-7pm, Sat 8am-4pm & Sun 10am-4pm
Phone: (08) 9328 8972
Brooklyn Barbershop
Brooklyn Barbershop is a social space as well as a great spot to sort your grooming needs. Designed with the modern gent in mind, the interior is decked out in lush wood/leather and is a great place to relax. One of the best cuts in town, you can also go full VIP with a private room for entertaining up to five people with a couple of drinks.
Location: 11 Avion Way, Claremont WA 6010
Hours: Tue – Wed + Fri 10am-6pm, Thu 10am-8pm & Sat 10am-3pm
Phone: 0422 577 233
Westons Barbershop & Shave Parlour
A hipster paradise, Westons Barbershop & Shave Parlour is the perfect place to shape up a fancy moustache with the bonus benefit of a pool table if you're keen to test your new look out. A nice mix of classic barber shop vibes and modern flair, it's cool without being pretentious. Finish it all off with a hot towel shave treatment to match your new killer hairstyle.
Location: 456 William St, Perth WA 6000
Hours: Mon-Wed + Fri 10am-6pm, Thu 10am-8pm & Sat 9am-4pm
Website: westonsbarbers.com
---
---
Dr Snippy's Barber Lounge
Despite the goofy name, Dr Snippy's comes in hard with free beer and unlimited arcade games once you finish. This old school barber set up really hits its straps after 12 pm, and is a great hang out spot. They also have plenty of grooming stock and razors to buy if you want to continue the action at home.
Location: 204 Hay St, Subiaco WA 6008
Hours: Tues-Fri 10am-6pm
Phone: 0467 646 526
His Lid
His Lid is a hybrid barber shop and espresso bar, the Melbourne cafe style interior is a light-filled alternative to the traditional darkly decorated glum that comes with a men's lounge setting. Every standard service comes with a drink of your choice to enjoy alongside your fresh new look, with Subi workers also getting $10 off their first cut.
Location: 8 Sheen Street, Subiaco
Hours: Tue & Fri 10am-6pm, Wed-Thu 10am-8pm & Sat 8am-4pm
Website: hislid.com.au
Gentlemen's Hair Lounge
Gentlemen's Hair Lounge is the perfect venue to sit back with a magazine and enjoy top-notch service and the best in grooming, there's plenty beyond haircuts to get stuck into with facials and massages. It's also a great spot to crack it with a couple of mates, with specially tailored function packages available for groups.
Location: Shop 3, 34 Subiaco Square Rd Subiaco, WA 6008
Hours: Mon 10am-6pm, Tue-Wed + Fri 9am-6pm, Thu 9am-7pm & Sat 9am-5:30pm
Website: gentlemenshairlounge.com.au
Adam's Barber Shop
A Perth institution, Adam's Barber Shop has its roots firmly planted in tradition. Old school candy-coloured stripes welcome you in the shopfront which has been a staple of the area since Adam took it over in the 1990s. A pure experience without all the bells and whistles, walk-ins are highly encouraged and expected. So pull up a friendly seat and sit down for an authentic experience like no other as truly one of the best barbers in Perth.
Location: 661 Beaufort St, Mount Lawley WA 6050
Hours: Tue-Fri 10am-6pm & Sat 9am-4pm
Phone: (08) 9272 5828