A barrage of fast fashion, countless trends, and clueless style influencers has caused some confusion regarding how the modern man should present himself.
Fortunately, tradition will outlast the flavours of the month – quality will always beat quantity, and personal maintenance will always be as important as it's ever been.
Check out our list of 50 essential style tips below.
---
---
1. Throw out or give away anything you haven't worn in over a year.
2. Get key wardrobe pieces altered to fit perfectly.
3. Spend more money on fewer pieces of clothing.
4. If your budget allows, always choose made-to-measure over off the rack.
5. If you choose to wear a pocket square, keep it simple.
6. Never buy a suit online.
7. Invest in a made-to-measure shirt, you'll never look back.
---
---
8. Gym clothes are for the gym.
9. Match the colour of your socks to the colour of your trousers. 95% of the time.
10. Hats should be a functional addition to your outfit, not a fashionable one.
11. Luggage is part of your style, invest accordingly.
12. Own one good, versatile watch that can be worn both at the office and to a Sunday BBQ. Bin the Daniel Wellington.
13. Understand contrast and colour matching, never wear more than 3 colours.
14. Shoes are the second thing a person notices, make them count.
15. Learn how to polish and care for them too.
---
---
16. Always dress up slightly. You might decide to drop by a nice restaurant, and end up meeting the girl of your dreams, you never know.
17. Know your measurements (like your collar size).
18. Know your body shape, and don't dress to someone else's image.
19. Put some product in your hair – but nothing shiny.
20. Learn how to iron a shirt, properly.
21. Get suit pants without belt loops. If they fit properly, you shouldn't need a belt.
22. Don't wear graphic or V-neck t-shirts. Ever.
23. David Gandy is a scrummy treat. You're not the only one who thinks so.
---
---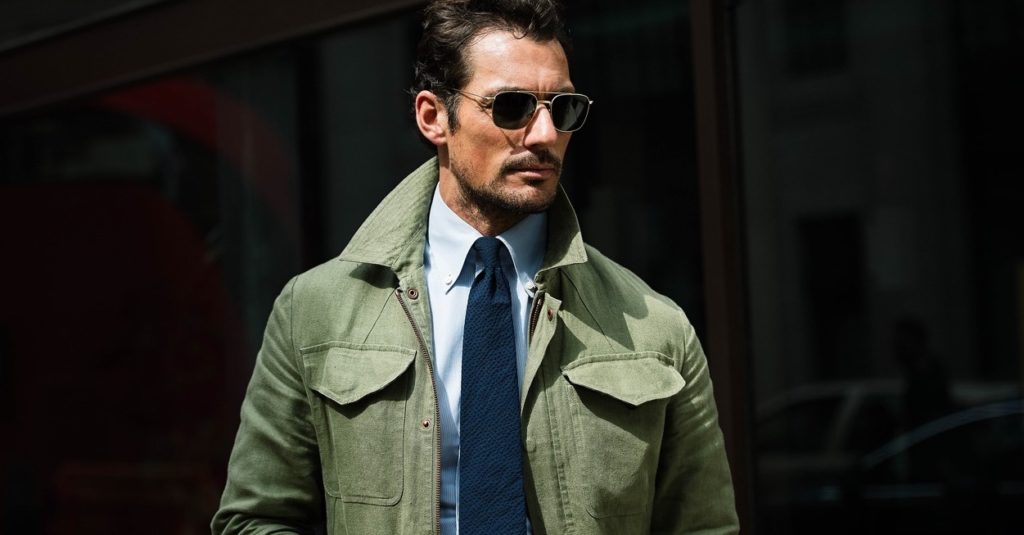 24. Wear cologne. Better yet, develop a signature scent.
25. Don't wear scented deodorant (it'll clash with your cologne).
26. Find the smallest wallet you can, less is more.
27. Own at least two suits, a navy one for formal/casual occasions and a dinner suit.
28. Never wear a pre-tied bow tie, learn how to tie your own.
29. Spice it up a little. Weekend-only pants, a crisp floral shirt, etc.
30. Own at least one pair of quality dark indigo jeans with a tapered leg.
31. Take notice of the seasons, have a staple garment for each.
---
---
32. As a general rule, stay away from leather jackets (Attn: Malcolm Turnbull).
33. Always tie a four-in-hand knot, Windsor knots are done.
34. Don't pay attention to trends, keep things timeless.
35. Don't be a brand whore, stay loyal to those few who have served you well.
36. Every man needs one pair of crisp white sneakers.
37. Backpacks are for school kids. So are funky socks.
38. Have a variety of sunglasses, rotate as appropriate to your outfit.
39. Never do up the bottom button on a suit jacket.
---
---
40. Tack stitching is meant to be removed from new suits/coats.
41. Get a haircut every 3 weeks, 4 weeks is too long.
42. Look after your teeth, trim your fingernails and maintain your eyebrows.
43. Get a double-breasted jacket, but only pull it out once in a blue moon.
44. Linen in summer. Always.
45. Your tie should just touch the top of your belt/trousers.
46. Have a sharp off-duty outfit. It's okay to be comfy and casual, but it'll be seen beyond the house at some point.
47. Don't be afraid to undo your top two shirt buttons.
48. The 'Cocktail' dress code isn't a thing, Lounge Suits is the appropriate terminology.
49. Trousers always look more presentable than shorts, linen or not.
50. Never let a woman plan your outfit.
Oh and never, ever, ever, ever, wear a belt with suspenders.