There comes a time in every man's life when he realises that using the same product for his hair, body, and face probably isn't cutting it. And if he has a lady in said life, she's probably egging on this epiphany. Women are experts in self-care, especially in how they look after their skin.
No doubt you've been mesmerised by the sheer number of products in a girl's bathroom and maybe even snuck a cheeky try of that lovely smelling face cream which you originally thought was for your hands. Face masks for men (not to be confused with pandemic preventative face coverings) are finally getting the air time they deserve.
If you have the cleanse and moisturise routine in the bag, it's time to forget any stigma that it's a 'chick thing' and try a face mask for yourself.
---
---
Face masks are a powerful tool that need to hero your skincare routine. Seriously, you only need to make time to do a mask once or twice a week. Maximum results with minimum effort… if that doesn't appeal to you, I don't know what will.
Here are our top 10 face masks for men that will have your skin thanking you.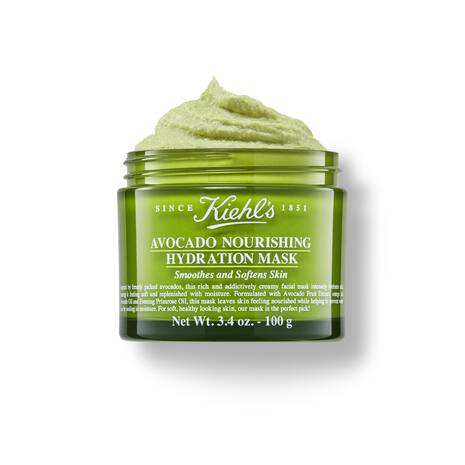 RELATED: A Breakdown Of Patrick Bateman's Insane Grooming Routine
Keihl's Avocado Nourishing Hydration Mask
You may already be a keen Kiehl's fan thanks to their well-known range of top-quality skincare, but their Avocado Nourishing Hydration Mask (AU$68) is a face mask that's good enough to eat. It literally imitates a fresh, ripe avo with its creamy and rich texture. The face mask will nourish your skin whilst sealing it in moisture.
Aesop's Blue Chamomile Facial Hydrating Masque
Recirculated aircraft air is unapologetically dehydrating for the skin, not to mention the four G&Ts you knocked back in the lounge before boarding. So if you're a regular traveller that finds your skin is looking a tad dry when you step off the plane, try Aesop's Blue Chamomile Facial Hydrating Masque (AU$57). Any moisture lost at altitude will be instantly replenished. You can't see it, either, so feel free to apply this face mask for men en route and let it have its effect mid-flight. A must-have for the dopp kit going forward.
Lumin's Intensive Repair Face Mask
Los Angeles-based brand Lumin is all about "premium care for the premium man" with a range specifically crafted for guys. Their Intensive Repair Face Mask (AU$28) is a fool-proof sheet mask; just line up the holes with your eyes, nose and mouth. It's also great for summer as it specifically targets sun damage. And if you're a fan, Lumin offers a subscription service with discounted prices so you'll never run out.
The Body Shop's Nicaraguan Coffee Intense Awakening Mask
To give your skin a kick as good as your morning espresso, try The Body Shop's Nicaraguan Coffee Intense Awakening Mask (AU$35). Like the majority of their products, the mask is 100% vegan. The powerful blend of coffee beans will warm and exfoliate the skin, leaving you looking more awake and ready to take on the day. But if tea is more your daily drop, the Japanese Matcha Tea Pollution Clearing Mask is another crowd favourite.
---
---
Grown Alchemist's Age-Repair Sleep Masque
If you're a keen multitasker, the organic Age-Repair Sleep Masque from Grown Alchemist (AU$100) could be the overnight face mask for you. Specifically designed to be left on while you sleep, it will restore your skin and address those wrinkles you've been trying to ignore in the mirror. Let it do its magic whilst you get your beauty sleep and wake up feeling refreshed and looking youthful.
Patchology's FlashMasque Hydrate 5 Minute Sheet Mask
As the name suggests, it'll only take a matter of minutes for the FlashMasque Hydrate 5 Minute Sheet Mask from Patchology (AU$13) to get to work. Described at 'The Ultimate Thirst Quencher' and a quick-fix for anyone strapped for time, this sheet mask works 4 x faster than the average to moisturise and smooth. So now that your skin has been taken care of, you can use your spare time addressing your own life decisions.
Cosmedix's Clear Deep Cleansing Mask
If you've got pesky pimples killing your vibe, Cosmedix's Clear Deep Cleansing Mask (AU$66) could be the solution to all your problems. Great for oily skin, it will deeply cleanse and purify. This will be your new secret weapon to not let any imperfections stop you from looking and feeling your best ahead of your next work presentation or date night.
La Mer's Intensive Revitalising Face Masks For Men
Before you 'Add to Cart', don't forget to check the price tag on this luxe option. At AU$250 a pop, La Mer's Intensive Revitalising Mask promises to have your skin looking the definition of health. The brand earned its elite status thanks to its origins involving a German rocket scientist. So if you can, treat yourself.
Hunter Lab's Charcoal Mud Mask
Melbourne based Hunter Lab offers a 5-star reviewed Charcoal Mud Mask (AU$58). The natural ingredients act as a hangover cure for your skin. So go ahead and reach for this after your next blow-out with the boys. It also smells delish with notes of mandarin and green tea.
The Ordinary's Salicylic Acid 2% Masque
For an affordable option that still has plenty of bang for its buck, try the Salicylic Acid 2% Masque from cult-fave The Ordinary (AU$21.90). It removes dead skin cells and will leave your skin feeling new after just 10 minutes. It contains active ingredients to zap those zits but this also means it's probably not the best pick if you have sensitive skin.