Welcome to Fragrance Friday, where each week we'll be keeping you abreast of the newest and most iconic releases in the dynamic world of men's fragrances. Born out of the desire to showcase one of the most overlooked, yet versatile, elements of any discerning man's style this weekly column will help you finesse your own signature scent.
The question posed in the headline is, of course, entirely up to you and how much disposable income you're willing to invest in niche luxury fragrances. This is a Clive Christian, widely known as one of the priciest brands in perfumery. Clive Christian No. 1 Imperial Majesty is, after all, one of the most expensive perfumes ever made – not that it's something you'd ever find, given only ten 500 ml crystal French Baccarat flasks were made available over a decade ago, priced at around £115,000 (~AU$204,000).
I'm not even going to pretend that I've had the pleasure of getting a whiff of that illustrious perfume, which is said to centre around its creamy base of sandalwood in a way unlike any other modern perfume. I have, however, been able to get across the new Clive Christian Addictive Arts collection's Jump Up And Kiss Me Hedonistic – one of two new fragrances from the highly regarded British perfumer and an absolute show-stopper when it comes to complexity and projection.
---
---
I'm not talking over-the-top projection and super-charged sillage like a typical Amouage or CoSTUME NATIONAL, but rather a restrained and rather elegant expression of the juice's some 203 ingredients. That's not to say those two others brands – some of my favourites – are obnoxious in the way they wear, but it should give you a good idea of how gentle Hedonistic is despite its rather lofty bill.
With 25% perfume concentration, this bold perfume comes in a cobalt blue bottle said to symbolise poison during the Victorian era. The collection that it's a part of, Addictive Arts, hinges much of its identity around the words of British literary giants, and in the case of Hedonistic that's the 'Jack Jump Up And Kiss Me' – a nickname given to William Shakespeare's favourite flower, the wild pansy, which features as a plot device in A Midsummer Night's Dream.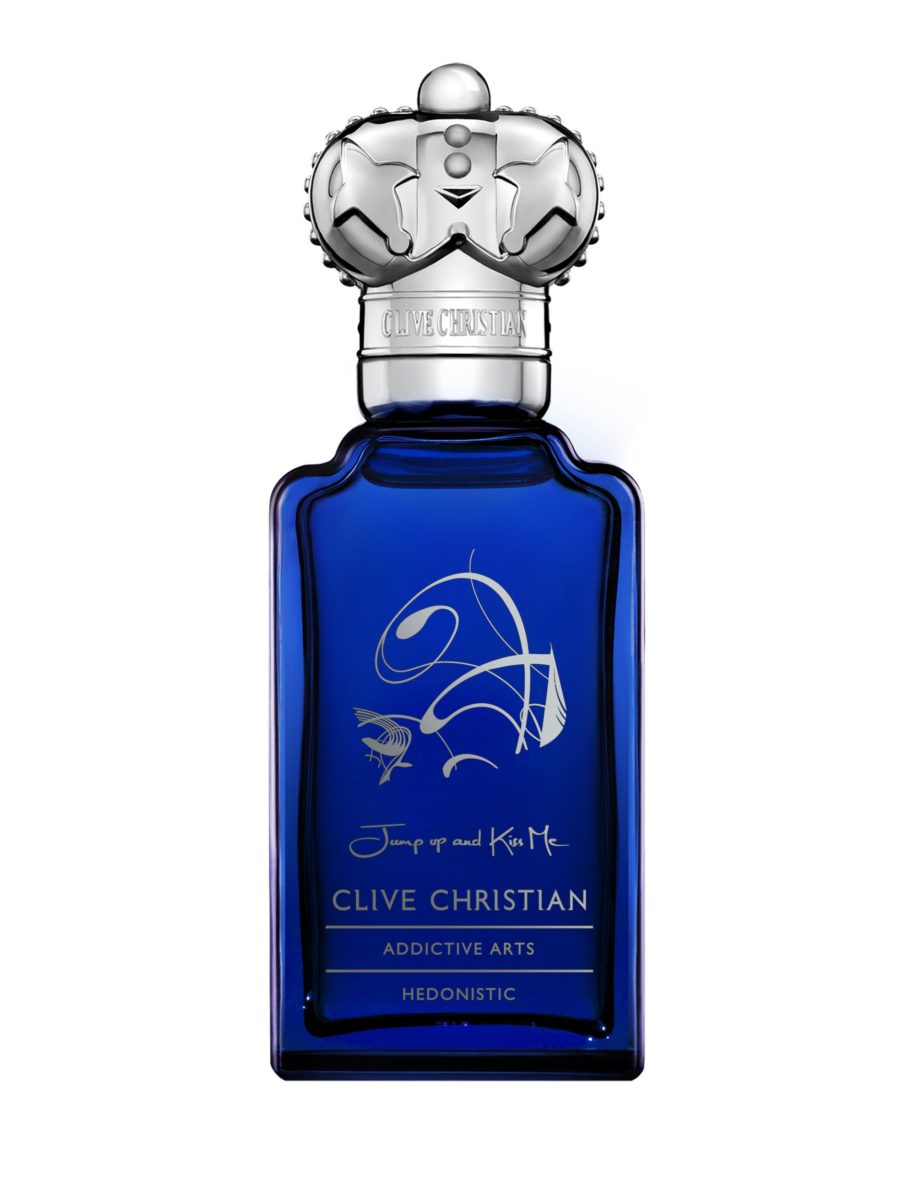 RELATED: The Best Perfumes & Colognes For Men
As with all high-end perfumes, there needs to be a complex image of high-culture attached, and that's certainly the case with Hedonistic. Any airy pretentiousness is wiped away as soon as you smell this though. It's an accessible and incredibly alluring fragrance, playing mostly into the woody oriental family but switching it up with some very well-placed gourmand notes that help gives it a juicy, fruit-forward quality that's almost a bit soapy thanks to a herbal green accord of black cherry and clary sage.
While you've got plenty of high-quality ingredients – remember, 203 – that pop in throughout the show, the most seamless of them would be those top notes of bergamot, grapefruit, cherry, clary sage, and neroli. You've got lemon and violet leaf on support, but the best 'background ingredient' would perhaps be the mandarin. I'm only making assumptions here, but that could be why the grapefruit is so prominent in the first instance, working nicely with the mandarin for a citrus accord to help soften the spiciness of bergamot and lift the neroli.
The surprising bridge of tobacco leads us to the second act, softened by the more pleasant notes of jasmine, orris and papyrus. This isn't a subversive perfume, just an elegant play of classic ingredients juiced incredibly well, which is why the base is quite a logical follow-up from the heart: amber, cashmere, leather, cedarwood, sandalwood, musk, labdanum, moss, vetiver, vanilla and some tonka bean.
Sweet, creamy and potent. It's the interplay between the opening and the base that's such a show-stopper for anyone wanting a more accessible Clive Christian. I know, $790 for 50 ml isn't "accessible" for more casual fans of perfumery or anyone starting to build up their collection, but considering the brand's reliability and the quality on display here, it's edging towards the more reasonable side of the high-end scale.
---
---
Niche fragrances are great to have experience with because they train one of your most important senses to pay more attention to nuances and smaller details. It's when we get to this granular level that you can really decide on the type of fragrance for you and what deserves a place on your shelf. Clive Christian Jump Up And Kiss Me Hedonistic deserves a place because of how comprehensive it is – an elegant 'greatest hits' that journeys from something sensual and gourmand, to slightly smokey and resinous, to creamy and woody. It sounds like a lot, and it is, but once you smell how seamless it all is, it's hard not to buy into the hype that sits behind Clive Christian.
If you want something that's going to really lift your style, then yeah, I'd say $790 is an easy price to pay for Clive Christian Hedonstic.
Top Notes: Bergamot, Lemon, Mandarin, Grapefruit, Neroli, Cherry, Clary Sage, Violet Leaf.
Heart Notes: Jasmine, Orris, Tobacco, Papyrus, Addictive Fusion.
Base Notes: Amber, Cashmere, Leather, Cedarwood, Sandalwood, Tonka Bean, Vanilla, Musk, Labdanum, Patchouli, Moss, Vetiver.
Clive Christian Hedonistic is now available in Australia at $790 for a 50 ml bottle.