Welcome to Fragrance Friday, where each week we'll be keeping you abreast of the newest and most iconic releases in the dynamic world of men's fragrances. Born out of the desire to showcase one of the most overlooked, yet versatile, elements of any discerning man's style this weekly column will help you finesse your own signature scent.
The new candle collaboration from Balmain and Trudon caught my attention most last week as I wanted to take a break from exclusively looking at perfumes. Fragrance is such a broad category when it comes to style, that it also extends to home and office design. Olfactory architecture is a crucial part of curating your own spaces after all, and it's one many men don't pay near enough attention to.
This week, let's veer back to perfumes but instead of looking at something new, here's a modern classic that I've been re-visiting a lot lately – Penhaligon's Halfeti Leather.
---
---
British perfume house Penhaligon's has been inseparable from the art of perfumery since its inception back in the 1860s. Though its rather haute image wasn't modernised and made more accessible until 2015 when the company was purchased by Spanish-born fragrance and fashion giants Puig, who also own L'Artisan Parfumeur and the licences for both Christian Louboutin and Comme des Garçons perfumes.
The past decade, then, has been all about better marketing and more stories behind destination-inspired perfumes such as this one. Penhaligon's Trade Route series and the 2015 launch of Halfeti, which remains the brand's most unassailable signature and is one of the best-selling niche fragrances of our time. So irrepressible was its popularity that it's the one perfume that has gone on to define the new era of Penhaligon's and can be smelled in just about every one of the brand's boutiques around the world.
Much like when a film becomes super successful for a studio, you just know that the temptation of capitalising on the IP is just too much. There's going to be at least one sequel, for better or for worse. Halfeti then flowed onto two different flankers, which were both released in 2020.
First, there was Halfeti Leather which bought back high-end perfumer Christian Provenzano, who handled the first one and intentionally set out to bring a darker and juicier perspective to the fragrance profile. Next was Halfeti Cedar, but I haven't smelt that one yet.
For those curious about where the name came from, Halfeti is a small half-drowned village that sits on the edge of the Euphrates river in Turkey. Despite the town's complicated history, it is perhaps best known to the rest of the world for its harvest of the mythical black rose, which apparently only grows in the area and first attracted attention when Penhaligon's sent a team of pharmacists and professors to extract samples from locals for use in perfumery.
Despite that, rose isn't the most substantial note in Halfeti or its two flankers. In Halfeti Leather, though, it's a bit more prominent and enhanced by the juicier, almost syrupy profile that skews far from the original with its own distinctive signature.
When Provenzano seemingly has done is dialled back the fresher, drier and more citrus-forward characteristics of the original and presented a profile amped up to include darker fruits like prune, plum and dried cherries.
---
---
Consider it the big-bodied Shiraz of modern luxury perfumes.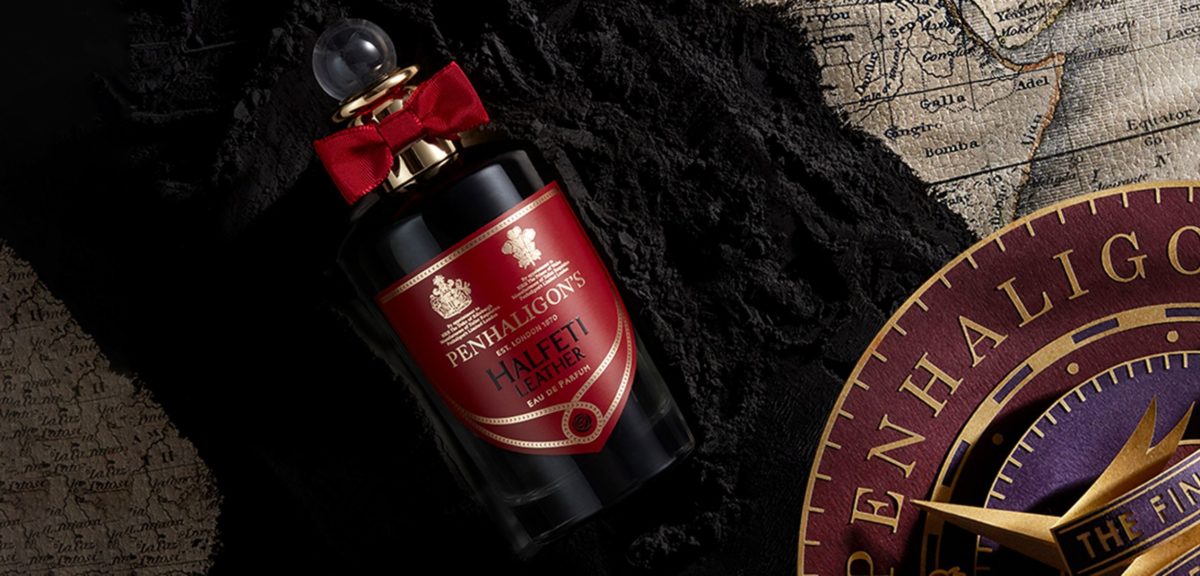 RELATED:The Best Perfumes & Colognes For Men
As with Halfeti proper, Halfeti Leather is a complex scent that has flicks plenty of ingredients at you before settling on those more masculine, bittersweet woods of leather, oud and sandalwood. On the top you've got bergamot – a constant for all three Halfetis – with a slight undertone of grapefruit for a very gourmand opening. That much is only strengthened once those dark fruits are intensified by a highly aromatic dried plum accord that picks up in the middle, sprinkled and heightened by nutmeg, cumin, cinnamon, violet, jasmine and – towards the end – some of that floral rose.
Nutmeg, in particular, helps Halfeti Leather stay aligned with the original. If the note wasn't included, I would imagine that prune note would be a bit too juicy for my liking.
Anyone who wanted a bit more of that rose might be disappointed. Shortly after the middle makes its way forward, it's followed by that stronger base of leather, oud, incense, cedar and patchouli. Leather and patchouli are the two big players here – if you want more cedar, go for Halfeti Cedar – so what you'll get is a nice and sensual closing show that's aided greatly by all that vanilla and the lingering plum notes.
Very jam-like and juicy, Halfeti Leather might be a divisive scent for many, but thankfully it's really not that strong when compared to something like Penhaligon's Babylon – which is also from the Trade Routes series and is one of my favourite perfumes from my collection with all its spicy vanilla. Hence, Halfeti Leather would work nicely as a base perfume as well should you want to layer on something that aligns with those darker fruits but takes it in a fresher direction.
I haven't yet played around with Halfeti Leather as a layering perfume, but it is quite heavy so I'd imagine something light would work. It's almost tempting to use something like Tom Ford Lost Cherry or Tom Ford Bitter Peach on top, but it could just as easily make me smell like the Paul Rudd in Anchorman of the BH office.
Top Notes: Grapefruit, bergamot, prune, green notes, armoise, cypress.
Middle Notes: Cumin, nutmeg, violet, saffron, rose, jasmine, muguet.
Base Notes: Leather, oud, amber, resins, tonka, vanilla, sandalwood.
---
---
Penhaligon's Halfeti Leather retails in Australia at $358 for 100 ml bottle.