Welcome to Fragrance Friday, where each week we'll be keeping you abreast of the newest and most iconic releases in the dynamic world of men's fragrances. Born out of the desire to showcase one of the most overlooked, yet versatile, elements of any discerning man's style this weekly column will help you finesse your own signature scent.
And while taking a look at new-release fragrances is very much what this weekly column is all about, it's equally important to revisit some older releases at every corner of the market so you're across what's already out. There's no use building a personal collection if all you're doing is considering new releases.
This week, we're taking a break from the more premium scents out there and doing something we'll probably never do for a Fragrance Friday again – we're looking at a celebrity fragrance.
---
---
The world is still reeling from the unexpected passing of cricketing legend Shane Warne, who reportedly suffered a heart attack on the island of Koh Samui, Thailand and was pronounced dead exactly one week ago on Friday 4th March. The larger-than-life 'King of Spin' lived a life many could only dream of, and if anyone wanted to reflect on the man's innumerable accomplishments over the years, both on and off the pitch, there are endless ways in which to do so.
I thought it was relevant to zone in on just one that many fragrance and cricket fans alike may have (intentionally – for most) overlooked over the past few years, and that's Warne's obvious fascination (or at least reported fascination) with the art of perfumery.
After all, instead of going the expected route of collaborating with a brewery to launch a beer or something similar (although he did launch a gin & tonic using his own SevenZeroEight gin), Warnie chose to partner with Chemist Warehouse to bottle his signature scent as a mostly woody Eau de Toilette. SW23 EDT launched in September 2020 – sporting a logo with a W resembling the stumps he so often rattled – and making good on the king's apparent love of hygiene and skincare, which he claimed came about during his relationship with Elizabeth Hurley, the face of Estee Lauder.
"I know there's still a bit of stigma about it and that it's seen as not a masculine thing to do to take care of yourself," Warne was quoted as saying in a news article on the SW23 launch by The House of Wellness.
"I do love my fragrances and it's always been an interest of mine."
"[Liz] encouraged me to do it because she said I smelled really good, but, for whatever reason, it didn't happen until now".
The man, who showered three times a day and spoke several times about the importance of taking pride in one's appearances – despite his vices – apparently had his eyes opened to the "power of scents" during his time with Hurley. Though it wasn't until years after their split that he would go on to create not just this fragrance, but follow it up with a sports version created by noted perfumer Gil Clavien – the nose behind other celebrity fragrances by Britney Spears, Elizabeth Arden, Christina Aguilera, and Vera Wang.
---
---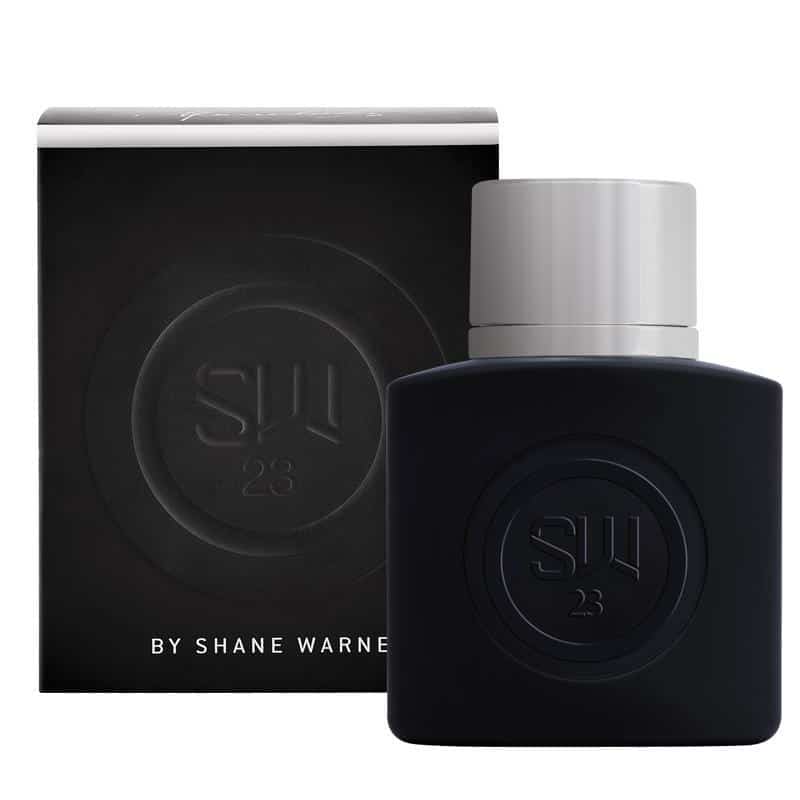 RELATED: The Best Perfumes & Colognes For Men
Forget the marketing hype that surrounded SW23 and SW23 Sport. It's full of shallow descriptors like "striking" and "sensual," as well as meaningful words like "radiates style with a bold mix of ingredients that tantalise the senses". The only thing you need to know about Shane Warne's perfumes is that they actually aren't as bad as many would reasonably expect.
When SW23 was first released, Warnie was clowned relentlessly by cricket fans on that cesspool of pettiness and shame we called Twitter. The standard jokes regarding flat beer and ciggie butts swirled around, as well as (somewhat amusing) speculation that Warnie's signature scent would smell like linseed oil, willow and leather.
Mockery aside, it's hard to deny the sincerity behind Warnie's fling with the world of perfumery given the aforementioned desire to do away with the stigma against male beauty.
"It's like the Advanced Hair Studios stuff — it's easy to make jokes at others' expense," he was quoted as saying.
"But having a bald spot or a receding hairline can really dent someone's confidence. A lot of guys still come up to me and say thanks for helping them feel more confident. It's great I could help them."
SW23 doesn't quite capture the noted profile Chemist Warehouse were pushing for, nor is it at all on the same level as the Tom Ford and Creed perfumes Warnie favours, but really it's a pleasant scent that primarily centres around citrus on the top and oak on the base.
The perfume release was obviously part of Warnie's plans to destigmatise beauty and self-care for men, which was noted on his official website, with all profits going to charity.
---
---
The opening is as obnoxious and aggressive as an Anytime Fitness drowning under excessive sprays of Lynx Africa, but after 20 or so minutes the scent settles with a really soft, crispy profile. The heart notes released by Chemist Warehouse list juniper berry, clary sage, lavender and wild mint. The recipe doesn't quite articulate that attractive bill, but it does manage to accentuate some semblance of juniper berry. Once the base of mostly birchwood and oakmoss comes through, you've got a satisfying grab that'll only set you back $50.
As I wrote last week when Fragrance Friday spotlighted the new Dior Homme Sport, sometimes more affordable perfumes should take equal importance as high-end expressions from the likes of Creed and Amouage. That's not to say SW23 is on the same level as Dior Homme Sport; it's not.
Yet for $50 you've got something that doesn't feel like a compromise when you're spritzing it on a typical working day. Sure, the projection and longevity are both quite weak, but that's still some serious value for money from something a lot of people expected to be overly gimmicky. Celebrity fragrances are almost always not worth it; this one is.
And it seems like a lot of people agree. Upon release, SW23 was a sell-out success for both Chemist Warehouse and Shane Warne, spurring the two entities to partner again on the aforementioned SW23 Sport.
"SW23 was so popular we thought, geez, let's do another," said Warnie when the Sports iteration was released last year.
"Everyone loved it and kept asking when there was going to be another fragrance. That makes you pretty proud when people love it."
Unfortunately, Warnie won't get to release a third perfume as part of his budding line of fragrances, but those who want to get their hands on either SW23 or SW23 Sport can do so at their local Chemist Warehouse. Both have been restocked and are, unsurprisingly, spinning off the shelves.
Top notes: Fresh bergamot, mandarin leaf, cardamom, crisp apple
Middle notes: Juniper berry, clary sage, lavender, wild mint
Base notes: Indonesian patchouli, birchwood, oakmoss, leather accord
---
---
Shane Warne's SW23 Eau de Toilette is available in Australia at $50 for a 100 ml bottle exclusively via Chemist Warehouse.