If 2020 has taught us anything, it's the importance of health, taking care of our bodies and being kind to ourselves. Setting time aside each day for self-care is recommended by everyone, especially those most successful amongst us ie. Bezos, Zuckerberg, Dorsey etc.
Whether it's listening to a motivational podcast, going for a run or just enjoying your morning coffee phone-free, you've started down the self-improvement path, so you may as well add another great habit to the daily schedule – a simple but rigorous skincare routine.
Spending a little bit of extra 'you' time in the bathroom is an investment into your health from the outside, in. And when you emerge, you'll be ready to smash the day. The earlier in life you start, the longer-lasting the effects.
---
---
Leave the complex routine to Patrick Bateman. Find out what products work for you and your skin, no frills necessary. Your new hobby doesn't have to break the bank, either. Choosing affordable but top quality products, like Swisse's new Men's range of natural skincare products, is a win-win for both your wallet and your overall wellness.
The recently launched range combines nature and science offering products packed with antioxidants and vitamins. Most importantly, Swisse designed it specifically to support male skin. And if you're still not convinced, the packaging for the new range was crafted with renewable materials like sugarcane resin. So now you can literally look and feel good.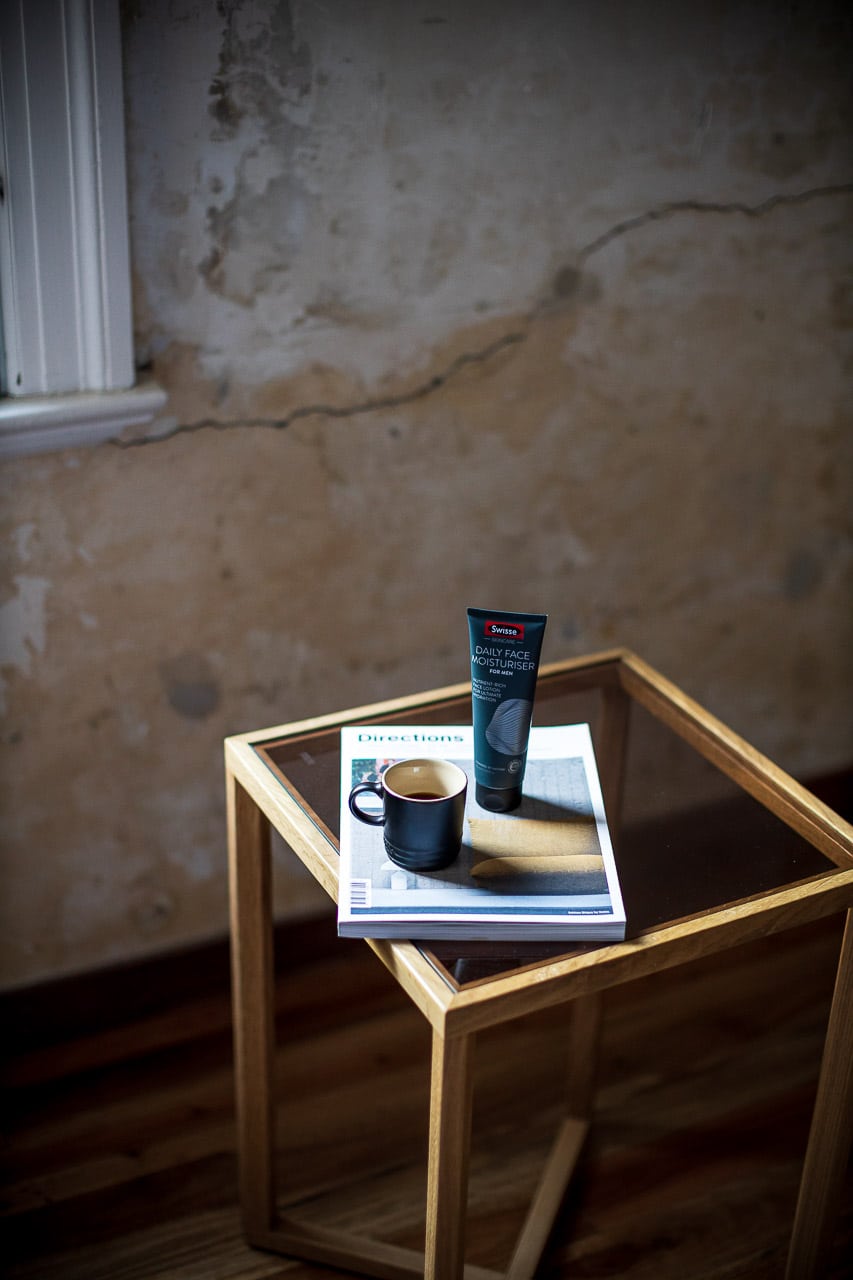 For peak performance, you want to be doing your skincare routine daily. Diligence is key.
Here are 4 quick and easy steps to get your head in the game:
Step 1: Activate
To start you want to give your face a good clean. Utilising the power of charcoal to absorb any toxins, the Swisse Charcoal Face Wash for Men ($11.99) will draw out any impurities from the skin. It's basically like a sponge for your face and will leave your skin feeling clear and refreshed after your morning sweat sesh or big night out with the boys.
Step 2: Exfoliate
The most satisfying step in my opinion – a good exfoliation. You can actually feel the walnut shell powder at work when using the Swisse Deep Face Scrub for Men ($11.99). It buffs away any dead skin cells, removes build-up and puts you on the path to an acne-free face.
Step 3: Lather
You may just be in your bathroom at home but that doesn't mean you can't enjoy a five-star hotel shower experience. Essential oils like Cedarwood and Lemon Peel found in the Swisse Body Wash for Men ($14.99) will create a zen aroma and cleanse your body whilst maintaining hydration. Like a charging station for your whole body, your skin will be left feeling energised.
---
---
Step 4: Hydrate
The final but never to be forgotten step in your routine to make your efforts worthwhile is locking it all in with a good moisturiser. The Swisse Daily Face Moisturiser for Men ($11.99) is fast-absorbing and non-greasy so it will leave your skin hydrated but not shiny. It's made from cocoa seed butter which has a pleasant but not overpowering scent and will protect your skin for the rest of the day.
The full Swisse Men's Skincare Range is now available online, at Woolworths stores around the country and will be launching in Chemist Warehouse and Priceline over the coming months. Cop 30% off the entire range with code 'LIKEABOSS30'.