If your sneaker collection is getting out of hand and you're looking for somewhere to stash your new kicks, Louis Vuitton have you covered with the release of their spectacular Sneaker Trunk.
Set to be officially unveiled during the House's special Savoir-Faire event on December 3rd in Miami Design District's Paradise Plaza, the hard-sided cabinet has room to store at least six pairs of low-tops measuring up to a size 13 and eight pairs of high-tops measuring up to a size 12.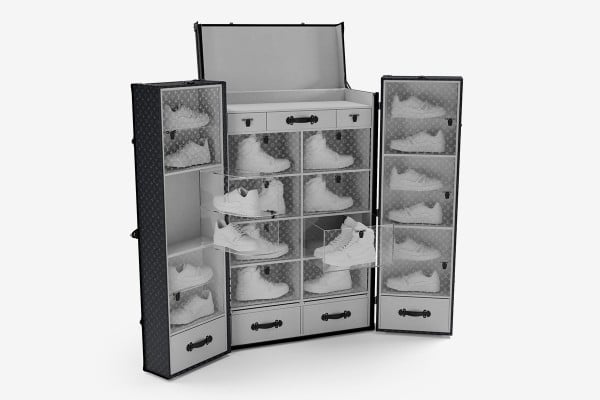 There will be a number of customisation options available, including the ability to personalise the Louis Vuitton monogram, or even add your own logo.
---
---
The release of the Sneaker Trunk will coincide with the first drop of Virgil Abloh's 480 Global Trainers. The ideal first sneaker purchase for your new trunk, the 480 Global Trainers will be on offer in Seoul, New York, London, Paris, Milan, Chicago, Dubai, Shanghai and Tokyo with a different colour scheme representing each city.
No word on how much the Sneaker Trunk will cost, but when you consider Louis Vuitton's Jenga set retails for a crisp $4,400, expect to part with quite a few of your hard earned for this customisable Sneaker Trunk.
RELATED: Hennesy & Louis Vuitton go all out with luxurious $390K trunk set