Most of us will have experienced the dreaded 8:30 AM Zoom call, where any sartorial decisions are likely based purely on comfort. As we slowly transition out of our lockdown attire, there's one brand that's making this transition a little bit easier – Lusso Cloud – by offering a hotel-like slipper intended for outside.
This elevated comfort footwear brand out of Los Angeles was founded by design guru and entrepreneur Jon Buscemi after one lunch with Justin Bieber in NYC. In perhaps the most Justin Bieber story ever, the musician and slip-on-shoe evangelist was wearing his hotel slippers out and about.
"He was wearing a Four Seasons… like the slippers you getting next to your bed in a hotel room that they give you free, usually white terry cloth, he was wearing it around Soho as a shoe. I just love the irreverent kind of nature of that, so I took the idea of a handmade luxury slipper and a hotel slipper and fused them into one. That was the start."
---
---
RELATED: Monte Slippers May Just Be The Perfect Winter Loungers
What would otherwise be considered a faux pas prompted Buscemi to develop a category of luxury footwear with a blend of comfort and style. The shoe has already been seen on Leonardo DiCaprio, Oprah Winfrey, Zach Braff, Post Malone, Kelly Osborne, Benny Blanco, Evan Mock, Diplo, Ben Baller, and Mattie Matheson.
Lusso – which means "luxury" in Italian – originally debuted earlier this year with three unisex styles: The Guru, which has a chukka-like shape at the top of the ankle; The Gehry, which comes in the form of a lower-profile slip-on; and The Pelli is your standard slide without a back. These all come in an array of unassuming colourways like white, black, chestnut, indigo, forest green, and grey.
The shoes themselves are made from partially recycled bamboo and a soft layer of memory foam in the lining, maintaining their hotel-esque style with waffle knit uppers. The bottom of the shoes a made from a combination of latex and a partially-recycled IPEVA outsole that, unlike Bieber's slippers, are intended to withstand the outside of a hotel room.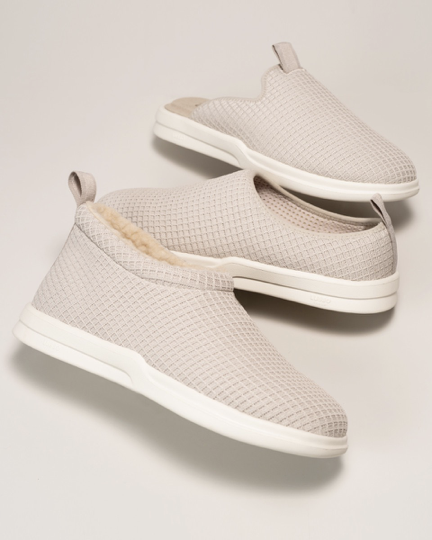 Lusso Cloud has already been stocked in global retailers such as Kith, Blends, American Rag Cie, UNDFTD, Aime Leon Dore, Lane Crawford, Clot, Beams, and Huckberry, before finally launching in Australia mid-year 2021. Operating via their site, the brand has plans to eventually have their shoes stocked in boutique sneaker stores and elevated contemporary fashion retailers around the country.
With luxury evolving to include more elements of comfort, it may be time to really double down and commit to the dream lifestyle of wearing slippers outside. If you decide that you aren't quite there yet, the shoes can also function as an elite plane shoe or just a very durable house slipper.