There's no doubt I'm an Apple fangirl, deeply ingrained in their compelling ecosystem.
It's to the point where I cringe after swapping digits with a Tinder match, only to see their messages come through as green – we're clearly incompatible.
Admittedly though, no matter how much I subscribed to the cult-like world of Apple tech, I was never really tempted by the Apple Watch. Sure, each series release saw a more kitted out offering, but I still considered wearables as unnecessary.
---
---
I was somewhat reluctant when I initially came to test the Apple Watch Series 5, but less so when I arrived at the balmy waters of Byron Bay, where the little beast absolutely excelled over an action-packed few days
And I'm bloody pleased I did. Because now I get it.
What I rendered inessential, I now position as an absolute must-have – especially around the water. And even more so for daily productivity. Here's a quick overview.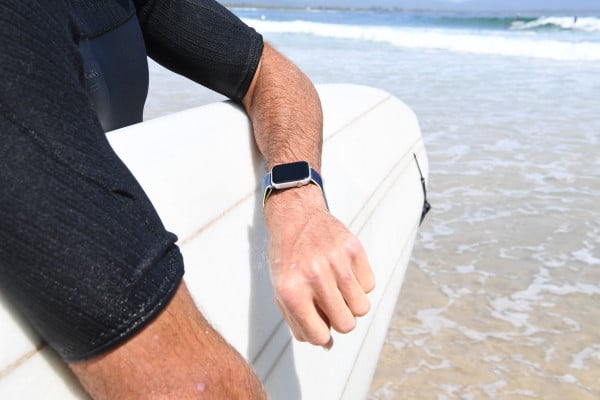 What's all the fuss about?
The Series 5 naturally holds better features than its predecessors, including inbuilt GPS, more detailed workout metrics, larger storage, watch-only apps, optical and electrical heart sensors, always-on retina display, and water resistance down to 50m.
Make the call between the understated 40mm or more legible 44mm case, and then select from your choice of steel, aluminium, titanium, or the exclusive ceramic. Pair it with interchangeable rubber, leather, or steel band – or even upgrade to the luxe Hermes collab – and you're ready to go.
You really can't be sporting a Series 5 unless you opt for + cellular with the digital sim. For the simple fact that you'll never really have to take your phone with you anywhere unless you want to. Receive your messages, make calls (and emergency calls), use Apple Pay, ask Siri for stuff, track your workouts and stream music, podcasts, or audiobooks, straight from your watch wherever you are.
This doesn't sink in until you try it. You can go phoneless day-to-day, out on the water, and through workouts without being limited in any way. It's kind of unprecedented.
---
---
Now, for my main takeaways…
Activity Ring FOMO is a real thing
If you've heard your mate frothing over closing his 'Activity Rings' and bragging about all the other flogs from his office that he competes with… well, fair. They're not new to the watch, but the amount of sports compatible with them has increased with the Series 5.
The pre-set workout metrics are relatively advanced, appealing to sports enthusiasts at any level. But there are also plenty of third-party apps, so you can bring your old favourites across with you.
The always-on retina is handy mid-workout. You can see your stats, and get notified if you're tracking behind your goals without any dramatic wrist gestures to wake up the screen.
If you smash out a PB, you can take a screenshot on the watch and it saves directly to your camera roll. Ready for a humble brag to your coach or on your socials when you're done.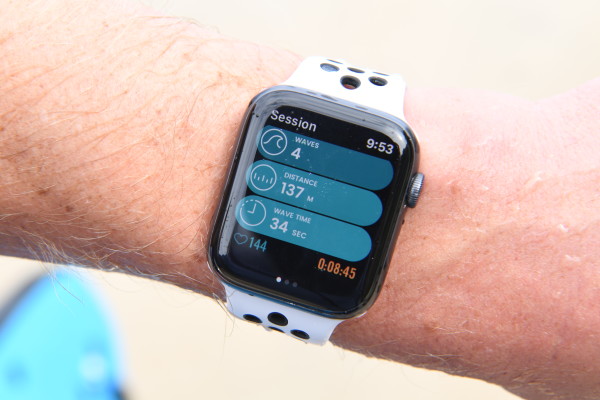 It's absolutely made for the water
Typically, water and tech don't go hand in hand, but the combination has been tried, tested and proven itself 50m water resistant since Series 2. The screen automatically locks to prevent water droplets from messing with the display. It can take a few swipes to work it with wet fingers, but you get there eventually.
It feels like showing off that you can do everything from playing tunes to communicating and tracking your health all from the water.
The most useful feature of the Series 5 for water babies is that you can track sports like surfing through apps like Dawn Patrol and Surfline, and it counts toward closing our 'Activity Rings' (yeah, we're that mate now).
---
---
Track your distance travelled, time on wave, the wave's speed and your top speed, as well as the number of waves caught in a session. Surfing is a fine balance between your technique and the changing conditions of the water. But Dawn Patrol syncs to Surfline, updating you with live surf cams, real-time surf reports, long-range swell analysis, and changing weather forecasts.
Cooper Chapman, Australian Pro Surfer, calls the Series 5 an absolute 'game-changer' for his training.
"Knowing my speed and wave count is handy… and having the tide on my home screen means I'll always be on top of it when conditions turn on."
Effectively, you can stay and play out on the water for longer, even shooting off a pre-loaded message to your boss chucking a sickie if conditions are decent. Being able to track a workout, close your Activity Rings and have Surfline's footage of you doing it (yeah, they can record your surfing from their surf cams), increases your enjoyment ten-fold. There are plenty of other apps to keep you closing your 'Rings' on your board like the watch-only stand-up paddleboarding app, 'GoSup.'
If you run into a rip you can use SOS International Emergency Callingto trigger an immediate rescue, even without cellular activated. Hold the side button to call Emergency Services, and at the same time, your key contacts also get notified of your location.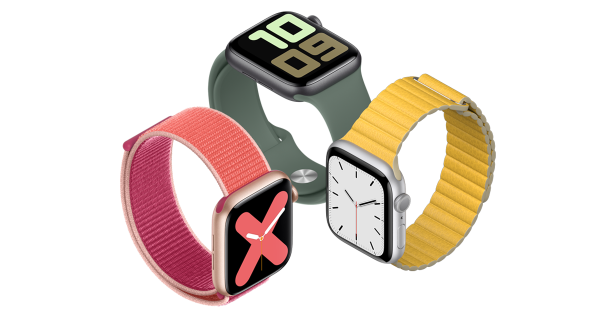 Going phoneless is epic
I've already covered a lot of the appeal in going phoneless earlier. The watch is simply the most compact way to carry around everything you need.
Wherever you go you've Apple Pay, a fitness tracker, your tunes and as many mates on hand to bother you, depending on if you let their nonsense come through to your wrist or not. And the map upgrade showing your location and direction is great for figuring out if you're walking closer to – or further away – from the pub.
If you're seriously relying on this as a phone replacement for 80% of your day, however, you'll need to keep an eye on your battery. Especially if you're always running everything at once. I can make a whole day without needing more juice, but it'll almost always need a nightly charge. If you're doing a long workout, just flick on 'Workout Power Saving Mode.'
---
---
One downside for Spotify fans is if you're going phoneless, you can't stream straight from the Watch, and you can't store music on the Watch and listen offline. You can, however, with an Apple Music subscription.
I've since quelled my Insta addiction
If you want the watch to work for you, it does take a little bit of commitment and adjustment – but it's worth it. I've been shocked to see my productivity skyrocket by relying more heavily on my Watch than my phone to filter what notifications need my attention and what don't. The fewer reasons to pick up my actual phone and get lost in the black hole that is endless Instagram scrolling is a blessing I could have never properly understood until now.
I use the timer and set up chimes for tracking tasks just as much – if not more – than any of the connectivity and workout features. Chucking on cinema mode, which blacks the screen out, is excellent if you need a distraction-free session in the office.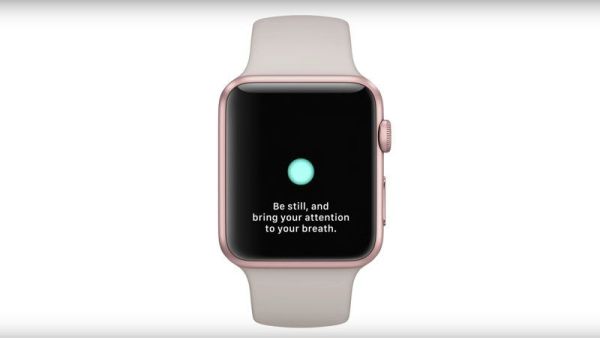 I also surprisingly became addicted to 'deep breathing'
The Breathe app sends you reminders during the day to guide you through a series of deep and mindful breaths. I've become mildly addicted to seeing how low I can get my resting heart rate.
Because it was Byron after all, it wasn't hard to get the Breathe app backed by a 'Yogi'.
I opted for Tahl Rinsky, hand-picked by Thor himself, Chris Hemsworth, as the Yogi on his Centr App – so you know her opinion has got to count for something. She claims the breathing sequence on the app is as good a replacement for the style of breathing she teaches at the start and finish of her class. Good to know!
Is all of this enough to convert you?
Price-wise, the Apple Watch Series 5 with GPS starts at AU$649 (aluminium) and is incredibly reasonable for what is soon to be your inseparable summer companion.
It's more or less the same amount of coin (or even cheaper) than more elitist sport watch competitors such as Suunto, which is ridiculous when you consider the flexibility of sports the Series 5 can track and its synchronisation with your iPhone.
---
---
It's got high performance, a solid battery life, and it can operate relatively independently from the iPhone if you put in the time to set it up properly. It's also undoubtedly the sleekest wearable going around (and that goes beyond my fangirl bias).
If you're an Apple user, it should be the obvious default. You can learn more about the Apple Watch Series 5 at apple.com.
RELATED: Apple's Cheaper AirPods "Pro-Lite" Could Be Arriving In 2020.