If a fighter pilot even has the chance to eject from an aircraft, they're staring death in the face. With each millisecond delay, this face-off rushes closer. William Mnich is one of only a handful of pilots over the decades to have side-stepped their expiration dates. As if it were the tangible reminder of a surreal, double-edged metaphor, each member of this elite affinity of aviators are eligible for a signature, one-off Bremont MBI timepiece. Despite the watch's exclusivity, the haunting stories of those who wear them make it a watch nobody really wants the honour of owning.
Boeing test pilot William Mnich began his extensive flying career at the budding age of 15, well before two decades of service as a Radar Intercept Officer (RIO) in the backseat of a U.S. Navy F-14 Tomcat. Mnich is part of an exclusive group whose membership is as fortunate as it is unfortunate; life dealt him an unlucky deck of cards – on not one, but two occasions – and both times he pulled out of it alive.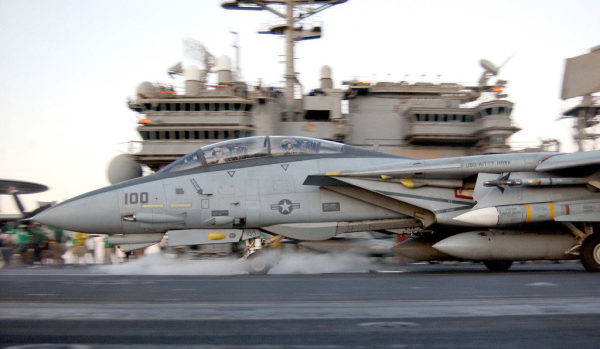 Luxury British watchmakers Bremont are the founders of an interesting tradition. Alongside fellow Brits, aerospace company Martin-Baker, whose construction and supply of ejector seats dominate 70% of the global market, they co-design a signature special edition variant of Bremont's MBII watch. Given their rich affinity with the aviation industry from day dot, Bremont's aim was to over-engineer one of their timepieces in collaboration with Martin-Baker to withstand the incomprehensible forces felt by the human body when ejecting from an aircraft. These watches, known as MBI, would then be numerically engraved and awarded to any of Martin-Baker's success stories.
---
---
Few watches would have the need to endure extreme temperature changes from -40 to 40 degrees Celsius, or rapid altitude pressures up to 100,000 feet, let alone atomic-level shock testing and prolonged salt water exposure. Bremont Founder Nick English says of the rationale behind the watch, "with the testing and development behind us, both Martin-Baker and Bremont felt that for those pilots who have successfully ejected from a fighter aircraft (it really is a special and elite club), a bespoke and equally special watch would commemorate this well."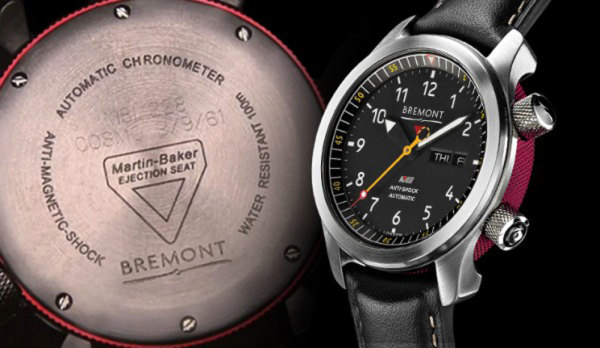 Little thought from the average bloke is probably put into the consequences of ejecting from a fighter jet. Any casual observer's thought process would likely follow something similar to "okay – the plane's going to crash – pull the lever – there's the parachute – happy days – that was a close one."
Many don't realise that those who even have the choice to eject from an aircraft were already meant to die – they just have to pray life draws them a wildcard. An aircraft ejection seat's only objective is survival. Unfortunately, they are just as synonymous with lifesaving as they are with life taking.
Imagine putting your hand out of a car window driving down the highway at 100km/h. You've probably done it at some point, so you're familiar with the huge force as the wind snaps your arm back against the door. Now contemplate how many body parts would get internally rearranged at speeds of up to 1400km/h and forces of gravity anywhere between 12 and 22 G's. The chances of being able to eject from a fighter jet at all are unequivocally slim, let alone the odds of surviving a wind blast worst than being hit by a train. Many pilots die from head traumas, have their limbs ripped off, some will hit water unconscious and drown. Elbow and shoulder dislocations are common – almost expected – at such speeds, as are compression fractures of the vertebrae.
Luckily, only one of William Mnich's ejections were at such speeds. He says that quite often with dual cockpit aircraft the person who makes the deal-breaking decision to eject may not be the one who survives – or vice versa.
On September 7, 1981, it was Mnich's pilot who made the decision to bail out.
Despite the safeguards in place to avoid the exact situation he found himself in, a landing LTV A-7 Corsair II crashed into the back of Mnich's F-14 on the flight deck of the USS Kitty Hawk aircraft carrier.
---
---
The F-14, like many fighter aircraft, have a "one in, all in" approach to ejection; that is, if one pilot decides to jump ship, the other simply doesn't have a choice in the matter. Minch explains that it is common for the pilot to be so focused on recovering the aircraft that it is usually the RIO that makes the decision. Not on this occasion.
"My pilot decided we had to get out of there because he had already done all he could do to move the airplane out of the way," a split second later the F-14 was sinking to the bottom of the ocean as Mnich and his pilot splashed down under parachutes on the ship's portside. One crew member on the flight deck was hit by debris from the crash, killing him.
"People will tell you that you don't generally eject when you think you're going to die, you eject only when you know you're gonna die."
A bit over five years on, in March of 1987, Mnich is flying to Florida to spend the weekend with his brother. Not even three and a half minutes after take-off, a turbine used for cabin pressure catches fire in the cockpit and sends the doomed Tomcat into a frenzy.
"Every individual step is just as clear to me now 30 or so years later as it was then. I'm thinking, 'What can I do, what can I do, what can I do here to save the situation?' and then almost simultaneously we felt the airplane buck. I knew [the pilot] was no longer flying the airplane… About the same time I felt a blast of heat from somewhere back from my right ear, which is where the turbine is that caught fire," said Mnich. "At the same time there was this orange flash, and that's one of those triggers that you know in an instant, 'I'm gonna die, I gotta get out.' People will tell you that you don't generally eject when you think you're going to die, you eject only when you know you're gonna die."
Bremont's MBI isn't something you get handed to you after an ejection upon waking up from a coma or making it safely inside a helicopter after being winched from a life raft. There's no "congratulations, you're not dead" presentation ceremony – despite how fitting it would be to receive a timepiece at the start of your second life. In the case of Mnich it was actually decades later that his wife tracked one down for him.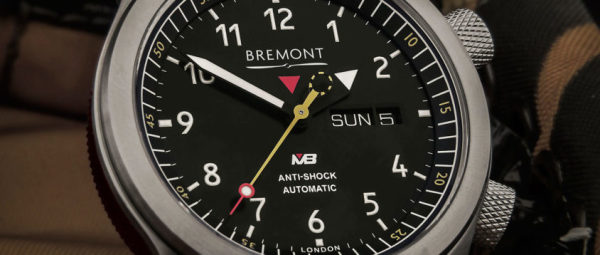 Martin-Baker has saved over 7559 lives to date, that makes for 7559 people eligible to receive Bremont's special watch. The nuances of the commercially available MBII and the exclusive club version are subtle, as are the daily reminders of the significance such a watch holds for a survivor when putting it on one's wrist each morning. Wearers sport a unique red coloured barrel and an ejection number engraved on the rear.
Mnich's was 4003.
---
---
The company's website affirms "this watch is available to ejectees only."
"It's a reminder – not that I always needed it, though sometimes I do – that things get bad, you have a bad day and I think, 'You know, dumbass, you can sit here and complain all you want, but you could've been dead at age 25 or age 30,'" he says.
Only one watch is awarded to each surviving individual, regardless of the number of safe ejections. This didn't bother Mnich, who understandably wasn't interested in giving his luck – and now his watch – a third run for its money.
WATCH: Jimmy Fallon surprise his Father-In-Law with a Bremont MBI on The Tonight Show, commemorating his successful ejection during a Marine Corps training mission in 1961.
This article is an adaptation of Andrew Cook's piece for Gear Patrol.