Feeling nostalgic? Bulova's got you covered, pointdexter – with the deliciously retro relaunch of their iconic 1976 Computron watch series.
Reproducing a classic fresh-to-death aesthetic that made it a hit during its original run that's balanced with a slick modern update, the Computron boldly showcases a striking trapezoidal case design. This was unconventional for its time way back when and remains to be something still visually striking in the modern context.
On the subject of shape, those who have the privilege of strapping the Computron around their wrist will also be able to enjoy an angled display. An angled display, of course, solving the perennial glare problem when it comes to wearing a timepiece out and about.
---
---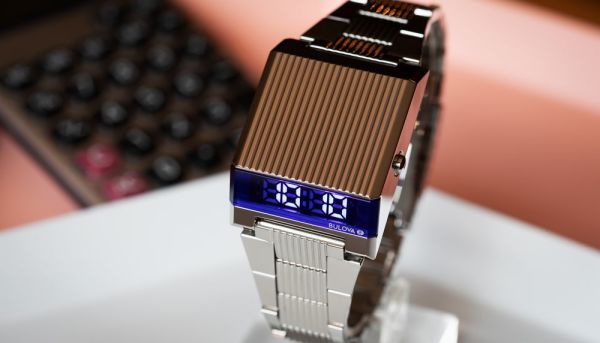 Such a display can actually be viewed when you're behind the wheel of a car, for instance, without adjusting your wrist. Hence why this type of watch is sometimes referred to as a "drivers' watch".
In terms of functionality, it's simple enough. Pressing the crown once will prompt the hours and minutes to be displayed on the watch face. Pressing it once more will prompt the month and day in a numeric format. Three times will prompt the day of the week.
There will be a limited issuing of stainless steel Computrons with a blue LED display. Other styles will include a dazzling gold-tone with a red display, as well as a more contemporary black style which comes with a silicone strap.
Prices will range from US$236 to US$316. The Bulova Computron is now available via local retailers. Find your closest one at the official website.
RELATED: Time Trial: TAG Heuer Monaco 1969-1979 Limited Edition