There's money, and then there's "fuck you" money. This US$7,990 Chanel water bottle? It's definitely something that requires a fair bit of "fuck you" money.
With the current trend of sustainability and the vilification of single-use plastics comes this high-end offering. Which can only exist as nothing more than a grand flex, right? There is, after all, no indication that the bottle itself will elevate the water it holds.
The Chanel bottle comes in the very same gold-tone that was featured in the 2019/2020 collection. It also comes with its own Chanel branded bag, emblazoned with the signature cross-pattern and logo, as well as a gold interlaced chain for easy carry.
---
---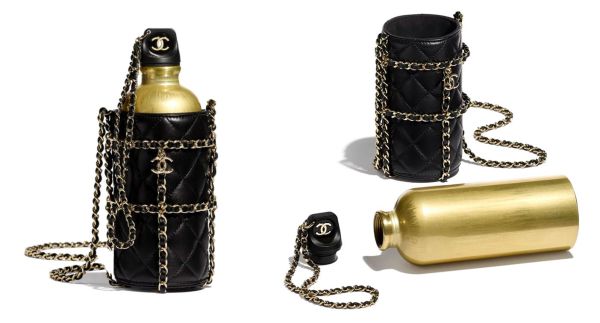 The carry bag is available in black, white, and pink; while the bottle will only be available in the gold-tone. Once again – though I'm sure you haven't forgotten about it just yet – the retail price on this luxe Hydroflask is US$7,990.
And for those of you actually thinking about purchasing this, consider the wise words of one Jay-Z:
"You can't afford something unless you can buy it twice."