No one ever accused Drake of having cheap taste. Case in point – his Jacob & Co. Astronomia Casino timepiece which actually features a working roulette wheel. Yeah… pop star money is an entirely different level.
The Astronomia Casino is quite the intricate piece of craftsmanship. Looking the part is one thing, but to pull off functionality as well is nothing short of incredible.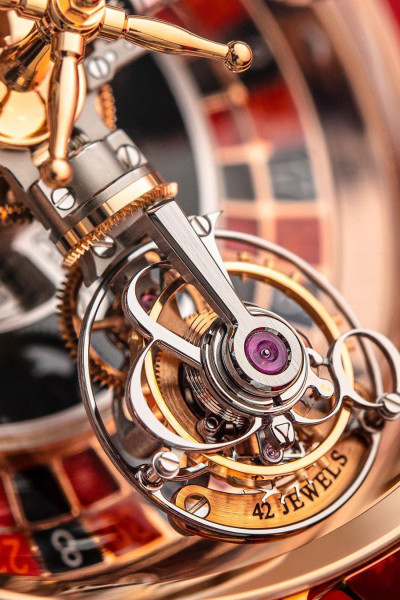 What you're looking at right now is a four-arm setup. One arm holds a double-axis tourbillon. One arm holds a magnesium lacquered globe. One arm holds a Roman numeral time display. And the final arm holds a "… 1ct 288-facet Jacob-cut diamond…". As for the case, this is all contained within an 18K rose gold and sapphire crystal case with a 28mm thickness
---
---
According to Jacob & Co.'s own description via their Instagram post:
Swiss Haute Horlogerie meets gaming. With the @jacobandco Astronomia Casino collection, the complicated Astronomia movement features a double-axis tourbillon, a magnesium lacquered globe and time display, all rotating around the dial in 10 minutes. Underneath is the working roulette table with ceramic ball, while on top is the 1ct 288-facet Jacob-cut diamond, which turns on itself in 30 seconds.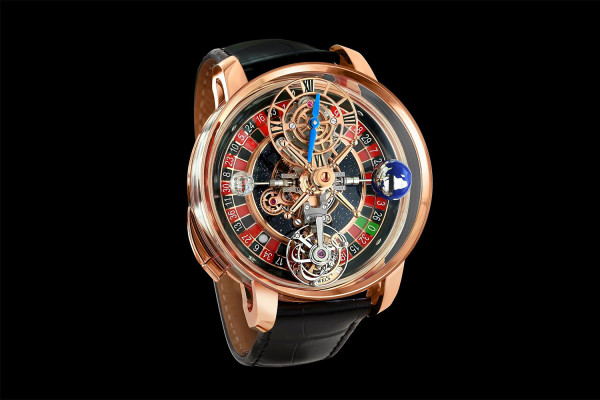 Jacob & Co.'s Astronomia Casino timepiece is currently priced at US$620,000. And while this may be a fleeting thought for a Billboard charting artist like 6 God, it's merely something to strive towards for us regular folk. A long way down the road. No, really – I mean, a looong way down the road.
Looking for some more affordable punt-chic fashion? Check out Ralph Lauren's Casino Print Shirt – the perfect kit for your weekend debauchery.