The latest release from Franck Muller is a nice enough looking watch, with its DLC-coated brushed titanium finish, black leather strap, and Swiss automatic Calibre FM 0800 movement with 42 hours of power reserve. But the Swiss watchmaker is rarely content with just making nice watches anymore, unsurprisingly throwing in something that distinguishes this time piece from anything else on the market: the new Franck Muller watch doubles as a cold storage bitcoin wallet – dubbed The Encrypto 'Free The Money, Free The World'.
Those who follow Franck Muller's rather odd horological experiments will note that this isn't the first time the Geneva-based watchmaker has played around with this curious blend of luxury watchmaking and cryptocurrency. In 2019, they teamed up with Regal Assets to create the world's first functional Bitcoin watch – the 'Vanguard Encrypto' – in a strictly limited capacity.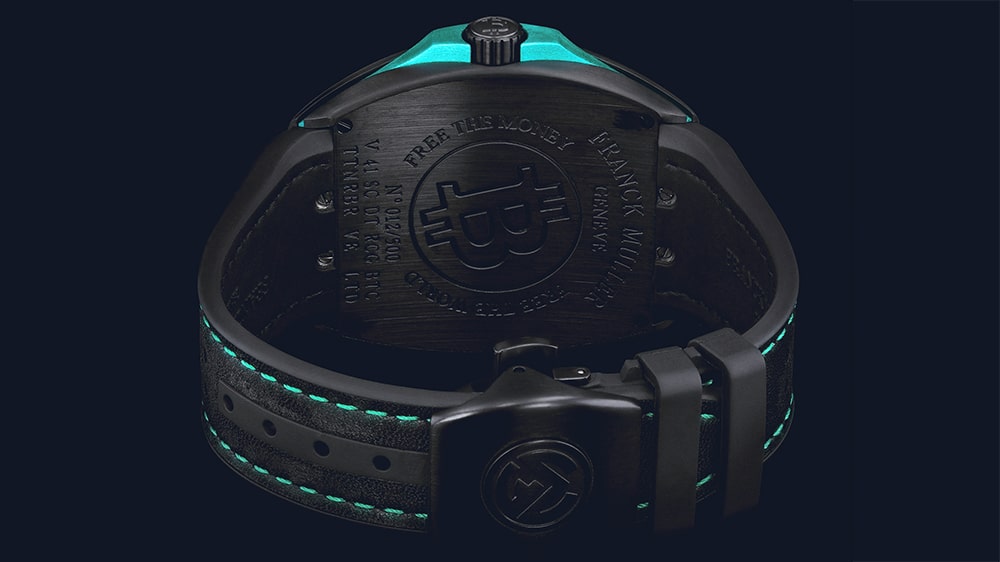 The Vanguard Encrypto, much like this current expression, was a concept that included a bitcoin wallet, with the dial featuring a laser-etched QR code for a public wallet address that could be used to deposit, store, and monitor Bitcoin. Included in the watch's packaging was a USB stick to store the private key (that is, the unique set of letters and numbers used to access to individual Bitcoin wallet).
---
---
Similarly, The Encrypto 'Free The Money, Free The World' comes as a two-piece "Deep Cold Storage" set, which is basically just another way of saying that this Bitcoin wallet is not at all connected to the internet and has two levels of protection to keep your Bitcoin balance safe (unless of course you lose both the watch and the USB). The funds are offline, meaning that they are completely yours and aren't exposed to any potential hacking, or rug-pulling as some exchanges are wont to do on occasion.
Again, much like the previous model, the timepiece has its own unique public address (via QR code) etched on the 41mm dial, and comes with a sealed USB stick for storing the wallet's private key.
Let's talk actual watch though. The piece itself is that sweet spot between slick everyday wear and outdoor friendly appeal. As mentioned above, you've got the black DLC-coated brushed titanium finish and a matching leather strap set against a scratch-resistant sapphire crystal case. A Bitcoin logo sits at the center, fringed by green and white detailing for a rather head-turning look.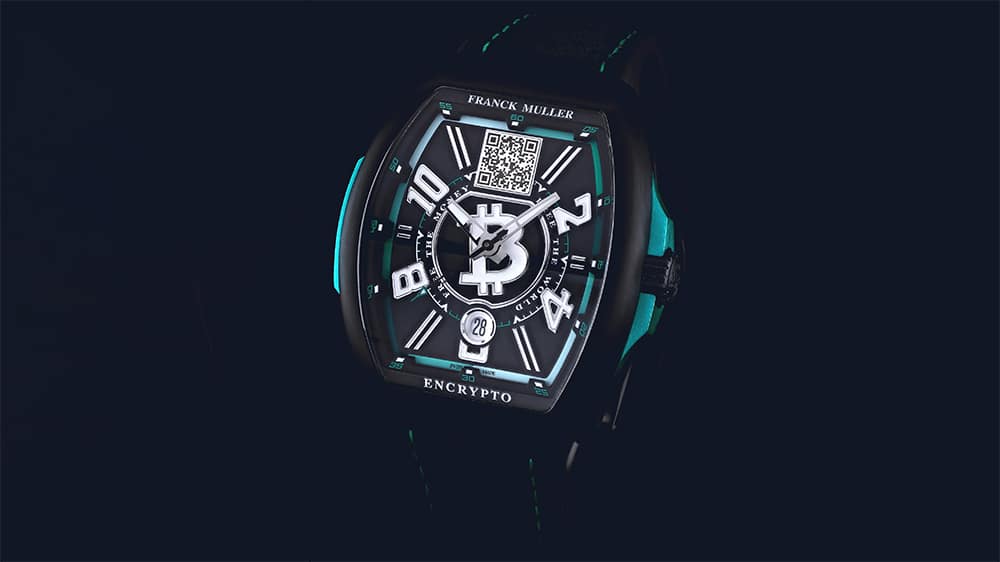 Underneath is a sturdy Swiss automatic Calibre FM 0800 movement with 42 hours of power reserve. Not as unique as the Bitcoin complication, but a reliable comfort to watch enthusiasts nonetheless.
Is Franck Muller making a rather lofty and anti-establishment statement with The Encrypto? Or is the Swiss luxury watchmaker relying too heavily on gimmicks? The answer is, of course, completely on you. Whether anyone likes it or not, Bitcoin is a legitimate and fascinating movement for the global financial system, so to see such a renowned watchmaker jump onto the bandwagon could be seen as a genuine attempt at creating a new kind of complication. Although I do realise many will see this as the gimmickry it most likely is.
Only 500 of the Franck Muller x Bitcoin Encrypto 'Free The Money, Free The World' watches are being made. And, true to fashion, you can only purchase one by using the currently violent and wildly up-and-down cryptocurrency – €9,900 (~AU$15,127) worth.