Sometimes the watch industry can get a little too serious for its own good, which makes any timepiece that focuses on having fun a winner in my book. With the new Hublot Classic Fusion Takashi Murakami Sapphire Rainbow, that's exactly what you're getting, blending the panache of the Swiss watchmaker with a playfulness that Murakami's work perfectly embodies.
This is the second collaboration between Hublot and Murakami, the first of which was released less than a year ago to lauded praise. It was a collaboration that took several years to come together, after a nudge by contemporary art collector and watch retail boss Mike Tay put the orbits of both parties on the same trajectory. The outcome of the first collaborative effort was a murdered out masterpiece of black ceramic, featuring Murakami's iconic smiling flower motif set with 572 brilliant-cut black diamonds.
This time, we see a similar inspirational origin, however, things have been stepped up a notch and we find a colour palette a little more consistent with the rest of Murakami's work. In stark contrast to the first monochromatic release, this Classic Fusion features a 45mm case machined from a block of transparent sapphire crystal. Where there was once darkness, we've found light.
---
---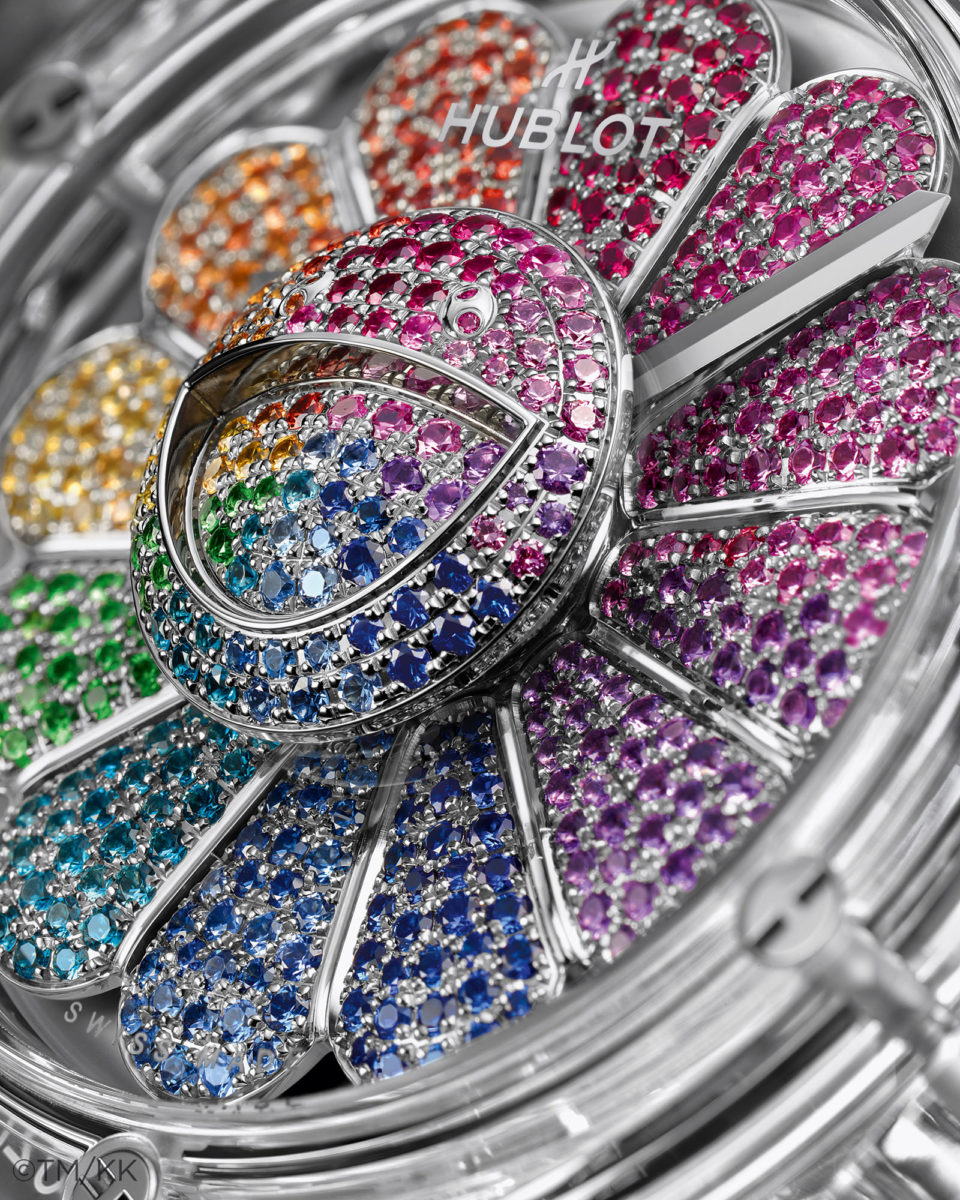 RELATED: Introducing The $225,000 Hublot Big Bang Tourbillon Automatic Orange Sapphire
The use of sapphire crystal as a case making material is very familiar to the watchmakers at Hublot, but that doesn't make it any less spectacular when you see the finished work. Building on the visual lightness of the timepiece, we see the same smiling flower icon, but the black diamonds have been traded for a stunning spectrum of coloured gemstones, set according to colour around the petals and smiling face.
If that wasn't already fun enough (and just like the first all-black version), this collaboration between Hublot and Murakami also features a mechanism that allows the petals of the flower to spin, bringing the multi-coloured stone setting to life. That's right, the hour and minute hands that tell the time actually sit in a layer between the smiling face and the petals, allowing the petals to spin freely beneath without blocking the time.
As you might have anticipated from a watch made almost entirely from sapphire crystal and set with hundreds of carefully selected gemstones, this isn't Hublot's most affordable timepiece. However, in the context of the difficulty of producing such a watch, as well as the direct input from one of the world's most well regarded contemporary artists, the $147,000 RRP looks a lot more compelling. Limited to just 100 pieces worldwide, there's little doubt that just like the first Hublot and Takashi Murakami watch (which sold out in less than a day), this too will sell out in a flash.