When it comes to watch-related Australian limited editions, many brands over the years have taken the obvious route — a dial or caseback with the Southern Cross constellation, or maybe a kangaroo. Longines, however, has taken the idea to another level with this fresh collaboration NATO strap with Gumbaynggirr/Bundjalung First Nations artist Otis Hope Carey.
Despite painting for less than a decade, Carey has already earned himself a legion of followers and collectors of his work, which fuses traditional indigenous painting styles with a contemporary vision. Interwoven, overlapping and somewhat muted in terms of colour palate, Carey's work seeks to tell traditional owner stories in a new light.
To discuss this all-new collaboration between Otis Hope Carey and Longines, we sat down with the artist in question, to learn more about his motivation to create art, the inspiration behind these NATO straps and his favourite surf spot in Australia. Let's get into it.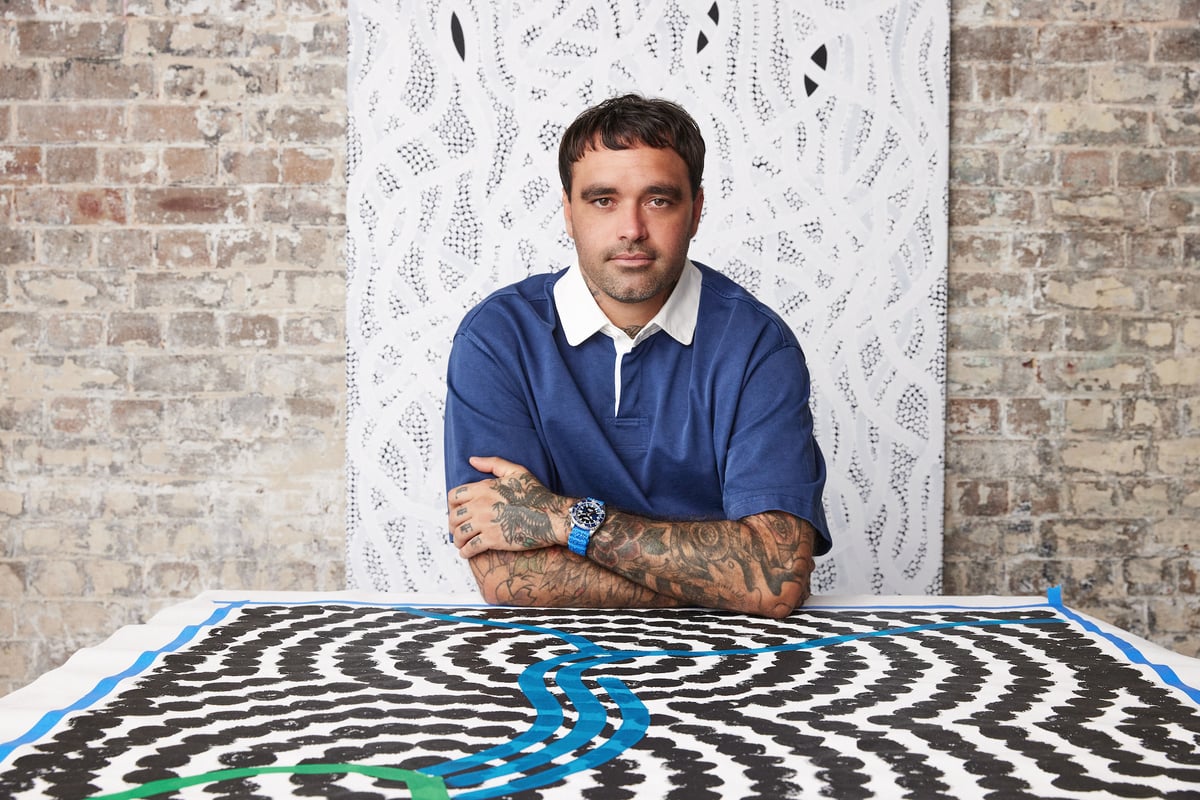 Can you please speak a little about how your art has evolved over the last eight years?
Otis Hope Carey: I think the first painting I did was back in 2014. In terms of how my art has evolved over the years, I started painting as a form of expression to try and make myself feel better about depression.
The more I unpacked that, the more I learned about myself, and from there it transformed into learning about myself in a light that made me realise I needed to spend more time doing cultural things. Spending more time with other black men, as an example. So that informed my art from the start, and it's continued to evolve down that path.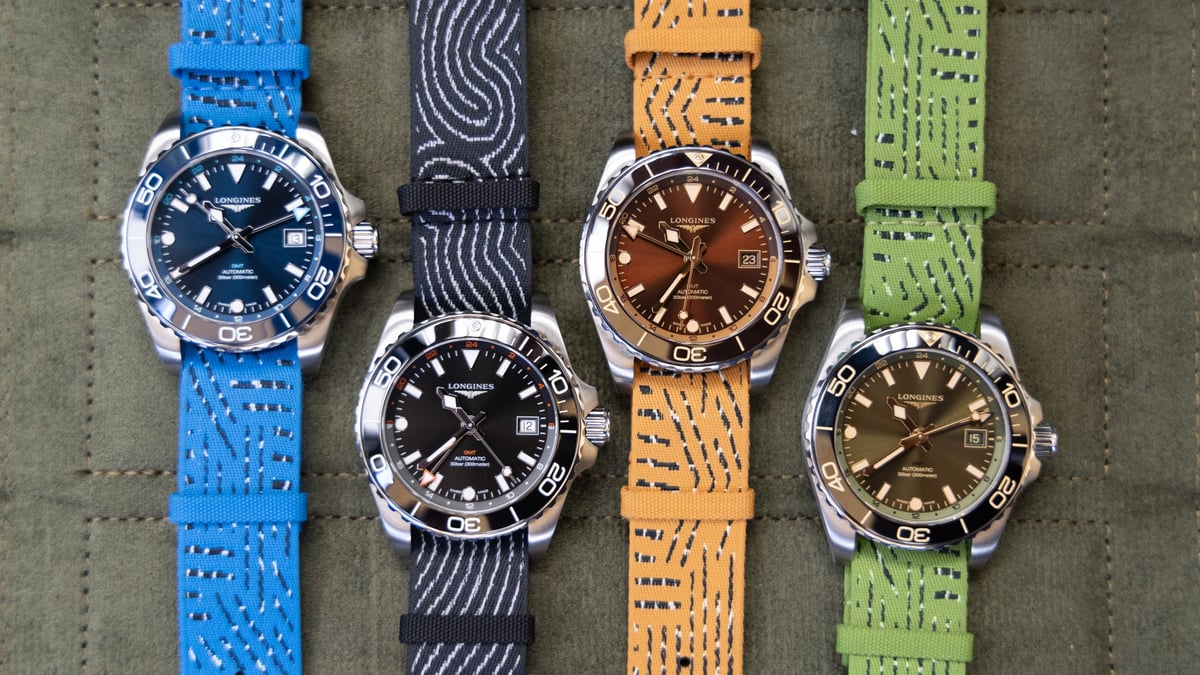 Some of your work looks to have moved from a more traditional style to one that's more visually interconnected – do you think that's the case and how would you describe your current work?
OHC: My whole approach to painting is taking old stories and old symbolisms and sort of transforming those in a modern contemporary way. So I'm always exploring what that is, what it looks like and other ways to do that.
How did the Longines x Otis Hope Carey collaboration come about? What was the process like?
OHC: I did a shoot back in 2020 that Longines was involved in, and there was a strong reception to that video, so the relationship has grown organically from there.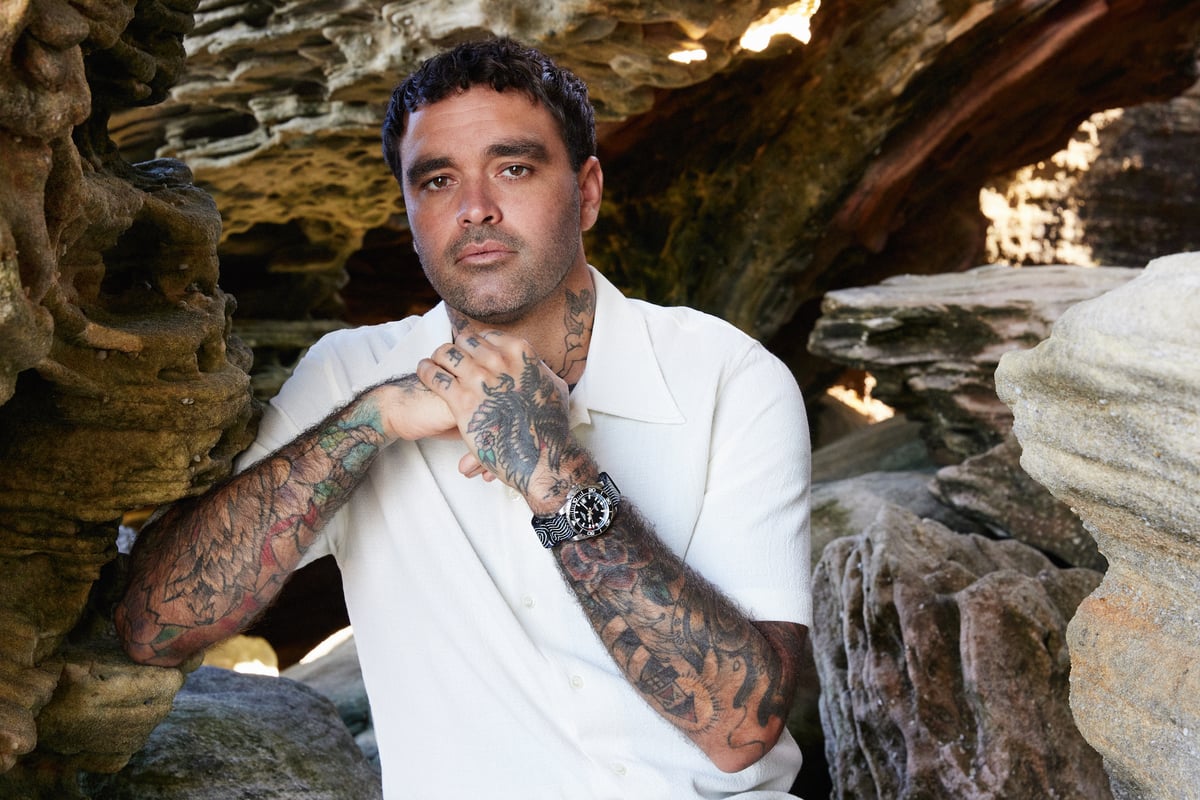 On the straps, is the black version the base layer of the coloured versions, or are they totally different designs?
OHC: Yes, the black is the base layer of the other versions.
There's an organic form to the black strap, while the coloured straps are more geometric in their pattern – why is this?
OHC: They're all, from the same design, or the same body of work. But the colourways that I used, the colours are a reference to different coloured grasses around coastal headlands and different coloured flowers. They also reference certain colours of rock pools or certain stones, which have a tinge of yellow to them.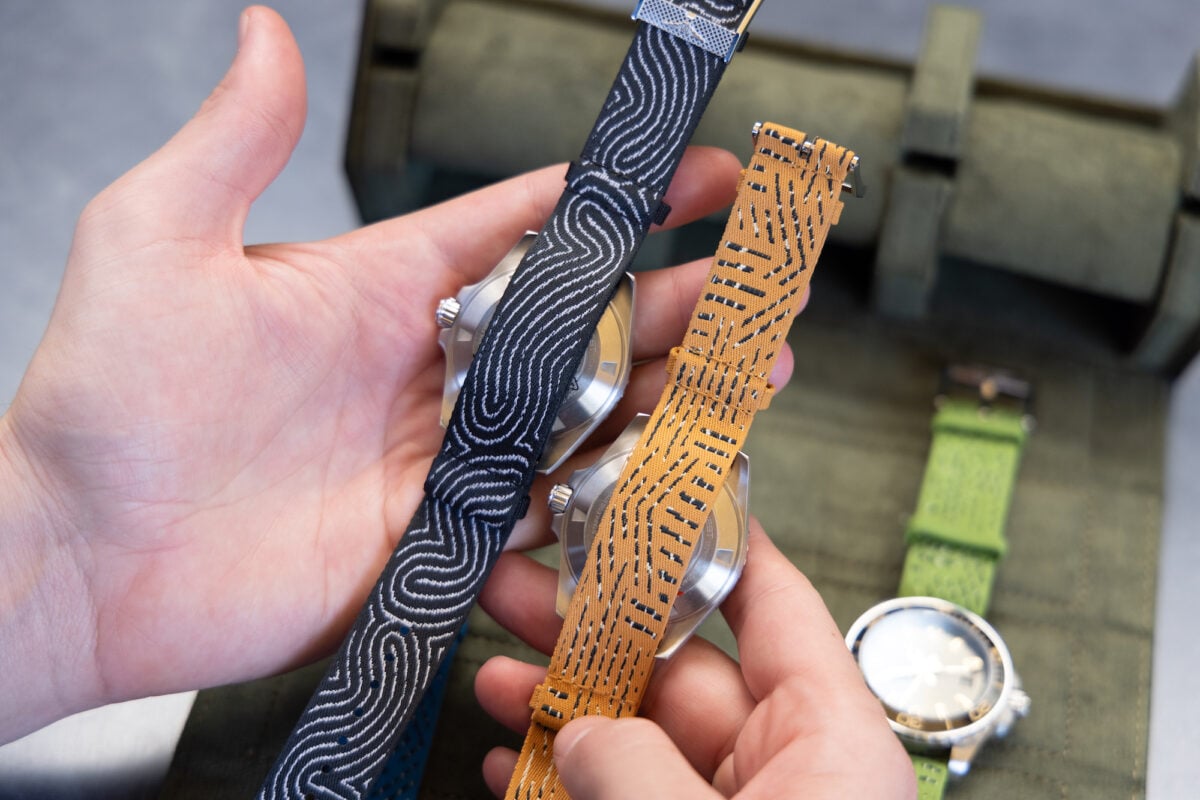 Where's your favourite place to surf in the world?
OHC: I reckon down in Summer Cloud Bay, there's, there's a place called Aussie Pipe. Yeah, it's a ripper spot and one of my favourite places to surf, for sure.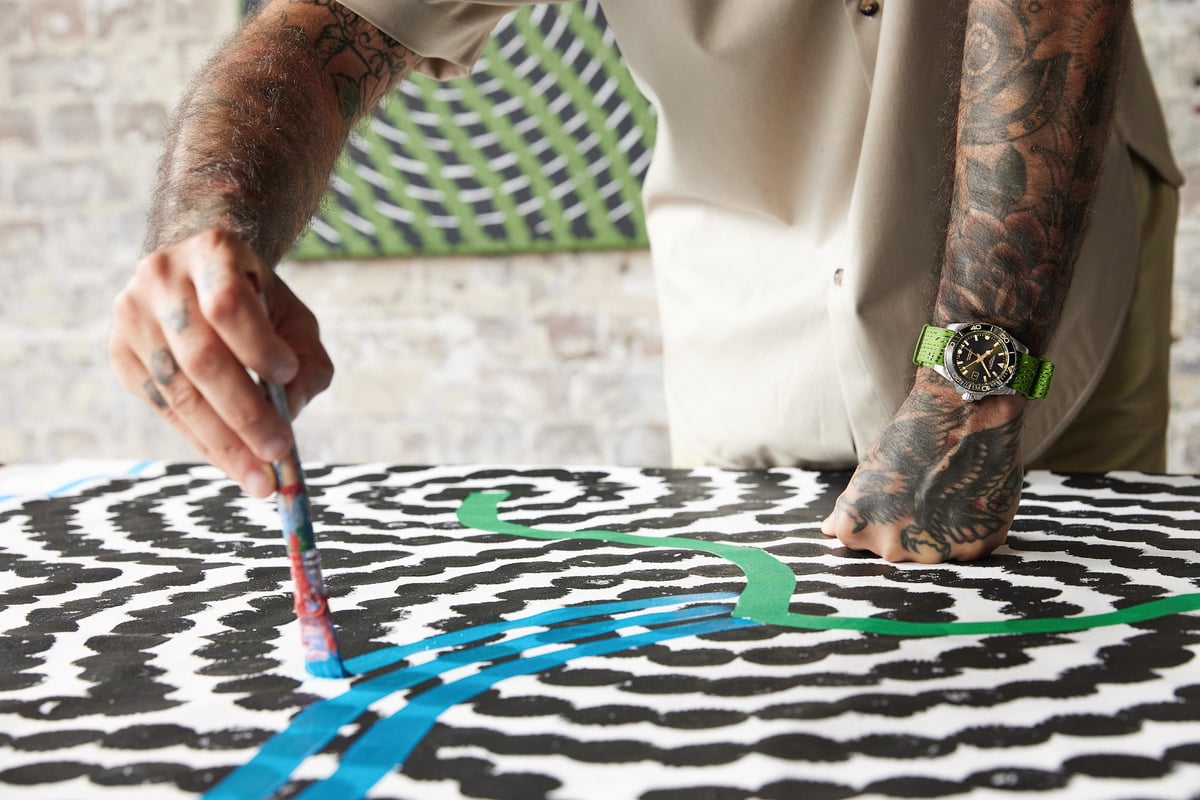 It looks like you're currently rocking the Longines Legend Diver in bronze – how have you found the salt water to affect it?
OHC: I've actually worn it a couple of times in the surf, but it's holding up pretty good. I've been impressed with it, it's so tough.
Now that your straps are paired with the new HydroConquest GMT, do you think you'll want one of them on your wrist?
OHC: Can't wait to get my hands on them. I think they might be getting some sent out pretty soon, but I was wearing them during the shoot a couple of weeks ago and they feel so nice on the wrist. I can't wait to wear them.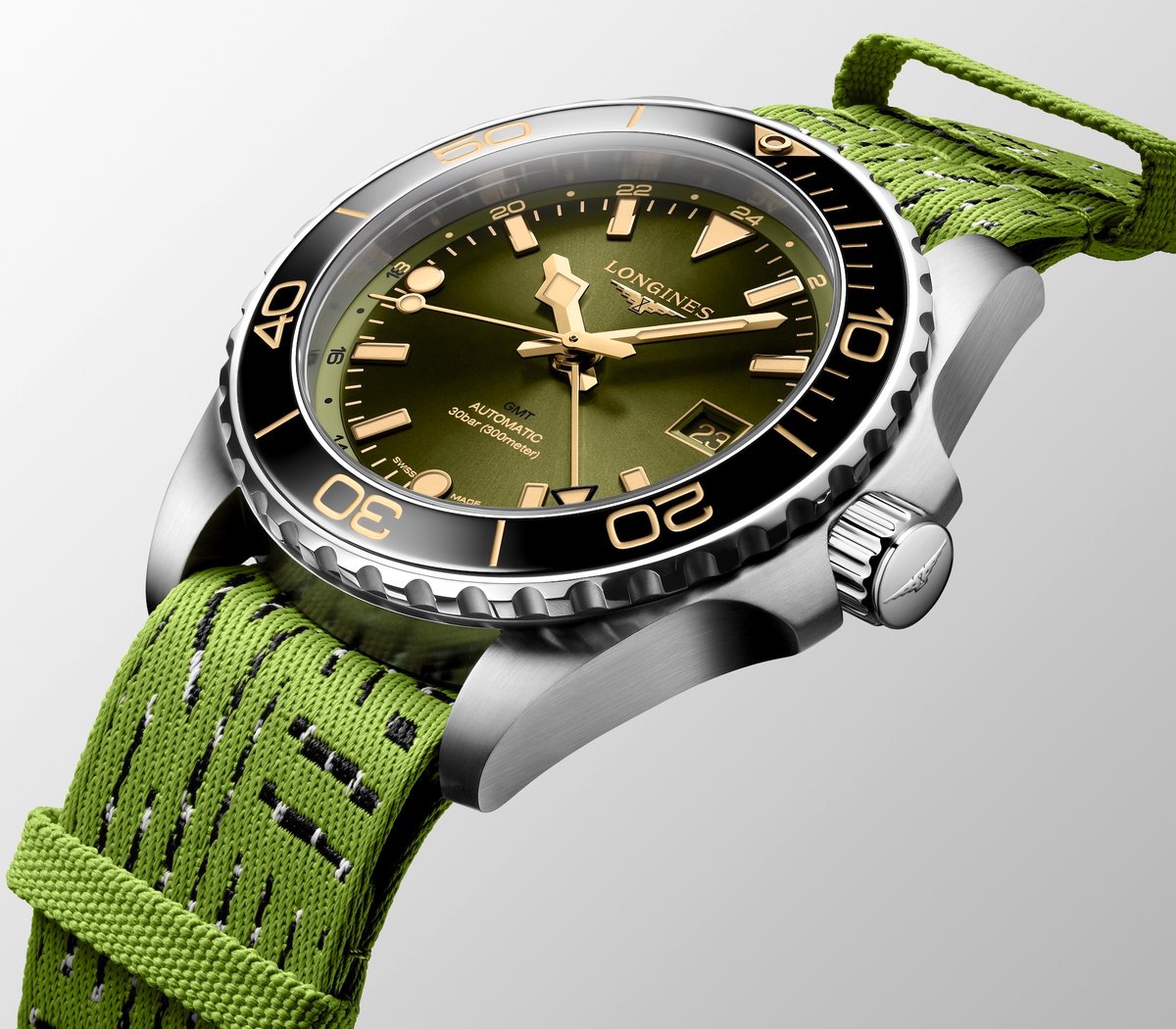 Do you have any advice for younger artists wanting to follow in your footsteps?
OHC: I think the best advice that I can give is just to have fun and paint with an open heart and don't judge your own work. Just let it be what it is, let it flow out of you.
The Longines x Otis Hope Carey NATO straps are currently available with an RRP of $299. They are available both online and from Longines boutiques now.
This article is sponsored by Longines. Thank you for supporting the brands that support Boss Hunting.